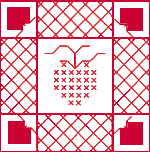 Our Products
New Goodies
Online Catalog

Our Shop
Newsletter

Detailed Item Information
---
Item Name:
Letters from Mom (or Auntie or Sis or...) JD
Category:
DESIGNERS (popular & frequently searched for!)
Sub-Category:
Jeannette Douglas
Price:
$13.00
Size:
as one 303 x 307

This is a multi chart design--all can be stitched as one or can be stitched as a letter bag with the first or center design being on the back of the bag--it will have all of the info on stitching the series--these are notes/reminders of being mindful and grateful. Stitch now, open later, treasure forever. The first chart is just the center--the future charts come with some of the threads and are not discounted as it is a stitcher's dozen.
---