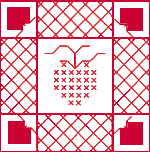 Our Products
Online Catalog
Counted Cross Stitch at

All the Cross Stitching Supplies a Cross Stitcher "needs" (or craves)

You've been asking, we've been planning!!
We have been overwhelmed with our response for classes & are adding more dates! Join us for fun learning & let us know what else you would like us to offer!
October
1

2

DETAILED

FINISHING

3

PUNCH

NEEDLE

4

5

6
7
8
9
10
11
12
13
14

15

16

17
18
19
20
21
22

23

FINISHING

BASICS

24

25

BEADING

26
27
28
29
November
30

31

HALLOWEEN

1
2
3

4

FINISHING

5

RETREAT

6

WEEKEND

7

8

GO

VOTE!!

9
10
11
12
13

14

EVERYTHING

15
16
17
18

19 LAST DAY FOR

FRAMING

&

FINISHING

20
21
22
23

24

THANKS-

GIVING

25
26
27
28
29
30
So now, on to the details!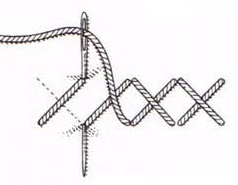 Everything You Wanted to Know $20 - 11-1:30PM. This is the class to take if you taught yourself to stitch, or you've been stitching a long time & you wonder if you're missing something, or you think there must be some secret no one has told you....
We'll quickly review basics & I'll give you reasons WHY for the very few "rules" there are. I'll show you an easy way to do French knots (yes you can ~ if I can, you can!). I'll help you learn how to figure out the size of your piece (without an app, Tracy!), and how to determine how big to cut it. I'll show you how to make twisted cording & how to add beads to your piece. I'll show you how to personalize those wedding/baby samplers. I'll give you some guidelines for using overdyed fibers (& tell you when it's just ridiculous to use them!). I'll give you info on overdyed fabrics. We will do some hands on stuff, but there will be lots more yipyap. You can bring paper & pencil if you like, but I'll give you notes (also, no test at the end!!). Bring your questions!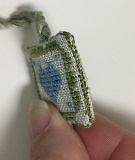 Finishing BASICS $25 - 12~2:30PM. As the name suggests, this class will give you tools to start finishing your pieces as something other than framed pieces. We'll show you a VERY SIMPLE joining method which is great to use for ornaments, smalls, scissor fobs, biscornus & more. This is a STITCHING technique ~ you need not be able to SEW (most stitchers DON'T sew). This is the class I WISH someone had taught me 30 years ago ~ I would have made a lot more ornaments if I knew I didn't have to sew!!
Finishing Retreat Weekend - $50 - Nov 5-6. This is our Fall StitchAway weekend! We are having our regular StitchAway weekend (where you can just come, stitch, laugh & hang out), but we are ALSO going to be doing some finishing work! Several folks in our classes have asked for a hands on workshop, so that's what this will be ~ bring any of your stitching you want to finish (as in, not frame, but make into a pinpillow or fob or hangup...). We will be showing you how to do it & we'll be there to help you!! We'll bring "puff" (to stuff things), crushed walnut shells (to weight things), matboard (for mounting), doublestick tape, glue & anything else we can think of! There will be more detailed info in the newsletter about the weekend!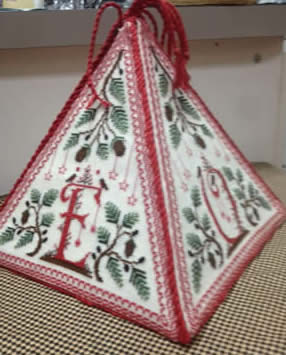 Detailed Finishing $35 - More dates coming This one delves into more intricate items, such as bellpulls, pillows, boxes, standups & more. Again, there is NO SEWING required, but it is a bit more meticulous & detailed. Ruthie will show you how to score your fabric, how to make twisted cording & add it (or chenille or pompoms or ribbon) to your piece, how to weight a standup, and more!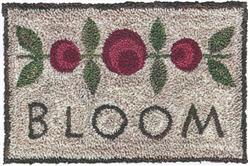 Punchneedle $30 - more dates coming. We will teach you how to do this wonderful "stitch" that looks like miniature hooked rugs! Supplies will be included for the class & you can take home your project. You will get to try the 2 different brands of needles we sell & if you would like to purchase them after class, you'll know which one you like better.
Beading $35 - 6Pm~8PM. This is NOT beading on your stitched piece. It is peyote beading & it is SO FUN (& addictive) to do. For this class, we'll be doing a witch hat phone plug (although I would just make it a scissor fob), but in the future we'll be doing their darling strawberry fob!
PLEASE NOTE: These dates & times are pretty firm, but not set in stone. If for some reason a date or time changes, I will be sure to note it on this page & contact EVERYONE who is signed up.
Also, if you want to take one of these classes, but these dates/times don't work for you, if you can gather 3 friends (a total of 4 people), we will set up a date & time that work specifically for you ~ just keep in mind that it can't be while the shop is open, as our space here is limited.
Subscribe to our e-newsletter below
For comments or problems related to this website, please contact the webmaster.
The Strawberry Sampler
364 Wilmington Pike, A-2
(Rt. 202)
Glen Mills, PA 19342
1-800-634-6106 and 610-459-8580
Hours ~ Tuesday - Saturday 10AM-5PM
Hugs and Stitches
All the girls at The Strawberry Sampler