I'm baaaaaaaaack!!
Well, hopefully, anyway! It has been a wild time around here & while I've been told by so many of you awesome folks to stop apologizing, I'll just say I'm sorry that the newsletter has been the thing I've neglected the most.
I've sent out an ANNOUNCEMENT newsletter with info about some changes we've made, as well as all the details about our upcoming Sidewalk Sale, so please click here to read all the info! This newsletter is getting us back on track with the things that are fun and all the good stuff!!
The summer season is headed our way! How can we tell? Well, there are beach designs headed our way. There is a bumper crop of fruity stitches cropping up. Also (unrelated to stitching ~ at least directly) baseball is in full swing (I am watching West Chester University playing in their State Conference championship series as I write this...watching on my iPad ~ yep, I'm becoming SUCH a techie!!).
Anyway, let's kick this off & head right to the Seaside!
Seaside Tiny Town - from Heart in Hand. Okay, what is my favorite part? The Tiny Town? The Seaside? YES!! While there's never a WRONG time to be by the sea, I do think that most of us associate the beach with summer, vacation, and just a general happy laid-back feel! So, YES I love the Seaside! But I gotta tell ya, this fantasstic series of Tiny Towns has fast become a cult favorite!! And yes, this is my favorite of the whole thing so far!!! Wouldn't this be even more fun with the name of your favorite seaside town below? Cape May, Lewes, Cape Cod, Pawleys Island, Nags Head....just to name a few of my faves....
Seaside Frill - from Heart in Hand. A quick little parade to stitch up! Darling!
Blue Mandala - from Shannon Christine. While this isn't specifically beachy, it sure does make me think of the ocean! It's just gorgeous!
Plaid all Year: Day at the Beach - from Hands On. What a fun collection of beachside motifs: sandcastles, sea turtles, beach umbrellas & ocean waves! I myself, while I love sea turtles, think I might substitute seashells or sand dollars in that 2nd row ~ simply because I feel like those olive turtle greens don't really mesh with the other colors. Having said that, nature doesn't just give us matching colors all the time, so they really are exactly as they should be! You decide!
Polar Plunge ~ these are the last 2 charts available thru shops in this darling series! Remember, the 6th & final design will be a very special addition that will be available only thru Cathy on the Hands On website. All the proceeds from Part 6 will be donated to Special Olympics ~ a group that Cathy & her family are deeply involved in as her son is an athlete & her husband does quite a bit of coaching! We are fully on board with this & we can't wait to see what the 6th design will be!
Polar Plunge: Penguin Pair - from Hands On. I love that little grey fluffy baby penguin.
Polar Plunge: Puffin Party - from Hands On. This is a party I'd love to attend!
Dame Nature de l'Ete (Mother Nature in Summer) - from Jardin Prive. Mother Nature is rockin' a tropical vibe here, from the pineapple to the palm tree to the flamingo, not to mention all those gorgeous flowers!
Petites Series: Hello Sunshine Petites - from Little House. These little petites are fun (& quick!) to stitch, not to mention they are just darling!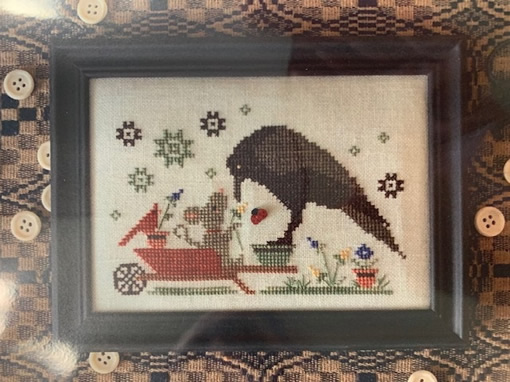 Garden Friends - from Stitches by Ethel. The newest designs from Ethel, this is just dear!!
This Adventure series is perfect for summer ~ so many of our adventures (aka, vacations!) take place in the summer! Plan your next adventure ~ even if you're only stitching it!
Adventure Series: Explore Dream Discover - from Cross Stitch Wonders. This would be a great design to stitch for that loved one who lives to get outdoors!
Adventure Series: Go Wild for a While - from Cross Stitch Wonders. It's good to get out "in the wild" ~ even if that just means somewhere without Starbucks!
Adventure Series: Let's Wander Where the Wifi is Weak - from Cross Stitch Wonders. My nephews would consider this literally the stone age!!!
Sampler Fleuri - from Tralala. A sweet little sampler filled with flowers & birds.
Raindrop Kisses - from Primrose Cottage. This sweet design definitely defines today!
Strawberry Wishes - from Rosewood Manor. It is, dare I say it, a lovely STRAWBERRY SAMPLER!
Strawberry Sampler - from Calico Confectionery. Yay!! What a sweet sampler ~ even if we are JUST a little biased!!
Strawberry Cafe - from Erin Elizabeth. I gotta say, if I didn't work at TSS, my dream job would be to work as a baker. I LOVE baking ~ mostly cookies, muffins, scones...I'm not such a cupcake or cake kind of girl (which is to say, I just don't make them AS MUCH!). And I can just imagine having a bakery in the early summer when you could make little strawberry shortcakes, strawberry pie, strawberries & cream with scones...geez, my mouth is watering...
Strawberry Cafe Smalls - from Erin Elizabeth. Cute little signs to stitch for my bakery!
These 3 designs would be charming all stitched & hanging together in your kitchen (or mine!).
Fresh Lemons - from Erin Elizabeth. I love lemons ~ the smell is so wonderful, and, being that I'm addicted to cooking shows, I have come to recognize the role that acid plays in brightening up flavors! There's no better, fresher smell than the smell of citrus.
Farm Fresh Strawberries - from Erin Elizabeth. Do you pick your own strawberries? I certainly have! Growing up, my grandparents had a HUGE garden in their back yard as well as another plot on family land. We spent loads of days picking strawberries (& eating almost as many as we put in our buckets). Nothing, literally nothing, tastes better than something you just picked fresh from the garden.
Fresh Honey - from Erin Elizabeth. My grandfather raised honeybees & my grandparents collected, bottled & sold their honey. It's so interesting learning about how honey gathered from WHERE YOU LIVE is so good for your health.
Fruit Salad - fro Erin Elizabeth. I don't know about you, but all the juiciest fruits taste best in summer! The only thing missing from this is a big red watermelon!
Bee Kind - from Erin Elizabeth. Pretty & good advice too!
Home - from Erin Elizabeth. I just love the flowers around the border of this! You can't have honey without flowers.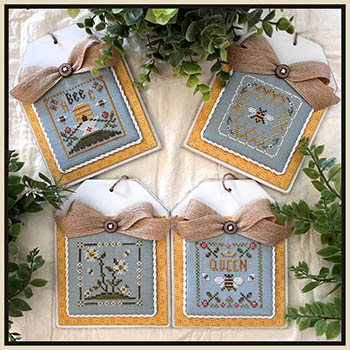 Petites Series: Bee Petites - from Little House. Charming little smalls to stitch. These would look sweet finished as little pillows & used as bowl fillers, or as flat finishes (shown here) & attached to a wreath...so many fun things you can do!
Bee Tier - from Erin Elizabeth. All things honey & bees! I love it!
Honey Craftsmen Sampler - from Stitchy Prose. I love the honeycomb patterning scattered throughout this sampler!
My Sunshine - from Erin Elizabeth. Such a charming design featuring this beloved song ~ Abby used to sing this to the boys!
Summertime Sunshine Sampler - from Stitchy Prose. What a lovely summery sampler!!!!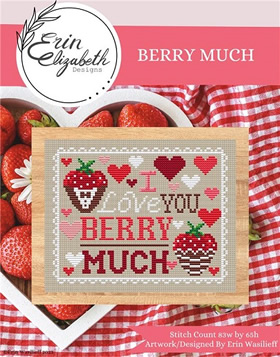 Berry Much - from Erin Elizabeth. This just makes me hungry!!!
Here in the US, summer also means July 4th, flags, fireworks, and lots of red, white & blue! Of course, there's never a wrong time for patriotic designs, but summer certainly highlights it.
E Pluribus Unum - from Jan Hicks. What I love about this is the different patterns making up each stripe in the flag. Reflective of our country, no 2 are alike, yet they all work together to create a whole. Another design that is similar is "Forever in Peace" from Sweet Wing Studio.
July 4th - from Rosewood Manor. Karen creates beautiful patriotic designs & this is no exception! I love the square motifs in this design!
Americana Sampler - from Calico Confectionery. Love this design. I'm partial to band samplers & this one is really nice!
Patriotic Smalls 2023 - from Twin Peak Primitives. I love these books that have so many smalls to stitch! Each one of these is fantastic!!
USA Tier - from Erin Elizabeth. LOVE LOVE LOVE this!!!
Canadian Tier - from Erin Elizabeth. And for our friends to the North, Canada Day is July 1st, so just another great patriotic celebration during the summer! Having said that, I love the hockey skate, stick & puck on this, along with the snowshoe!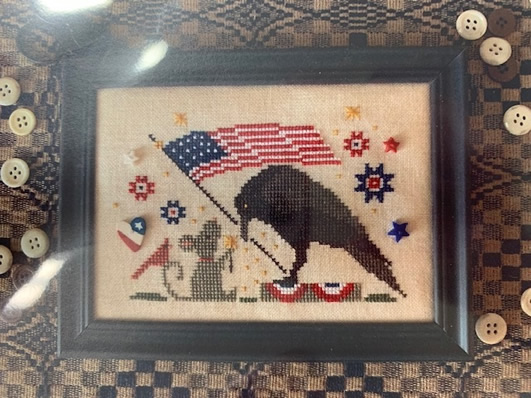 A Day for Freedom - from Stitches by Evelyn. These cuties are ready to celebrate!
Four Seasons Mandalas from Kitty & Me ~ these are simply beautiful!
Four Seasons Mandalas: Spring - the soft spring colors in this are lovely ~ as are those butterflies!
Four Seasons Mandalas: Summer - Love the bees buzzing around these blossoms.
Four Seasons Mandalas: Autumn - I always love the rich colors of Fall.
Four Seasons Mandalas: Winter - Snowflakes mixed among the blooms of winter.
Dame Nature du Printemps (Mother Nature in Spring) - from Jardin Prive. She's surrounded by sweet springtime friends ~ what a cute sheep, rooster, birds & bees!!!
Spring Tour - from Madame Chantilly. This bunny has been tasked with hauling a whole bunch of springtime beauty!!
First Flowers - from Modern Folk Embroidery. This is a happy promise of spring on the way! I have to say, I would stitch this in pretty spring colors ~ maybe a soft color of overdyed fabric & some pretty floss!
Autumn Flower Pincushion - from Modern Folk Embroidery. Stitched with rich atumn colors, this design would be lovely finished as a pinpillow for your autumn stitching basket!
Tree of Friendship - from Modern Folk Embroidery. Good friendships, like a tree, can go bigger & stronger with time. Personalize it with the initials of friends.
Unicorn Pincushion - from Modern Folk Embroidery. This fun design was based on a Pennsyvania Dutch chest of drawers from the Pennsylvania Museum of Art (in our neck of the woods!!). The chest is painted in the typical cheerful colors of the Pennsylvania Dutch Fraktur style. If you live in our area, or have visited, you are no doubt famiiar with Fraktur work. I will admit, I haven't seen unicorns often in fraktur work, but they would certainly fit right in!
The Namárië Tapestry - from Modern Folk Embroidery. From the designer: "Ive always been fascinated by the world that JRR Tolkien created when he set out to explore Middle Earth in his Lor of the Rings series. Someone who was deeply knowledgeable of our own ancient world, he developed multiple languages, scripts, nations and histories in which he set his fantastic mythologies. When you read his work, you cannto but be in awe at its realism and the labour that went into creating th edepth of the universe he created. With this design, I wanted to make a pattern that felt it belonged in this ancient world ~ a world in which the art of the elves had an influence on the designs of men. I used the first lines from Tolkien's poem Namárië (Galadriel's lament in Lórien)."
So this design is for all my fellow Lord of the Rings readers!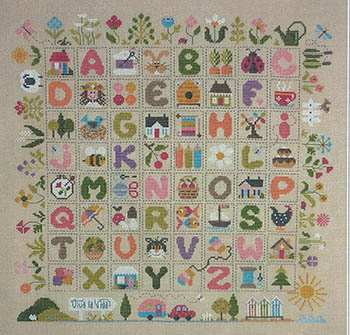 Viva la Vida - from Jardin Prive. What a fanstastic design filled with all the colors & beautiful things that make life worth living!!
We have added some gorgeous designs from a designer who is new to us & we couldn't be more excited! The design company is called Galliana & the designer, Elaine, is from Scotland. Her designs are mainly designed as monochromatic works, but they are so fun to add pops of color.
In the Garden - from Galliana. Gorgeous floral motifs, and what looks like fields of flowers all around!
Variations Sampler - from Galliana. What I love about this is that, while the full piece is AMAZING, you can also take some of the motifs on their own. One thing I love is to find square designs (like the many seen here) & you can make a biscornu from 2 square pieces. There are SO MANY here to pick from!
The Bookcase - from Galliana. This is one of my FAVES! And this is a great example of adding a little bit of variety of in colors! I absolutely love this!!
Celebrate Cross Stitch - from Madame Chantilly. Fantastic fun design with so many awesome things that all stitchers love!
Quaker de la Brodeuse - from Jardin Prive. How cool is this? Cross stitch in any language is still as beautiful!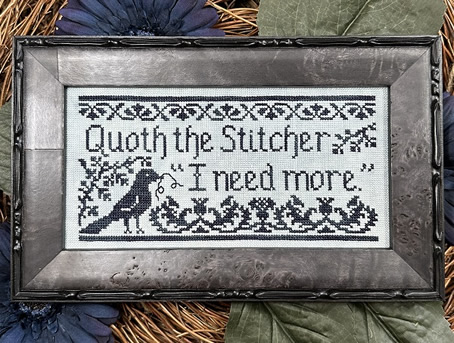 Quoth the Stitcher - from My Big Toe Designs. Hilarious!! And oh so true!!
Stitcher's Retreat Cottage - from Pansy Patch Quilts. This is perfect for celebrating the friendships made at a stitching retreat. No matter where we come from, our love of stitching binds us together!
Stitcher's Sampler - from Twin Peak Primitives. Which of your stitching friends will you stitch this for??
Stitcher's Shelves - from Galliana. What a fun design this is! There are so many places to add pops of color here!
Stitchy Shed - from Erin Elizabeth. This is what we ALL want ~ our very own stitcher's clubhouse! Only stitchers allowed!
Heika Hazelhoff: a Gronigen wedding sampler - from Modern Folk Embroidery. This sampler is a reproduction of a Dutch Wedding sampler. It's very cool & you actually could personalize it for a current wedding if you wanted to!
Key to my Heart - from Galliana. Another fantastic monochromatic design, very sweet. It took me a minute to find the keys...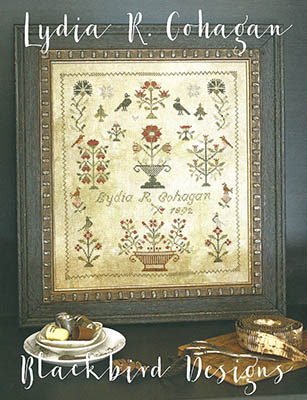 Lydia R. Cohagan Sampler - from Blackbird Designs. A new release, this is a beauty we'll all want to add to our stash of Blackbird charts! Also, be sure to scroll on down to see LOTS of newly reprinted Blackbird favorites!
Clémence Jauneau Sampler - from Couleur Tourterelle. Another new to us designer, we love this sampler filled with birds (and 1 dog & cat!) and surrounded by a lush floral border! This is a stunner & one of Molly's faves!
MS 1884 Sampler - from Couleur Tourterelle. Another lovely reproduction, I love the vivid colors in this one, along with the mismatched borders.
Madame Tougas Reproduction Sampler - from Couleur Tourterelle. MY FAVE! I do so love these monochromatic samplers! Not only do I like the alphabets, but I also like the borders she used. In addition, I love how this stitcher added the names of the girls in Madame's class to this sampler ~ just a neat little twist!
GBH Sampler 1848 - from Modern Folk Embroidery. This reproduction sampler of Dutch origin was done by Gerritje Broekheis, a farmer's daughter, and stitched in the typical fashion of that area. You can read some interesting info about Gerritje & her family in this leaflet!
GBH 1857 Sampler - from Modern Folk Embroidery. A second sampler stitched by Gerritje a few years later, I love some of the fun motifs scattered thru this one.
Eugenie Hucher Sampler - from Couleur Tourterelle. Stitched when Eugenie was just years old, and stitched for her papa. Her darning stitches & decorative work are lovely, especially for an 8-year-old!
Peacock Tree - from Modern Folk Embroidery. A simple & lovely design, inspired by ancient Byzantine mosaics!
Fraktur Hex - from Modern Folk Embroidery. Love love love this design! Inspired by our local Pennsylvania Dutch frakturs, it "features traditional Fraktur elements such as the little distelfink birds, tulips and other flowers, and four six petal rosettes tucked into little trees of life". I love everything about this design!!!!
While those of us in the Northern Hemisphere are making our way towards summer, vacations, sunny days & warmth, there are always fun designs for other seasons popping up. There are a whole sleigh-full of Christmas designs out & if you have the itch to stitch Christmas, you've got a bumper crop to choose from! Lisë always loved to sing Christmas carols during the hottest days of summer ~ just to craze me, I'm sure ~ and I'm going to miss that this year. So maybe I'll work on a Christmas piece to make me think of her!
Quaker Style Snowflake - from Aury TM. I know, I know, it's not "snowflake time", but it's just so darn pretty and by the time snowflakes roll around again I may have forgotten, so I had to show you NOW!! Besides, I know some of y'all like to "stitch cool thoughts" when the weather heats up....so here ya go!
Sweater Blocks: Peace - from Erin Elizabeth. Yep, more winter-type designs, but we just think these are really different & neat. And besides, is there a WRONG time to stitch PEACE? I think not!
Sweater Blocks: Joy - from Erin Elizabeth. Another beauty in this series ~ consider stitching this vertically & finishing it as a bellpull if you have a narrow area for hanging!
Sweater Blocks: Noel - from Erin Elizabeth. Start now & you'll have this stitched & finished for Christmas. This year!!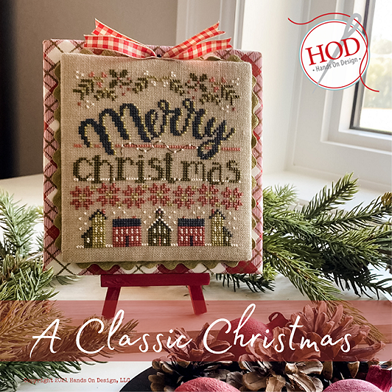 A Classic Christmas - from Hands On. Everything about this little design wraps me in the joys of Christmas. One other note: we are seeing LOTS of designs (particularly holiday designs) that are finished like this as a little flat mount, or as a tented flat mount that stands on its own, instead of framing. One of the benefits of this ~ in addition to just being charming ~ is that if it is a holiday design that doesn't stay out all year, it is much easier to wrap & store something like this than a framed piece. And yes, Therese (our AMAZING finisher) does these & they are awesome!

Big City Christmas - from Country Cottage. This is a series that Nikki started early this year & I apologize for not highlighting it sooner! I love that she's chosen to do a city series ~ we all love the charming country/farm/small town designs, but I know there are lots of city folk who stitch as well & it's awesome to see a city in focus! I myself, if given the choice, would LOVE city living. I lived just close enough to uptown Charlotte (and yes, I realize that Charlotte isn't what most consider a CITY...but I do), to appreciate the great things about it. My bestie & I already have plans to buy a brownstone in NYC...as soon as one of us wins the lottery!! So if you're a city lover ~ or you just like a city all decorated for Christmas ~ grab these & get started!
Department Store - The holy grail of Christmas shopping!
Theatre - I wonder what performances await? The Nutcracker? A Wonderful Life? So many possibilities...
Toy Store - Is there anything more important at Christmas than the toy store? I think not! Everyone is a kid at Christmas!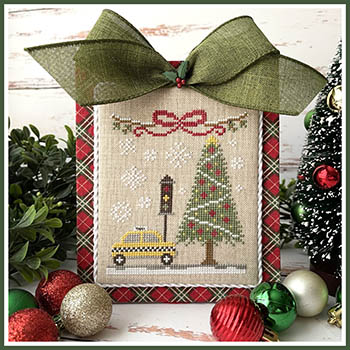 Street Scene - Just perfect ~ from the taxi & stoplight to the garland over the street & the lighted tree!
Hotel - For everyone visiting the city during the holidays ~ to shop, see the sights & experience the joy of Christmas in the city!
Restaurant - YUM! Wonder what their Christmas special is...plum pudding?
Music Hall - I hope you got your tickets to see the Rockettes!!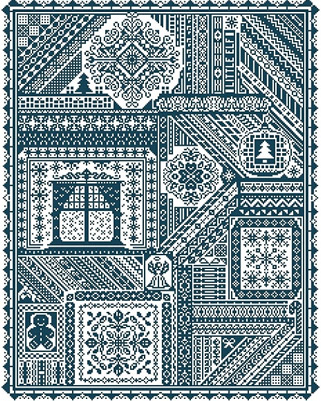 Christmas Sampler - from Galliana. Ohmygosh, there are so many wonderful motifs to highlight here! I think my favoirte is that window with all the snowflakes!
Plaid all Year: Happy Birthday - from Hands On. What a fun design to stitch & be able to set in front of the birthday person's plate on their special day!
For My Mom - from Erin Elizabeth. Now, while Mother's Day 2023 has come & gone, there really is NEVER a wrong time to stitch something ~ especially something this beautiful ~ for the mom you love so much! I adore all the flowers in this!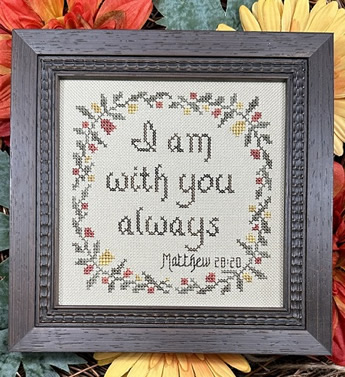 I am With You Always - from My Big Toe Designs. The assurance we all need. Lovely & quick to stitch.
I Love to Tell the Story - from My Big Toe Designs. A treasured hymn featured in this lovely design.
Mighty to Save - from My Big Toe Designs. The words are few, the meaning is immense.
Rose Street - from Galliana. I want to live in this city ~ everything I need in walking distance!
Victoria Street - from Galliana. See? If you spend too much time at the bakery (but can you? Really?), you can stop next door & have your clothes altered to still fit! Perfect!
Cross Stitch Petites are such charming little designs! They are perfect for giving or for keeping, just the right size for seasonal decorating! They can be finished as small pillows & displayed as bowl fillers, or done as a little tented finish to stand on a shelf, in addition to the little tag finish shown here. So many ideas...
Autumn Petites - Thanksgiving Petites
Snowy Petites - Winter Petites
Wonderful News! Lots of your favorite (but previously out of print) designs from Blackbird have just been reprinted! Several series are available, along with some individual charts! We have no idea if they will be available FOREVER, or if this is a limited run, so if you are interested in adding these to your collection, they are now ready for you to snap them up.
Anniversaries of the Heart
Elizabeth Jane ~ Farm House ~ Moonlight Visitor
Sweet Summer Come Again ~ Violet's Blue
Midnight Watch ~ Away We Ride ~ Feast of Friendship
Winter is Past ~ Bells on Christmas Day
Loose Feathers Series: For the Birds. These 5 charts have just been reprinted. There are 4 others that complete the series & they are still available as well.
It's Spring Fever ~ All the Hills Echoed ~ Sing a Song of Seasons
Pleasure of the Fleeting Year ~ Last Ripe Berries
Still available: Light Upon the Lawn ~ She Sights A Bird ~ Hear the Crickets Sing ~ Summer Beaming Forth
Loose Feathers Seasons - no idea why they never did Spring...I mean, if you're gonna skip a season, you know what I vote for...
Summer ~ Autumn ~ Winter
NEW MODELS AT THE SHOP!
Our model stitchers have been busy & we (Therese & I) are knee deep in finishing & framing so many awesome things! These are just a few to get you started ~ there are more in the pipeline too!
Stars & Stripes Forever - from Annie Beez. A sweet folk art design, just right for showing your stripes.
Patchwork de la Plage - from Jardin Prive. So many fantastic beach motifs! I love this design (shocker, right?).
Bunny & Bee - from Annie Beez. Perfect for spring, perfect for summer, just perfect!
Robin's Discovery - from Luminous Fiber Arts. This is THE cutest thing! Around here, this is also know as "The Aggressive Bird" design ~ thanks to Therese's husband who felt that Mr Robin was not about to let that bunny steal his discovery....
Kringle Flying Academy - from Silver Creek. Ohmygosh, how stinkin' cute is this??? Santa seems a little concerned, but I believe Rudolph has everything under control!
Winter Cardinals - from Blue Flower. What a sweet little pair! This has become an instant hit since we put this model out.
Bloomin' Tiny Town - from Heart in Hand. Another instant classic, we just love this! And before you ask, yes Therese did the finishing, so she will do yours too!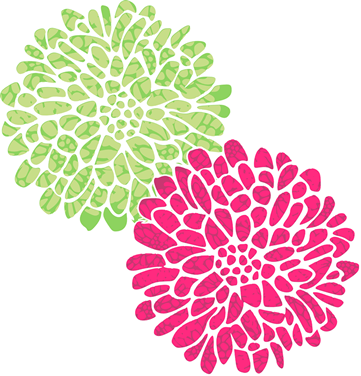 I hope everyone is easing in to late spring & looking forward to summer. I am always happier when the days are longer, warmer & sunnier, that's for sure!
This summer, both of my nephews are gonna be "up north" working. Jimmy is returning to Cape Cod to spend a 2nd summer with the Cotuit Kettleers, one of the teams in the Cape Cod Baseball League. He will be covering all the games & players & writing the articles for their team. He started doing that at the very end of last summer & found he really liked it (& he is very good at it!). Chris has an internship with a financial company in Boston! He hasn't decided if he's excited about it yet or not ~ I think he's gonna miss all his friends around here. I told him it's gonna be a great experience ~ he'll get to see how he likes working in a city, how he likes working for a company in his major & it only lasts for the summer, so if it isn't the perfect fit, he can walk away at the end with that knowledge. I think he'll do great! Having said that, I will have NO BOYS nearby for the first time in 22 years. I am missing them already (& they haven't left yet!), but I am SO DAMN PROUD of them taking advantage of these opportunities, even if they are away from home! It's hard to realize they'll not be nearby, but it's great knowing they have the strength & willingness to step out & take control of their lives. This fall will see Jimmy back at West Chester University in grad school (I don't know the exact program, but I know he is looking forward to continuing to work with the baseball team there & also with some of the other sports teams). Chris will head back to Penn State for his senior year. Good grief!
I've got a few ideas on the burner here & am looking forward to rolling them out after the Sidewalk Sale takes place. One project is a page of questions & answers ~ things that we are seeing & hearing about, like gridding your fabric before you stitch...does that help? So if you have questions ~ any questions ~ shoot them our way & we'll research & add them to our list.
We are also on the hunt for a local spot where we can get together to stitch! When we were in Chadds Ford, we loved using the Barn at the Historical society, but that's a bit of a hike from here. So we are on the lookout for somewhere nearby that would be nice to get together & not crazy expensive! We'll keep ya posted, because we're looking forward to having some time together to stitch!
Okay! I'm gonna tie this up with a bow & get it on its way! I could go on forever, but then I'd never get this off to you! Again, things are starting to shake out a bit & I am planning to get back on schedule with newsletters, so keep your eyes on your inbox!!
Hugs & stitches ~
Beth & all the sunny stitchers at TSS