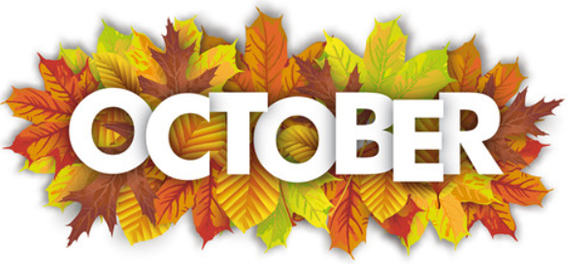 Well, I don't know about you, but HOW IS IT FREAKIN' OCTOBER ALREADY???? I mean, I know it is because baseball season is over (at least here in Philly). This week, we've had a high of 95 degrees on Wednesday (YAY!), and then on Friday a high of 60 degrees.
So, I had every intention of getting this off to you LAST Friday, or at the very least over the weekend, but as it turned out I had one of those black cloud weekends where I'm fighting my depression so hard, I have nothing left for anything else. Consequently, I decided it was just better for everyone for me to "pile up" ~ as our gal Phyllis would say ~ and hide from the world. My Charlee girl picked right up on it & spent a lot of time draped across my lap (also making it difficult to work on the computer!). I hate those days ~ especially when it's beautiful outside (which it was this weekend...). But I made it thru & as I say all too often, nothing we do here is gonna cure cancer, so a day or two delay in a newsletter shouldn't cause any harm.
I did do some stitching this weekend (no Kimberly, I didn't finish BG...yet). I started the "I Love my Dog" sampler from Victoria Sampler. After stitching the little Band Sampler last week, I was really in the mood for more specialty stitches, etc. so I got started on the doggy one. Of course, it doesn't look like much got done, because right slap in the middle (I ALWAYS start in the center), is part of the verse, which is over 1 thread. So I finished that part of the verse, and the satin stitch below it. That's me ~ the serial starter!
I heard there were a bunch of fun people in the shop on Saturday! I actually love working Saturdays & getting to see people, see what everyone's stitching on, see what they're picking up...hmm, sounds like I'm just nosy. Oh well, I'm good with that! So I'm kinda bummed I wasn't working (although with my dark cloud consuming me, I probably wouldn't have been much fun). But it sure sounds like it was a fun day.
Okay, on to the new goodies on the horizon. Just a quick reminder ~ if I have it posted in this newsletter, that means it's ON ITS WAY, but probably not here yet. This is how it works in general, as far as the newsletters are concerned, so if you see something in a newsletter & then you get a chance to pop in a day or two later, don't be upset if we don't have it just yet! As you all know, we'll be happy to hold it for you when it arrives, or send it to you if it's not worth the bridge tolls & gas money to get back over to us! Also, if you're a local, you can ALWAYS feel free to email us, call us or even order online & just tell us to let you know as soon as something arrives ~ we'll be more than happy to do that for you!
On to the new things!
Halloween designs continue to roll in. 25 years ago, I would have been saying, "Too late." But it is funny to see how we have evolved into stitching "in season" as opposed to "for the season". One of the gals in on Saturday was commenting about this with Molly & she said she 'HAD to stitch Christmas ornaments over the summer & it was just wrong! Sorry I missed seeing you Susan!
Run Witchy Run - from Sister Lou Stitches. INTRODUCING a new designer! Sara is the sister of Diane Grick from Silver Creek. A few years ago, Sara came to the Nashville Market to keep Diane in line (!). Believe it or not, she wasn't a stitcher at that point. Well, we fixed that tout de suite! Now not only does she stitch, but she has begun designing as well. Evidently, talent does run is the family! This is sooo cute ~ I want that witch's dress!
Sleepy Hollow part 4: Headless Horseman - from Tiny Modernist. Once again, I start off thinking, "meh, another 4-parter. how cute can it be?". I am almost always wrong ~ and I certainly was with this one! I think each row is darling by itself, but now that I see the whole thing, the whole big picture is totally fun! Perfect for halloween decorating! It makes me smile!
Quaker Cauldron - from Stitcherhood. Love that cauldron...but I'm concerned about what's bubbling over!
October Squared - by From the Heart. Lotsa bats. LOTSA BATS!!
Black & Jack - from Teresa Kogut. I might be wrong, but I think Jack is a wee bit scared of that kitty!
Yummy Boo Boo - from Twin Peak Primitives. What a cute cute cute bowl of Halloween treats! But oh, the name...
Witch Mania - from Mani di Donna. What a fun design this is! This would be so cute to have out for Halloween.
Ready for Halloween Night - from Mani di Donna. Another fun pillow for Halloween ~ I love looking at each of the little motifs on the letters.
Halloween Ornaments IX & X - from Stoney Creek. 2 cute books of fun Halloween ornaments! I love the crow one ~ I can't decide if he's pulling that candy corn out of the sunflower, or decorating with it! Who cares ~ it's cute!!
Pumpkins Ride - from Stitch N Needs. Would ya say that's like the school bus of brooms??
Brew Witch - from Stitch N Needs. I think she's brewing alphabet soup ~ I just wanna know how she gets it to spell out words in the steam!
Halloween Needle Roll - from Romy's Creations. The design is cute as can be, but my eyes keep wandering off to the candy....
Moonlight on Halloween - from Stoney Creek. This is darling! I think the owl looks a little rattled though!
Rearview ~ Pumpkin - from Needle Bling. Now THAT is one big pumpkin! That'd be a good one for the Chadds Ford Pumpkin Carve (coming to the Barn at Chadds Ford on October 17, 18 & 19 ~ shameless plug). If you live in the area & have never gone to the Pumpkin Carve ~ you MUST go! It is so cool! They have over 70 carvers, including some of our local artists, and on the 17th you can go & watch them as they carve. It is mind-blowing. Very fun.
Acorn House Pin Drum - from Heartstring Samplery. Wouldn't this be just right sitting on a table with autumn decor?
Autumn Bellpull - from Tiny Modernist. This is for all you "play in the leaves, get out your cozy sweaters" stitchers: "Leaves are Falling, Autumn is Calling; Pumpkin Spice & Everything Nice; I love Fall Most of All". What's nice about this (aside from the fact that it's really sweet) is that you could stitch just 1 of the 3 parts ~ like, "Pumpkin Spice & Everything Nice" (right Robin ~ aka, my pumpkin spice codependent?). I also like the border on this ~ I really like that little touch of pink!
October Pixie Biscornu - from Tiny Modernist. Isn't she cute??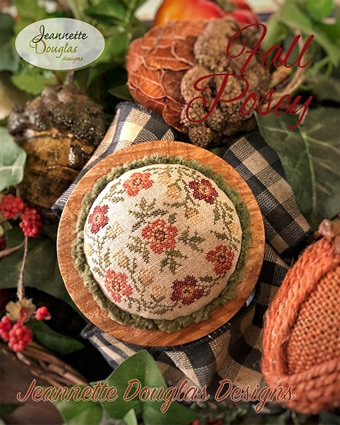 Fall Posey - from Jeannette Douglas. What a lovely little pincusion with rich autumn colors. The kit includes linen & threads. These will not be in until late October, but you are welcome to place your order now.
T is for Turkey - from Heartstring Samplery. Perfect for autumn, and another pretty border.
Sarah J Hale Give Thanks Boxes - from Mani di Donna. So nice to see more & more things for Thanksgiving. These are wonderful!
Thanksgiving 1621 - from Twin Peak Primitives. A fun Thanksgiving design, I love that border thru the center!
Give Thanks - from Stitch N Needs. If that turkey thinks dressing up like a pumpkin will keep him safe on Thanksgiving, he might wanna re-think that decision....
Autumn Box - from Victoria Sampler. Now, some of you are thinking, "this looks familiar. I think I have this" & you may be partially correct! This gorgeous design is a reissue of an earlier box, but Thea has added new bits & bobs to it, like the pincushion & maple leaf fob. The Embellishment & threadpak includes EVERYTHING you need to finish the box (except the time & the hands). My favorite part is the band all around the edge.
Farmgirl - from Teresa Kogut. Love that barn & all the critters!
Prim Hen in Basket - from Teresa Kogut. This is GORGEOUS! Great for your country kitchen.
I Love Fall A Latte - from Faithwurks. This kit includes everything you need to make this adorable Fall box! Pumpkin Spice sold separately.
Sweet Maple - from Meridian Designs. Is she not beautiful? I just hope she has a pair of shorts on under that skirt, because when all the leaves fall off....
Kindred Hearts Needlebook - from Scattered Seed Samplers. What a sweet gift this would be for a stitching friend!
Tools - from Lucy Beam. Yes ma'am! These are the tools we employ! Now, if only we could find a box that had a siren if someone tried to take your scissors for some nefariousl purpose ~ like cutting PAPER!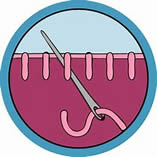 Classes! I posted a list of classes last week & just wanted to remind you that the first 4 classes are coming up next week. I'm excited to see the names of folks who are eager to learn some new things. Click on the stitches above to go to the class page & decide which one is for you! There are more coming ~ a beaded fob, some punchneedle & more. And there will be more after the holidays (HOLIDAYS?? Are we really talking about the holidays?).
Flower A Day: Yellow - from CM Designs. This is yummy! And I'm not really a "yellow" girl. Can't wait to see a blue one.
Star Quilt - from Teresa Kogut. I've always loved these star patterns & when I can stitch it instead of quilting it? Bonus!!
Secret Garden Collection - from CM Designs. The chartpak above left contains all 12 Secret Garden charts. You can stitch them individually, or all on 1 piece. They are not huge (~ 84 x 84 stitches), so they would be sweet little gifts for friends ~ maybe filled with lavender?
Secret Garden charts - from CM Designs. The picture above right will take you to the page where you can order individual charts if you don't want all 12. HOWEVER, if you think you might stitch more than 3 of them you'd be better off getting the full collection ~ each individual chart is $7.00, so if you got 3 individuals, it's $21.00.
Blackwork Scabious & Chickadee - from Lesley Teare. Love this design & I have also developed, if not love, then at least a "like" of blackwork (since I finially learned how to do it right...).
Blue Jay Amongst Oak Leaves - from Lesley Teare. Another lovely bird in nature design. Love the acorns.
Mary Alice Meynell Sampler - from ScissorTail Designs. I'm gonna hazard a guess that Mary Alice was pretty young ~ don't you remember writing things with colored pencils or markers & changing for each letter??
Qua Coeur - from Jardin Prive. What a lovely garden heart ~ love the flowers, birds & bees.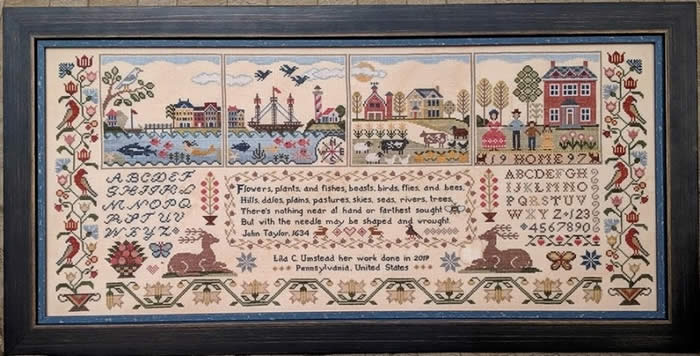 With The Needle #2 - from Lila's Studio. Once again, some of you may be thinking this looks a bit familiar! Quite a few years ago, Lila released a smaller (but NOT small!) version of this. Well now she has added more vignettes, alphabets, & motifs! I love this! And I like that you could stitch even just 1 or 2 of the scenes at the top.
Rooster Cottage - from Teresa Kogut. Do you think this has a hen house out back? Sorry, couldn't resist.
Sow, Grow, Eat, Repeat - from Puntini Puntini. Wouldn't this be darling for a kitchen? Particularly for someone who has a wonderful veggie garden?
Storie de Zuccero E Pan di Spagna (Stories of Sugar & Cake) - from Cuore e Batticuore. This is my DREAM SHOP!!! All the yummy treats....
Antiques - from Cuore e Batticuore. What a fun place this looks like!
Words to Live By #10: Live Forwards - from Tiny Modernist. Scary how something so small can be so profound.
Another Opens - from Rogue Stitchery. Oh yes, yes it does!

Musical Bookmark - from Rogue Stitchery. Not only is this a fun bookmark, but for anyone who is always trying to find a good musical design, the keyboard & the notes would make a great border for a piece.
New Baby Boy - from Bobbie G. How sweet is this?
Life Lessons...Puddles - from Sister Lou Stitches. I LOVE LOVE LOVE this! I just saw a "study" the other day that said listening to rain lowers your blood pressure & walking in it is even better. Obviously, this is when you're not driving thru it, or in a hurry to get somewhere.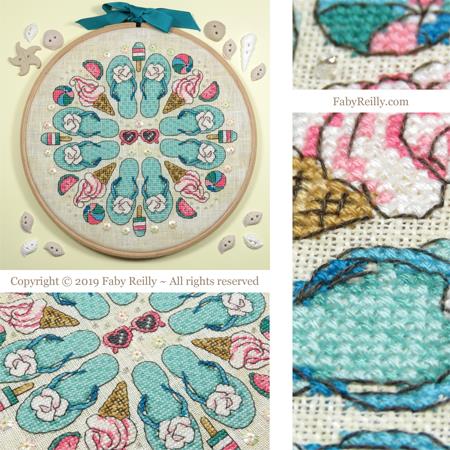 Summer Mandala - from Faby Reilly. Some of y'all are thinking, "Bad timing", am I right? But I say to you, there is no bad time for summer!! Or thinking about summer. Or wishing for summer. Or stitching for summer!
Ticket to Read - from Rogue Stitchery. Wouldn't this be a great gift to give with a copy of "Charlie & the Chocolate Factory"? Or any of the Harry Potter books? Or really, any book at all????
Life is a Maze - from White Willow Stitching. Yeah...but am I working my way in? Or out? Halfway thru, I'm pretty sure I wouldn't remember.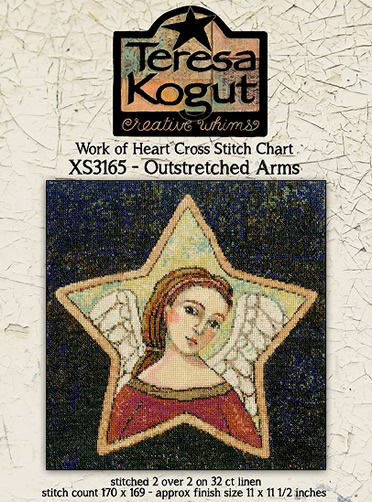 Outstretched Arms - from Teresa Kogut. This is part of her series of BIGGER designs & I love how the background looks like the night sky!
Rarest Friend - from Curly Girl by Mill Hill. I ADORE Curly Girl artwork & am always so excited when there are new ones to stitch. This one is AWESOME! Nothing is more true than this statement.
Love is the Only One - from Curly Girl by Mill Hill. Very true. And if you want unconditional, never-ending love, adopt a dog.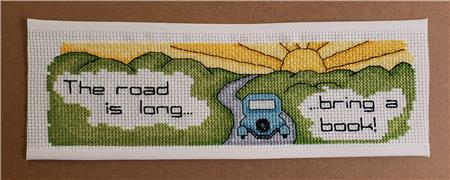 Long Road bookmark - from Rogue Stitchery. Listen, if the road is long, I'm gonna need several books!
Happy Snowball Days - from ScissorTail Designs. Super cute! I love the tree in the bigger design.
You Warm My Heart - from Puntini Puntini. AAAaaaaawww....so sweet!!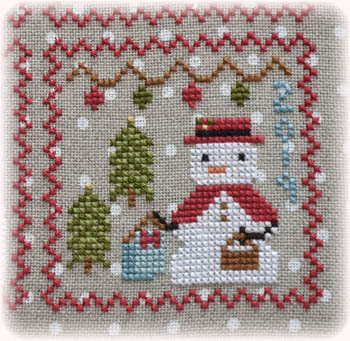 Snowy 9-Patch part 9 - from Annie Beez. YAY! All 9 snowpatches are now available! They are so cute!
Dare to be Different - from Sister Lou Stitches. That guy in the center? He's MINE!
Christmas Village #2: Frosty Nights - from Tiny Modernist. SO CUTE! Look at the little pup! He looks cold!
Humblingly Perfect - from Curly Girl by Mill Hill. Aaawww.... how sweet!
Warmest Wishes - from Curly Girl by Mill Hill. How adorable is this? I just love polar bears.
Douce Nuit (Sweet Night) - from Tralala. Another instant winner from Tralala!! I love the 2 little helpers that Santa has!
Merry Christmas - from Tralala. Another cutie!! Love the reindeer just hangin' out on the cloud!
Happy Holidays - from Lilli Violette. This is THE CUTEST thing! I however, would be holding tight to that chocolate tart!
Joy - from Lilli Violette. Such a sweet group of holiday singers!
Christmas Tree Collection 10 - from JBW Deslgns. Each year, these get sweeter & sweeter. And I add them to my pile of "ornaments that would be so cute on my tree as soon as I stitch them....hahahahah".
Twelve Days of Christmas - from JBw Designs. These 12 designs are broken down into 4 charts (Part 1, Part 2, Part 3, Part 4) that include the embellishments. This is a really nice series of ornaments for this treasured Christmas song.
Bling Tree Sampler - from Victoria Sampler. This is a family treasure in the making! What a gorgeous design. And all the "bling" for the tree is included in the thread & embellishment pak. I put the 2nd picture up to show how they finished it ~ and YES, Therese (aka, the Fabulous Finisher) has done several of these & can do one for you!
Scandinavian Christmas Sampler - from JBW Designs. So many fun motifs to discover in this sampler!
Joyful Scene - from Teresa Kogut. LOVE LOVE LOVE this!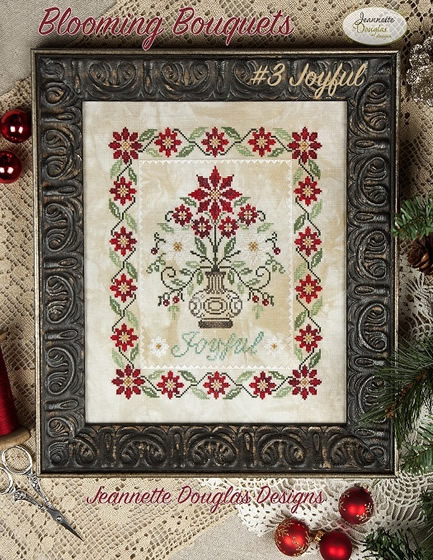 Blooming Bouquet 3: Joyful - from Jeannette Douglas. Isn't this a stunner? The chart includes 2 different colorways ~ red (shown here) or coral (a more muted appearance). Both threadpaks are available.
Merry Topiary - from ScissorTail Designs. What a pretty little design to sit out amongst your holiday greens.
Primitive Merry Christmas Pillow - from Abby Rose. There is something so eye-catching about this design! I really like this one.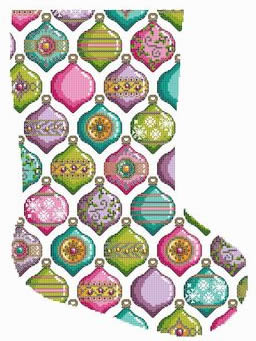 Vintage Baubles Stocking - from Shannon Christine. What a yummy stocking!! Who's making mine?
Nutcrackers - from Lilli Violette. I think these are adorable! Molly is not a nutcracker fan ~ she thinks they're creepy ~ but I love 'em & these are clever!
It's Christmas Time - from Lilli Violette. Wanna guess which Santa is mine??
Quilty Love - from It's Sew Emma. Lots of quilt blocks to love! Not into pink? Pick shades of blue, or green or ...
Blue & Pink - from Renato Parolin. Wonderful designs for small needle rolls, these were originally designed as an anniversary gift. Wouldn't make a beautifully unique ring-bearer's pillow?
Rouge Petit Hiver - from Renato Parolin. Oh.My.Goodness. I LOVE this! I love the whole sampler itself, but I also love that you could take individual blocks & stitch small ornaments. The first one I wanna do is the one with the reindeer & the snow.
Until Christmas - from Renato Parolin. How cool is this? It's a kind of an Advent calendar but it fits on a thread spool. Then you pull it down one block each day. I love things that are different & clever.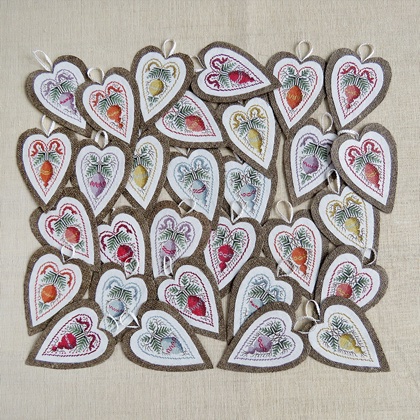 Gioiosa Atmosfera (Joyous Atmosphere) - from Renato Parolin. Oh my goodness, look at all those gorgeous ornaments! I'm guessing there are probably 4 or 5 different designs, but LOTS of different color choices!
Aria Festosa (Festive Air) - from Renato Parolin. Okay, I love everything about this ~ the ornaments, the snowflakes the squirrels...and the ribbons on the squirrels' tails! It's fun and it's pretty!
Pink Spring - from Renato Parolin. This is the 2nd installment after White Winter. I like this one even better (Molly likes the White Winter).
Mr Green Jeans Punchneedle - from Teresa Kogut. Isn't he cute? I love his smile!
Whimsy Ghouls Punchneedle - from Teresa Kogut. These 3 look like a fun group!
Fox & Friend Punchneedle - from Teresa Kogut. MOLLY'S FAVORITE! I love the depth in this ~ and the cute little bluebird!
Farmhouse Star Punchneedle - from Teresa Kogut. What a luscious piece ~ great for autumn.
Embellished Silver Scissors - from Sullivans. These are such pretty scissors!
Tulip Needles, size 25 - from Tulip. Some of y'all have asked about these, so we have them on the way! What I've read so far as that they are SLIGHTLY flexible ~ therefore they don't bend or break as easily. Haven't had a chance to try them yet, so as soon as they get here, we'll all be trying them out.
Sassy Purple Scissors - from Sullivans. Not sure what makes them "sassy" but I do like the color!
Parisian Zinger - from Yarn Tree. The clasp attaches to your scissors & then the back has a clip that you can clip to your chart, or fabric or shirt. Now, when these first came out (about 100 years ago), I had one clipped to my shirt & I pulled my scissors, clipped the thread & then let go (for it to reel back in). WORD TO THE WISE: Don't clip it right next to your face! As the saying goes, "That's a good way to put out an eye".
There are a few more cute new additions to the Zappy Dot collection! Remember, they come as either a magnet dot, a Needle Nanny or a scissor fob.
Zappy Dot: Jack O' Lantern - from Hands On. What a cutie!
Zappy Dot: Jack O'Lantern Junction - from Hands On. Love this farmhouse & the goat!!
Zappy Dot: Turkish Delight - from Rosewood Manor. I love the color & patterns in this design.
Zappy Dot: Cranberry Christmas - from Hands On. Perfect for your Christmas stitching basket.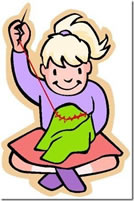 A few things to keep in mind as you work on your projects for Christmas, and really for any time. This pertains to your projects you bring in for finishing & framing.
* Keep in mind as you attach any beads, buttons or treasures, you need to secure them ~ especially if it's a stocking or a pillow or something that will be handled. So attach what you need to, & then run your threads under on the back a couple times.
* When you are stitching, try not to carry your threads more than 2 stitches ~ they will show thru when you frame or finish your piece.
* When you are finishing off a thread run it securely under a few threads on the back & then clip it off SHORT. Do not leave long tails or they will show thru. We WILL NOT clip any tails, as we never know what is tied down & what isn't.
*Just a reminder on the deadlines for Christmas:
Finishing: November 2nd
Framing: November 16th
Remember, the later you get your piece in, the closer it will be to Christmas when you get it back.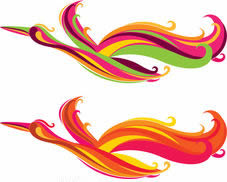 I have some fun things to show off today! One is a new model & the other is just a showoff (& a test...& an announcement...all in one!).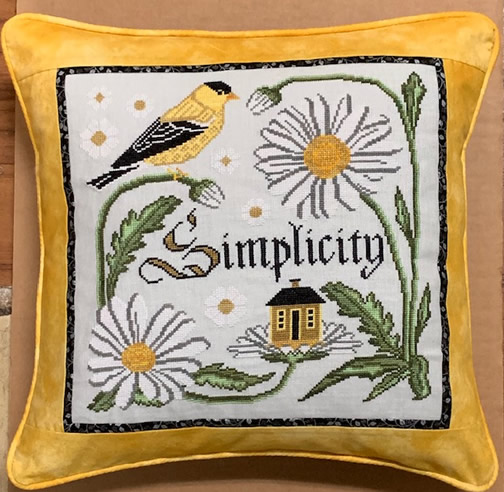 Songbird's Garden: Simplicity - from Cottage Garden. I know LOTS of y'all have been collecting these beautiful charts! Well we stitched this one for a shop model & then Therese (aka, our Fabulous Finisher!) made it into this gorgeous pillow. Now, for those of you who have started stitching on some of these, you already know, but for those that haven't ~ these are NOT small designs. This pillow is 14" x 14" , stuffed with a 16" x 16" pillowform (yes the form is bigger ~ that's what makes the pillow fat!). I can't begin to tell you how much prettier it is in real life ~ so take my word for it! If you're thinking about stitching 1 or 2 (or 12) of these, you will not be sorry!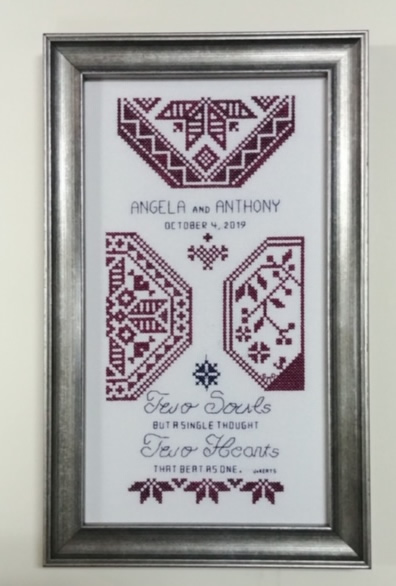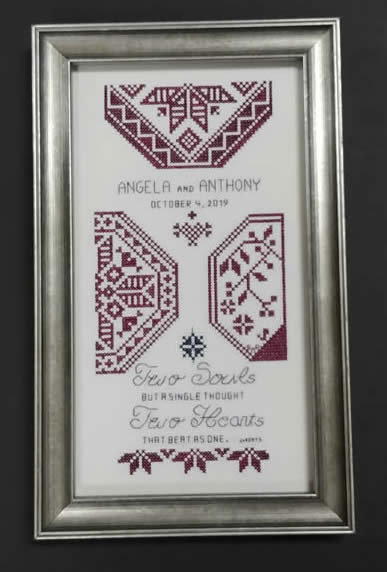 No, you're not seeing double. I'll explain in a minute. Stella stitched this for a wedding. What design is this, you might wonder? It's not. It's adapted from the Two Quaker Sisters design from Modern Folk Embroidery. She used the top partial motif, then put in the names & date, then 2 other partial motifs, a lovely verse & a few more little bits. Completely unique! No one else will ever have the same sampler. So don't be limited by what you see on the cover ~ switch it up, make it your own! Remember, if you need something charted out, but are uncomfortable doing this, we offer that service here.
Now for the test/announcement part. Can you tell which of picture is the one taken after the glass was added? I couldn't. In fact, Lise took the pictures & she actually couldn't remember either! Why is that? Well that's the announcement part. We are now offering Museum quality glass. It is one more step up from our Conservation Reflection Control & it literally disappears. Amazing. Yes, it is more expensive. But if you have an heirloom piece that you want to protect without that glass glare, this is what you might want to consider.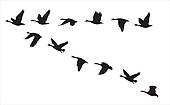 Holy cow! Let's just say, you never stop learning as long as you're paying attention. So, it's Autumn & that's always a good time to hit it out for warmer locales. Well, evidently the lake behind our house is a known stopover for all ~ and I do mean ALL ~ the Canadian geese who are headed out of Canada! Good grief, they are LOUD! They fly in at night, party with their friends & fly out the next day! If I could charge them a hotel fee, I could fly south with them. They honk as they fly to keep tabs on each other. The flock that's already landed honks to tell them where to land, and when they splash down it sounds like 25 teenagers doing a cannonball all at the same time! By the next day the lake has cleared out. Then at night, the next batch drops in. Did I mention they're LOUD? Beautiful nights, wonderful for leaving the windows open...unless your 65 pound dog barks every time a new crew flies in.
Now, you might think this would be starting to get on my nerves, and you'd be right. But not for the reason you might think. Every time one gang heads for warmer climes, I think "hmm...not a bad idea...". By the end of this week, I may be tempted to hop in my car & follow the flock!
Hugs & stitches ~
Beth & all the concierges at Hotel TSS