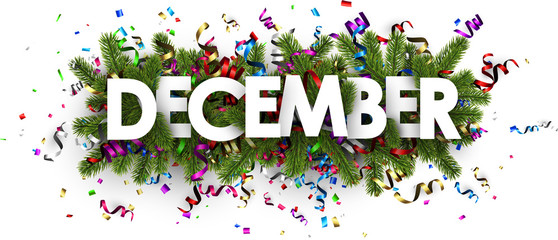 Um, didn't I just say, "holy cow, it's November"? I could swear I did. Oh well, ya know what? The sooner we get thru December the closer we are to SUMMER! Yep! That's the real goal.
Hopefully everyone had a lovely Thanksgiving & did whatever Black Friday nonsense desired.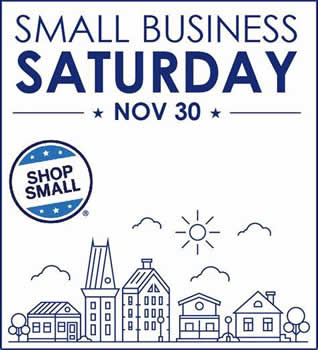 Small Business Saturday is November 30th!! Hooray!! Whether you are out & about shopping, or online shopping, PLEASE visit as many local small businesses as possible.
At our shop, everything will be 20% off on Saturday!
For more info, click on the "small town" above.
In this Amazon world we live in, it's vital that we all support the one-of-a-kind local businesses. Don't worry, I'm not gonna go all wacko yipyap on this subject ~ I know I did that a couple years ago ~ but it is hugely important to each small business out there. I know here we have days where we may not be so busy, dollar-wise, but that certain someone comes in & says, "I NEEDED to come in here today. I just needed to see y'all." That day is a winner! It's nice to have a "bank" day, but it's even better to have a "people" day. And every business loves to feel special.
To thank you for supporting our small business, everything will be 20% off all day Saturday ~ both in the shop & online. I know last year we split it up, but since the Christmas Countdown starts the next day, we're bundling everyone together this year. And ya know what? We enjoy being your Local Needlework Shop ~ even if you live in Tennessee or California or Australia!

Now, lest you think this newsletter is JUST about Small Business Saturday, OH NO! There are a bunch of new goodies, both on their way to us & already here. So check 'em out!
Over the River - from Cricket Collection. Are these too cute, or what? You should have heard us squeal when we saw the pictures on Wednesday! And then, happy happy when we saw them in the mail on Friday! I can't decide which one is the cutest ~ maybe the VW bug with the antlers!
Sophia's Scotties - from Cricket Collection. Aren't they adorable? I love everything about this ~ from the woofers to the jingle bells to the base of the snowglobe.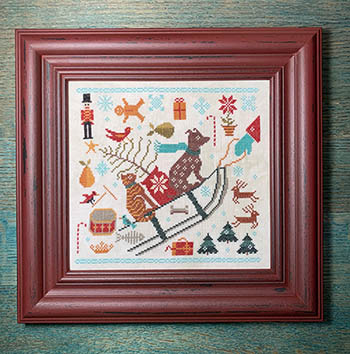 Bringing Christmas - from Carriage House. I started to say that my dog would never sit still on a sled...but actually if it were being pulled uphill, she just might! I think this is so fun ~ obviously I love the critters, but everything else is just fun fun fun too!
Our Love is Sweet - from Puntini Puntini. Too many ways this could go badly....
Good Must I Be - from Homespun Elegance. Avery's ornament this year is so sweet!
Scandinavian Christmas - from Les Petites Croix de Lucie. Looks like the makings of a cozy sweater!
Ewe's Caroling - from Twin Peak Primitives. Are these three not just the sweetest? Might wanna keep that candle away from the wool, though...just sayin',
Santa Stories - from Pickle Barrel. Uh huh. It totally is!
Santa Stop Here - from Pickle Barrel. Just in case he's unsure of the right spot!
Gnome for the Holidays - from Pickle Barrel. Oh my gosh, his checkered hat looks like those buffalo plaid shirts!
Oh What Fun - from Pickle Barrel. Love this design ~ why do I always like the WINTER designs?
Silent Night - from Pickle Barrel. I love the arched door on this house...I also love that you can see the tree thru the window!
Catch Up with Jesus - from Sister Lou. LOVE LOVE LOVE this!!!! It just makes me laugh. And I'm betting Jesus would like it too.
Christmas Village, part 4: Christmas is Here - from Tiny Modernist. Well, I have to say ONCE AGAIN, I wasn't sure about the mystery part. But I was loving the drums. And ONCE AGAIN, when it's all complete, I love the full picture too!! When will I learn?
Little Dear - from Luhu Stitches. Love this cute little deer.
Frosty's Night Out - from Blackbird Designs. DARLING!!! Can't wait to get our hands on this! Please note: it is due in within the next 10 days or so. I have it posted but the price is not carved in stone (ie, I don't know the actual price, but I've just given a ballpark figure).
Elf Biscornu - from Tiny Modernist. These guys look like that string of lights is gonna be trouble!
Christmas Baking Motifs - from Tiny Modernist. You KNOW this one's calling my name!
Words to Live by, part 12 Make the Days Count - from Tiny Modernist. I like that "counting" part!
Jewish Star - from Works by ABC. Hooray! More Hanukkah designs! Keep 'em coming!
Menorah - from Works by ABC. Not only am I happy to see more Hanukkah designs, but check out the candles ~ lots of different stitches. Fun fun fun! Now, if you don't know if you can do those, don't worry. You can always just cross stitch those candles too.
Granny Square Daily Temperature Stitch Along - from CM Designs. How awesome is this??? This is a daily stitch piece ~ each day, you can do a square that corresponds to the weather: sunny, cloudy, snowy, warm, cold. She has different motifs for different kinds of days! The nerd girl in my LOVES this!!!
Garden Labyrinth: Greece - from CM Designs. I love all the different bands in this design. Needless to say, my fave is that wave towards the top!
Ann Tong Uffindel - from Hands Across the Sea. YES! If you missed out on getting the Uffindel sisters' samplers when they were released as a Limited Edition leaflet, then you are in luck! They have released them individually, so anyone who didn't get them the first time can now add to their stash! These are BEAUTIFUL samplers!
Isabella Uffindel - from Hands Across the Sea. I love looking at these & seeing what is the same & what is different! I can't decide which one of these I like better.

If it's December, it must be the Countdown!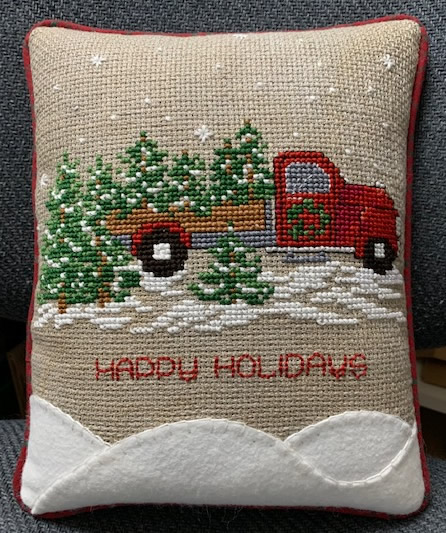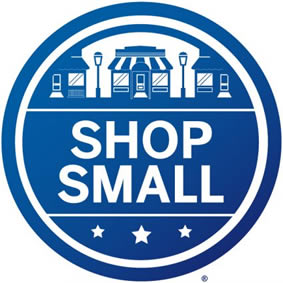 What can I say? For obvious reasons, I am a small business cheerleader! Small businesses are INVESTED in the community in so many ways. They're the best places to find unique items that feature the neighborhood. We love all the Philadelphia designs, the creations that are inspired by the Fraktur work in the area and things made by local artisans.
Also, as part of the Cross Stitch community, we all do better when each of us succeeds. That may seem counterintuitive, but think about it: if there were only 2 or 3 shops, believe me, the demand would dry up, and the designers wouldn't be able to stay alive for very long. Each of us has our own kind of flair. So if you are travelling, check out the shop in that part of the country! And come back & tell us what you loved!
For those of y'all who don't have a local stitching shop, we want you to know that there are quite a few of you who we consider "locals"! We like being able to say, "Oh, she's not gonna like that fabric" or "She'd like this but in a different shade of green". For our stitchers near & far, it's fun for us to know what our stitchers prefer. We love being able to call yo up & say "Becky! I told you that would show up as soon as you left" or "Deb, guess what just dropped into our mailbox?". We love sending out a project for a grandma to teach her granddaughter how to stitch! And we have so much fun seeing & meeting each new stitcher ~ no matter the age. Today we met Ellie who is in kindergarten & is learning to stitch from her mom! We love seeing pieces from daughters for their moms ~ especially when we've known both of them for a long time. It's always nice when someone says to me, very skeptically, "Well, I suppose there aren't any young people doing this kind of thing", and I can say, "Oh no, you're wrong! Not only our young people stitching, but they stitch BIG things".
So I guess all of this is basically a love letter from us to you! And if you spend a little time in your local small businesses, I am sure they would say the same. Whenever possible, get out & support the small businesses in your neighborhood ~ as I saw somewhere on FaceBook, we're the ones who do a happy dance with each happy customer who comes thru our doors!
Hugs & stitches ~
Beth & all the locals at TSS