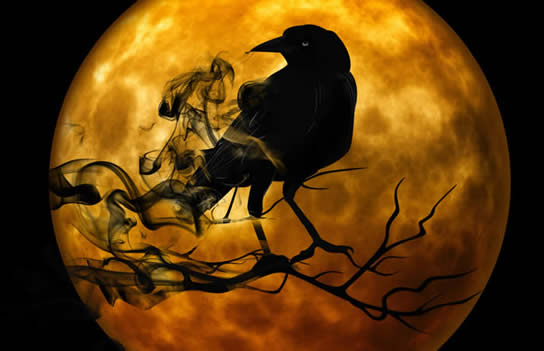 Full Moon Fever is in full swing! I think it's interesting how, in this day and age, we just don't "buy into" these full moon ~ Friday the 13th cliches! It doesn't make logical sense, right? Well, I've spent enought time in the retail climate to realize that there are just some things that cannot be explained. And the worst places have to be hospitals (although schools run a very close second). I got an email or maybe a FB message today saying that police departments (and, I assume fire & paramedics) are bad too. Makes sense (as much as any illogical occurence makes sense!).
What's good about this one is that there are currently no hurricanes rolling around ready to wreak havoc, because if any of you have lived at the beach, you know that a full moon high tide is significantly higher than usual.
What it does make for is good stitching! Because I've had enough "full moon frolics" that I now just stay in! I am currently working on a piece for a class I want to teach probably in late October, so it's all good!
In other news, you'll be SHOCKED to know that there are more new goodies on the horizon! Good grief!
Sans Souci - from Long Dog Samplers. Ooohhh....Molly is so excited about this one! Lots of animals and even more of those fantastic bands. All of the best things that we love about Long Dog designs.
Forever More - from Long Dog Samplers. What a glorious wedding sampler! I love these 1 color designs & this one is very elegant.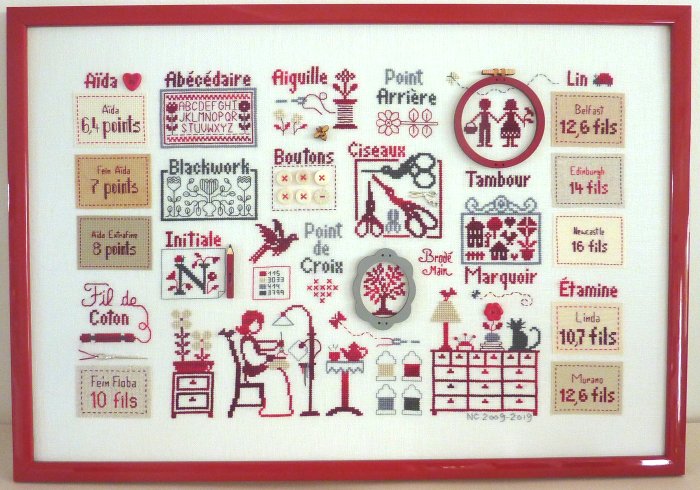 Echantillons (Motifs) - from Jardin Prive. How cool is this sampler?? All the things that we as stitchers need & use all the time. Below is a close-up of part of the sampler, and also a photo of the spiral bound book as it comes. Also, while this is pictured all in French, she also has included everything in English.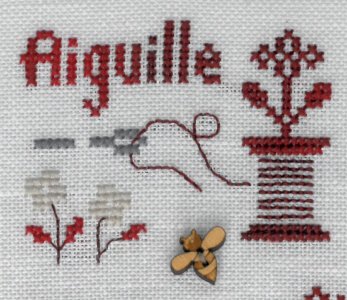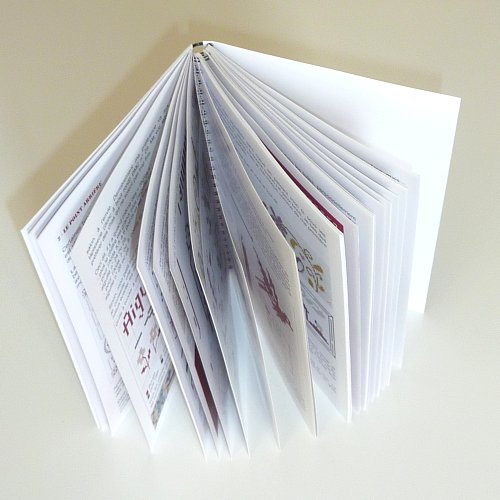 Ann Hughes Sampler - from Abby Rose. Not only is this a lovely reproduction sampler, but the verse is really interesting. This stitcher went to great lengths to lay out this verse in rhyme.
Sampler Bookmarks - from Cross-Point Designs. These 4 designs are stitched on perforated paper ~ what a great idea ~ using lovely tapestry colors.
Tea & Gossip - from Little Dove Designs. Just seeing this is uplifting ~ it evokes that feeling of sitting with a friend & just being yourselves.
Home of a Stitcher - from Little Dove Designs. Love love love that cute little house!
Violaceae - from Glendon Place. These blooms are lovely!
Square Dance part 4: October, November, December - from Heart in Hand. The last installment of this great series. I LOVE the pineapples on November!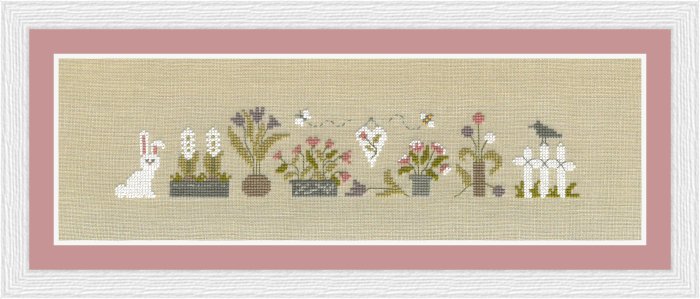 Harmonie de Fleurs - from Jardin Prive. This is a darling design ~ I love the soft spring coloirs in this. Below is a picture of one of the little motifs also included in this chart.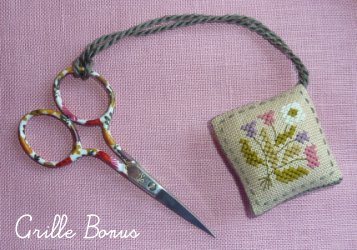 Autumn Sunflower - from Kitty & Me. Love this sunflower growing in the pumpkin patch.
Autumn Leaves - from Kitty & Me. The swirling feel of this certainly mimics the movements of the autumn's falling leaves.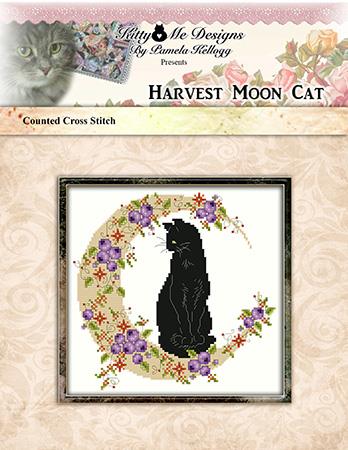 Harvest Moon Cat - from Kitty & Me. I think this is gorgeous!!
Halloween Towne - from Shakespeare's Peddler. This is a fun design ~ I love the clock tower!
Witches Brew - from Val's Stuff. Gotta tell ya, I'll never look at an olive the same way again...good thing I don't like them to begin with!!
A Hallween Bash Sampler - from Ship's Manor. There are so many fun things to see in this sampler! I love just looking at all the different little snippets.
Halloween Ornaments - from Kitty & Me. Fun little cuties to stitch for Halloween.
Pumpkin Pickin' Truck - from Homespun Elegance. Oooooo I love this truck & pumpkins, not to mention the crow & squirrel! Fun fun fun!!
Trick or Treat Truck - from Homespun Elegnce. Okay ~ is that just a short, fat pumpkin, or did it get run over?? Love the little spider hanging from the moon!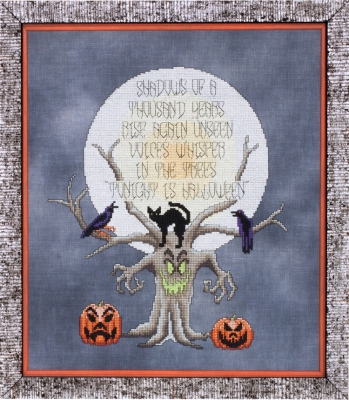 Tonight is Halloween - from Glendon Place. Very creepy! That one pumpkin looks like he has a moustache!
Most Expected Visitor - from Twin Peak Primitives. I think this is a darling Christmas design!
Christmas Snowflake - from Shannon Christine. What a STUNNING creation!!
Santa Claus, A Sampler - from Calico Confectionery. What a great design for your Christmas decorating!
Dachshunds: Christmas & Winter - from Cross Stitch Wonders. Bwahahahah! These are too cute!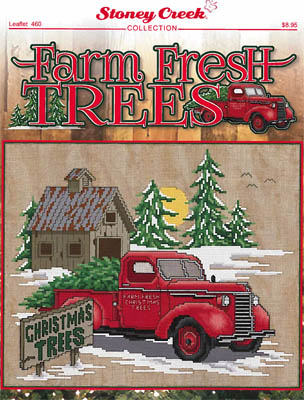 Farm Fresh Trees - from Stoney Creek. This is a lovely scene to stitch for winter!
Rustic Christmas Stocking 1: Yellow House - from Twin Peak Primitives. Have you been looking for some stocking designs that were a little more primitive or country? Well here they are.
Rustic Christmas Stockng 2: Farm - from Twin Peak Primitives. Hmmmm...are these, perhaps, 6 geese a-laying??
Rustic Christmas Stocking 3: Cow & Barn - from Twin Peak Primitives. I love that quilt the cow is wearing!
Christmasland - from Shakespeare's Peddler. A return of a long ago favorite design!
Winter Whirligig - from Heart in Hand. Aaawww...I love that checkerboard redbird!
Snowman & Friends, 1 & 2 - from Cat and Mouse. These 2 cuties are perfect for little ornaments!
Snowman & Friends, 3 & 4 - from Cat and Mouse. I just love the little raccoons!
A new series of elegant Angelic stockings has just been released. These beauties are perfect for your favorite little girls!
Stocking Angel #1: Blue - from Cat and Mouse. Isn't she lovely? Reminds me of "Frozen".
Stocking Angel #3: Green - from Cat and Mouse. This beauty has a distinctly Irish look.
Stocking Angel #2: Magenta - from Cat and Mouse. She looks like a ballerina princess!
Stocking Angel #4: Gold - from Cat and Mouse. So elegant!!
There are lots of new accessories that have just recently been released! Add some bling to your stitching basket ~ or find a special treat for your stitching buddies!
Gingher "Juniper" Scissors, Limited Edition - from Gingher. So, so pretty! This year's edition of amazing Gingher scissors are my favorites so far ~ lots of BLUES!
Juniper Fob, full length or mini - from My Big Toe Designs. These fobs are specially created by Debbie to coordinate with your Juniper scissors! Choose either the full length or the mini size. Soooo pretty!
Tumbler: I Like to Wine While I Stitch - from Joseph's Workshop. Woohoo! New roly-poly tumblers to keep your wine, or wine alternate (!), cool. These are wonderful tumblers ~ Lise has one of them & she loves it! Below is a list of characterstics:
♥ 12 oz Stainless Steel Premium Powder Coated Wine Tumbler and Lid.
♥ Engraved Design!
♥ Ice Retention up to 24 hours and Hot up to 6 Hours!
♥ Double-walled vacuum insulation; Keeps Hot and Cold.
♥ Fits almost all cup holders
♥ Clear Shatterproof lid to protect from spills.
♥ Sweat Free Design to keep your table dry.
Fun new needleminders & threaders from Puffin, headed our way towards the end of the month! I love the unique whimsy & detail of Diane's work. There are some for your seasonal stitching and some for all year round!
NeedleNanny: Peace on Earth - NeedleNanny: Celebrate the Harvest
MiniMinder: Wise Owl ~ MiniMinder: Santa ~ MiniMinder: Thimble
NeedleNanny: Love Grows ~ NeedleNanny: Pinwheel Flower ~ NeedleNanny: Doghouse
Threader: Thimble ~ Threader: Owl
There is also a Santa threader like the MiniMinder pictured earlier. All threaders come in either a "long eye" or "micro" sizes.
Lots of new designs available from ZappyDots! These are available in many incarnations:
* a NeedleNanny ~ which consists of a pair of Rare Earth magnets. They're very strong & you can put them on your stitching while you're working (the pretty one on the top, the magnet on the bottom). You can also wear them on your clothes ~ like a lapel or a shirt or sweater!
* a Stitch Dot ~ which is just a magnet with the image on top. You can put it on your magnetic board to hold your chart in place, or you can attach them to a fob or a piece of jewelry ~ like a necklace or bracelet. And since your jewelry is now magnetic, you can rest your needle there while your stitching!
* there are now 2 new permanent types of scissor fobs ~ not magnetic ~ that are pictured below the newest designs.
So when you find the ones you want, you'll need to specify what you want.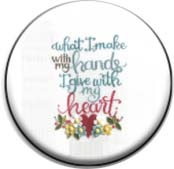 Give with my Heart - from Hands On.
Defining Autumn & Fall For Autumn - from Erica Michaels ~Harmony in Autumn ~ from Hands On.
Boo Jar & Boo - from Hands On ~ Witches & Skeletons - from Tiny Modernist
St Nick Berry - from Erica Michaels ~ Gingergread Cart & Snow Globe & Snowman - from Twin Peak Primitives ~ Snow Village - from Country Cottage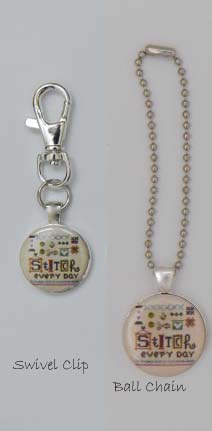 These are the 2 new scissor fob styles. These are not magnetic, and they are permanent so you can't interchange them. I like them because I can't lose pretty part! Of course, I like the interchangeable ones because ~ yep! ~ I like to switch them out! Sheesh!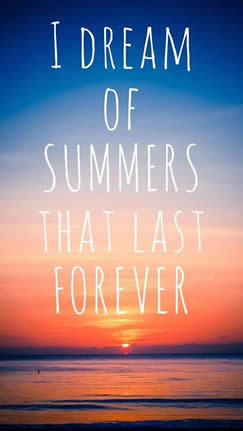 Yep. I sure do. Already, the days are getting shorter. I try, I really do, to take each day as it comes. But after 55 years, I've decided to just accept that I just don't handle dark winter days very well. However, I can't change the days, I can only control how I handle those days.
Today (Sunday), was lovely here! Aside from going to the grocery stores, I spent the day outside with the pups! They were funny & I just sat and watched them roll around & chase the squirrels (or the leaves....or the crickets....). I kept thinking, "I should go finish my newsletter", but it was just too pretty of a day. And I decided that y'all wouldn't mind a couple hour delay. I hope that was okay with you! I hope you had a great day too!
Now. On to the Eagles game! Fly Eagles Fly!
Hugs & Stitches ~
Beth & all the Iggles fans at TSS