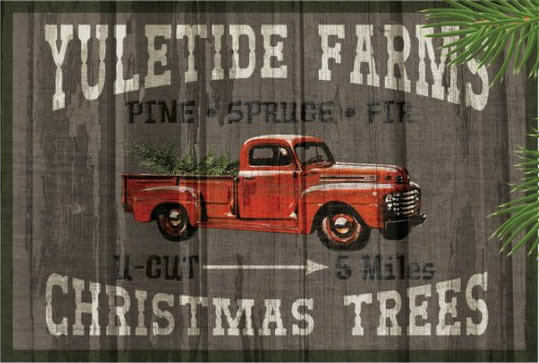 So. Which tribe are you in? Are you in the "the tree is up, lights on, ornaments hung, gifts wrapped & under the tree, now lounging around eating cookies" camp? Or are you in the "rest of us" camp?? Kimberly, no need to answer that (as I started to call the first one "Team Kimberly"). However, I'm not just slammin' on a Kimberly ~ according to FaceBook, I am friends with QUITE A FEW overachievers! One of my friends had her tree up & decorated on Thanksgiving day. Bad enough, right? However, she is an professor of epidemiology & has little stuffed germs on her tree (for instance, the pic she posted had a little e. coli stuffed thingy). I told her, not sure which part of that whole thing was scarier. Also, do epidemiologists give their children little stuffed germs when they're babies? Instead of teddy bears or lambs or doggies?? Inquiring minds... I need to teach her to stitch & then she can stitch some diseases!! YIKES!
*Bet ya didn't think you were gonna read about germs & diseases, did ya?*
December 1st begins our 3rd annual Countdown to Christmas! Hopefully you got your introductory Countdown newsletter with all the pertinent details (if not, click here). And if you think the stuffed diseases were odd, just wait until you see how we tie in some of the countdown days...
But. There are also some other new things on their way & I wanted to get this little newsie off to you so they don't get lost in the wrapping paper!
Lois' Stocking - from Shepherd's Bush. At long last, it is on its way! LOVE LOVE LOVE her dress!
Love Completely - from My Big Toe Designs. Such a pretty design ~ this is the companion to her popular "Choose Joy".
Christmas Alphabet - from Sara Guermani. I just love this new design from Sara! The alphabet is cute!
Chalk on the Farm: Winter Wonderland Farm - from Hands On. OH. SO. CUTE! I am really starting to see more & more of the gingham/plaid being used in designs ~ and I like it!
Gingerbread Hollow - from Victoria Sampler. This is so fun! But I have to tell ya, I couldn't live in this house ~ I would LITERALLY eat myself out of house & home (if my dogs didn't beat me to it...).
Gingerbread Mice - from Victoria Sampler. Not a creature was stirring....
Gingerbread Reindeer Elf Stocking - from Just Nan. Aaaawww... how sweet is this? Note: the chart does not include the mouse ornament.
Christmas Dragonfly Ornament w/charm - from Just Nan. Isn't this an eye-catching little ornament? Love the vibrant reds in this.
Country Christmas - from Stoney Creek. These 1-color silhouette designs are always so striking. This one in particular is too cute!
Winter Camper - from Bobbie G. I am loving these camper designs ~ but I am past my camper-ing days.
Christmas Tree Farm REPRINT - from Prairie Schooler. This was always one of our most popular designs from Prairie Schooler ~ glad to see it back!
Nutcrackers REPRINT - from Prairie Schooler. More fun ornaments!!
Pray Without Ceasing - from My Big Toe Designs. It seems so simple ~ why do we so often forget? Maybe we all need to stitch this (fortunately, it's very pretty!).
Let Not Your Hearts Be Troubled - from My Big Toe Designs. I love this verse AND this design ~ it almost looks like lace at the bottom.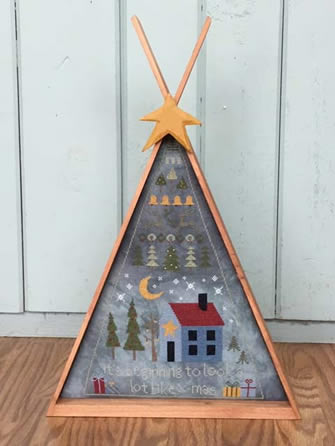 It's Beginning to Look A Lot Like Christmas - from Thistles. This is a new model we just put together today! I have to say, I was skeptical about this from the get-go. Not the design or stitching, but how on earth to finish it. But one day we were trolling thru a distributor's website, looking for something COMPLETELY different (which we've all forgotten what it was), and saw this "teepee". The measurements seemed like they would work, so we ordered 1. Molly took it home & stained it, found a star & brought it back in today. I stretched it & put it in...and voila! We all thought it would be a perfect creche ~ of course, we all thought there was a nativity scene on this piece as well, so you can take our thoughts with a grain of salt (plus a lime wedge & a shot). Anyway! We're kinda chuffed with how it turned out!!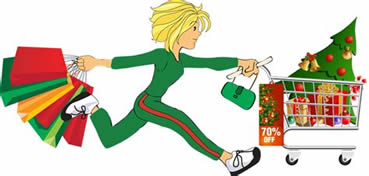 It is that time of year ~ everyone is out looking for "the right...something". Please remember that everyone you come in contact with is dealing with something, whether it's the checkout person at the grocery store, the Santa at the mall, or the person who just stole "your" parking spot. Take a breath, then another, and be glad you don't have their challenges. Patience is at a premium this time of year, and because of that it is even more highly valued. We are fortunate to have such wonderfully kind & caring customers & we can't even begin to express our appreciation of your kindness, thoughtfullness, patience & understanding. In our industry, which is so small, it's hard sometimes to realize that nearly everyone we buy from is working with MAYBE 2 or 3 people. A great number of them are the entire business ~ they dye the fabrics, design the charts, make the scissors, have the designs printed, do the invoicing, packing & sending. Many of them do it all. By themselves. So while we would love to tell you that your chart/fabric/fiber will be here in a matter of days, we also are not going to "yell" at someone who we know for a fact is doing their very best ~ in between doctor's visits with children or parents, or grocery shopping, or taking their pup for treatment, or trying to find "the right thing" for someone's stocking. So we thank you for being so patient on those things that seem to take FOREVER! As I like to remind myself when my grocery store doesn't have my favorite homemade cinnamon bread ~ I love it but I don't HAVE to have it today...it's not the cure for cancer.
On a funnier note, you might have thought this newsletter would go out with no Ivy picture. I did too. She's here, but I thought, "how many more cute pictures can I take?". No answer to that yet, because today, she is full of beans!!! For 6 weeks she has been the most chill pup EVER. Not today! Today she has escaped out the back door, she has burrowed under Molly's desk & out into the shop ~ twice ~ she has been outside & back inside & back outside & back inside...and this is where she ended up: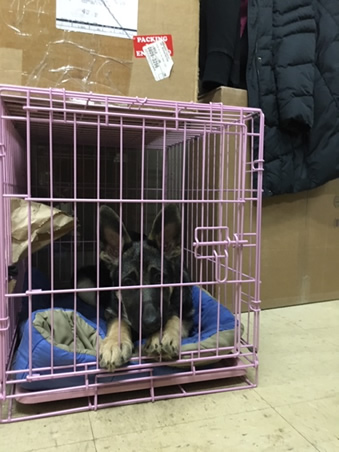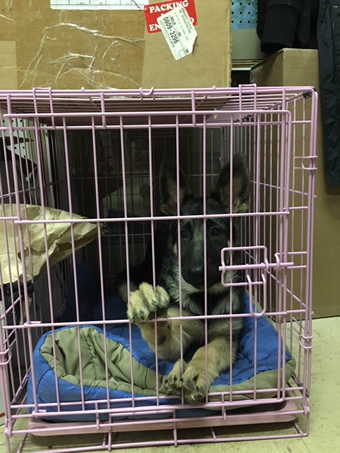 DOG JAIL!!
Ohmygosh, it is the funniest stinkin' thing!! She is workin' it with everything she's got ~ she even looks like some prisoner in an old movie where they're holding onto the bars, "It wasn't me!! I swear it wasn't me!".
Also, ya gotta love the pink crate. If you look closely on the left, you can see her "mail order" bag ~ sometimes she likes to work in bed. So there ya go ~ your gratuitous dog picture of the week!
Check your email later tonight because the Countdown newsletter will land in your box for Day 1!
Hugs & stitches ~
Beth & all of Ivy's jailers at TSS