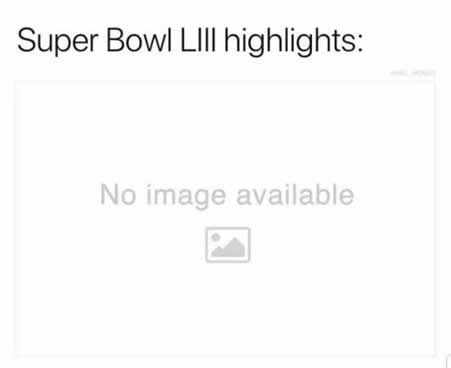 Zzzzzzzzzzz........
MOST. BORING. SUPER BOWL. EVER!
Don't know how far you made it, but I checked out 12 seconds into the 2nd quarter. Honestly, all I ask (if my team isn't playing) is a good game. As someone on FaceBook said, "Imagine paying $7,000 for a 1/2 hour Maroon 5 concert & 3 hours of punting practice.". I know, I know, there are some New Englanders out there, and I realize that if your team wins it's never boring. So hopefully all 3 of you enjoyed it. Even the commercials were boring.
So. Thank goodness for the TSS Super Bowl Sale ~ that was the highlight of the day! It was such fun seeing everyone ~ Mary W. you especially! We saw people we haven't seen in a couple YEARS, people we hadn't seen in a couple months & of course people we hadn't seen in a couple days! We also met new people ~ which is always fun. We thank each & every one of y'all for joining us. After we closed the doors we all opined that it was one of the most enjoyable SBS's we could remember ~ there was no tension, no anxiety, no panicking...all y'all were in such a chill mood (which then put us in a chill mood!). And just like last year, we were busy from the second we opened the door until Edie closed us down! Thank you to Linda for bringing us CHOCOLATE & to whoever brought the Girl Scout cookies! Sugar is always a welcome boost (and we don't even bother to say, "oh, I' don't eat sweets...". Puh-lease). Molly & I have been crazily processing mailorders (around doing our regular orders, oh, and Molly's car decided to die on the way to work...). We have reached the point where Molly is still crazily processing & I am doing my very best to stay out of the way!
And while we're talking about mailorders, many of y'all have heard that ONCE AGAIN postage rates have gone up. Just a regular old stamp is 55 cents. And a priority mail, flat rate envelope has jumped to $7.30. Grrr.... We're doing our best to hold the line, but there will probably be an increase soon and we wanted to give you a heads up. sigh.
Also, in just 3 (VERY) short weeks, we'll be headed to....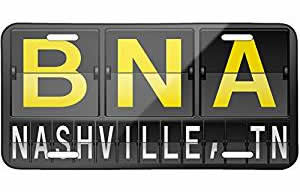 Yep! It's so close we can already hear Siri telling us "In half mile, exit at Thirt-ee One-ee north" en route to the Pharmacy for burgers & beer. After I finish up this newsletter, I'm headed directly into my Nashville mindset!
BUT! Before we head off to Music City, I think we all need a chance to catch our breath (I know I do!). I wanted to tell y'all who come by the shop, maybe to pick up your Super Bowl orders, be sure to check out the sale crates ~ Mary Anne is ruthlessly making room for the incoming new goodies, and that means she has banished LOTS of things to the sale bins. This way, we'll be sure to have room for all the new stuff we'll be bringing home. And believe it or not, there's new stuff on its way this week. So think of this as an appetizer, to get ready for the main dish! And wow, if this appetizer is any indication of what's to come, then I say "Bon Appetit". Hmmm....maybe our Nashville theme will be food-related....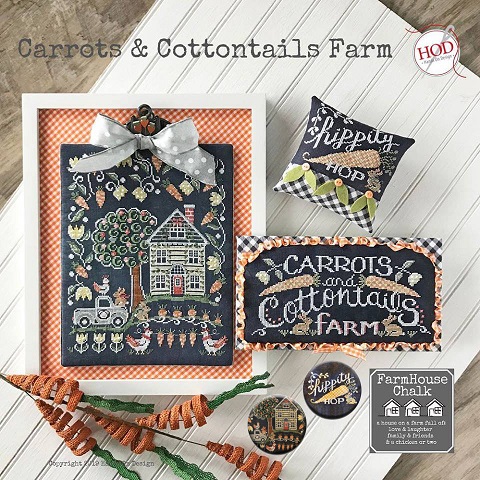 Carrots & Cottontails ~ Farmhouse Chalk - from Hands On Design. Ohmygoodness ~ every time I think there can't be any more cute chalk designs, I'M WRONG! I'm pretty sure this is caused by the same brain defect that thinks there can't be anything at Market we haven't already seen before ~ and I'm ALWAYS wrong about that! But back to this new leaflet. I'm not sure what I love most: super cute carrots ~ the little fuzzy bunnies ~ that amazing tree with all the swirly trees (!) ~ the garland ~ or maybe, the HOUSE?? Eh, who cares? I love the whole thing!
Spring Time - from Abby Rose. On this windy, cold day, this design is exactly what we need. Love the pink brick...it reminds me of some of the gently aging beautiful homes in Charleston. I would, however, lighten up the grout color.
Happy Easter - from Stoney Creek. Love this sweet little silhouette! Choose your own colors ~ create your own Easter egg!
Mermaid Biscornu: February - from Tiny Modernist. So far, this year-long fantasy biscornu is too cute! She's a cutie!
Key to My Heart - from Cross Point. Hmm...might be time to get the locks changed...
Violet & Plum - from CM Designs. Oh I love these smalls! These colors make me happy.
Bluebird Rhapsody - from Artful Offerings. This is a darling design! I love the flair of this ~ the straight limbs, the cross-hatched nest & of course this sweet little couple.
Snowy 9-Patch - from Annie Beez. This one's for all you snow lovers! As you can see, there will be 9 fun little snowmen designs which you can stitch individually or all on one piece of fabric. And, how cute is this guy stitched on the Petit Point fabric? Looks like a (horrible) giant snowstorm!
Easter Bunny House, part 1 of 4 - from Tiny Modernist. Okay, this is adorable! Who wouldn't wanna live in a brightly colored ~ probably chocolate filled ~ egg?
Jungle Family Birth Record - from Imaginating. Everybody is just "wild" about fun jungle babies in the nursery!
Songbird's Garden: Have Courage - from Cottage Garden. This series gets prettier with each new creation. This one features a rose-breasted grosbeak & gladiolus.
Halloween Hats - from Imaginating. Holy cow!! What do you think happens when you have NINE sorting hats??
Halloween Shoes - from Imaginating. A girl can NEVER have too many shoes! And if someone says otherwise, turn them into a toad!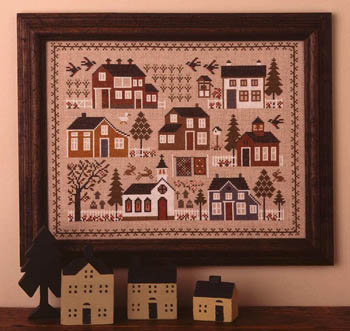 Village Sampler ~ REPRINT - from Prairie Schooler. This might be one of my all-time favorite designs from Prairie Schooler. And it just goes to show, some things are timeless.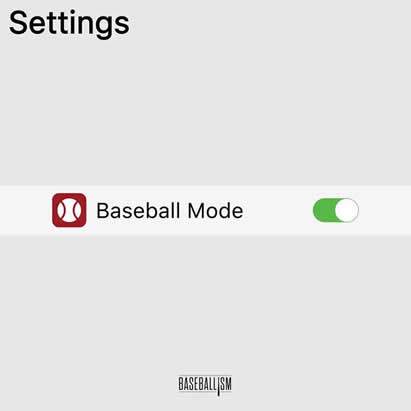 So, after last weekend's disappointing snoozefest, it was great to have something to celebrate! Am I right? Don't tell me you missed it... Friday was
TRUCK DAY!
Truck Day is the beginning of the countdown to Spring Training which, of course, is the beginning of the countdown to Opening Day (aka, the day that everyone's still undefeated!). And this is our year (says EVERY FAN on Opening Day). Fortunately for Phillies Phans, it's true!
Opening Day is the best day of the year ~ everything is possible, no matter which team you're on. Theoretically, I guess, we each have an "opening day" every day. Everything is possible. We only have to rely on & pick up our teammates, focus on our strengths, work together & then savor each win & learn from each loss. Remember to take risks ~ you'll never steal 2nd base with a foot on 1st. If you're having a bad day in the field (whatever your field is), don't take it to the plate with you. Leave it all on the field ~ and at the end of the day, shake hands & go have a beer (or dinner) with your opposite number. Because at the end of the day, it's ALL a game.
And remember, life is a lot like baseball. Don't believe me? The best & most important things in life (& baseball) happen...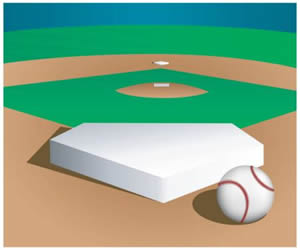 AT HOME.
Hugs & stitches ~
Beth & all the truckers at TSS