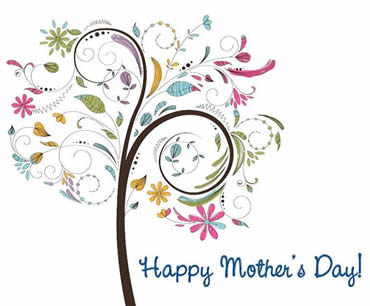 Yep, it's already Mother's Day weekend! Good news: you can now plant those flowers you've been holding off on ~ probably we're past any frost (we actually got down to around 35 degrees one day last week...). Also this weekend? About 10,ooo college graduations. Ya know? Here's what I remember about college graduation (which was EXACTLY 33 years ago Saturday): We drank champagne walking to Commencement & first thing the next day we had to move out of our dorm...and my roommate & I had packed...NOTHING. So for all you parents heading to college graduation & those of you getting ready to send kids off TO college, you've been warned. I hope YOU enjoy Commencement. I hope they picked a good speaker (William & Mary has an alum this year: Glenn Close! Couldn't begin to tell you who spoke at mine ~ we've been debating this on FaceBook: was it Sandra Day O'Connor or Jeanne Kirkpatrick?).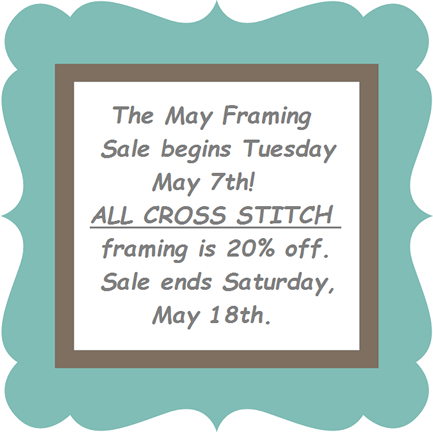 We are seeing some FABULOUS pieces coming in & we're excited to see what this next week brings. For any of you who missed the announcement, our annual May Framing sale is in full swing. Just bring in your pieces & all your framing is 20% off, including labor! You do have to pay for the entire balance of the framing in order to qualify for the 20% off. This only happens twice a year, so get in & get your pieces in.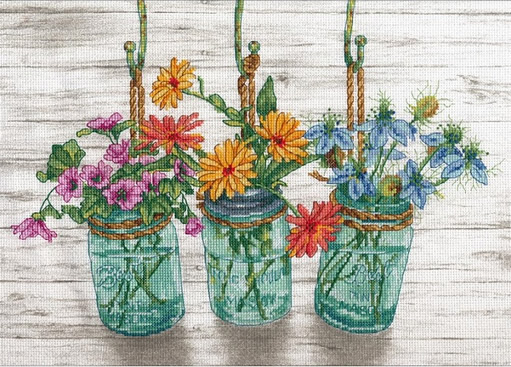 Flowering Jars - from Dimensions. I LOVE this design. It looks as pretty as the real thing. And, it'll last longer than the real thing!
Lavender Farm - from Cuore e Batticuore. This is a sweet design ~ I love lavender! If you are ever down towards the Delaware Beaches, there is a fantastic place called "Lavender Farm at Warrington Manor". It's on the same road as "Sports at the Beach" (and you folks don't believe me when I say I navigate by baseball fields....).
Summer Time - from Abby Rose. Love this little pillow ~ those big cabbage roses are all the rage right now, it seems. There's just something soft & gentle about this design.
Hello Moon - from Rosewood Manor. We saw this stitched at Nashville & it is so pretty! Gorgeous blue fabric, and floss in shades of white, grey & deep blue. Also, I like the waves at the bottom!!
Dandelion Wishes - from Rosewood Manor. Another beauty! This fabric is such a soft periwinkle color & the white just looks so delicate.
Coupe de Printemps - from Tralala. LOVE LOVE LOVE this! I wish I had a bigger image for you, but it's a girl ~ looks like she's standing on a cake plate ~ surrounded by LOTS of strawberry vines! Sooooo sweet.
Douceur Printamiere (Spring Sweetness) - from Tralala. Another adorable springtime design from Corinne! I love the 2 beehives, the cute little sheep & that basket full of berries!
From the Simple Life of Amish - from Twin Peak Primitives. This is one of the nicest Amish designs we've seen in quite a while. And being so close to Lancaster County, we love seeing new Amish designs.
Summer Baskets - from Scissor Tail. I think this is a great design ~ I like all 4 squares stitched together, but I can also see stitching 1 (or 2!) and finishing it as a scissor fob (to go in your stitching BASKET!).
Pamela, from Kitty & Me, has been delighting us with her designs ~ from Cats & Hearts to Cats & Quilts ~ and now, Cats & Mandalas. As she says, Mandalas (or round designs with geometric designs) are quite popular right now & they certainly lend themselves to her cute designs. One other note, that I thought was really nice with these ~ she has designed them with OR without the kitty. Both charts are included in each leaflet.
January ~ February ~ March
April ~ May ~ June
July ~ August ~ September
October ~ November ~ December
When you were growing up, did you ever consider that teachers were almost as excited for the end of the school year as the kids were? I didn't ~ I just figured, "eh, they must LOVE having us around all the time". Pfft! What do kids know?? Now I know enough teachers that I actually laugh when THEY start posting the "how many days until school is out" numbers! And, I've realized, it's not just the K-12 teachers ~ several of my college friends are now college professors (I often wonder how I got to know so many smart people...and how the people I used to stumble home from parties with are now DOCTORS ~ PhD Doctors, which is still too much school for me!). I adore hearing about the stupid questions their students ask at the end of the semester ~ seriously, they could write a book!
So when I saw these designs, I thought of all those folks. Also for those of you looking for a quick & fun teacher gift, these fit that bill to a T (or an X...).
Goodbye Lesson Plan, Hello Suntan - from Cross Stitch Wonders. I know a couple of y'all are headed down the shore on day 1!
See Ya Later Educator - from Cross Stitch Wonders. Love the popsicle!
Teachers Care to the Core - from Cross Stitch Wonders. This is so true & this would make a great gift!
The End is Near - from Cross Stitch Wonders. I love this ~ I think it would be a fun one to hang up in a classroom right about now.
Teacher off duty - from Cross Stitch Wonders. Reminds me of the Lifeguard signs! Love the shades.
Meow kit - from Dimensions. I thought this was darling! And the kit includes the little hoop for framing.
Grateful & Blessed kit - from Dimensions. Another sweet little design ~ I LOVE the tassel at the bottom!
Just Cross Stitch 2019 Halloween Issue - coming soon! This is always a fun edition!
Halloween Hill - from Calico Confectionery. Isn't this fun? there are so many things to see!
Pumpkin Patch: Truck - from Shannon Christine. I love that the truck is NOT RED! Nothing against red trucks, but EVEYTHING is a red truck these days.
Pumpkin Patch: House - from Shannon Christine. I think I just wanna move into this cute house.
Pumpkin Patch: Scarecrow - from Shannon Christine. He looks like a good little guardian.

Pumpkin Patch: Complete - from Shannon Christine. I love that she offers this group either all together, or individually.
A new series called Farmer's Market from Cross Stitch Wonders is just crackin' me up! I know, it doesn't take much to amuse me. These would be such fun in a kitchen.
It Takes Two to Mango - from Cross Stitch Wonders. Sometimes at my house it takes 2 to slice the mangoes!
Practice what you Peach - from Cross Stitch Wonders. Love peaches ~ just can't eat them when I'm stitching. Also, I would probably make it a little more orange-y. Anybody ever driven thru Gaffney, SC? What does this remind you of??
You've GUAC to be Kidding Me - from Cross Stitch Wonders. I heard this a few times from distressed friends when there was talk of an avocado shortage!
Peas be kind to Others - from Cross Stitch Wonders. This is cute ~ but I said it shoulda said "Oh, Snap"!
Don't KALE my Vibe - from Cross Stitch Wonders. Nope. Nope nope nope. You are all welcome to my share of kale (along with okra & collard greens).
Gingerbread House 1 - from Shannon Christine. So cute, with the peppermint candy over the front window!
Gingerbread House 2 - from Shannon Christine. Wow! I never knew you could grow peppermint candy! I mean, I grew peppermint in my herb garden, but not the candy!!
Gingerbread House 3 - from Shannon Christine. I guess this would probably fall under "eating me out of house & home"...

Gingerbread House Lane - from Shannon Christine. So cute ~ why can't we have gingerbread houses in the summer? Decorate them like beach cabanas? Pink flamingos? Starfish? Who's with me??
Fun new models in the shop!
I know last week I FINALLY showed you the Queen Bee Flower Farm, but forgot to photograph the other goodies. So, today I remembered ~ mainly because Tracy brought in another cutie!!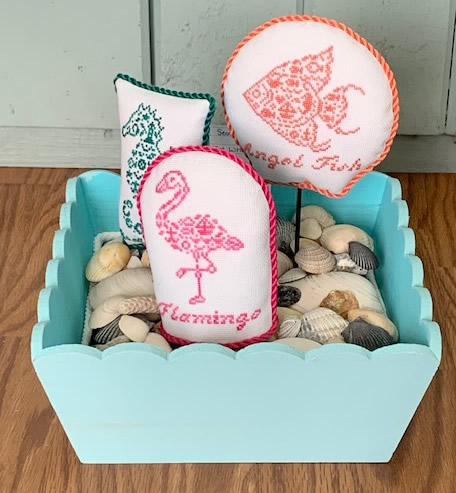 Seaside Series I - from JBW Designs. OH.MY.GOSH! These are adorable. Tracy had this idea to make a seaside tray using some of the trays we got earlier in the spring. So we had these 3 cuties stitched up, then Therese finished them as little standups/pillows, then we skewered them on some pokes we had from SamSarah! They were cute enough at that point, but as you know Tracy goes all out ~ the rest of us just sit back & watch the magic happen. She painted the tray a pretty seafoam green & filled it with seashells. This is darling. In fact, it was so cute that Tracy wanted to keep it at her house (and, as she said, she doesn't even have a beachy vibe going on). I however, do have a beachy vibe, so if it's missing at some point....
Cape Cod Keeps - from Plum Street. I stitched this FOREVER ago (just ask Mary Anne), but could never decide how to finish it. So one day the girls simply stole it from my pile & did it themselves! It's 2-sided so no matter which side is up, it's cute!
Festive Little Fobs: Spring Edition - from Heartstring Samplery. Another of my orphaned finishes, Therese snagged these & made this super cute scissor fob with the tassel that goes thru the center! You can see how small these designs turn out (I stitched on 28ct I believe), so they are quick & fun to stitch!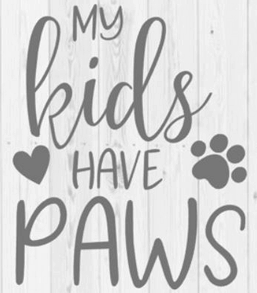 Mother's Day is upon us! Hopefully you will be spending time with either your mom or your kids. Around here, we have been wishing everyone Happy Mother's Day all week. Having said that, I know that there are quite a few folks for whom this weekend is a challenge. Some folks I know have recently lost their moms & are trying to make the best of a tough weekend. But there are others we rarely are aware of ~ those folks who have always wanted to be a mom & for whatever reason it has not happened; also the moms who have lost a child ~ which must be the most devastating thing ever. If you know any folks who fall into any of these groups, be gentle with them this weekend. It is not so easy to be faced with all the commercials & flowers & cards & everything, while your heart is breaking again & again.
I myself will be spending the day with my mom (yay, breakfast! We are a breakfast celebration bunch!), & my pup (she likes breakfast too...and lunch....and dinner....and snacks....). So no matter what you're doing this weekend ~ have fun, enjoy graduations (I'll be praying for a good speaker....), eat breakfast, and love your dog (or cat).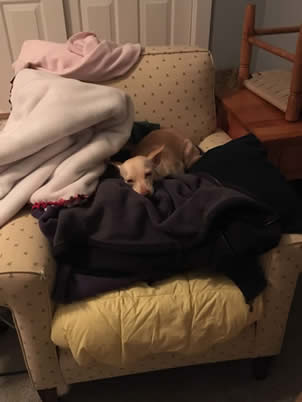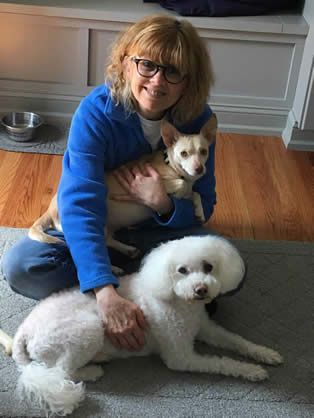 Molly's new girlie Rosie! She LOVES fleece blankets & she loves to climb, so a tower of blankets??? Heaven! On the left is her "Princess & the Pea" picture! On the right is Molly with little Rosie & Mr Miley! He has decided that Rosie is here to stay & now likes to chase her around the yard (although she is a FAST little bugger!). She has been making friends in the neighborhood ~ from the kids next door to Graham Cracker (the dog around the corner).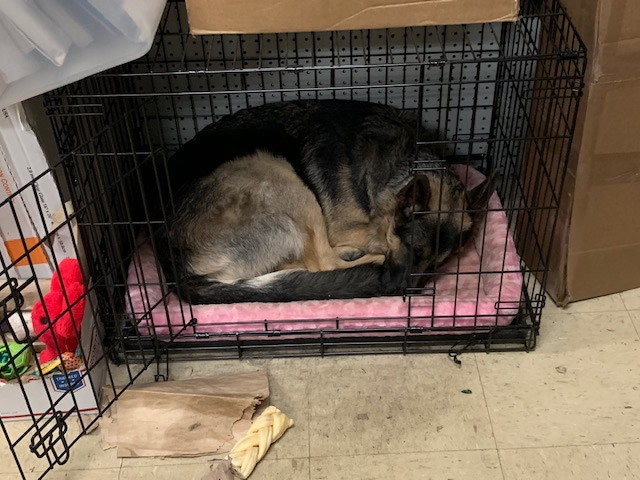 If you've been by the shop, you've probably met Ivy! As you can see, she has outgrown her crate, but she still loves to curl up in it! She is WAY too smart for us ~ she works the baby gate much easier than any of us can! She is also developing her "big girl" bark ~ which she uses to say, "Hey. Why aren't you petting me??". She also likes to talk! And of course, she is an "expert" in mail order boxes!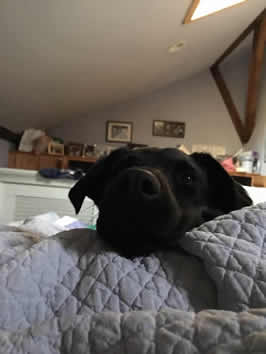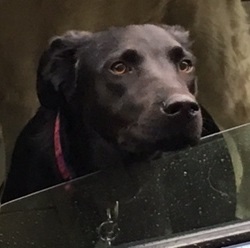 My girl Charlee ~ telling me "GET UP"!!! And then, her pensive look ~ probably wondering why there are no squirrels out when it rains! She is a funny girl & the longer she's around the more I see bits & pieces of all my other girls ~ she greets me each day when I come home with my Casee girl's bark (it freaked me out the first time she did it...it's very distinctive); and she likes to play bedmonster which only 1 of my other girls have done ~ it was Murphee's FAVORITE game ~ so also a little freaky when she does that! But all in all, she is her own crazy self ~ barking at squirrels, barking at deer, NOT barking at the geese (they're a tough gang!), playing with empty plastic drink bottles (but just until she gets the top off ~ then she's done). The best thing she does though, is love me all the time.
Hugs & stitches & Happy Mother's Day ~
Beth & all the mothers' children at TSS