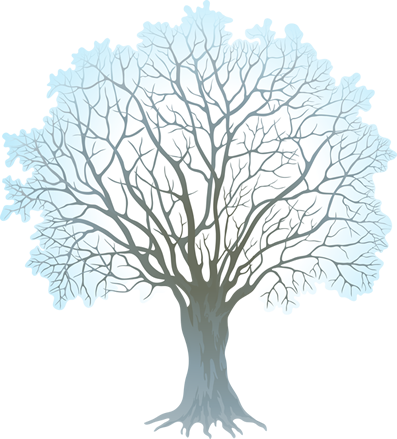 It's BRR-SHIVER-SHIVER cold outside today! But, on Tuesday we'll be back in the 60's (thank goodness). The cold weather is good for one thing though ~ staying inside and stitching! We are starting to see the "coming attractions" of the Nashville Market & they are awesome! I am getting ready to warm up the Market news, but BEFORE we get lost in Nashville, I'm gonna let you know what's new RIGHT NOW, mainly because I don't want these goodies to get lost in the excitement of the Market. It's a little bit like the Countdown ~ all the current new things get lost in the excitement.
So check out the new goodies hot off the press & stay tuned for the opening notes of Nashville!
Marshmallow Row - from Calico Confectionery. Oh. My. Gosh. Those things make my teeth hurt, but this is ADORABLE!
Easter House Trio - from Waxing Moon. This might be my favorite of the "house trios". So happy & cheery, with lots of color, and of course bunnies, chicks, eggs & flowers.
Strawberry Patchwork - from Shannon Christine. Now you know we love this one. I'm always happy to see designs like these where you could do just a portion & make something smaller.
Sunflower Patchwork - from Shannon Christine. I love that sunflower ~ looks like a patchwork quilt!
Stitching Bee - from Little House. Love this bee design & the way it's finished!
Quaker Shamrock - from Stitcherhood. Isn't this a fun addition to the holiday quakers?
Old West Dry Goods - from Little House. I think this is such a fun design. While this is definitely "Old West", it also reminds me of an old-fashioned General Store.
Celtic Maple - from Artists Alley. Isn't this cool?
Towels of the Month: February Heart - from Stoney Creek. What a cute design. Way too cute for a towel (at least in my house...).
Loads of Love - from Little Stitch Girl. That is a wagon full!
We are LOVIN' these new animal designs! Molly can't decide which one she likes best!
Woodland Critter: Deer - from StitchX. That little bit of blush on her cheeks is darling, but what I love are the freckles in her ears!
Fox Baby & Mama - from StitchX. That looks like one proud mama!
Woodland Critter: Owl - from StitchX. Such a wise, yet cute, face.
Woodland Critter: Raccoon - from StitchX. This face will never get in trouble with that "look"!
Woodland Critter: Fox - from StitchX. Ohmygosh! Don't you just wanna smoosh that face???
Baby Giraffe - from StitchX. I can totally see this in a baby's room.
Snowflake Sampler - from CM Designs. FAVORITE!!!! I totally love this design! Maybe even enough to stitch on navy fabric. Maybe.
Garden Labyrinth: Egypt - from CM Designs. I love all the different motifs she used in this design.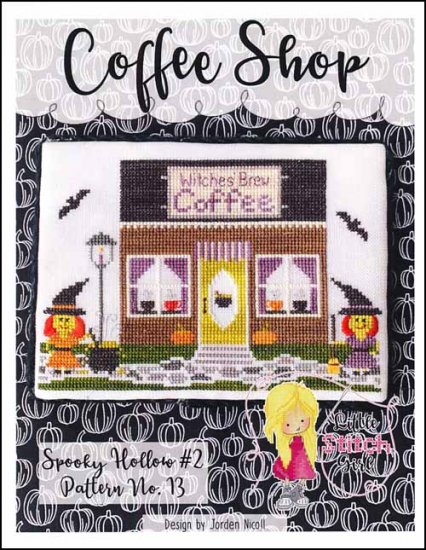 Spooky Hollow #2: Coffee Shop - from Little Stitch Girl. I can't decide if this would be the best coffee ever, or just the scariest!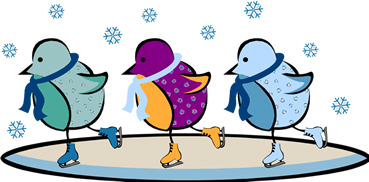 These 3 guys remind me of the geese on our lake. When it freezes, they just walk around on top of the ice. The first time I saw that, I was completely freaked out because they were sitting on the ice. They stayed there so long, I was afraid they were somehow frozen into the ice! Fortunately, all the sudden they took off to who knows where (hopefully somewhere that wouldn't literally freeze their tail feathers off!).
Since we haven't had too many frigid days, we haven't had a total freeze-over this year. But there are always odd things happening...for instance, our blue heron was back the other day. Just hangin' out, not even moving. A couple days later, I was out with the dogs in the morning & as I looked out at the lake...there was a dock floating across the lake! This should not happen. To the best of my knowledge, there's only one floating dock...and it is attached to the little fishing dock next door, where it stays 99.99% of the time. Occasionally, in the SUMMER, the boys take it out & act like fools (shocker there!). But I was pretty sure no one was out jumping off the docks when the temps are this cold! So after work, I texted the boys to let them know they were gonna have to figure out how to retrieve their dock & in the meantime, they needed to touch base with the folks wherever it "washed up"! And then....I realized it had washed up right by our dock! Here's hoping it stays put until the boys get that figured out.
Gonna wrap this up because I just found out that my weekend will continue to be filled with boys & basketball. Chris' CYO team is having a great season & keeps finding ways to win, so tomorrow brings another playoff game in another gym ~ what's great is not knowing when or where it will be! Pick a Saint...any Saint...hey, go all out & pick 2! Maybe a Bishop or even an Archbishop!!! They're a good bunch of boys & they work really well together as a team, so it's fun to watch them play. Particularly when I know this is the last basketball season, which, while it's not my favorite sport, it's still fun to watch them have a good time. And I never wanna miss a second of that!
Hugs & stitches ~
Beth & all the frozen folks at TSS