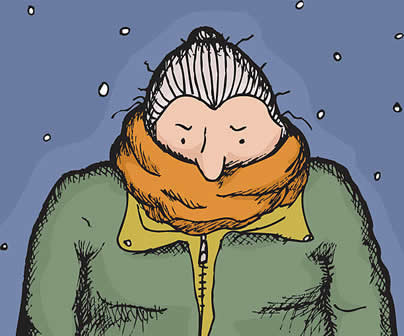 Baby it's cold outside!
Well, it's been a long, long time between "real" newsletters. I wish there was a better reason to give you, but the reality is, I have been emotionally struggling. Without getting too maudlin, as I looked back over this past year, I have come to realize that 2022 was one bombshell after another. I got thru each explosion in real time, but they certainly seemed to pile up on my psyche. Losing our friend & framer, Lise, was the hardest hit of them all & I will admit that all of us are still dealing with that heartbreak.
And as it pertains specifically to me & my abilities, I seem to withdraw more & more with each challenge. As each thing takes its toll, I find the work I need to do (& that I enjoy) almost insurmountable. Thus the reason I haven't been able to sit & write a fun newsletter filled with all sorts of new & wonderful things for you. I'm hoping to change that, starting with this newsletter. I truly do enjoy this aspect of the shop ~ it's always fun to see what's new & to share some of the fun things that we're up to around here.
So thank you for hanging in there with me & with all of us at the shop ~ you are the reason we love what we do & I so feel like I've let everyone down this past year. All I can do is move forward & do a little better each day, each hour, each minute....
So let's do this!!!
One thing we are looking forward to in the coming months is adjusting our focus a bit & working to stock more SUPPLIES: fabrics, fibers, accessories. We have noticed that the charts that sell best here in the shop & online are, first & foremost, the newest goodies, but also, as pertains to the shop, the models that we have on our walls to enchant you. Several areas, such as Halloween & baby & wedding, will always be in demand for higher selection, but that is not the case across the board. What does that mean for you? Well, hopefully it means you'll have more options of goodies you need to stitch all the things you love! This will not happen overnight, but we are definitely working that direction!
Now, on to the latest & greatest!
Winter in the City - from Modern Folk Embroidery. We LOVE this Dutch street scene! Molly wants to omit the blades on the windmill & make it look like a lighthouse instead. Tracy is on board with that because she says those blades look like toothbrushes (no doubt because she works for a dentist!). And now, you can't unsee those toothbrushes, right??
Winter White Whirligig - from Heart in Hand. I love this peaceful winter design. What is it about white on blue that is just so calming?
Sweet Shop Customer #1: Snowman - from Shannon Christine. How darling is this?? There is a new series of these cuties, but all the rest are Christmas-y. I'll post those too, but most of us are out of "Christmas" mode & into "winter" mode!
Winter Snow Fun - from Shannon Christine. Another fun little design!! I love all those individual motifs, and they are perfect all together as well!
Snowplace Like Home - from Primrose Cottage. This is a sweet design ~ and so true...because when it snows, I just wanna stay HOME!!
Triple Play Pillows: Winter Basket - from Hands On. The latest in this lovely series, I love the soft colors in this pak.
Snow on the Ground - from Hands On. What a fun pair of smalls. I love the house-shaped pin pillow ~ it has a charming verse all around the edge ~ and the little scissor fob is great (& easy to stitch & finish).
A Type of Christmas: Hot Cocoa - from Shannon Christine. A new series of fun sayings & cute motifs. While this one says it's a "Christmas" design, all winter long is a great time for cocoa (certainly at my house!).
A Type of Christmas: Let It Snow - from Shannon Christine. Now, y'all know my feelings about the white stuff that falls from the sky, but if it would contain itself to JUST CHRISTMAS I would ~ probably ~ stop complaining. However, this sentiment seems to appeal all thru the long, dreary, cold, dark winter months....
Snowmen's Selfie - from Twin Peak Primitives. What a fun design! These 3 look awfully cheery!
Chillin' - from Twin Peak Primitives. Yep, here's me as a snowman! Now, do you think those are 2 little cardinals sitting on his bum?
Perfect Snowman - from Heart in Hand. BEFORE YOU ASK, yes this is a reprint! And thank goodness, because it is so fun! The question is, what exactly is the perfect snowman? Is he tall? fat? Have a long nose? A top hat or a stocking cap? The answer to all is: YES!
Prim Snowman - from Twin Peak Primitives. Nothing unique about this one, except it all works together perfectly!!
Rustic Winter Set - from Tiny Modernist. I love this! Can someone PLEASE explain why I like winter designs so much?? Ugh! Anyway! I can't decide what I like best: that cute pinpillow at the top, or the big sampler.
Snowballs & Icicles - from Stitches by Ethel. Molly is in LOVE with this whole series!! And really, how cute is this design?
Evergreens & Peppermint - from Stitches by Ethel. These 3 friends are just adorable!!
Candy Corn & Pumpkin - from Stitches by Ethel. Such cuties! I love those Quaker-style motifs.
Day at the Seashore - from Stitches by Ethel. MY favorite (I wonder why....). Love the little crab helper!
Loads of Love - from Primrose Cottage. Sometimes a pickup truck isn't even big enough for all the LOVE!
Hey Sweetheart! - from Primrose Cottage. I've always liked these "typography" designs! Such fun to play with words.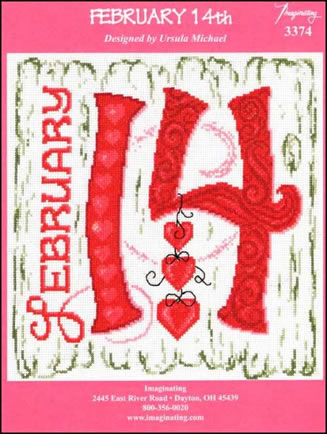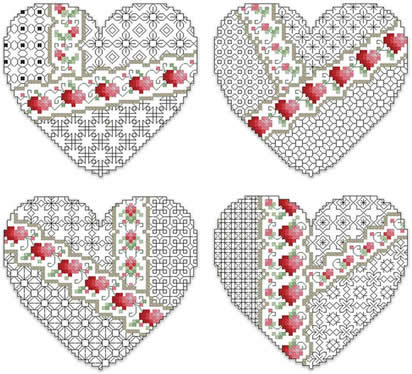 February 14thFebruary 14th - from Imaginating. I am loving this series of "occasions" that look like they are done on old pieces of wood.
Crazy Blackwork Valentines - from Kitty & Me. Blackwork always used to intimidate me...until I went to a workshop. Now I love it! Having said that, you can also just stitch it as backstitching!
2023 Collector's Heart kit - from Heart in Hand. Oooohh... I love this one stitched all in 1 color! Kit includes linen, fibers & small button.
Tweethearts - from Heart in Hand. The long-legged birds are back...and in love!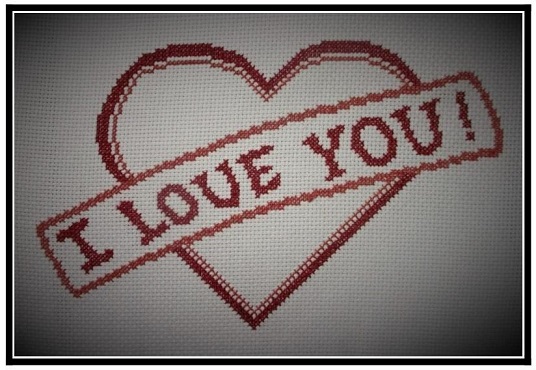 I Love You! - from Stitcherhood. I think this looks like a tattoo you can stitch!
Lotsa Love Sampler & Smalls - from Calico Confectionery. How great is this? So many little things to stitch for ALL your sweethearts!!
Red Smalls 2023 - from Twin Peak Primitives. 9 gorgeous designs for a boatload of "smalls" stitching. And if red isn't your thing, you just need 1 color ~ go crazy!!
Happy Everything - from Calico Confectionery. THIS! This is what we need. All day. Every day!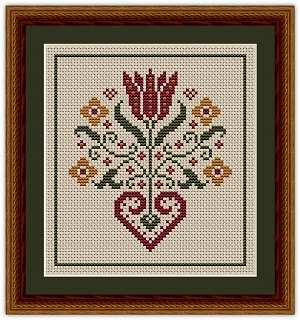 Love in Bloom - from Happiness is HeartMade. A sweet little design that reminds me of the Frakturs we see so often in our area.
Reach Skyward: 2023 StitchAlong - from Modern Folk Embroidery. This year's design is "in honor of nature and is an homage to the Trees of Life found in Frisian samplers". This year's SAL is set up slightly differently as all 12 parts are being released simultaneously. I love that ~ this way we don't have to wait for shipping, etc. I also love that it's stitched in 2 colors, so you can choose exactly what goes with your taste!
Alternate Trees - from Modern Folk Embroidery. This chart, which is really cool on its own, gives you the option of changing the tree in the center of the SAL design. I personally like them just on their own (plus, I might actually get one of these ~ or maybe a couple ~ finished!).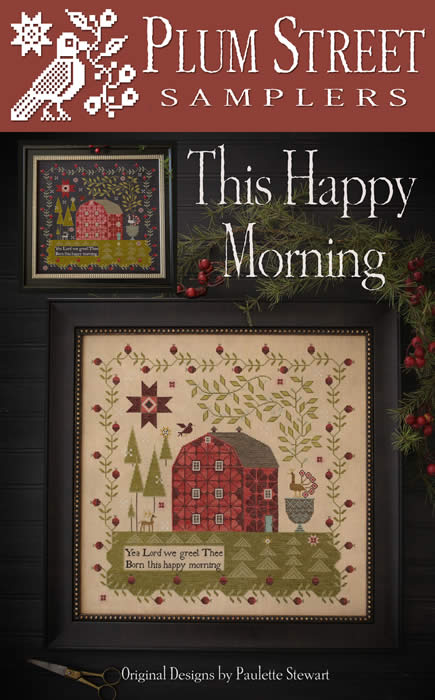 This Happy Morning - from Plum Street. OMG!! Words can't even express how much I love this design. I snagged the first one out of the box!
Yuletide Delivery - from Plum Street. How fun is this? Start now & you'll be ready for Christmas this year!!
Cardinal Kin - from Plum Street. LOVE LOVE LOVE!! I'm trying to decide which color family I like best....
My Heart's Welcome - from Plum Street. Now where do you think she's taking that pineapple....?
Christmas Mini Moon - from Plum Street. I know it says "Christmas", but I think if you left the holly off the roof, you could leave it up all year (which I TOTALLY would!).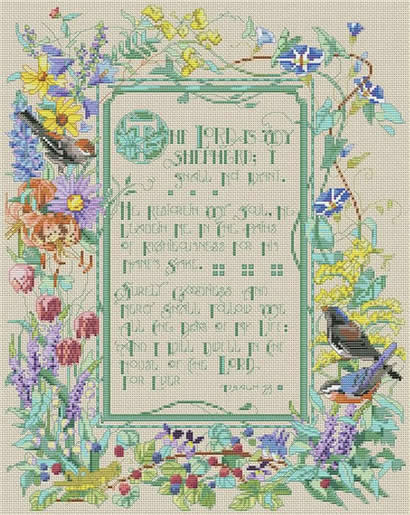 Rose Garden Sampler - from Kooler Design Studio. Somehow, I think this is a reprint of an earlier design, but that just makes me happy because it's SOOOOO pretty!!
Wildflowers - from Kooler Design Studio. What a beautiful design for this lovely Psalm.
Weed or Wish? - from Imaginating. Based on artwork from Mary Engelbreit, this sweet reminder tells us it's all about how you look at something.
Overcome Evil - from Imaginating. LOVE this design from Mary Engelbreit ~ and believe me, if I had to stitch on black I would totally be evil afterwards!!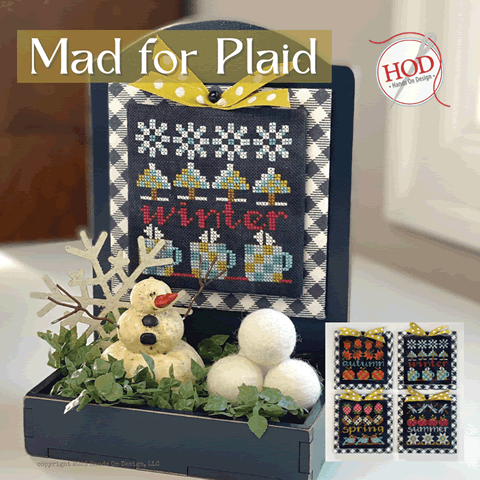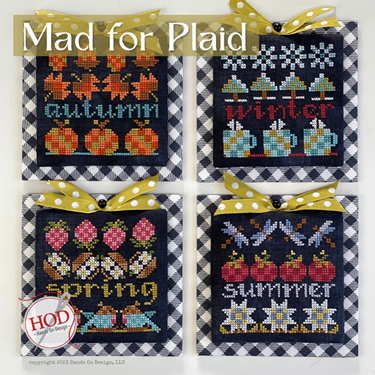 Mad for Plaid
- from Hands On. Aren't these 4 little designs sweet? I love all the plaid motifs in each design. And yes, all 4 designs are in 1 chartpak!

Winter is such a long & dark season, but it certainly gives us the incentive to look inward & plan for the future. So many folks struggle with this time of year, more than any other time. Lots of us hunker down & stitch the darker hours away & that's something of a comforting bonus. Below is a picture of Molly's & my progress on our "Broken Star" designs. While it may appear that I am leading the race, I can honestly say that my head has already moved on to my next project (picked the fabric & fibers already & I'm itching to jump to it!). So you never know....until I get the last stitch in, there's always plenty of time for Molly to sweep by!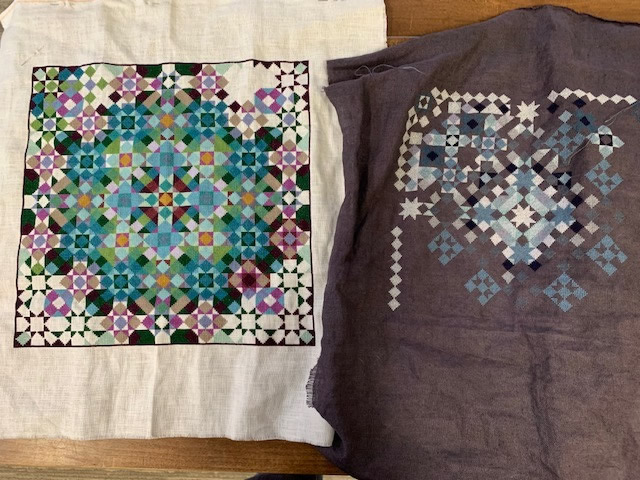 Next up are pictures of Sherri's "Liberty Games" finished pieces! She stitched the drum & the berry & our amazing finisher Therese put them together. These are awesome!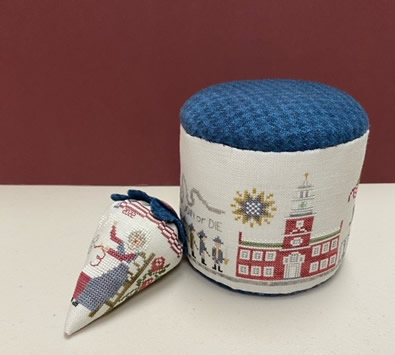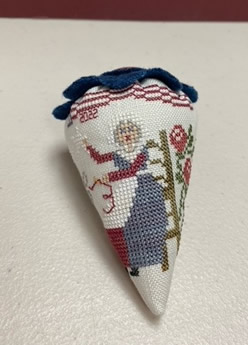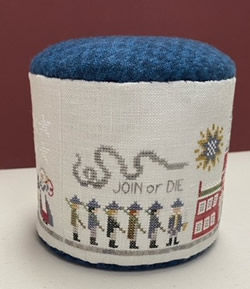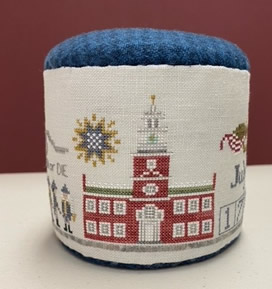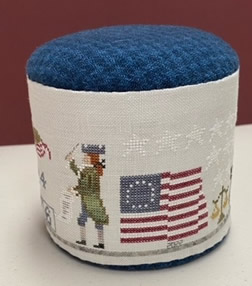 This newsletter has been a long time coming & I can honestly say that it has been a struggle for me to finish this ~ and the crummy part of that is that this is something I truly enjoy. But I'm finally making strides ~ hopefully in the right direction! I thank so many of you for your kind words & support (Barbara H, you were a gift last week!). If you know someone who struggles with depression, check in with them. If you haven't heard from them, they may not be ignoring you on purpose ~ depression is just a soul-sucking thing. Some days are fine, some days are horrible for obvious reasons (like losing a friend to an infection), and some days are just exhausting for no apparent reason. Know that your friend is not cutting you out ~ chances are they are feeling like they have nothing to offer to anyone. And it is difficult tearing down those choking feelings. Kind words ~ while you may feel like you're not DOING anything necessarily ~ truly do make a difference. Those of us battling depression KNOW in our heads that we're basically good people, and we don't need to be constantly patted on the head, but kind words...wow, it really does mean the world.
There are so many new things on the horizon & I really am excited about some of our ideas. So stay tuned!
Hugs & stitches ~
Beth & all the winter stitchers at TSS