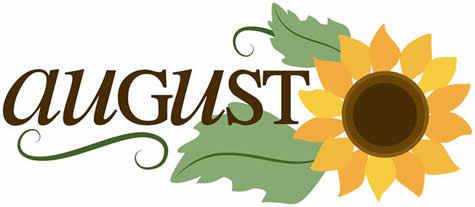 Well, once again, I find myself starting a newsletter thinking, "Seriously? How is it already a new month?". I hate it that my newsletters have been few & far between lately. But I am working hard at STRUCTURING my days for specific goals so that everything gets the attention it deserves. Hopefully that way things like the newsletter will get the love they deserve again!
I know everyone is in the midst of late summer activities ~ last minute vacations, getting kids ready for back to school, retreats (with or without family!) ~ but there's still lots of stitching going on! The biggest thing in the horizon at the moment is the upcoming Needlework Marketplace! This is the newest iteration of the Needlework Expo ~ which was born from the pandemic which caused all our in-person Markets to become...dare I say it?...remote! But enough about the history! Here's the scoop. The weekend of August 25 ~ August 28, more than 80 designers, manufacturers & other suppliers will be introducing their newest creations! Now, while this isn't Market in the sense that we get to GO someplace SEE goodies "in real life", it is still a weekend set aside for LOTS of new things all at once! I'll be doing a separate newsletter focusing specifically on the Marketplace.
For now though, I wanna get you caught up on all the latest things that have arrived & are on their way ~ BEFORE the Marketplace! There are LOTS of great new things in the shop & also on the way.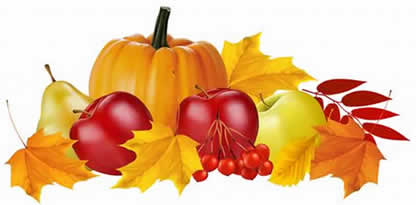 Well, the temps around here are still in the high 80's and the humidity...UGH! But it is definitely time for Fall harvest stitching ~ from Halloween to Thanksgiving to falling leaves & harvest designs, the rich colors of autumn are at the forefront of the new goodies. So for all y'all who have migrated into the "stitch in the season" group, here's a whole new crop for you.
Havest Tiny Town - from Heart in Hand. The newest town in this charming & popular series. I love the flock of geese!
Harvest Frill - from Heart in Hand. This is a fun little design to stitch ~ cute & quick to stitch.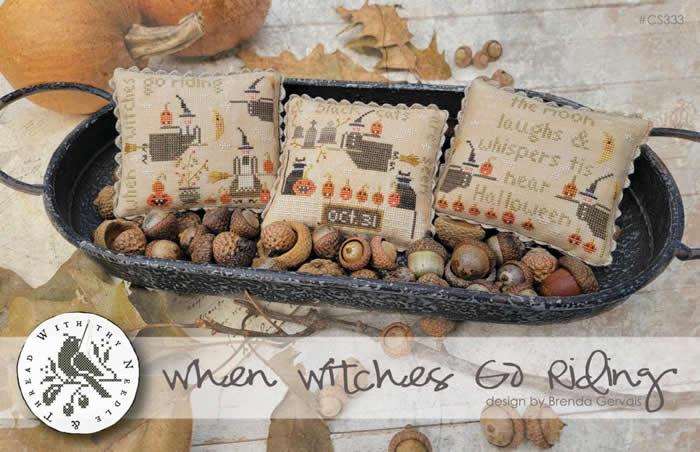 When Witches Go Riding - from With Thy Needle & Thread. A popular Halloween verse, I love how she's split this into 3 little charts. These are darling finished as little pillows like this, and they would also be cute in a frame with a 3-opening mat.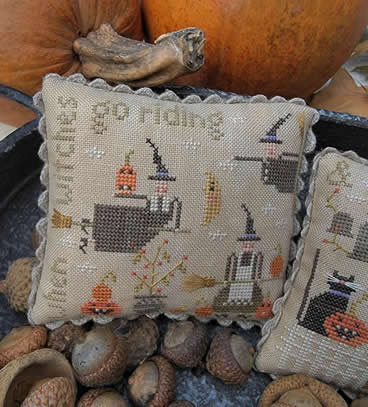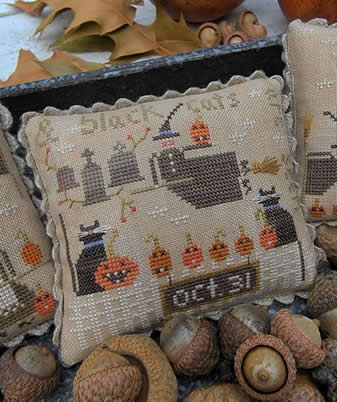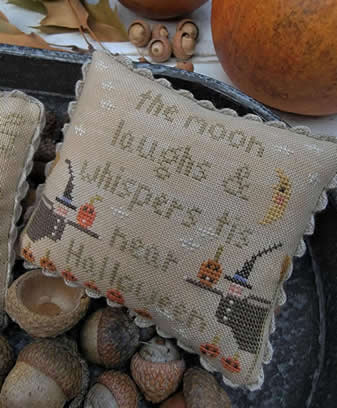 Pumpkin House - from Hello From Liz Mathews. How cool is this? This piece is stitched on 2 separate pieces of fabric ~ the blue for the house then beige for the bottom ~ and then those are stitched together. IT'S NOT HARD! The only requirement is that both pieces are the same count. Before I realized they were 2 separate pieces, I thought, "Huh. You could actually stitch these individually & they'd be cute on their own". Still true....
Pumpkin Faire - from October House. The 3rd installment of the "Faire" series, I love the patchwork look of this pumpkin!
Pumpkin Row: A Skinny Mini design - from October House. Another fun little pumpkin patch!
The Omens - from Cherry Hill Stitchery. This is a great autumn design! I love the floral "background" here.
Boo - from Hello from Liz Mathews. A fun little Halloween design ~ perfect for spooky decorating.
Black Cat Season Series - from Lindy Stitches. How stinkin' cute are these?? As the "mom" of a black dog, I also have a special place in my heart for black cats (really any cats...okay most all creatures...but not snakes). These 6 designs are available individually, but they are all available (no waiting for next month & next month...). So get your favorite, or get them all.
Meow-O-Ween - from Stitches by Ethel. We are loving her series of crows, but this kitty is ADORABLE!!
Plaid All Year: Cast a Spell - from Hands On. This series continues to make me smile!! I love the orange potion.
Halloween Stamps - from Pickle Barrel. I love these little designs! Darling stitched as shown here, but I can also see them stitched & finished individually as little ornaments on a spooky grapevine wreath with some cobweb-y stuff!
Pagine di Halloween - from Cuore e Batticuore. These charming bookmark designs are SO FUN!! Which costume will you be sporting this year? I love that pirate mermaid...and that stripey cat.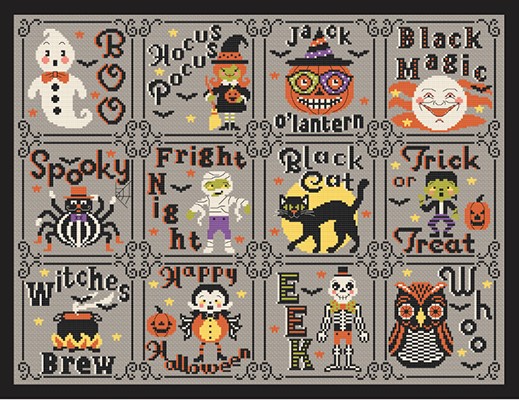 Halloween Spooktacular - from Tiny Modernist. This series is FUN FUN FUN!! So far the first 8 designs are available (rows 1 & 2), and we should see the last row next month. The only question will be, do you stitch them as they're shown above? Or as individual ornamnts (see below).
Halloween Spooktacular #1 - from Tiny Modernist. I love that Jacko'lantern with the specs on!
Halloween Spooktacular #2 - from Tiny Modernist. My favorite one here is definitely the spider (sorry Katerina...).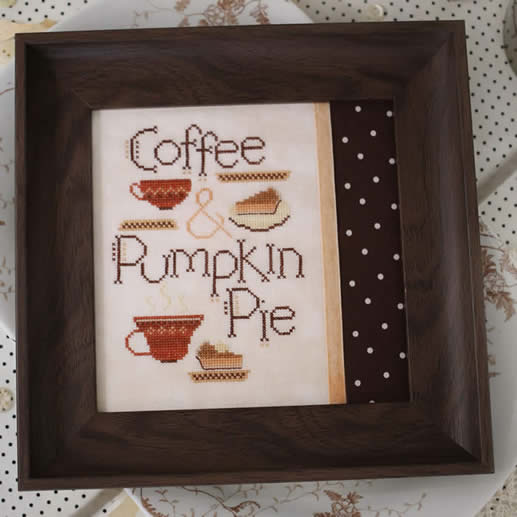 Coffee & Pumpkin Pie - from October House. Now, if you hit it just right, you can get pumpkin coffee at Wawa right now! I gotta tell ya, I LOVE pumpkin spice EVERYTHING. But. It is TOO EARLY to have pumpkin latte, pumpkin spice cereal, pumpkin chapstik (yes this is a thing ~ I have 3 tubes of it!), pumpkin....etc. Please, let me enjoy the rest of SUMMER!
Autumn Sjplendor - from With Thy Needle & Thread. I love this small but elegant design.
Autumn Quaker - from Primrose Cottage. It's so fun to see all the autumn motifs that make up the larger Quaker motifs!
Pick Your Pumpkin Patchwork - from Hands On. This fun design really highlights Cathy's love of quilting!
Autumn Bee - from Blue Flower. What a stunner! I love the rich colors in this as well as all the little details in the bee (look at those wings! And the body looks like a quilt pattern!).
Autumn on the Farm - from Primrose Cottage. You know I love my barns & this is just a fantastic autumn design.
Fall Favorites - from Anabella's. A fun design featuring loads of the things we love best about the fal season.
Gothic Halloween 2023 - from Twin Peak Primitives. How cool are these designs?? This book is loaded with treats for Halloween stitching.
All Hallow's Eve - from Calico Confectionery. Just a fabulously fun Halloween design.
Leaves of Autumn - from Primrose Cottage. You know what I like about this? Aside from the verse? I like that the verse mimicks the falling leaves.
Acorn Bellpull - from Calico Confectionery. Yes please! I do so love band samplers & this one is perfect for fall stitching!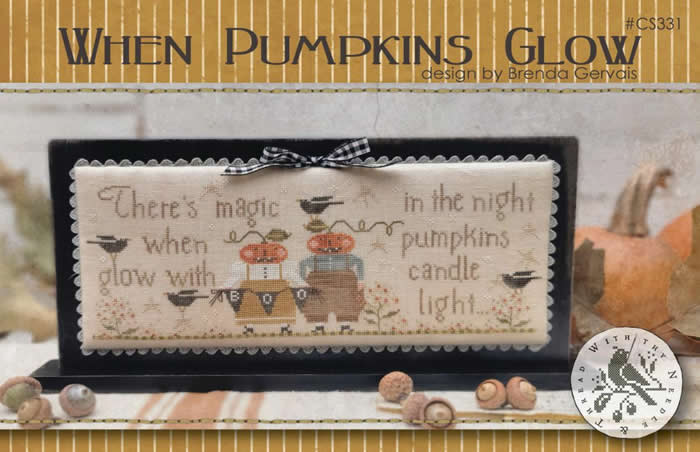 When Pumpkins Glow - from With Thy Needle & Thread. This is ADORABLE!! I love the little punkinheads all by themselves.
Celebrate Harvest - With Thy Needle & Thread. This design was included in Brenda's "Coming to America" project a few years ago as a freebie, so if you got that, you have this chart already. FORTUNATELY, she's decided to release it (as well as Coming To America) just as a chart!
Autumn Alphabet - from Primrose Cottage. The gals at Primrose Cottage have such a lovely whimsical style & this is a perfectly charming autumn design. How will you finish yours?
Halloween Postage Stamps - from Cute Embroidery by Kate. Fun designs from a "new to us" designer. These little cuties would make charming little ornaments for Halloween decorating.
Thanksgiving Postage Stamps - from Cute Embroidery by Kate. These would be fun to stitch & use as little placecards at your Thanksgiving gathering.
Spooky Autumn Smalls - from Blue Flower. Each one of these is fun on its own, but I never noticed how perfect a spiderweb is for a biscornu!
Autumn Calls - from Hands On. LOVE LOVE LOVE this!
A Classic Haunt - from Hands On. How adorable is this? One quick note: the fabric is out of stock from the manufacturer until October. While I hate it when things (particularly fabric!) are temporarily unavailable ~ especially for a new design ~ I do truly appreciate it when our suppliers let us know from the jump. So if you love this, you can either choose a different fabric (there are lots of suitable choices!) or you can patiently (ugh!) wait for this fabric to arrive ~ and get this one stitched for future Halloweens!
Unfiltered Poison - from Shannon Christine. Bwahaha!!
Autumn Harvest Cornucopia - from Kitty & Me. Cornucopias are always so lovely! I am sure that the stitched piece will be even prettier than this digital image.
Autumn Pumpkin - from Kitty & Me. Another lovely fall creation!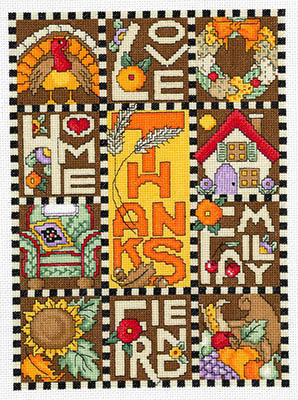 Thanksgiving Sampler - from Imaginating. Love this design, adapted from artwork by Mary Engelbreit (one of my all-time favorites!).
Vintage Bird - from Stitches by Ethel. Well, while this doesn't SPECIFICALLY say it's for Autumn, I think that giant pumpkin makes it lean that way. I just love this new design!
We Give Thanks - from Calico Confectionery. 2 awesome designs for Thanksgiving decorating (although that little quilty fob design is gonna be just fine for all year long).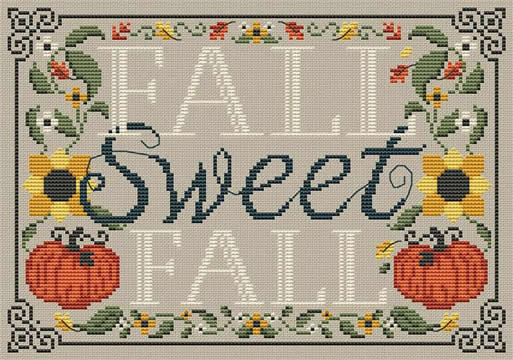 Fall Sweet Fall - from Erin Elizabeth. I know lots of y'all feel this way! And this is a really pretty design.!
While lots of y'all are eagerly awaiting Autumn, SOME of us are hanging on to Summer as long as possible (It's me...I'm "some of us"). Baseball helps me stay focused on summer ~ the Phillies are still battling and the Little League World Series has just begun. This year we have even more reason to be excited about watching the LLWS as Delco's own Media Little League is playing! If you live around here you know that "Delco (aka Delaware County)" is a "thing". Hilariously, on the sports radio station I listen to, this has become a bone of contention amongst several of the broadcasters ~ you're either a Delco lover, OR NOT. I did not know this. But anyway. If you like baseball, I recommend watching the LLWS ~ it is fun to watch these kids. And they are GOOD! Also, the Phillies will be playing the Sunday night game in Williamsport, so that should be even better!!
Now, on to more summer stitching!!
Between Friends: A Summer Sampling - from Hands On & Summer House Stitche Workes. I love these collaborations between designers. Cathy & Beth released the Spring Sampling at Nashville & it is lovely. Needless to say, I love the summer one even more! It has lots of gardening-themed goodies ~ and you don't have to weed them!
Hawaiian Postage Stamps - from Cute Embroidery by Kate. Yes it makes me think SUMMER, but we are all certainly focused on the desruction & recovery efforts going on right now on Maui. Our hearts go out to all the folks who are suffering so much loss right now.
Go To the Beach - from Pickle Barrel. Nancy at Pickle Barrel does some of my favorite beach designs & these new ones are fantastic. This one definitely is "ME".
Summer Spectacular - fro Pickle Barrel. More fun summertime joy!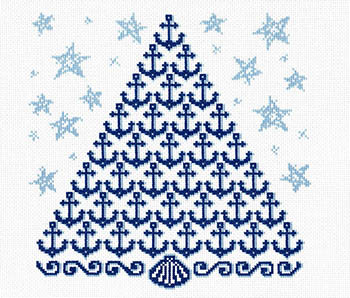 Anchors Holiday Tree - from Imaginating. Now, I debated on whether this goes in with beachy things or Christmas things, but those anchors dragged me back to the beach! Besides, I'd leave this up year-round!
Summer Stamps - from Pickle Barrel. Loads of summer time happiness! I wanna stitch these individually & scatter them all over my home so when it's the ugly season I can pretend it's still summer!
Summer Story - from Pickle Barrel. I really just wanna move into this house.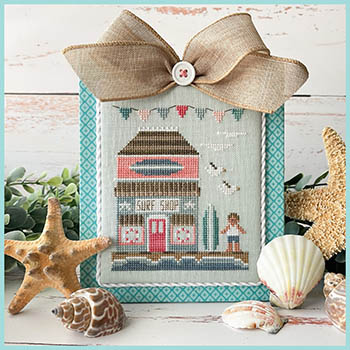 Beach Boardwalk: Surf Shop - from Country Cottage. Love it!
Honeybee Quaker - from Primrose Cottage. LOVE LOVE LOVE this! These gals have a whole bee themed group going on. Not only that, but if you check out their social media, they took "Honey of a Tiny Town" from Heart in Hand & adapted the original colors to reflect their bee palette. Connie just stitched it & it's adorable!
Sunflowers Sign - from Shannon Christine. It is definitely sunflower season around here! And this is a super cute design.
Berry Basket: Blueberry - from Hands On. Another berry from Cathy!
Folk Art Butterfly - from Little Dove. So sweet!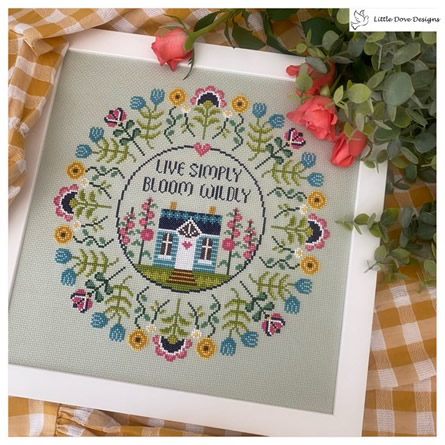 Bloom Wildly - from Little Dove. I adore this ~ from the verse to the round floral border, it is all fantastic. It makes me smile.
In these days of "seasonal stitching" vs "get it done before Christmas" I'm lost as to whether it's too late or too early for Christmas designs! Sooo, maybe that means it's never a bad time for Christmas stitching!
Peace Tree & Believe - from Rosewood Manor. Karen's designs just get better & better. This is simply a beauty.
Days of Christmas Past #2 - from Summer House Stitche Workes. These ornaments have a Victorian feel to them & are lovely. Not a fan of dark colors? What about stitching these on red perf paper with white floss? Brighten it up! Make it your own!
Hometown Holiday: Ice Cream Shoppe - from Little House. The latest addition to the Hometown Holiday series. I love the "Snow Cones" sign!
Wee Santa 2023 - from Heart in Hand. Santa's striped socks are so fun! What I also love is those quilt patterned poinsettias.
Christmas Postage Stamps - from Cute Embroidery by Kate. These little ornaments are just such fun!
North Pole Postage Stamps - from Cute Embroidery by Kate. Now, I'd have to make the reindeer's nose more RED!! Fun!
Gingerbread Rolling Pin - from Shannon Christine. This is a really fun design! And if, by chance, you're like me & collect rolling pins (weird, I know), you'll wanna add this to your stash!
Christmas House Cookies - from Imaginating. What could be more fun than having your favorite recipe stitched & hanging in the kitchen??
Santa Mitten - from Shannon Christine. What a cutie!
Mrs Claus Mitten - from Shannon Christine. What would Santa be without Mrs Claus?
Christmas House Sampler - from Imaginating. Doesn't this look like the perfect Christmas house?
Christmas Holiday Tree - from Imaginating. I love these designs done in shades of 1 color. This would also lend itself to using your favorite overdyed Christmas thread.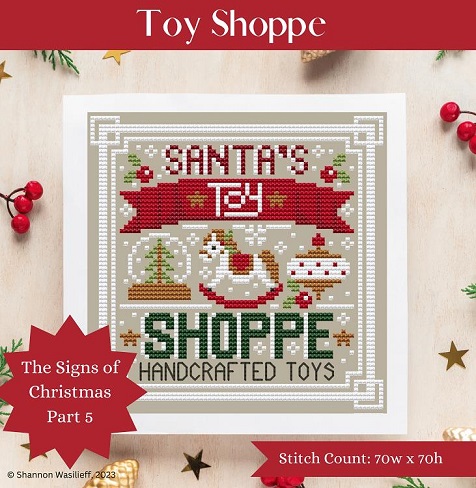 Toy Shoppe - from Shannon Christine. This is just smile-inducing.
Yuletide Cushion - from Modern Folk Embroidery. The poinsettia motifs definitely make you think Christmas, but honestly, this could stay up year-round.
Wintergreen - from Stitches by Ethel. This is just absolutely darling. I can't decide if that cardinal is decorating the tree or stealing the candy cane, but who cares? It makes me happy!
Ninth Day of Christmas Sampler & Tree - from Hello from Liz Mathews. As each successive installment of this comes out, I like it more & more ~ and that's going some, because I hate this song!
Celtic Poinsettias for Christmas - from Happiness is Heartmade. I didn't realize poinsettias were celtic.... A really fun design!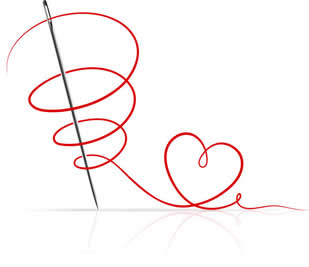 Regardless of the time of year, stitching is always in season. And stitching about stitching? Even better!
A Stitcher's Heart - from Tiny Modernist. How sweet is this? The only question is, will you stitch this for a stitching friend or keep it yourself?
Stitch - from Pansy Patch. Love this sampler filled with so many stitching treasures!
Stitched Together - from Heartstring Samplery. How pretty is this? It looks like a treasured antique.
Vintage Garden Smalls - from Erica Michaels. I love this sewing set! Not only useful, but oh so lovely.
Sampler Tree - from Hello from Liz Mathews. Oooohh, I love this one!! That border at the bottom is sweet.
Homespun Hearts - from Hello from Liz Mathews. I LOVE THIS! It's so clever ~ it looks like a torn page from a scrapbook laid over a piece of homespun fabric.
Quilting A-Bee-C's part 3 - from Erica Michaels. The next group of small quilt patterns ~ either for stitching in a big sampler or a group of smalls!
Quilting Berries - from Erica Michaels. This is one of my favorite berry patterns in a while! I especially love that one that is all quiltblocks.
Stitchy Bird: Sewing Tomato - from Teresa Kogut. Love this folk art design.
Who Let the Frogs Out - from Heartstring Samplery. LOLOLOLOL!!!! This cracks me up!
Bloom - from Pansy Patch. A sweet little sampler filled with pretty blossoms & vines.
Mother & Daughter Everlasting Friendship - from Pansy Patch. So many of us have stitching as a special tie between mothers & daughters (& grandmothers!). This is a pretty sampler to celebrate that.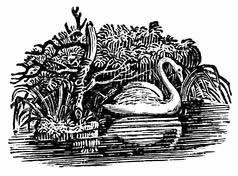 Nature provides never-ending inspiration for stitchers. Whether you love flowers, animals, the mountains, the sea or any other stunning vignette, there's always something beautiful to stitch.
Sketchy Blooms Collection - from Peacock & Fig: "These beautiful cross stitch patterns are derived from original gouache and dip ink pen paintings done during a 100 Day Project about Saanich plants and their indigineous use (Victoria, BC). The flowy watercolour-style wash behind the flowers allows the delicate linework of these coss stitch patterns to highlight the beauty of these blooms".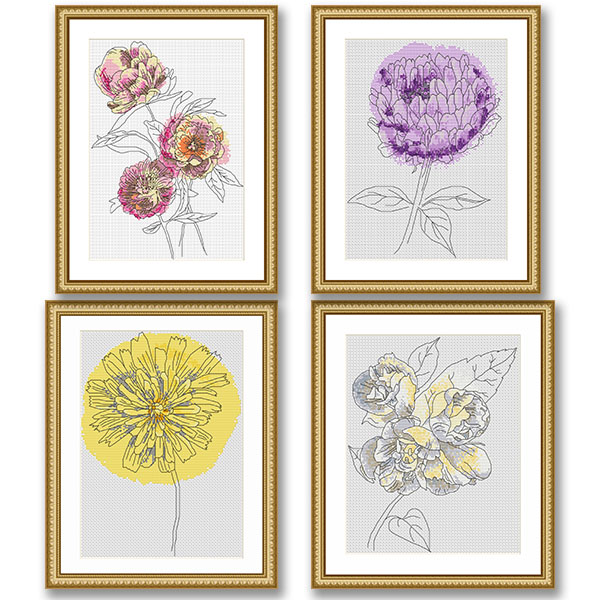 Peonies - Springbank Clover
False Dandelion - Mock Orange
Seaworthy - from Teresa Kogut. MINE! MINE! MINE! Oh how I love all 3 charts in this book!! Below are larger images of these designs, so check 'em out. I love the quilt pattern on the sails of the boat in the big sampler. And the little mermaid is adorable. Under the Sea is awesome as well. The only question is which one to stitch FIRST!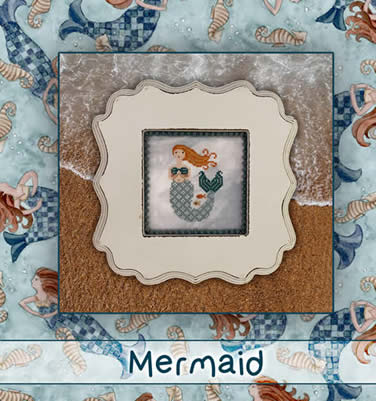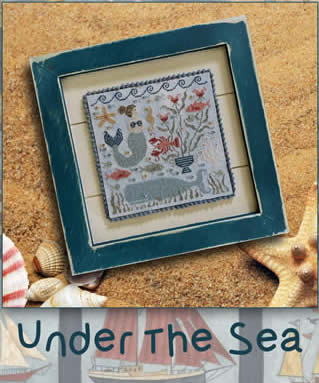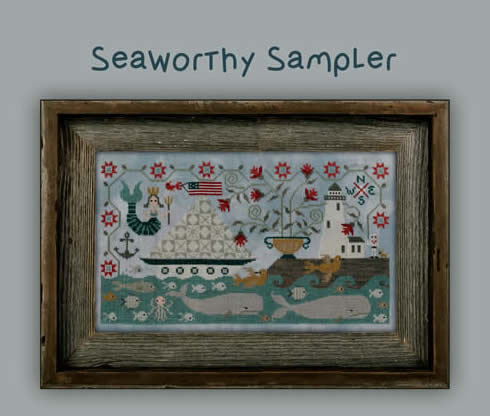 Long-Eared Owl - from Lindy Stitches. This guy is GORGEOUS.
Tranquility - from Jan Hicks. The bird is lovely, but what I love even more is the pattern of barely there flowers in the background.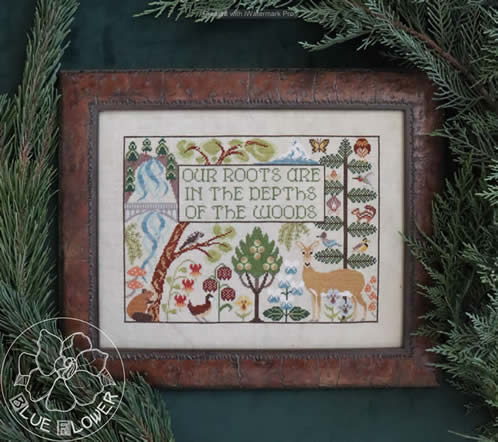 Forest Home - from Blue Flower. This is simply beautiful. Jeannine has a real way way designing creatures (I love the beaver chomping down that tree!).
Be A Rainbow - from Imaginating. Great advice. And a smart move using a kitty & pup in this design as our pets are ALWAYS a rainbow ~ even during the worst storm.
Hope More - from Heartstring Samplery. More good advice ~ and more loving pets & all God's creatures (who exemplify the verse).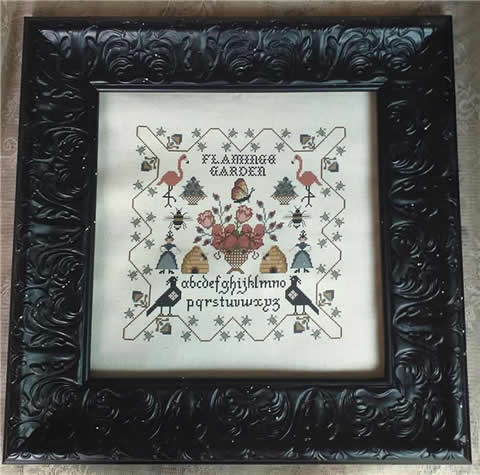 Flamingo Garden - from Twin Peak Primitives. Who knew that flamingos could be so .... serious? Elegant? Laura P...I'm not sure these are gonna go with our theme ~ we'll have to check with Brooke!
Fragments in Time 2023, No. 3 - from Summer House Stitche Workes. Swans are lovely...and also mean. Better to just stitch!
Fragments in Time, No. 4 - from Summer House Stitche Workes. What a beautiful bouquet!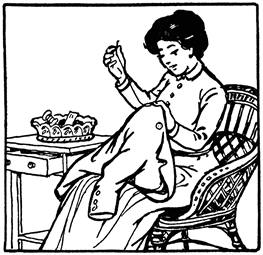 Samplers! They come in all shapes, sizes & styles! Find yours.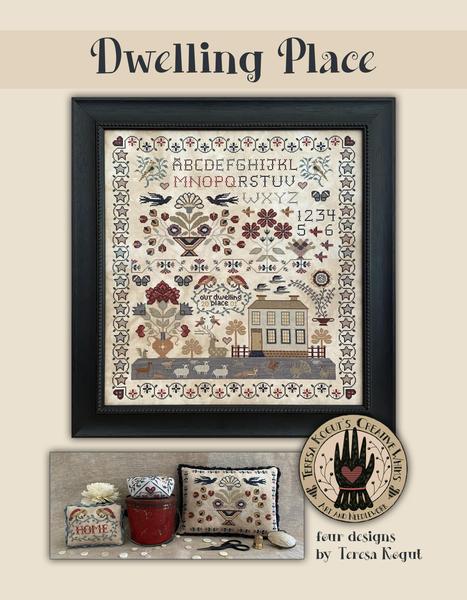 Dwelling Place - from Teresa Kogut. YAY! Another awesome sampler & 3 lovely smalls. Teresa has really embraced samplers in the last couple years & boy has she done it well. Check out larger pictures of the smalls below.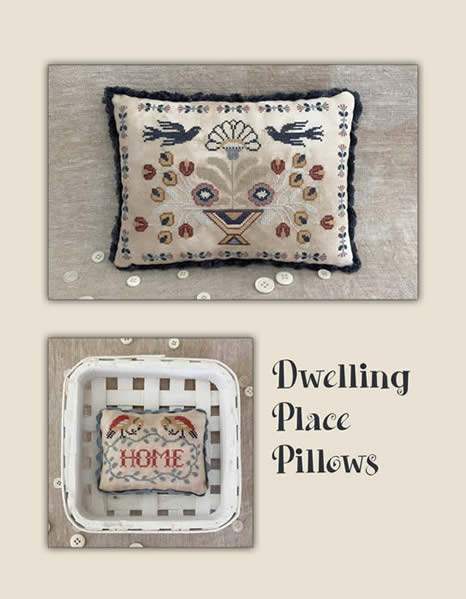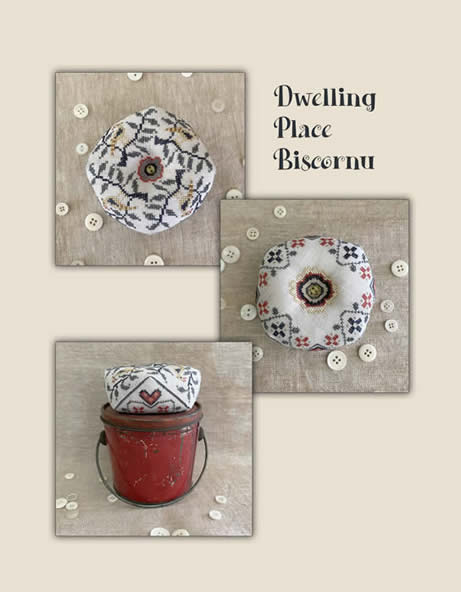 Sarah Pettingill - from Just Stitching Along. A traditional schoolgirl sampler, originally stitched over 300 years ago by a sweet 10-year-old girl. I can't even imagine a little girl over 300 years ago stitching this ~ I wonder what she would think of us recreating what was probably her lessonwork?
Agnes Hewetson Sampler - from Pineberry Lane. I love the reds in this sampler.
Little D Frietag Sampler - by From the Heart. I love the German flair of this small sampler.
Mary Norrie 1859 - from Lucy Beam. I like how she separated her information (stitched in red) from the rest of her family!
Ann Rathmell 1851 - from Hands Across the Sea. Love the bird featured in this sampler, as well as that awesome border.
Eliz. Fitch 1797 - from Hands Across the Sea. There's something especially pleasing about this spare yet lovely sampler.
Emma Fisher 1859 - from Heartstring Samplery. What a lovely recreation of the 23rd Psalm.
Fall From Grace - from Teresa Kogut. This is for all you Adam & Eve fans out there! LOVE the border on this one (just not the snake...or the people...).
Bible Verse Pattern: Whose Hope the Lord is - from Happiness is Heartmade. Love this little inspirational design.
Bible Verse Pattern: With All Your Heart - from Happiness is Heartmade. Another reassuring verse, that's easy to stitch & quick to finish.
Leave a Kiss - from Long Dog Samplers. The text for this sampler is taken from the Eilzabethan poem "Song: to Celia" by Ben Johnson, playwright & actor, and describes the deep love existing betweent he speaker and his lover which tanscends all normal bounds. So sweet, right? Hilariously (and as only Jools from LDS can do), this was then set to music & became popular in pubs & "bawdy houses" towards the end of the night (when lots of alcohol had been flowing!). Truly a lovely sampler.
Two Men's Morris - from Long Dog Samplers. One of the MANY things I love about designs from Long Dog is that it's never JUST a sampler. There is always a story behind it ~ whether true or a figment of Jools' incredible imagination. There have been several times when I've thought, "Eh, I like it but I can resist..." until I read the story provided ~ and then I HAVE to have it. This one is no exception & I'm just gonna give you all the info she provides.
Three Men's Morris is an ancient strategy game for two players that dates back to Roman times. It's played on a board similar to tic-tac-toe (six, nine and twelve men versions also exist). Morris boards have been found carved into the cloister seats in Westminster Abbey as well as Canterbury, Salisbury and Norwich Cathedrals <I guess they didn't have service bulletins to doodle on like I used to do during church>
The name is thought by some scholars to relate to Morris dancing <not sure what that is> while others believe it comes from the Latin word "merellus" which means a counter or gaming piece.
The Long Dog version is the simplest of all - just two Morris dancers prancing about on the village green outside the Nag's Head Public House.
I LOVE THIS!!!
Seafarer's Journey - from Twin Peak Primitives. This is a lovely early American style design.
Katrin & William - from Modern Folk Embroidery. Inspired by a Scottish sampler with typical Scottish motifs.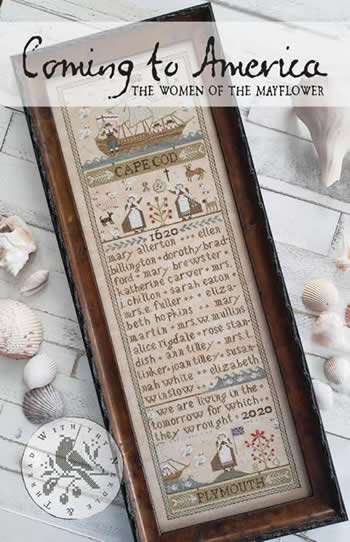 Coming to America - from With Thy Needle & Thread. Yes, this is a re-release of the special edition piece from 2020. Brenda has had so many requests that she decided to release this as just a single chart. So if you missed the special release a few yearrs ago, don't miss it this time!
School Days - from Calico Confectionery. Perfect for that education professional you know & love.
Bliss Series - from Twin Peak Primitives. A collection of 12 individual charts. They are LOVELY!
More awesome designs from Carolyn Manning, I love these adapated quilt pattern designs. Stay tuned to see the ones that Molly & I stitched earlier this year ~ Molly's is being framed & mine is being made into a pillow. Which one are you stitching?
Buzzing About (The Quilting Bee Collection) - I am loving this quilting bee series!!
Spring Waltz - I know some of y'all already have Autumn & Winter, well Spring is here...and you know what comes after Spring!!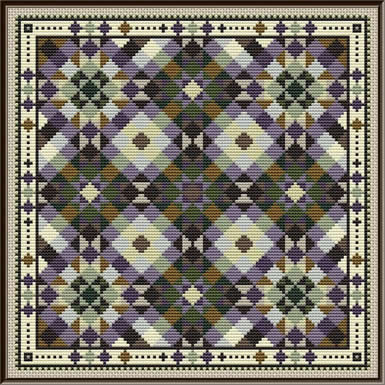 Garden Picnic - Ooohhh, I like this a lot!!
More of the "Shooting Star Collection", this time based on Greek Goddesses! Enjoy your refresher course in Greek Goddess mythology (I love all those stories!).
Hera - Well, these are certainly MY colors!! And why not? Hera was considered the goddess of the goddesses ~ the wife of Zeus (so you know she had her hands full).
Pandora's Box - I think we all know about Pandora & her inability to resist temptation. Of course if it was this pretty I can understand the problem!
Persephone - So here's one I always found interesting. Persephone was the goddess of springtime & vegetation, and also the queen of the underworld. In the "offseason" she lives in the underworld as the wife of Hades. You gotta think she's not a big fan of winter either....
Hecate - gorgeous, rich dark colors...perfect for the goddess of magic, moon, ghosts & witchcraft (among other creepy things).
Artemis - Great colors for the goddess of the hunt (also Apollo's twin sister).
Athena - Bold gold colors for this goddess of wisdom, poetry, art and....war strategy! She was gorn from Zeus' forehead, fully formed & wearing battle armor! You go girl.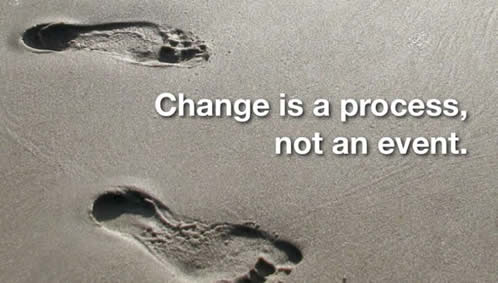 We are working our way thru our 3rd week without Molly & we MISS HER so much! While we certainly miss all the work she did, mostly we miss HER. We know she's where she needs to be, and we're glad about that, but it's just different. Here at the shop, we are realizing the truth of the above statement: change IS a process, not an event. Therese & I have been working hard to get our arms around all the myriad things that Molly did so well. And we're making great progress! But we have (& will always have) things to learn & conquer. Having said that, y'all have been AWESOME! So many friendly faces have stopped in & happy voices have emailed to touch base ~ please know that YOU keep us smiling! Thank y'all for being the absolute best group of stitchers & friends!
And of course, everyone's lives are filled with change: so many of y'all are sending your babies off to college for the first time. I just had "linner" (lunch/dinner) with Chris this week before he heads back to Penn State for his SENIOR YEAR! WHAT??? And Jimmy is getting ready to start Grad school. And I'm happy ~ I don't want them to stay little. I love watching them become their own people...quite honestly, they've certainly been their own personalities from early on, but to see them take control of their day to day "stuff" is, at the very least, entertaining! This year should provide more fodder for the "who ties your shoes?" sweepstakes with Chris, as he will be living with 4 other roommates for the first time! Bwahaha! Have fun going from zero to four, dude. Although I will say, guys are different so we'll see what happens. I'll keep you posted on any developments. Quick note: they already have a shower curtain (some of you may remember that Chris had a small issue with this when he moved into his first apartment, "Yeah, do I really need one of those?" Only if you wanna shower, Chris). So one crisis is already averted.
I hope you've enjoyed getting caught up with so much new stuff. I wanted to take a second & say thank you to all y'all who have been in the last few days & weeks & have been so fun! There was a retreat in Exton a few weeks ago & so many stitchers dropped in from all over the country! It was loads of fun talking to new friends & old alike. Also, a huge thanks to everyone who has mentioned that they enjoy reading the newsletters ~ truly I cannot tell you what that means to me. It has been a very troublesome summer & when my heart is hurting I have a difficult time writing. And then I feel awful because I know there are so many great things headed our way that I want to show everyone, but I can't get out of my own way. So all your encouraging words ~ spontaneously gifted ~ are appreciated more than I will ever be able to tell you. Usually, once I get back to it, I can keep it going, so here's hoping!
Hugs & stitches ~
Beth & all the summer lovers & autumn anticipators at TSS