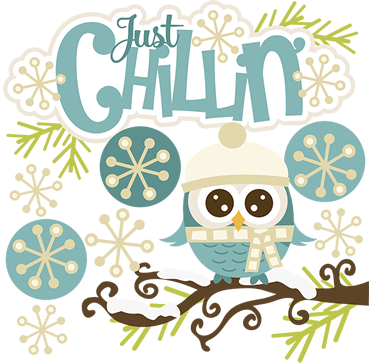 That's what we're doing around here! Chillin'. Brrrrr.... But it could be worse! We had some white stuff fall from the sky one night, but it didn't cause any issues. And at work we each have rice paks that our wonderful friend Joyce made for us ~ pop those babies in the microwave for a couple minutes & voila ~ WARMTH! By the week's end, we'll be chillin' ice in our drinks while the temps reach for 70!
We are excited about the Framing Sale (beginning on Saturday January 11th), so we hope you are too. And as I always say, once I turn in a piece for framing, it's time to start a new project! Actually, I don't say that...because that would imply that I finish...anything. But honestly it's NEVER a bad time to start a new project! In fact, I just started 2 ~ "Country Winter" from Plum Street & "English Garden Sampler" from Samplers NotForgotten. Molly picked GORGEOUS fabric for Country Winter (for a customer), so I've had to re-think that one (the fabric she picked only comes in 28ct & 32ct...I was going to stitch on 36ct...hmmm). And for English Garden, I changed all the greens to blues (stop stressing Kimberly ~ I'll still do the flower stems & vines in green!), and have started that already! AND I am about 2 hours away from FINISHING (such an ugly word...) my BG Sampler (Molly was trying to derail me by withholding a thread I needed...). So as you can see, if/WHEN I get BG finished, good heavens, how many more projects can I start????
Winter is a great time for big projects. It seems like we (obviously) spend more time inside & even though there are about a million things to get done (blech!), it just seems like the right time to cozy up, flip on HGTV or Food Network (particularly now that the Eagles are finished with their season) & stitch!
So, we're diving back in with more new things & more recaps from goodies released during the Countdown (that you may have missed!).
Bathya 1680 Band Sampler - from Hands Across the Sea. WOWSER! This is stunning! Not least because it is actually stitched to be REVERSIBLE. Now, keep in mind, this was in 1680. As you can see in the detail photo, the stitches are intricate & beautiful. There is much history to be learned from this sampler ~ Nicola does a phenomenal job of documenting different symbols, meanings, etc...down to the fact that the sunflowers probably represent Charles II (who was called the Sun King...before Louis XIV) & Charles' wife ~ she is likely represented by a sunflower that has no seeds...she was barren. What thought went in to all these things. Aside from the samplers themselves, one of the things I love the most about this designer is the wonderful historic detail included.
Echoing Evergreens - from Tempting Tangles. Love the thought process behind this design & title. The heavier greens in the top left & the faded "echo" in the lower right.
Quakers in Holland - from Tempting Tangles. Another cool sampler ~ I love the uniquely Dutch buildings (I know they're Dutch from all the people who are moving to the Netherlands on "House Hunters International"), and how cute are the canal boats filled with CHEESE?? So fun!
Basket of Roses & Primulas - from Antique Needlework Design. What a stunner ~ I wish my real flowers were this pretty.
Blue Urn with Bouquet - from Antique Needlework Design. This is amazing! That urn looks real. I would LOVE to stitch this...but I'm pretty sure I'd end up stabbing my eyes out!
MH Smith Sampler - from Dutch Treat. This sampler was likely stitched while she was living at the New Orphan Houses at the Bristol Orphanage.
Fruit of the Vine Huswif - from Scattered Seeds Sampler. This is a lovely design!
Winter's Kaleidoscope - from Threadwork Primitives. This is so soft & lovely ~ perfect for a quick winter stitching project.
Home Sweet Home - from Modern Folk Embroidery. Another lovely sampler from Jacob. This one reminds me of an old Merrily Beams sampler ~ something about the house, I think.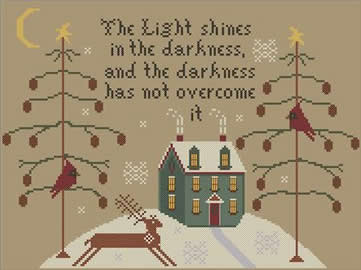 Green House on the Hill - from Twin Peak Primitives. Okay. I loved this design BEFORE I read the verse. After, I loved it even more ~ what a wonderful reminder!
Our Happy Place - from Imaginating. LOVE it! Make this for a new couple, or a new home, or take the words out & use the "framework" to surround a wedding announcement...or, change "our" to "my" & hang it in your stitching area!
Sunshine & Sunflowers - from CM Designs. OKAY, Sunflower Girls... Love this design! One of the things I like best is that each flower is different, yet each is still a sunflower.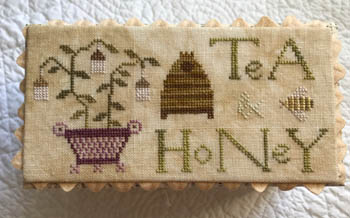 Tea Box
- from Lucy Beam. Wouldn't this be lovely to stitch on top of a box for your tea? Great idea.
A darling new company called "Little Stitch Girl". I love the fun whimsical style of these designs.
Happy Fall Y'all - from Little Stitch Girl. First of all, I love the saying (OF COURSE). And secondly, how cute is that checkerboard pumpkin?? Darling finishing too!
Harvest House - from Little Stitch Girl. Yes, there's a house for each season, in all the season's glory. I love the tree with the satin stitch diamonds.
Haunted Hill Road - from Little Stitch Girl. Bwahahahaha! What fun! And I believe there will be a "road" for several different holidays!
Sunshine House - from Little Stitch Girl. SUMMERTIME! Love the picnic set out under the tree.
Firework Lane - from Little Stitch Girl. NOT where you wanna live if your dog is scared of BOOMS!
Blossom House - from Little Stitch Girl. Love love love all the spring colors1
Frost House - from Little Stitch Girl. Love the holly wrapped around the archway.
Fa-la-la-la Lane - from Little Stitch Girl. Which house is yours?
Plaid Tidings - from Little Stitch Girl. I love this whole plaid thing that's going on!
Ewe can build a Snowman - from Shepherd's Bush. Aaaww...Frosty gave away his magic hat to the little lambie.
Merry House Tag - from Shepherd's Bush. Kit comes complete with the perf paper, floss & embellishments!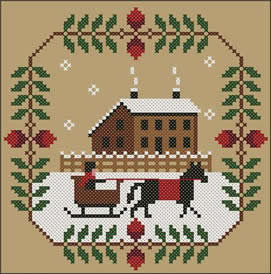 January Bliss - from Twin Peak Primitives. I don't know if there will be one for each month, but I sure do like this idea!
Snow Village, part 4: Peppermint Parlor - from Country Cottage. This looks an awful lot like a CANDY STORE! I could do some damage in there.
Hometown Holiday: Pop's Filling Station - from Little House. The FINAL chart in the HTH series, this is darling! I especially love the pup!
Snowman Joy - from Twin Peak Primitives. This is one of the sweetest snowman designs I've seen. Love the border.
Snowmen: Autumn & Winter - from Tra La La. These are adorable. I hope the summer one is a sandman snowman!!
Stiitch Cards, Set C - from It's Sew Emma. These are darling! Super cute & small & quick to stitch. And no, we haven't seen Sets A or B yet (I'm guessing they are more applicable to other seasons!).
It's Snowtime! - from Val's Stuff. Every time I say this out loud (or even in my head) I can see that scene from the Bob Fosse movie (can't remember the name of the movie, but I can clearly see the scene). I think both of these are too fun.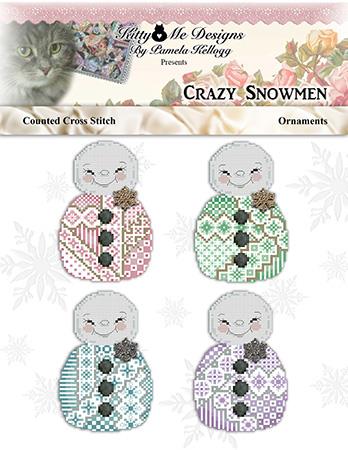 Crazy Snowmen - from Kitty & Me. What a cute group of snowfolks!
Fun With Plaid - from Cross Stitch Wonders. What a fun series of designs! As you can see, the initial image is a positive/negative choice combined with plaid. Then she gives you several color ideas! Once you get the hang of it, you can use any colors you like. There are several different motifs available, starting with the moose above.
Fun With Plaid: House - Sleigh - Stocking
Fun with Plaid: Christmas Tree - Car with Tree - Gingerbread - Present - Reindeer - Truck w/tree
Fun with Plaid: Camper - Caribou - Jeep - Snowman Stamp - Sweater
Lots of new Christmas designs you may not have seen during the Countdown! I know SOME of y'all like to get an early start....
Santa's Flight - from Barbara Ana. Looks like Santa got a new ride!
I'll Be Home For Christmas - from Modern Folk Embroidery. This is so pretty. I wonder if there are more motifs that you could add to the days...
Joy to the World - from Shannon Christine. I love the vintage colors in this.
Peace On Earth - from Shannon Christine. What a lovely design.
Silent Night Holy Night - from Shannon Christine. Another beauty.
Seas and Greetings - from Needle Bling. TOTALLY me!!!
Poinsettia Christmas - from Needle Bling. I like the fact that this is a little more contemporary. I also like the quilt pattern aspect!
Ho Ho Ho Santa Drum - from Dames of the Needle. How fun is this? Really pretty & a fun finish.
Merry Christmas Pin Pillow - from Dames of the Needle. This is just beautiful!
Feather Tree Noel - from Homespun Elegance. Such a cute primitive design from Sandra.
Christmas Blessings - from Needle Bling. This is wonderful! And I love the way it was arranged & finished.
Elf Antics - from Pickle Barrel. I love these little designs! They make me laugh.
Ho Ho Ho - from Pickle Barrel. Adorable!
Words to Live By, Part 13 You Make a Difference - from Tiny Modernist. This picture is of the full design, finally finished. I love this!
Easter Wishes, Part 1 Bunny Kisses - from Tiny Modernist. How fun! This is gonna be cute!!
Colorful Cats...what a fun idea! I'm not gonna yipyap about each one, but I wanted to show you each of them because each one is different & each is adorable!!!
Blizzard ~ Valentino
Emerald ~ Lemonade
Egbert ~ Mistletoe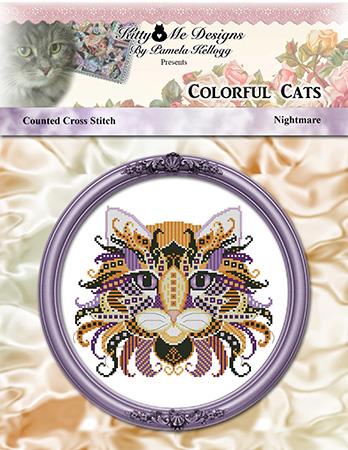 Nightmare
Colorful Bunnies are just as cute as the kitties!
Lavendar & Orchid ~ Pink & Green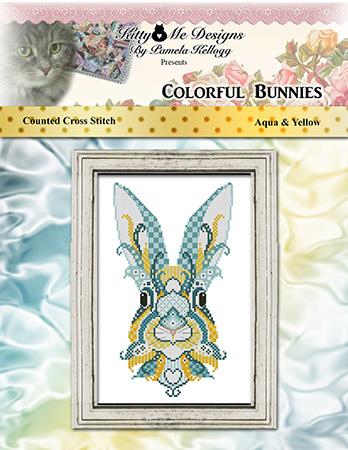 Aqua & Yellow
Jane's Joy: Over the Rainbow - from CM Designs. How fun is this? It almost looks like a board game.
Turn of the Seasons - from CM Designs. OH.MY.GOODNESS. You know I'm loving this! Starting with winter blues & spiraling out thru Spring, Summer & Autumn, this is really really fun!
To Read or Not to Read - from Rogue Stitchery. Truly...what a silly question!!
All the Single Ladies - from Vintage Needlearts. This just freakin' cracks me up!!
Plant, Pull & Grow - from Imaginating. This is soooo pretty.
Crazy Daisies - from Kitty & Me. Super cute! They make me smile.
Mini Samplers - from Workbasket. These 4 designs, with creatures from all different parts of nature, are wonderful! Stitch your favorite (the ocean!) or make all 4.
Elephant Biscornu - from Tiny Modernist. DARLING!
With the temps we're expecting this weekend, it seems like spring is right around the corner! So it's only appropriate (for once!) that the new spring bead ornaments & button and bead kits have just been released. They should arrive about the time the temps drop back to winter weather...but at least we'll have pretty spring things to stitch!
Vintage Bicycle ~ Gumball Machine ~ Roller Skates
My Pad ~ Spring Ahead ~ Egg-ceptional
Baltimore Oriole ~ Courtin' Froggies
La Fleur Boutique ~ Earth Day
White Orchid ~ Proud Peacock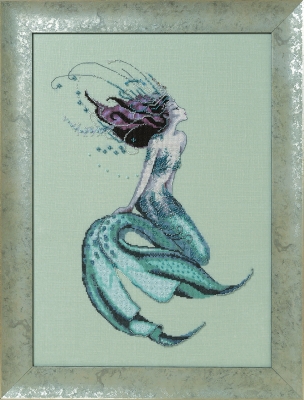 Lilith of Labrador - from Mirabilia. Ya know, for someone who lives at the sea, she could use a little more sun.
Let the craziness begin! Below are the new fabrics coming from Picture This Plus. They'll be released in March ~ in time for Nashville, even though they aren't gonna be there this year. So we are putting our order in ASAP & if you'd like some of these colors, let us know what you'd like so we make sure to get your order in early.
Faun - A light/medium suede brown with a slight greenish undertone. Really looking forward to this one, as we think it'll be wonderful for samplers & other primitive designs.
Havisham - A light lavender washed over a light creamy yellow. This doesn't photograph well, but it looks like watercolor painting.
Tidal - A light/medium seafoam color, a little more green than blue. Simply gorgeous! I think this is gonna be perfect for lots of sea designs, mermaids, and maybe even winter designs!
Vellum - A light creamy vanilla ~ think parchment. Hooray! I think this is gonna be another fantastic samplery color, just a bit softer & lighter.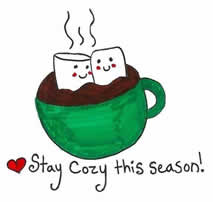 2 new models framed this week! Both are gorgeous!
Quaker Flowers - from Sweetheart Tree. A lovely little sampler!
Hannah's Brownstone - from Scarlett House. We just love this sampler.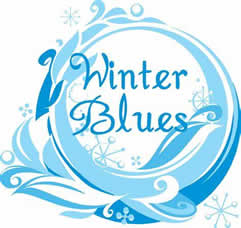 I wonder why "blue" carries a variety of negative connotations. "Winter blues" ~ associated with depression; "the blues" ~ a form of jazz that is inspired by hard times. But, what about "blue skies" ~ that's awesome, right; and "blue ribbon" ~ definitely the best. So not everything is what it seems, or at least not all the time.
Usually winter means cold, dark dreary days. But not always! This weekend the temps are gonna be in the high 60's...maybe even 70! You can bet I'll be out enjoying a couple of gorgeous winter days.
I was outside (in the FREEZING COLD) a couple days ago with the dogs ~ Charlee was torturing me & so I went out to try & encourage her to come in! And while I was out, Jimmy was out with their dogs. Charlee & Larrybird ran up and down, up and down & barking like maniacs! So Jimmy & I were just chattin' away. He has another week ("No Antie! I don't go back until the 21st!! It's more than a WEEK!") before classes start for 2nd semester. So I asked him if he got his grades from last semester ("Yeah. Got 'em a while ago."). Asked him if they were okay (as always with Jimmy, you have to play 20 questions...Chris only needs 1 & he spills everything!). So Jim says, "Yeah, they were okay. Got all A's". WHAT? Excuse me, that's not my description of "okay". But instead, I told him, "hey. That's great." Then I thought for a sec. And told him, "You now officially have more A's in 1 semester than I got in 4 years." Got a total "that's BS" face. So I told him, "Jim, not only can I count them on 1 hand, I don't even need my thumb...or all my fingers! And when you only get 3, you remember ALL OF THEM." Obviously, we have different interpretations of "okay". And that's, dare I say it, okay! Still took us forever to herd up the dogs, though.
So while the calendar says WINTER, the weather says SPRING! Look for the Spring side. And if you don't immediately see it, keep looking!
Hugs & stitches ~
Beth & all the Spring Trainers at TSS