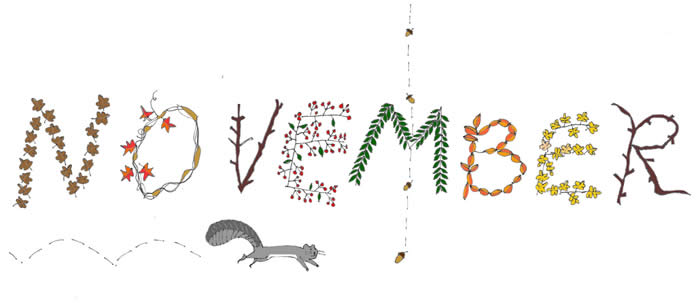 Well, I don't know about you, but around here November blew in like a tornado. Literally. Hours after the kiddos were done trick-or-treating, the wind picked up MASSIVELY. It rained quite hard, but the wind was severe. Charlee decided the best place to ride it out was in my lap! We were very fortunate, both at home & at the shop, as we never lost power or had much damage. But. On Friday morning (November 1), a friend came in & told us that her brother's house was hit by a tornado! WHAT?? Yep. 8 homes lost, many more damaged. When Therese came in on Saturday, she said their power was out for almost 24 hours. So many of the major weather events here locally, we have lots of warning ~ whether it's a snowstorm or a hurricane. Tornadoes, as those of you in the Midwest are well aware, appear out of nowhere. Also, the fires in California seem to go from spark to full on raging inferno in seconds. I find it interesting what we each become, not necessarily used to, but perhaps aware of.
Once again, I intended to get a newsletter out a week or so ago, but life made other plans! I've worked the last 3 Saturdays & have truly enjoyed getting to see old friends & meet new ones. Last Sunday, I spent the day with my bestie Carol. She owns Designer Stencils (aka, The Stencil Shoppe) & she was working on a new project. What did we do? Weeeeelllll....if you're on Instagram, go to Designer Stencils & watch her latest "30 projects in 30 days" video! It was so fun & really easy! Also, very tasty! Check it out & follow her for even more great ideas.
And this weekend we celebrate Veterans' Day. Sometimes I think we become complacent in our safety in our place in the world, as our country has not been physically attacked in a long time. But our Armed Forces ARE engaged in keeping us, and so many others, safe. Whether you agree with the engagements around the world, or not, remember that these men & women have voluntarily put themselves in harms' way. And they deserve not just our thanks & appreciation, they deserve more than we can ever give. So to all the Veterans in our stitching family ~ and that includes the families of Veterans & active duty soldiers ~ we owe you everything & we give you our eternal thanks. We would not be here without you & we know it.
There are lots of new goodies out there ~ even more Halloween goodies are still rolling in...you'll have lots of time to get them stitched for next year!
Woolly Halloween ~ from Twin Peak Primitives. Okay, so it's kinda late, but it is so cute I had to put it up & it'll be fun fun fun to stitch!
Halloween Shaker Box Top - from Lucy Beam. Ohmygosh! I LOVE that little green pumpkin!
Life's a Witch - from Rosie & Me. This is such a cute hat!
Sweeping the Garden - from Barbara Ana. How cute is this little mousie girl? I love her bower of fall blooms.
Fall Lla Lla - from Bent Creek. Everyone LOVES the llamas!
Smiling Back Jack - from Bent Creek. Gosh, I wish this had come out sooner because it is so darn cute! Grab this now, because you'll forget by next Halloween!
Hilda's Cafe - from Rosie & Me. YIKES! Those arms look kinda skinny....not much to gnaw on!
Learner's Permit - from Rosie & Me. Bwahahahahaa!! "Only valid on nights with a full moon"! Too cute!
Ewe Witch - from Petal Pusher. How cute is this little gal?
Bat Pig - from Petal Pusher. This gives the phrase, "When pigs fly" a little twist...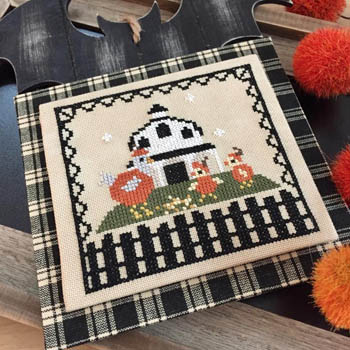 Cluck Cluck Boo - from Petal Pusher. Aaawww...Mama's got the kids in their costumes!
Moo-Ella - from Petal Pusher. That pitchfork is sure to come in handy!
Captain Black Mane - from Petal Pusher. This just makes me laugh!
Harvest Time - from Pickle Barrel. Wow! A cute design to stitch for NEXT Autumn, since we seem to have jumped right into the "Bad Place"!
Welcome Fall - from Trellis & Thyme. Super fun ~ a new series of small designs called...wait for it....CUTIE PIES! I love it!
Welcome Fall - from Stoney Creek. Okay, a little late, but this is a very pretty design.
October Cat & Crow - from Stoney Creek. I think this is charming ~ too cute for anyone in my house to use as a towel. This would certainly be a sweet little picture.
Thankful Thoughts - from AnnaLee Waite. This is a fantastic design ~ I like the layout, I like the fact it's not too frou-frou & it's not specifically "Thanksgiving-y"!
Gather Friends - from Threadwork Primitives. What a wonderful Fall sampler! Love the squirrels & acorns.
Autumn - from Bobbie G. I don't know about you, but that scarecrow isn't very "scary"!
Winter - from Bobbie G. Love those blue snowflakes.
Spring - from Bobbie G. I LOVE the colors in this!
Summer - from Bobbie G. Saving the best for last!!
Pumpkin Spice Latte - from Trellis & Thyme. YES please!! Another Cutie Pie!
Peppermint Hot Cocoa - from Trellis & Thyme. You know winter is coming when we switch from Pumpkin Spice to Cocoa.
Dear Santa, it was the Cat - from Cross Stitch Wonders. Now, is it just me, or should there be a dog picture on this? 'Cause, ya know, the dog...blaming the cat??
Dear Santa, it was the Dog - from Cross Stitch Wonders. Of course, in my house, I ALWAYS blame the dogs! And no one believes it.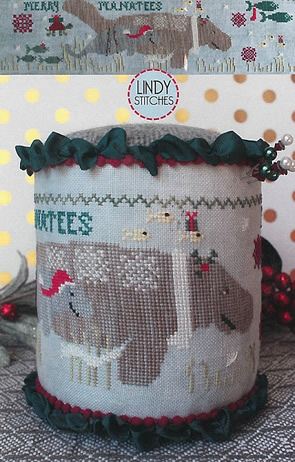 Merry Manatees - from Lindy Stitches. What a wonderful Christmas wish, that our environment would stop being a threat to these ~ and all ~ gentle creatures.
Santa's Credit Card - from Pickle Barrel. Yeah, no thanks. I'm guessing the bill would show up in January, just like all the rest of them.
Santa Bus - from Pickle Barrel. Ohmygosh! Now this looks like a bus I wanna ride!!
Holiday Thoughts - from AnnaLee Waite. Aside fromt he fact that this is just a really pretty design, this is one of the rare designs that jumps out at me as one you could stitch for a guy. If you've ever tried to find something to make for a guy, whether it's your grandfather, brother or best friend, you know it's not as easy as it should be.
Wintertide Cardinal - from Artful Offerings. I just love this chubby little cardinal!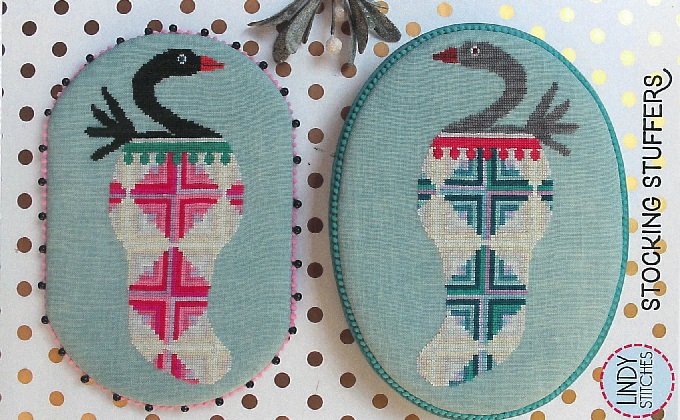 Swan Stocking Stuffers - from Lindy Stitches. These stockings, before the stuffers, are beautiful! And swans are such lovely creatures! We rarely see them on our lake, as evidently swans & geese aren't very good at sharing space....
Away We Go - from Country Cottage. I just love this design! Almost enough to stitch it on that dark fabric!
Hometown Holiday: Mercantile - from Little House. A darling new addition to this treasured series.
Tis the Season - from Abby Rose. What a gorgeous vintage-looking design. It looks like a family heirloom from an earlier generation.
Peace on Earth - from Petal Pusher. A lovely sentiment & a pretty design.
Christmas Time - from Abby Rose. Love this pretty design! That house is awesome (you know how I love houses...)! I like all the different trees too!
Wise Men Still Seek Him - from Carousel Charts. Emphasis on "wise" ~ not to be confused with "well-educated" or "highly intelligent".
Crazy Hearts Ornaments - from Kitty & Me. Aren't these fun little ornaments? They look like fun little crazy quilt designs.
Crazy Stockings Ornaments - from Kitty & Me. The perfect size for a little ornament & depending on how you finish it, you could tuck a little treat inside it!
Crazy Trees Ornaments - from Kitty & Me. Love these trees! I just can't choose between the bright colors or the soft ones....
Christmas Ornaments 1 - from LiliPoints. Oh my goodness, I love this series!
Christmas Ornaments 3 - from LiliPoints. Santa is adorable, but I think I love the patterns even more.
Christmas Ornaments 2 - from LiliPoints. Check out the alternate color scheme ~ I love it!
Nordic Santa kit - from Mill Hill by Jim Shore. Not only are Jim Shore's creations awesome, but I love this Scandinavian star design on this santa!
Nordic Snowman kit - from Mill Hill by Jim Shore. Isn't he cute? I love his outfit!
Snowman with Cardinal kit - from Mill Hill by Jim Shore. Aaaawww, they're so sweet!
Santa with Cardinal kit - from Mill Hill by Jim Shore. Santa's friend sure is cute.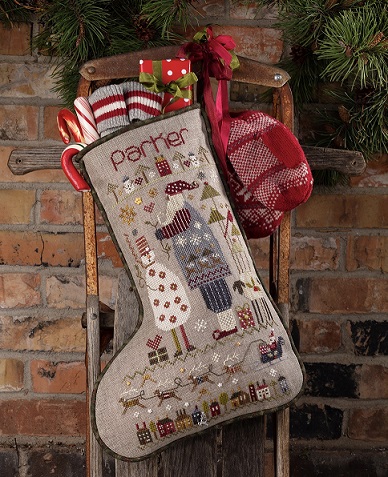 Parker's Stocking - from Shepherd's Bush. Hooray!! The new stocking is coming! I just love the band where Santa & the reindeer are flying over the village!
Merry Town - from Trellis & Thyme. Oh my goodness, I am loving this new designer! Her whimsical flair is such fun! Wouldn't you like to live in this little village? I would. Maybe. If that was fake snow.
Jingle All the Way - from Trellis & Thyme. YAY! A fun design that you could actually finish by Christmas! This year. You, not me.
2019 Sampler Ornament: Sing We Noel - from Homespun Elegance. LOVE LOVE LOVE this ornament! The birdis gorgeous!
2019 Snowman Ornament: Never Enough Snowmen - from Homespun Elegance. I love that one that's on his side!!
2019 Santa Ornament: Dapper Santa - from Hoemspun Elegance. Such an elegant chap!
Cozy Christmas Sampler - from Trellis & Thyme. This is adorable! So many wonderful Christmas motifs that reflect our fondest memories!
Ho Ho Ho - from Trellis & Thyme. Wouldn't this be a cute ornament?
Welcome Winter - from Trellis & Thyme. Another in the "Welcome..." Cutie Pies series, you could just swap them out at a little spot on the wall, or shelf.
Merry Christmas to All - from Trellis & Thyme. Okay, I'm really hoping these guys aren't planning on landing on these houses ~ those reindeer are seriously bulked up!
Cardinal's Carol - from Luminous Fiber Arts. Oh my goodness! I think this is such a pretty little ornament.
Holly Jolly - from Luminous Fiber Arts. These guys are surely having fun!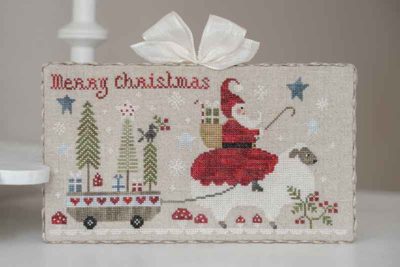 Mouton de Noel (Christmas Sheep) - from TraLaLa. She (Corinne at TraLaLa) is definitely on my top 5 "Must Have" designer list!
Dashing Through the Snow - from Stoney Creek. I can't decide what I like more ~ the gorgeous design or the blue & white. Who cares? It's a great piece.
His Name Shall Be Called - from Carousel Crafts. Lovely for Christmas, but beautiful for always.
'Tis the Season - from Little Dove Designs. How sweet is this group??
Old Saint Nick - from Annie Beez. I love this old-timey looking guy! I also love the checkerboard. And the vine!! I know, right?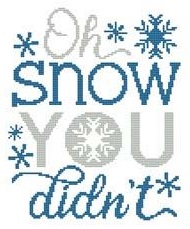 Oh Snow You Didn't - fron Cross Stitch Wonders. Me...This is me!
Christmas Village, part 3: Race Around the Meadow - from Tiny Modernist. These guys look like they're having fun...not MY kind of fun, but they look happy!
Snow Village: Skates & Sleds - from Country Cottage. I love ice skates ~ which is odd, because it has to be cold to skate....but there it is!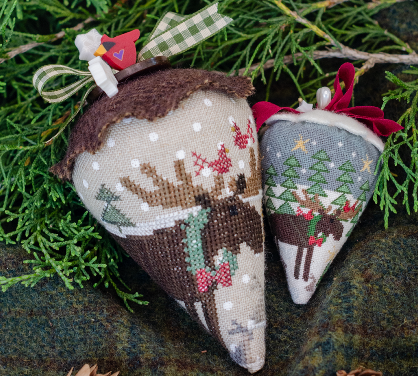 Merry ChrisMoose Berry - from Erica Michaels. LOVE!!! How darling are these berries?? Usually, I like 1 better than the other, but this time I love them both! The linen berry (on the left) is stitched with Sampler Threads Wool thread ~ I'm guessing for the moose & the bunnies. But I also LOVE the one on the silk ~ I love the blue of the sky and the stars, love all the redbirds & bunnies....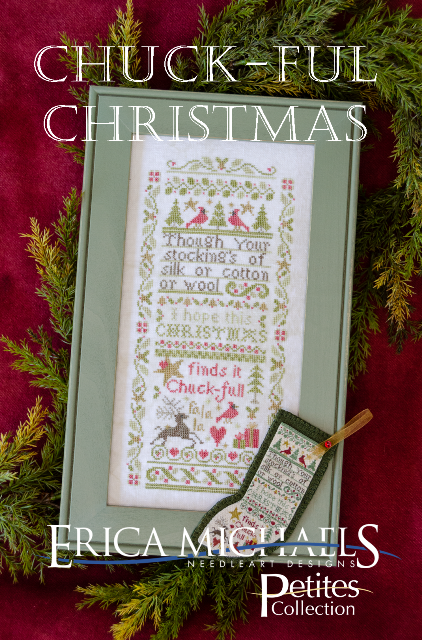 Chuck-ful Christmas - from Erica Michaels. Oh my goodness, I love this chartpak! And again, I love both of the designs! The sampler is lovely ~ I love all the different holiday motifs & borders. But I also love that tiny stocking ~ I think I'd actually like it as a larger size too!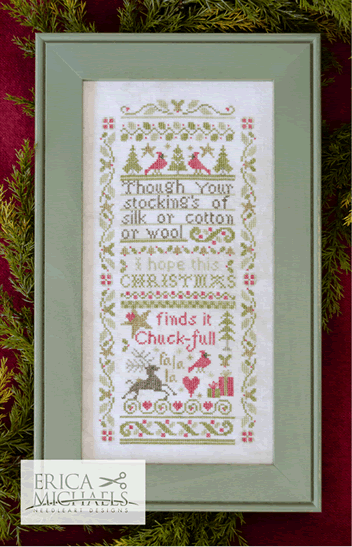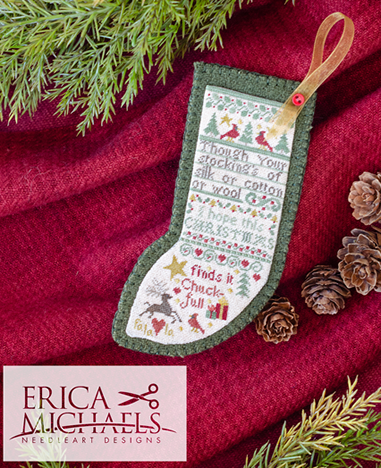 Winter Around the Saltbox - from Twin Peak Primitives. Isn't this darling? It's a little like a snowglobe.
All Is Calm - from Twin Peak Primitives. Peaceful. That's the goal.
Advent Candles Ornament Set - from Heartstring Samplery. I love this chartpak ~ one ornament for each of the candles we light during Advent.
Tea Ball Ornaments - from Heartstring Samplery. How cool are these?? You know those tea balls that you use with loose tea? We used them in college ~ we thought we were the height of cool. Now, Beth has created these darling ornaments! Yep, that mesh is evenly woven & you can stitch on them! Alternatively, you can also stitch them on the more familiar linen or aida & then make ornaments the old fashioned way!
2020 Book of Days - from NeedleWork Press. Don't miss out on this! It won't be around long. This lovely desk calendar has a gorgeous Quaker sampler image on the cover.
Louisa Coulimore Bristol Orphanage Sampler - from Hands Across the Sea. This design has been re-released & we couldn't be happier! Bristol Orphanage samplers are popular right now, and for a good reason ~ these girls did beautiful work & re-creating them is a joy. It's also interesting to read the history behind some of these girls & their work. It's a reminder that we are not all so fortunate to be able to stitch for pleasure.
There's No Place Like Home - from Tempting Tangles. What a fabulous design ~ perfect for a housewarming or even a new couple!
Stitch Tool Box Sampler - from Twin Peak Primitives. I think this is a really cool sampler ~ kinda old-fashioned, but still very attractive.
Hand & Heart Stitcher's Mat - from Scattered Seeds. This is so sweet! And I like that it's a little stitcher's mat ~ just right for sitting on the arm of your chair while you stitch ~ a great spot for a pincushion, a place to put your scissors (as opposed to falling down the side of your chair...). So who will you gift with this?
Home is Where Love is - from Carousel Charts. So very true!
Cool Girls Read - from StitcherHood. Okay, so Molly says this looks like John Lennon & Tracy says it looks like Wednesday from the Addams Family, so there's gonna have to be some adjustments made, but ohmygoodness I adore this!!!
A Book A Day - from Rogue Stitchery. Thank goodness for books!

Bookaholic - from Rogue Stitchery. Yep that's exactly what I need.
Dragonfly Dreams - from Blackberry Rabbit. This beautiful design is so very elegant & eye-catching! It looks so delicate, doesn't it?
Dragon Queen - from Blackberry Rabbit. Wowser! How stunning is this? The detail is amazing!
Colors of Paris - from the Art of Stitch. How gorgeous is this? It literally couldn't be anywhere else in the world!
Words to Live By #11: Be Kind - from Tiny Modernist. Words to live by indeed!
Let's Rock the 70's - from Imaginating. Holy moly! It's a compendium of all the bands from my youth!
Meowica - from Cross Stitch Wonders. I'm a "dog person", but I gotta tell ya only cats are cool enough to pull this off!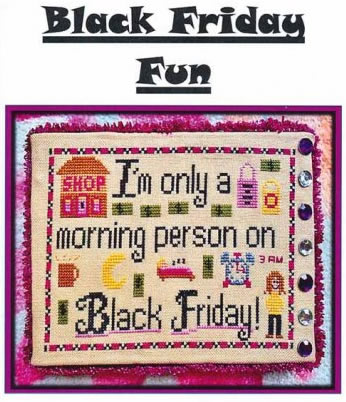 Black Friday Fun
- from Pickle Barrel. Yeah, nope! Not even on Black Friday.
Love Grows Here - from Imaginating. What a lovely design!
Happily Ever After - from Imaginating. Love this new wedding design ~ it has a little bit of a Fraktur feel to it.
Good Coffee - from Cross Stitch Wonders. Not a coffee drinker here, but I LOVE the aroma!
Don't Quit your Day Dream - from Stitcherhood. Absolutely the best advice ever!
Let's Frog - from Imaginating. Okay, I first thought this was a frog design ~ as in the little amphibians! Bwahahahaha! It's so much better! This is perfect for EVERY stitcher!
Wish Upon a Star - from CM Designs. How cool is this?? You know I'm itching to stitch this! Such a great quilt block design.
Sparkler in Patriotic Red - from Sweetheart Tree. Love all the specialty stitches in this small design.
Our Flag does not Fly - from Sweetheart Tree. As we look towards Veteran's Day, this could not be more appropriate.
Baker's Wife - from Mirabilia. She looks like she got caught in the flour explosion! The cupcake looks awesome though.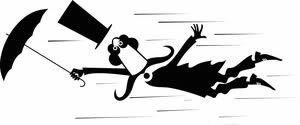 Hmmm, somehow I keep thinking I've put this in a newsletter & I finally realized that, no Beth, in fact you posted it on the FaceBook stitching page, but NOT in the newsletter! So many of y'all liked our Christmas tree finished in the big "teepee" frame last year, but we all thought it really needed a Nativity design. Well, here ya go! We stitched the designs from Cricket Collection, then finished them as stand-ups and the angel ornament. The frame is stained, has straw in the base, and the background....so cool! The background is navy blue matboard, with stars painted in gold & finished with lights that actually light up those stars! You can get the frame unfinished, get the matboard cut to size & stain & paint your very own Nativity. Or you can get it ready to go (Tracy is in charge of this!).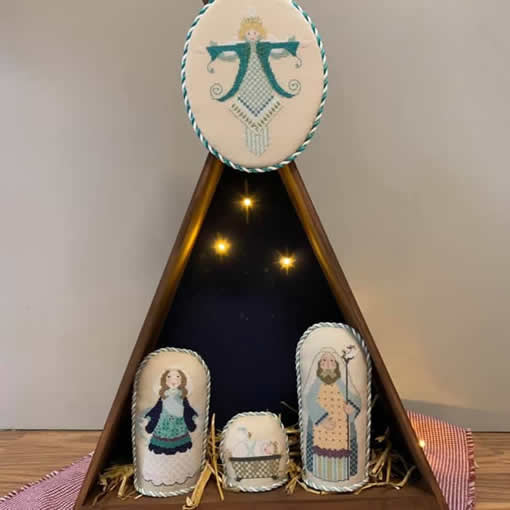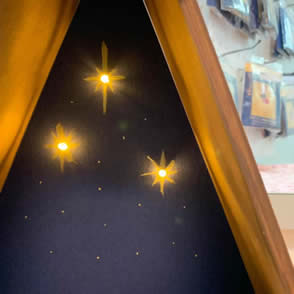 And now, something a little shocking. Brace yourself.
I FINISHED something.
Scary, right??
Well, I showed you a hint in my last newsetter, but now my fish are done & just in time to get a picture with their big brothers (or sisters...not sure how you tell on fish).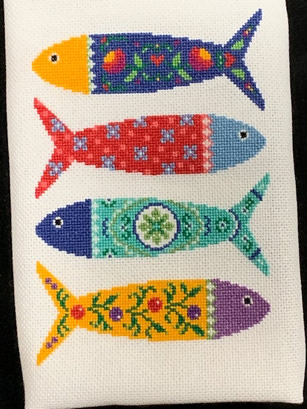 So here are my Portuguese Fish, stitched on 25ct Lugana over 1 thread (thanks a lot, Susan & Agnes...your darling work made me HAVE TO do some). I already loved the colors in this design ~ they are absolutely me, ME, ME! And stitching them over 1 just makes the details even more amazing. But check this out: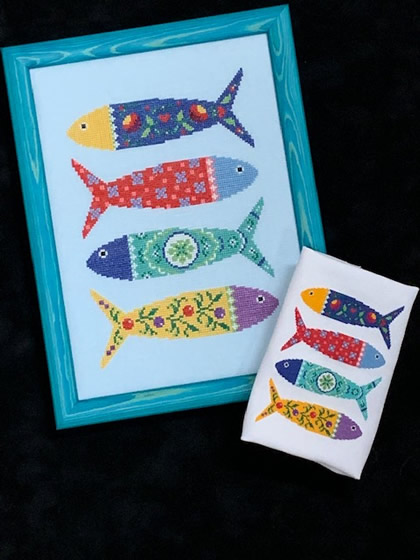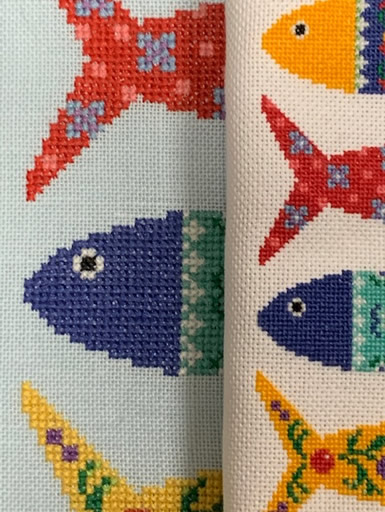 My guys are on the top, & underneath are my friend Barbara's. Hers are stitched on 28ct Ice Blue. In all honesty, these photos aren't even as great as these pieces look. And after I saw Barbara's framed, I wanted mine on blue (no, I am not stitching it again). But I love the way the timing worked, so I could show you the difference in size. I'm not sure how I'm going to finish mine ~ I have a couple ideas but no definitive conclusions yet. Stay tuned!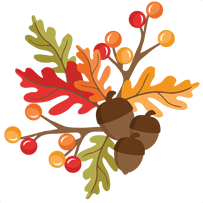 Autumn is definitely here & winter is becoming that uninvited guest that not only comes to the party, but shows up EARLY! SOME people saw white stuff on Friday (I think...). I didn't witness it ~ I made sure I stayed in the back so I couldn't see out the windows. Fortunately, it was clear on Saturday so lots of you could easily get in to the shop! And for your trouble, you got...Molly & Beth! Our apologies. They don't often leave us alone like that (& they'll be sorry when they see the mess we made...), but everyone had awesome things going on this weekend (except Connie, who is now recovering from, or getting ready for, shoulder surgery ~ we don't know which, as Molly has her surgery on the calendar for 2 different days!). And if you were in, or you checked our FaceBook page, you may have noticed we were in our football jerseys! Nope, it wasn't Super Bowl, but on Sunday our respective teams (Molly's Packers & my Panthers) were playing each other, so we decided to get into the spirit! There was no face-painting however. And after it was all said & done, Molly came out the big winner ~ her team managed to not lose to my team (it really was a bit of a sloppy game) AND it was snowing in Green Bay (so she got her snow fix). Once the game mercifully ended, I flipped over to the Flyers game for a less painful experience.
Saturday was awesomely fun! It really is more fun to be on the floor getting to see people, see what everyone is stitching, who's getting ready for Christmas, or a new baby in the family, or a wedding...or RETIREMENT... We also got to see our buddy Magpie, Linda's cute little furbaby (she also let Giovanni ~ her husband ~ come too). Y'all are really the best group of fellow stitchers & you warm our hearts with your kind words about the shop. And to all y'all who continue to share how much you enjoy the newsletter, I thank you from the bottom of my heart & I apologize for this one being about ...oh, I don't know...3 weeks overdue?? So to everyone who was in on Saturday, we had a blast seeing you!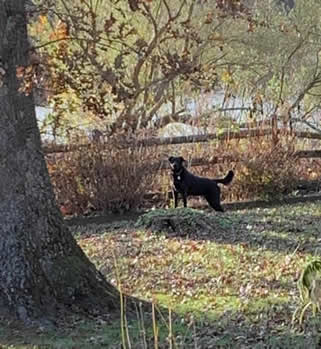 Charlee has been chasing the squirrel and getting acorns for her trouble (I truly think the squirrel sits on the branch & throws them). I'd like to say she posed for this picture because I asked her to, but I hate to lie this close to Christmas. Not sure you can tell, but there is a cleared path around the base of the tree where she runs round & round...and chases the acorns thrown by the squirrel. Also, the leaves falling must smell like something...I don't know what...because both Charlee & Maddee are rolling & rolling & rolling in them! Charlee was none too happy on Saturday morning when I got up early(er) & got dressed for work ~ she definitely knows what day of the week it is, & she knows that Saturday & Sunday are "biscuit" days (we hop in the car & go to McDonalds & they each get an egg biscuit)! So, even tho she knew I was in "work" mode, she still worked it ~ after they went out for their morning business, she headed straight to the stairs and down to the garage door. Meanwhile, Maddee had already hoovered up her breakfast, but she was definitely up for more! So I was forced to go down & bring Charlee back upstairs to where her breakfast waited. If I leave her bowl unguarded, Maddee is more than happy to help herself to Charlee's food! They make me laugh so much, I would be lost without them. As hard as it always is when you have to say goodbye to a sweet pup, I will never be without one. And I love them up every day!
I know this was a REALLY LONG, yipyap-filled newsletter & if you've made it this far, congratulations! Your work is done! Stay warm.
Hugs & stitches ~
Beth & all the rakers (but not shovelers!) at TSS