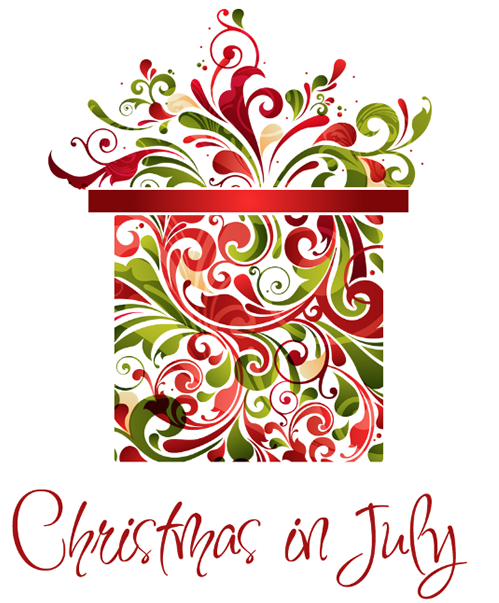 Yes, it's THAT TIME of year again ~ time to get started on your Christmas stitching! Unless you're one of "those people" who are completely finished with this year's gifts & decorating supplies (you know who you are...) ~ in which case, you can start on next year's!
ANYWAY!
I actually considered doing a mini-countdown to the 25th...and then my brain kicked in & said "OH HECK NO"! Only it didn't say "heck". So, we're doing Christmas in July the old-fashioned way:
Beginning Saturday, July 7th & running thru the end of July...
ALL CHRISTMAS DESIGNS ARE 20% OFF!
This includes kits, but not supplies for projects. So this newsletter is to show you the latest new Christmas goodies! But as always, don't limit yourself to these ~ they're just the newbies ~ there are tons of fabulous Christmas designs out there!
We'll kick off the celebration with everyone's favorite!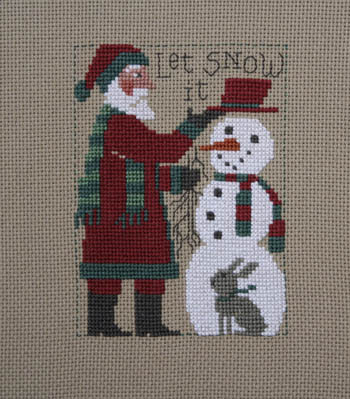 2018 Prairie Schooler Santa - YAY!! Another year another Santa! And he's cute as! I particularly love the bunny with him! Be sure to add him to your collection.
My Gift to Thee - from Scarlett House. A pretty little pillow or ornament, just right for Christmas gift-giving.
Christmas in a Jar - from AAN. There is something so endearing about this ~ just 2 colors of floss & a darling design is all you need.
Holiday Joy - from CM Designs. I ADORE this! Doesn't it look like a whole bunch of presents??
Noah's Christmas Ark IV ~ Pandas & Parrots - from Plum Street. This series gets cuter with each installment! I love the parrots. Well, and the pandas too.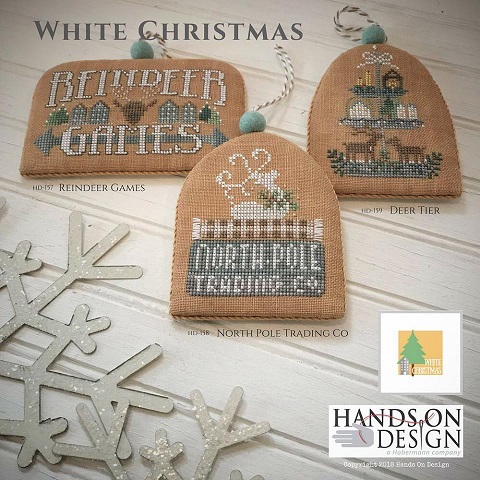 White Christmas - from Hands On. The last 3 designs from this series! These are just darling. I love the plaid on North Pole Trading Co. See them individually below.
Noel Tags - from Bobbie G. I love all the detail in this design! It's really pretty.
Santa Delivers - from Imaginating. Santa might wanna rethink the whole NYC Cab thing...I'm pretty sure the sleigh & reindeer are gonna be much more efficient.
Christmas in Williamsburg - from JBW. This most certainly has that Williamsburg feel.
Christmas Tree Collection IX - from JBW. Love these ornaments ~ they are so charming.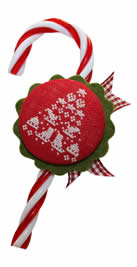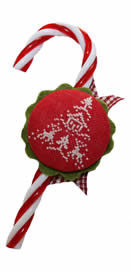 Merry Little Christmas Bead & Button kit - from Mill Hill. I think this is lovely! I'm not usually a big fan of perf paper kits, but this series has really captured my attention.
Brightly Shining Bead & Button kit - from Mill Hill. Isn't the pot this "tree" in pretty?
Playful Penguins Button & Bead kit - from Mill Hill. Yeah...do you really think those lights are gonna work?
Ornament Elegance Bead & Button kit - from Mill Hill. This is beautiful!! Might be my favorite!
Christmas Village, Cobbler Bead & Button kit - from Mill Hill. I love this house! And I'm good having the shop on one side!
Christmas Cabin Bead & Button kit - from Mill Hill. Nope! It's lovely but I'm not moving...
Bead kits are such fun to stitch & then you can make them into ornaments or gift tags or (my personal favorite) a fridge magnet.
Menorah - from Mill Hill. Finally starting to see some lovely designs for Hanukkah!
Dreidels - from Mill Hill. Another fun Hanukkah design.
Little Chickadee - from Mill Hill. So pretty, sitting amongst the berries.
Holli Elf - from Mill Hill. LOVE her legs!!
Christmas Bells- from Mill Hill. Sooooo lovely.
Sunday Night - from Mill Hill. This is so pretty & peaceful.
National Park Santas ~ these guys are standing guard over our treasured beauties!
Yellowstone Santa - from Mill Hill. In case you get confused, the geyser should help you out here!
Yosemite Santa - from Mill Hill. This guy is ready for a beautiful hike.
Grand Canyon Santa - from Mill Hill. Look at those colors ~ it's like nowhere else on earth.
The Mitten Trilogy is darling! These can be finished as individual ornaments or you can stitch them together & make a little gift cart holder!
Snowflake Mittens - from Mill Hill. Love the turquoise color of these mittens.
Snowman Mittens - from Mill Hill. Look at their cute little cheeks!!
Star Mittens - from Mill Hill. These are my faves ~ love the purple in these.
Walk in the Snow - from Madame Chantilly. Love this gal out collecting holly boughs for her Christmas decorating.
Hope Snowfriends Banner - from Stoney Creek. These guys are darling! Such a pretty bellpull.
Below are some of the newest models that have come in lately from our amazing model stitchers! Just in time for Christmas in July.
Snow & Ice - from Little House. This is exactly where I like to see snow & ice ~ in stitching!
Christmas in the Village - from Scarlett House. This is just a sweet Christmas-y design ~ it just says "Christmas" to me.
Merry Noel - from Sue Hillis. This is a GORGEOUS band sampler! Lots of gorgeous Christmas-y bands.
Natale in Slitta (Christmas Sleigh) - from Madame Chantilly. This has been one of my favorite designs since it first came out. Now that it's stitched, I love it even more.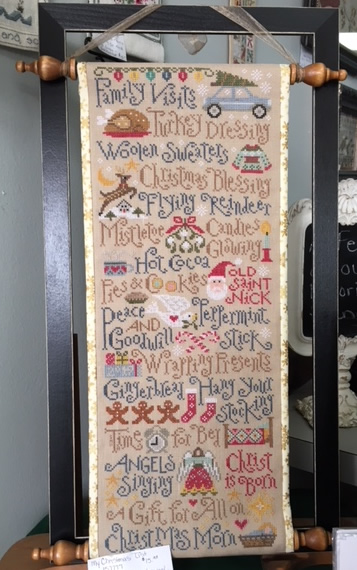 My Christmas List - from Silver Creek. LOVE LOVE LOVE! Stella whipped this up & our AWESOME FINISHER Therese made the bellpull! It's so pretty & I love reading it.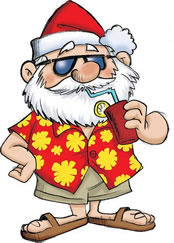 Santa appears to still be in beach mode, but then again, he's got a whole bunch of elves who are working overtime getting ready for December! Those of us without elves will be doing it all ourselves again, so the sooner we get started the better. And I have to say, these are some cute designs to get in the groove! So if you are so inclined, get ready to get ready!
Hugs & stitches ~
Beth & all the summer snowflakes at TSS