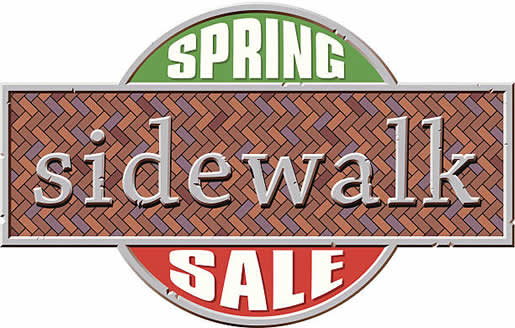 Sunday May 21st is our Spring Sidewalk Sale from 11AM to 2PM.
It is the Sunday BETWEEN Mother's Day & Memorial Day!
And let me just say, if you were here for the one we did in the Fall, this one is ALREADY gonna be bigger! Y'all have already brought us so much great stuff. I'm hear to tell you that we will have one entire section of MAGAZINES. Yep. If you're looking for an older issue of Just Cross Stitch, Cross Stitch & Country Crafts or Punch Needle & Primitive Stitching, there's an excellent chance you will be able to find it! We are probably gonna have another whole section of designs from Lavendar & Lace, Told in a Garden & Mirabilia. We have LOADS of Precious Moments, so if you're looking for one of those from long ago, you'll find it. There are lots & lots of baby things. Interestingly, this time around there are tons of Christmas designs ~ from ornaments to stockings to pictures.... But very little Halloween. So it must be time to start your Christmas stitching! There are fabrics galore!! Holy cow are there fabrics. So much great stuff!
Now, some of you may not know what I'm talking about, so I'll give you all a recap.
On Sunday May 21st we will be having a Sidewalk Sale here at the shop. Items for sale are (mainly) designs that are looking for a new home, donated by you & your fellow stitchers. We have been collecting boxes of your stitching that you are no longer in need of ~ designs you've already done & aren't gonna do again, things that you got but it's really not your style anymore, and things you got that you know you're just not gonna do for whatever reason. We are organizing these donations into categories (Wedding, Christmas, Samplers, Baby, etc). On Sunday the 21st, we plan to have these all set up outside in our parking lot (barring bad weather, which will simply have us relocating inside the shop!). When you arrive, you can buy a bag from us for $10.00. Anything that fits in that bag is yours!
So, if you have items that you want to "re-home" (as opposed to throwing them in recycle or trying to sell online), bring them in to us here at the shop. And yes for you faraway folks, you are welcome to send us a box of goodies. Then make plans to join us on Sunday May 21st between 11 AM & 2PM to do some awesome treasure hunting! You have no idea what you'll find!
This Sunday is gonna be fantastic! Make your plans to join us.
One other thing: yes you can come in the shop & shop! But please don't bring in framing or finishing for us to write up ~ we just don't think we'll have the time & I don't want to disappoint anyone.
Hugs & stitches ~
Beth & all the Sidewalkers at TSS