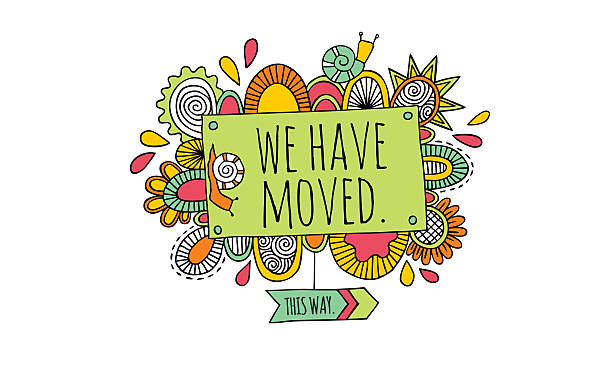 We are now in our new home! We have been working non-stop since December 26th, getting our old shop cleared out, getting everything into our new shop, repainting our fixtures, deconstructing & reconstructing a million things, and at last we are closing in on hanging pictures, filling racks & baskets, and putting out the welcome sign!
We are opening the doors to our new home on Friday January 22nd! Our hours will be the same ~ Tuesday-Saturday, 10AM - 3PM.
We have all been working like crazy & we hope you'll be as pleased with the results as we are beginning to. It's been interesting to watch it come together ~ Molly & I have each been working on different sections and, at least for me, our own sections never look finished. But when I walk into sections Molly has done, they look FABULOUS! So we are our own biggest critics. I've been posting "as we go" pictures on our FaceBook page & so many of y'all have passed along wonderful comments & excitement in what you're seeing. We can't wait for you to see it "in real life". For those of y'all not on FaceBook, I'm gonna try to give you a little tour here.
Further down the page, you'll see the directions to the shop. We're happy to hear that so many of y'all have driven by the shop & have let us know you like it from the outside & that you found it easily. Finding a new home was NOT easy, but we are very happy with our new home. We knew from the jump that we would make some folks happy by being closer (Molly, Cindy...), some folks unhappy by being further (BETH, Tracy, Lise) & some folks won't be much impacted (Therese, Connie, Sherri). Our initial goal was to stay within a mile or so radius of the Rt 1/Rt 202 Painters Crossing intersection. Rude awakening, that. We are all aware how fast the building has been taking place in the area. And it's only going to get worse. So we widened out a bit & finally found our new home. I will tell you we looked at several other places that were much closer, but there were always bigger hurdles ~ from parking (we looked at 2 places in downtown West Chester & parking would have been a challenge that we had gamed out...if there hadn't been other, larger issues), to one place that was just about 3 miles away...except I drove around & around & around & NEVER found it! Even with it punched into my GPS, it was a no-go. THAT was a really bad sign! No matter how great the space may have been, if you can't even find it....??!?
So while we are a bit further away than we wanted, it's VERY easy to get to. PLEASE keep in mind, we are still limiting visitors in the shop to 5 shoppers at a time. If we reach 5, we will put our "FULL" sign in the window & we ask that you wait just a bit until someone else leaves. Keep that in mind as well if you're thinking "I've gotta be there the first day!". We will be in "new shop" mode for several weeks to come ~ which may be good (it's the "new shop smell"!!) or bad (where did the needles go?). We have gotten a few deliveries, but we haven't had time to place orders ~ hard to place orders while wielding power tools! You're gona walk in & see a partially empty wall behind the counter ~ that's where our New Models will be. We haven't been framing models (again, framing & power tools don't mix...), but we're looking forward to getting fresh new things up to see. We made a conscious decision to farm out the models that had been on the New wall into their new homes & "clearing the palette" to start anew. The same applies to designs. We've farmed out a large part of those charts to their regular homes, knowing that there are LOTS of new things incoming & so we'll have some slightly lonesome racks at first. We will surely have some bumps in the road ~ heck, we don't know where everything is yet either ~ but y'all are always understanding ... and helpful ... and we will get settled in quickly!
So let's take a tour!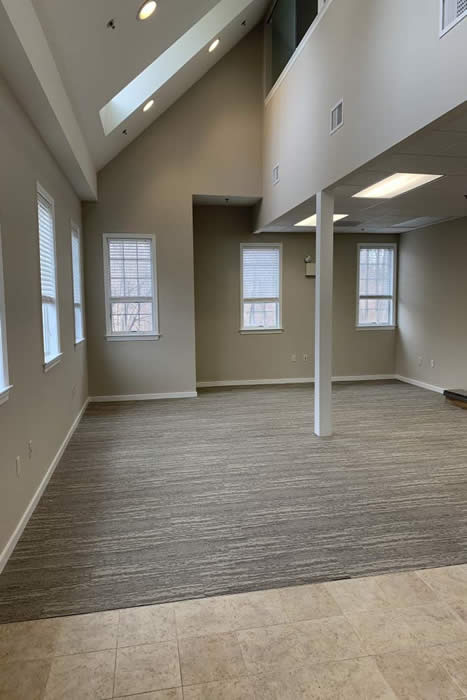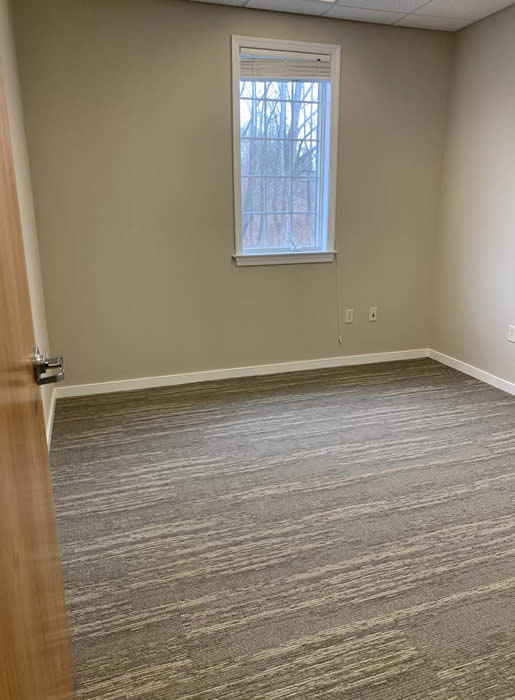 Interior, from front door ~ what will be our fabric & fibers room!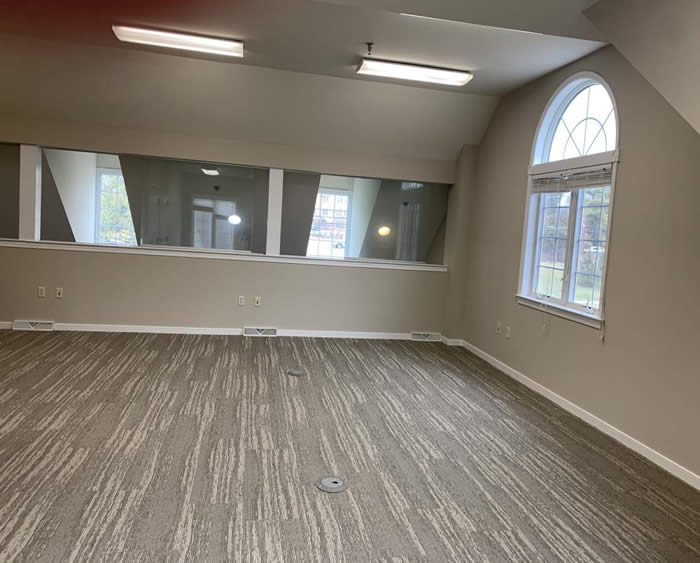 2nd Floor ~ windows looking down on the floor.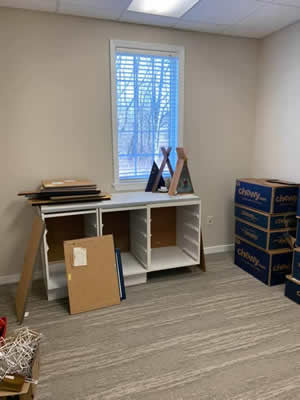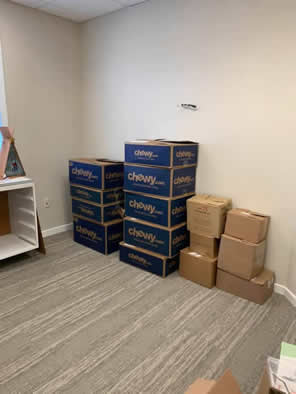 First move in photos. Our new Fabric & Fibers room. "This move brought to you courtesy of Chewy.com!" My dogs are finally earning their keep. That's about HALF of the Chewy boxes.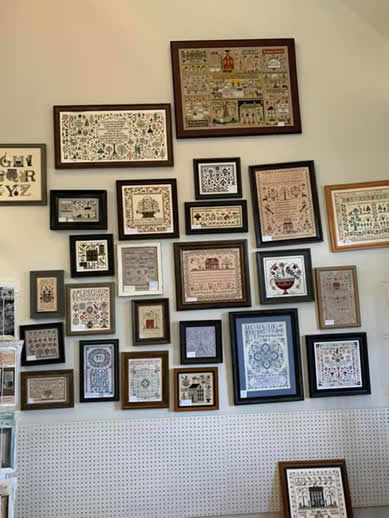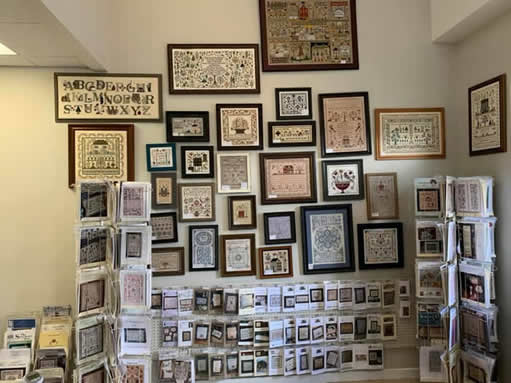 Sampler Wall, day 1, then Sampler Wall on Wednesday.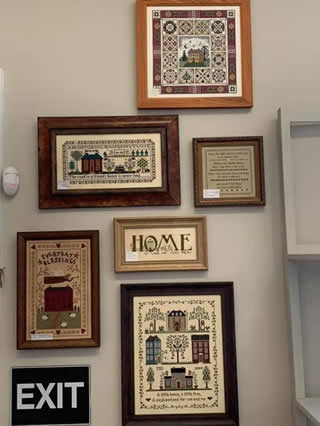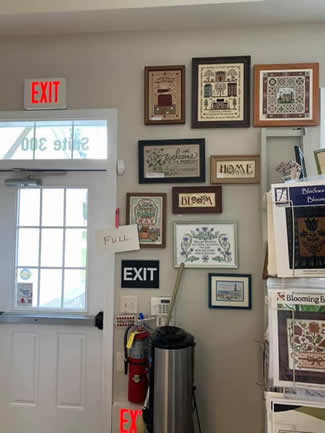 Home/Blessings/Places day 1, then expanded on Wednesday. Note: the broom & water cooler will not be livin there...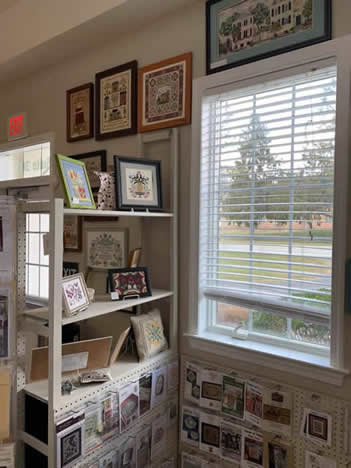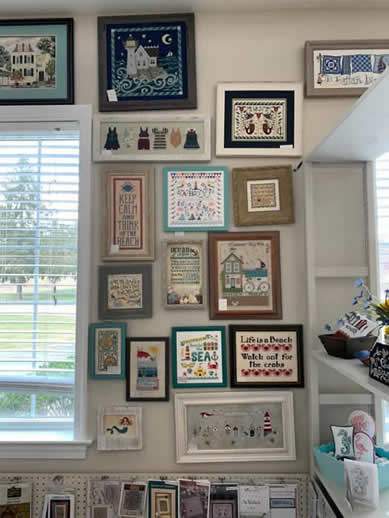 Flowers, Gardens, Places, Recreation, the Beach! It's all about the outdoors in this section.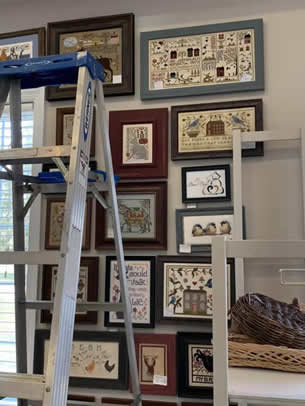 Animals, day 1, and expanded on Wednesday! Managed to get the ladder out, but I missed getting that unneeded bookrack out.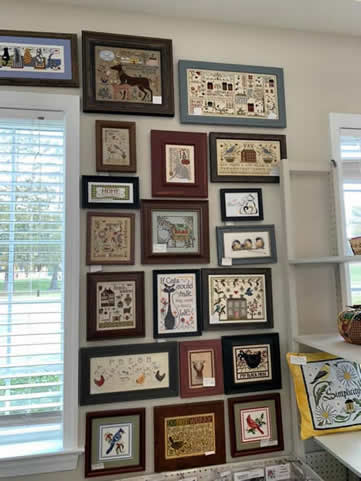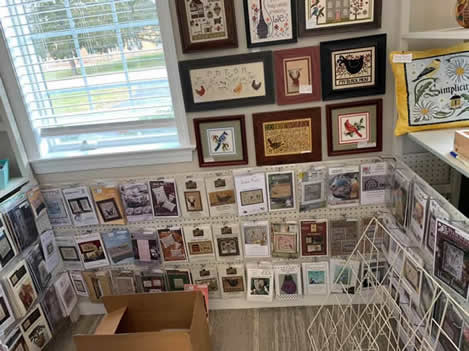 Halloween & Autumn, day 1 & then on Wednesday. One thing we're loving? Those deep windowsills! And windows! That open!! One hilarious thing we've noticed ~ we are all so unused to windows all around that we constantly saying, "Oh. The sun's out!" or today, "It's snowing!" or "Is it SUPPOSED to rain? Because it's really dark out.". Yep, that's what distracts us!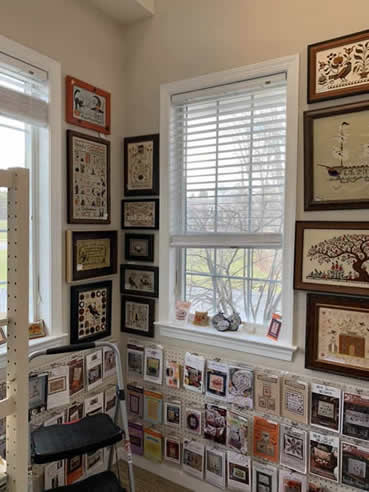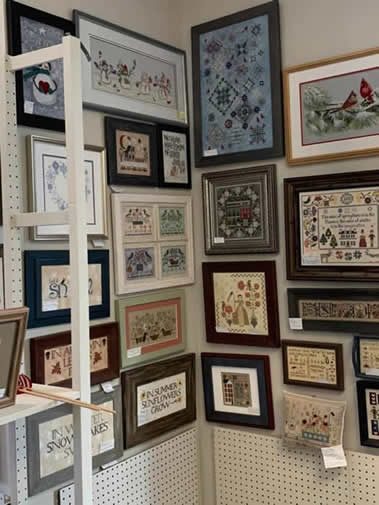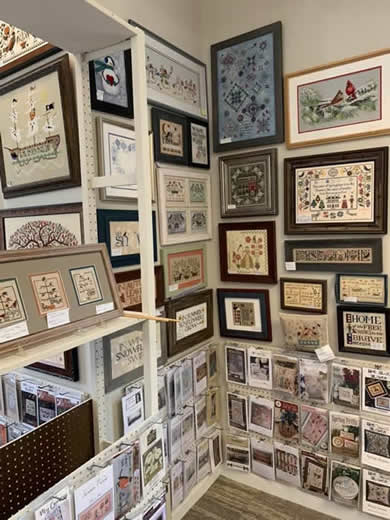 Seasons, day 1, and then Wednesday.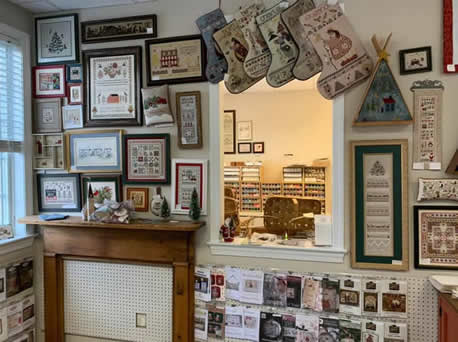 Christmas! Tracy got her mantel back (actually, EVERYONE loves the mantel...except me). And there's our window into F&F (Fabric & Fibers, Family & Friends)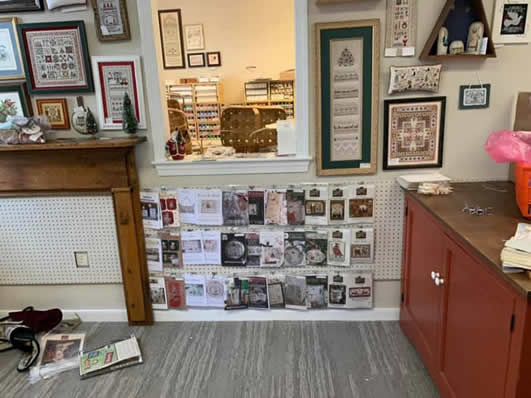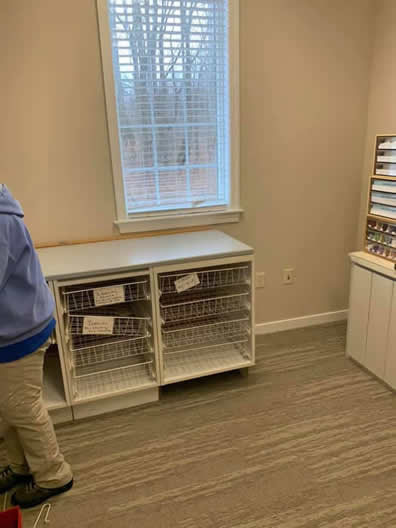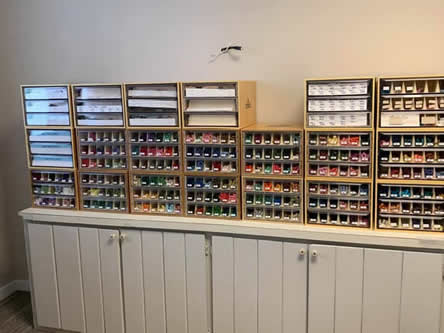 Fabric & Fibers...remember the very first pictures? Well, here we see the progression from 'initial storage area' to 'beginning to look like...something' to 'okay, I kinda see it' to 'almost there'!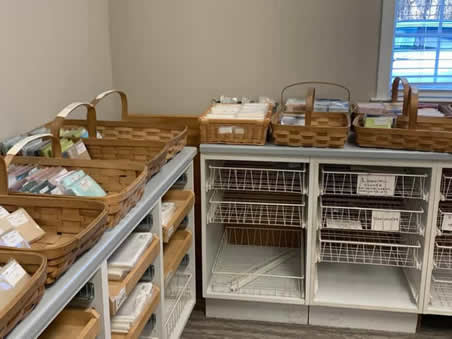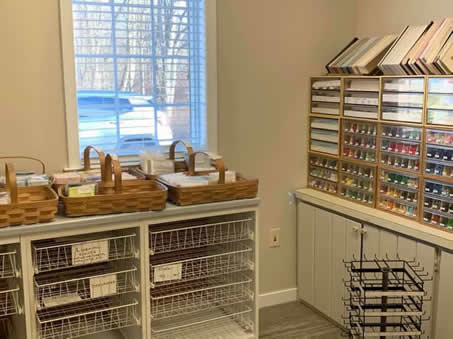 Sorry I didn't swing around to get the overdyed fibers ~ I thought I had pics of them, but turns out they're in the videos.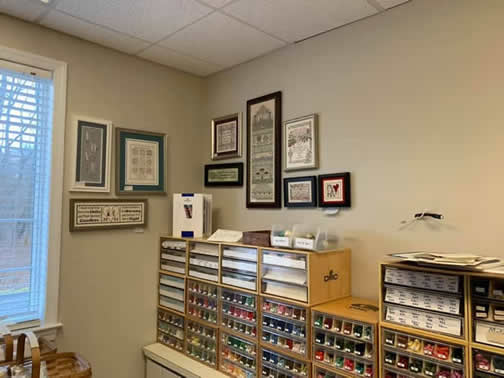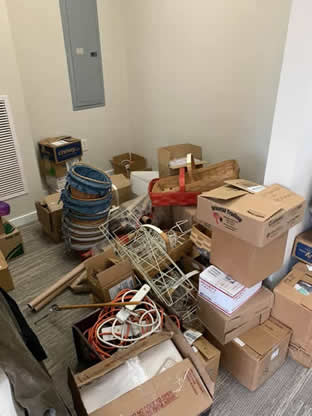 Framing, day 1 (really) and as we moved along, under the watchful eye of Ivy, our supervisor...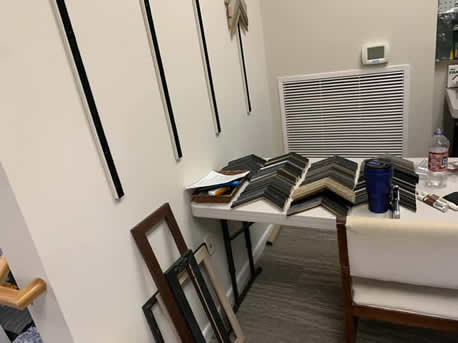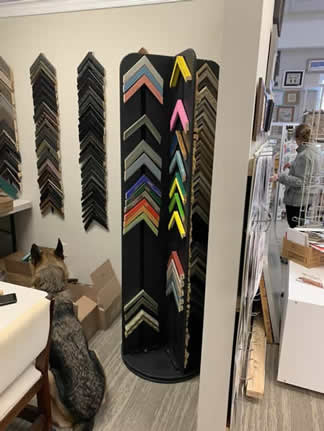 ...and, finally, finshed below!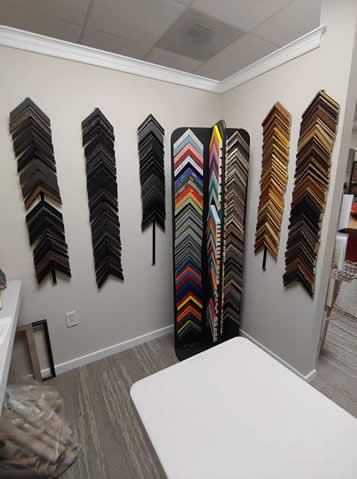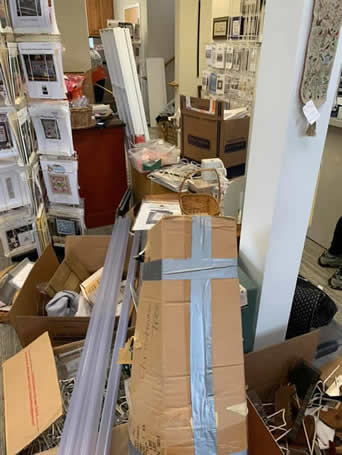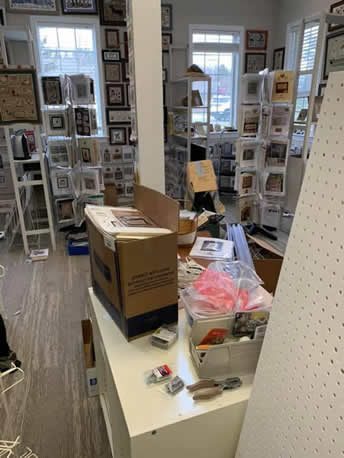 AAAAANNNND....the hot mess! Ugh! Well, we've managed to corral it to a smaller & smaller space!
LOCATION: We are 12 miles away, basically straight up Rt 202.
ADDRESS: Our new address will be:
930-300 East Boot Rd
West Chester, PA 19380
Phone number remains the same: 610-459-8580.
DIRECTIONS:
From our old shop, to our new shop.
Take Rt 202 north.
Go approx 6 miles.
Stay to the right & continue on 202 north, after the split with High Street.
Go approx 4.5 miles.
Take the Boot Rd exit.
At the top of the ramp, take a left.
Follow Boot Rd approx 1 mile.
You will come to a spot where the road splits ~ Ship rd goes off to the right, but stay to the left on Boot Rd.
Just after that split, you will start looking on your left. You will see our little complex & you can turn in at the far end.
OVERVIEW
(ignore the yellow/red sections)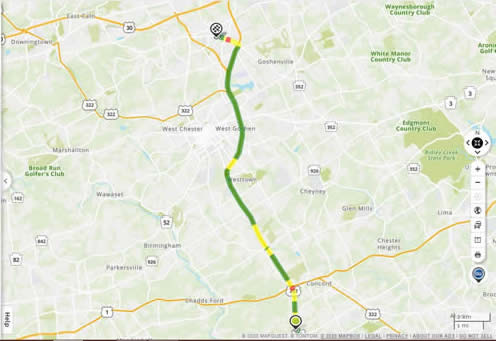 202/High Street split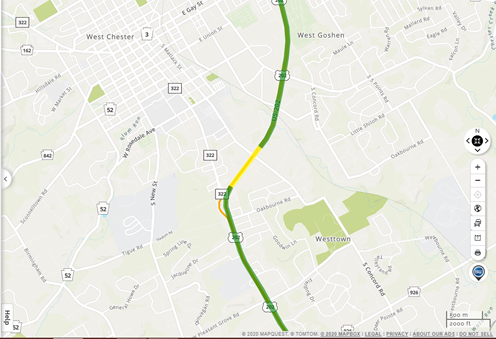 BOOT Rd Exit.
At top of the ramp, go left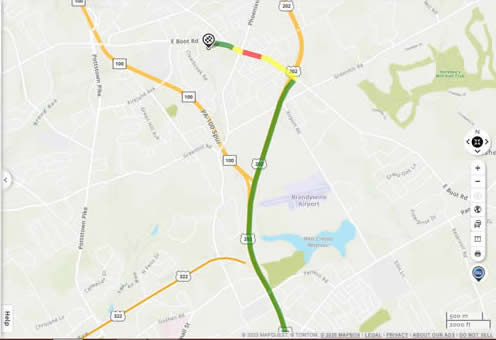 Cross Phoenixville Pike, then stay to the left at the split with Ship Road.
Shop is ahead on the left!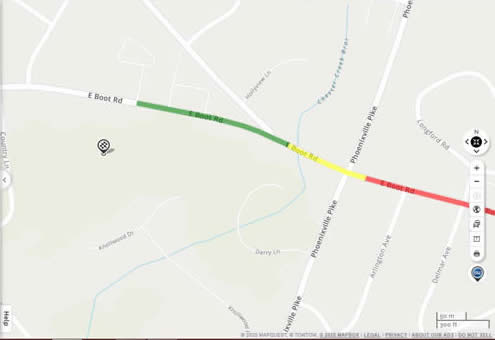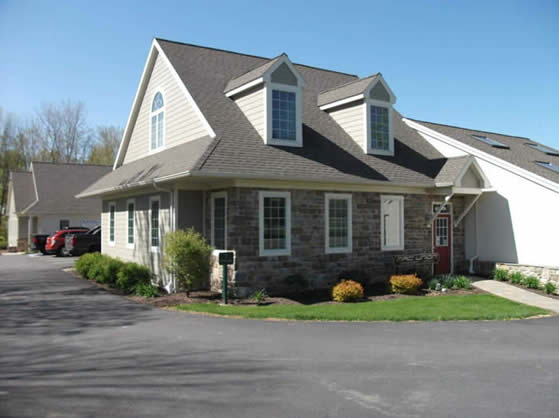 Front of our shop!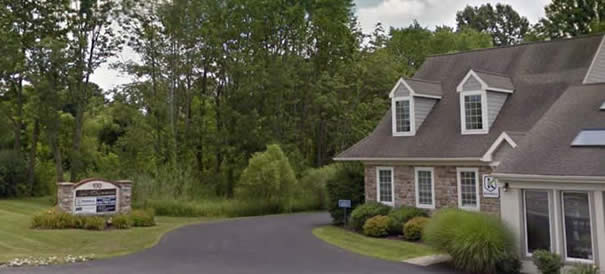 Front from parking lot entry
This move has been exciting & exhausting, inspiring & overwhelming. We are SO ready for the next step. For those of you on FaceBook, I posted what started as a short little "here's what we did today", that turned into a SAGA of what everyone has contributed. I'm not going to repeat that whole narrative, but I AM going to say that, while I'm the one who is always in contact, I am NOT the shop. This shop in no way shape or form is going to look like anything I pictured, planned or anticipated. We are a group of opinionated people & we are not afraid to express what we think. We are also more than willing to admit that someone else's idea is better, more functional or prettier! Tracy laid out the structure for the shop floor, Therese has made all new liners for our shopping baskets, Sherri will be seeing "Accessible Beige" paint in her dreams for years, Cindy & her boyfriend Joe put up all the pegboard around the walls, Connie's husband Charlie did such a great job packing us up that unpacking was a piece of cake, Connie has been in charge of the overdyed fibers, and Lise has not only had to rebuild her framing table AFTER I put it together, but also reimagined our framing section. And Molly is the steady hand on the tiller ~ she's my partner in crime, she's keeps us all going when we think we've really had enough. Again, while I may be the one writing the newsletter or (trying) to handle social media, I can promise you I wouldn't do it without her. I literally couldn't, nor would I want to. And the 2 of us literally couldn't, nor would we want to, do this without the rest of our team. There's exactly zero chance of the 2 of us doing this all on our own.
The other half of "us" is "you"! We surely wouldn't be able to do this without you. We love seeing y'all ~ and we have missed y'all during this move! I think it's been more obvious since we were quarantined, then reopened, how much we missed seeing people! I hope y'all know that we have approached this new shop from your perspective. We want you to feel welcome & at home. We are SO appreciative of your patience with us during the last 3-plus weeks, as well as this whole year. We hope you find our new home to be a wonderful escape, a place to see friendly faces, a place to laugh or cry if you need, a place to feed your passion & share your inspiration. We are so ready to welcome you to our new home!
As I said at the top, we are aiming for Friday, January 22 ~ but it will definitely be posted on the front page of the website & on FaceBook, so check there first!
Hugs & stitches ~
Beth & all the busy bees at TSS