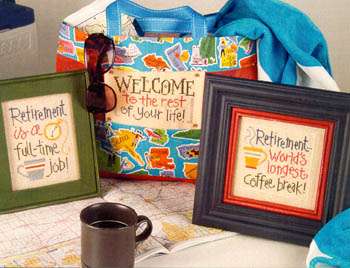 Retirement?? Say it isn't so...
But it is. We just got an email today from Linda & Alan Ebright (aka, the people behind Lizzie Kate), saying that they are getting ready to retire! We know that so many of our stitchers will be heartbroken to hear this & we wanted to give y'all the opportunity to do a few things!
First, the specifics. They will close their doors March 31st. We will be able to order any of their charts, kits & embellishment packs ~ that are still available ~ until then. After March 31st, it will depend upon what CHARTS the distributors (Hoffman, Wichelt & Yarn Tree) have remaining in their inventories. The distributors do not carry any of the kits or embellishments.
So, I would encourage you to take some time to wander thru your Lizzie Kate stash; see if there are any series' that you are missing any charts. Then, go to the Lizzie Kate website & spend some time persuing all the wonderful creations she has brought to us. Make your list of lovelies that you "must have" and then let us know. I would encourage you to put your order in earlier rather than later, but don't panic!
Now, the other thing I would encourage you to do, if you are so inclined, is to take a moment & send an email to Linda (info@lizziekate.com) & let her know what stitching her lovely creations has meant to you over the years. And while we will miss her designs going forward, wish her well as they venture into the next part of their life!
While we will miss their designs very much, we will miss Linda's bubbly personality & Alan's dry wit even more. From their first appearance at the Charlotte Market 22 years ago, where they broke out BIG TIME, to their latest mystery sampler for Christmas, Linda's creativity has been singularly embraced by stitchers everywhere. I can't say there are many designers that I remember their first Market appearance, but I most certainly do remember the first time I met Linda in Charlotte. Her design style was, & remains, fresh, whimsical, lovely & touching. They were the talk of the Market! They immediately became one of the most enduringly popular designers around.
And while we are so sad for ourselves & that we won't have new treats from Linda to stitch, we truly wish them a wonderful, amazing time going forward ~ they are such gloriously wonderful people, inside & out, and they deserve every good thing out there waiting for them! So when you take time to email, please let Linda know that while you'll miss stitching her designs, also be sure to express your appreciation & best wishes going forward.
Remember, while everyone wants to be "missed" when they retire, they should not be made to feel guilty for moving forward with their lives. This was a bittersweet decision for them, I'm sure. Let us be the ones who tell them how much we appreciate the contributions they've made AND that we hope their future is as bright and inspiring as they are!
Hugs & stitches ~
Beth & all the Lizzie*Kate friends at TSS