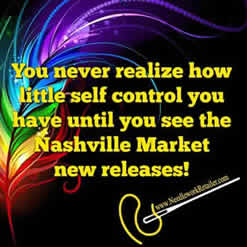 Are you getting excited about all the new goodies on the horizon? We sure are. Molly & I have been posting items as quickly as we can & I wanted to shift gears & do a little yipyap about all the fun stuff we've been seeing.
As you know, Molly & I made the difficult decision not to go to Nashville this year, but we have already begun putting our orders together. The plan is to put our orders in to our suppliers before the Market, that way they can ship as soon as they get home from Nashville. We know they won't ship before they leave & we wouldn't expect them to, but we do want to have our orders in so they can get them on the way as soon as they get home! In order to get the best possible orders (& make sure we get enough for everyone!), the sooner we get your order, the better our orders will be. So if you see things you like, go ahead & get your order in ~ you can always submit additional orders in the coming days & we'll combine the orders all together to save on your shipping.
So let's get this party started! I'm not going floor by floor this year ~ feeling a little more random, maybe since we're visiting "virtually", so we can flit between floors whenever we want. So I'm just jumping in.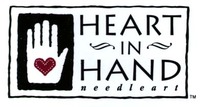 Cecilia has been a fantastic designer in our industry for a long time & she just keeps bringing more & more wonderful designs. We are enamored with her "Tiny Town" series & her new one is just as darling.
Cuckoo Bird Sampler - Molly's favorite, this is a fun addition to her 1 color bird samplers!
Every Day Things - This sweet sampler has such a wonderful sentiment ~ it would make a great gift for so many occasions.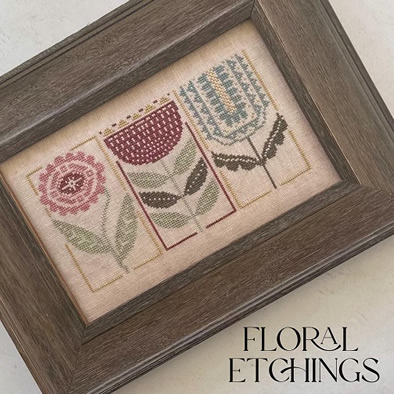 Floral Etchings - This is one of my faves ~ I love the Arts & Crafts flavor to it.
A Honey of a Tiny Town - I love this ~ I love the beeskeps, the bees & also all the sunflowers! Something to think about: just today a friend brought in a piece to be framed. It was the "Big-Hearted Tiny Town" & she had made it into a birth announcement! It is DARLING! Not only is it a super sweet design, but she also added a few personalizations just for the new family. Think outside the box sometimes!
A Honey of a Frill - Love this darling little design. It's cute finished in a box like this, but it would also be a sweet little pinpillow.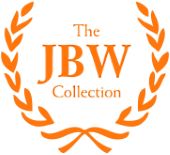 Judy is another longtime friend & designer. We love her small "in the round" designs, and of course I love all her Seaside designs!
Stitching in the Round - This is one of my favorite "in the round" designs ~ for obvious reasons! I love all the little stitching motifs included in this charming design.
A Joyful Purpose - This sampler was inspired by a verse discovered on an old Pennsylvania Dutch sampler. It reads: "Joy and work for labors all, Make the work and effort small". I love the borders in this.
Eliza's French Birds - This sweet design was adapted from an antique sampler. It's just lovely.
Eliza's Sewing Smalls - adapted from the same antique sampler, these smalls are fantastic! I particularly love that small wreath!
Seaside Series VIII - Oh my gosh, another fun seaside group! I love the Egret ~ I"ve seen so many elegant ones over the years.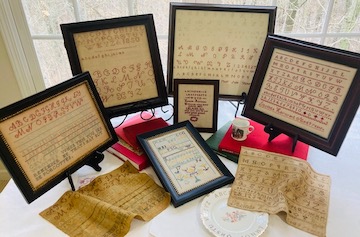 American Marking Samplers - This book includes 6 marking samplers. Judy has included historical information on each one (which is always SO interesting!).

Linda is such a creative designer & over the years we have watched in amazement as she creates new designs & charming finishes.
Quilting A-Bee-C's - A fun new series in 5 parts. A combination of patchwork squares & the alphabet! Not only will you be able to stitch a complete sampler, but there will be lots of ideas for smalls as well (see the picture on the right for a sneak peek!).
The Beach is Calling - and I am SO answering that call! We are especially enamored with this one since it highlights one of our favorite places down the shore.
Heirloom Tomato - A prizewinner from the "buttoned up berry patch". I love the checkerboard pattern on these cuties.
Embroideress Pindrum - Isn't this how we all envision ourselves? Perfect for your stitching basket.
Quaker Wisdom Berries - 3 sweet little berries, featuring Quaker motifs & simple sayings.
Mary Briggs - Kicking off a new series of small samplers adapted from antique marking samplers. I love the little tree at the bottom of this one.
Sally Bullard - A sweet little sampler ~ love the little quilt motif.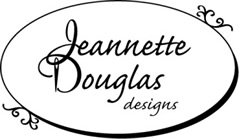 Jeannette always has wonderfully creative & beautiful designs, ranging from sweet little charmers to samplers full of challenging stitches.
Tapestry of Stitches - This one goes directly into my stash! I love all the stitches at the bottom of this sampler.
Vintage Grapes - This is lovely! But don't you think "vintage grapes" deserve a bottle or two of wine?
Margaretha Schropfer Sampler - I love this beautiful adaptation of what is obviously a lovely antique sampler.
My Stitching Box - What a gorgeous collection of stitching smalls! These are simply stunning.
Ann Perrin - This is a lovely sampler reproduction filled with loads of great motifs.
Margreat Meadows Sampler - This sampler is lovely, and I love the little small she created from it.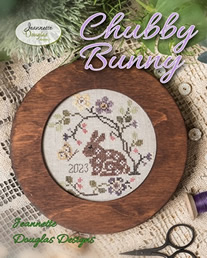 Chubby Bunny - Cute!! Just plain cute!!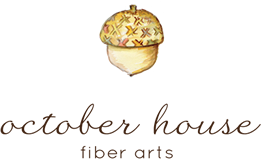 October House is one of our favorite newer designers! The patterns included on each design are eyecatching & sweet.
Honey Faire - LOVE LOVE LOVE the pattern in this beeskep! This is 2nd in the "Faire" series ~ the first being one of our favorites: Strawberry Faire!
Snip Snip - A "Skinny Mini" pattern ~ I love these! This one features a collection of scissors ~ every stitcher's weakness!
The Itch to Stitch - This one is destined to be one of my faves ~ I think I wanna finish it filled with crushed walnut shells to make it a weighted cushion.
Americana Red Sampler - So many charming motifs, many of which are traditionally red! Love it!
Vintage Tree - I love this sweet little sampler ~ soft colors make it lovely.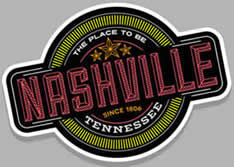 There is LOTS more to show & tell, but I wanted to get a first run off to y'all! Stay tuned for another newsletter tomorrow. There are loads of things coming our way & I want to show you the things we are excited about. And don't forget about our "Nashville Pre-Game Sale" on Sunday. For more info on that, click here.
Hugs & stitches ~
Beth & all the excitement seekers at TSS