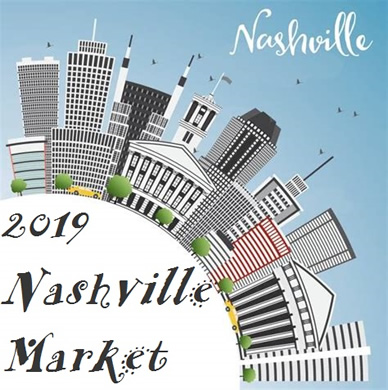 Our annual Nashville trip is JUST around the corner! Hopefully you've had a moment to read my earlier email & figured out all the ins & outs of Na$h Ca$h. This will put you ahead of us...every year Molly & I have to print out the email; in fact, I had to text her while I was writing it because I couldn't remember part of the way it works!
This page will be home base. EVERYTHING will be posted here, but I'll send out emails for each floor too.
Sooooo....are you wondering what method of locomotion we're using this year? Well it WON'T be the stairs ~ we are entirely too tired & we haven't even left yet! Nope, this year we are blinking, nose-twitching, portkey-using, TARDIS-travelling, ruby-slipper-wearing travelers ~ just waiting for Scotty to Beam us Up!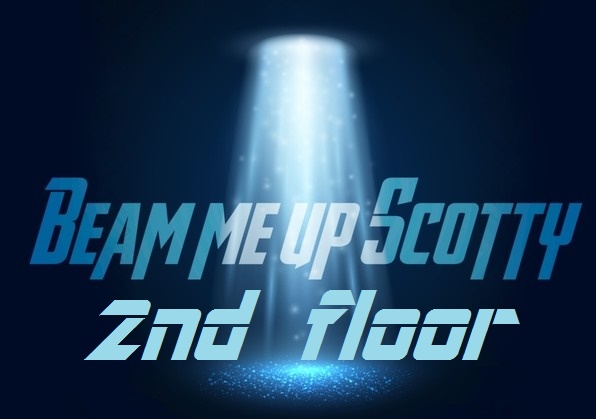 Here we are, on the 2nd floor. This floor is home to some of our favorite Italian designers (although there are so many that they have now invaded other floors as well!), Gentle Art Sampler Threads, Weeks Dye Works, Yarn Tree, Diane from Silver Creek, Beth, Cathy & Tracy from Summer House Stitche Workes, Hands On Design & Ink Circles respectively, the gals at Stitching Pretty, and 3 new exhibitors: Pickle Barrel, Fox & Rabbit & Blackberry Rabbit! Whew! I'm tired & we're just getting started!

Simona, from Mani di Donna, always has some of our favorite designs ~ from dimensional pieces to samplers to lovely Americana designs.
Summer Time Basket - As you might imagine, this one is definitely an instant favorite of mine! Be sure to look closely ~ it's not JUST beach themed...there are mountains, hot air balloons, forests, and even more on the sides we can't see. The accessory pak that is available separately has the edging, the starfish charm & the crab pin.
Blue Pot Pillow - I think this is a really cool creation ~ I like the stitched design, but the pillow, finished with a scissor "sleeve" & usable as a pincushion is really clever! Again, you can get the accessory pak if you like which consists of 2 floral thread rings & 2 pins.
Jane Goss Chest Box - Love this chartpak ~ there are so many things you can create, from the sampler on the top, to the needlecase, pinpillow, scissor pocket! She has finished it in one of the wonderful handmade boxes from Lone Elm. The optional accessory pak has a beaded scissor fob & beaded pins.
Sewing Town Casket - Another totally cool sewing box! I love the primitive style stitched pieces. This design has 2 available accessory paks ~ the first one has the supplies to make the crow scissor fob; the second has the twill fabric, lace & wooden rings for the box. She always has good finishing directions as well!
Zio (Uncle) Sam pincushion - How darling is this? And of course, patriotic creations are never out of season.
America & 4th of July Pillows - 2 cute little pinpillows to make for your patriotic decor!
My American Dream - This is very interesting! She has stitched one design ~ the America with the eagle, Uncle Sam & Besty Ross ~ 3 different ways: as a little basket, as a pinpillow & as a base for her other designs. Then the other 2 designs are stitched & finished back to back and placed atop the base. The glass dome is from IKEA! That's easy! And I love that she added a string of twinkle lights!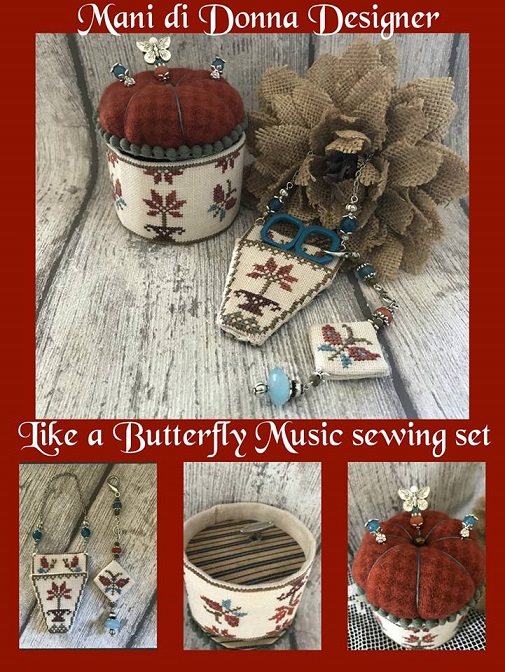 Like a Butterfly Music sewing set - WOW! This is amazing! So, you stitche the base, the scissor pocket & fob, then you can make the top into a pincushion from wool, and when you put the base together ~ she offers a music box insert! So when you turn it on, the top pincushion rotates & plays a darling little tune! So stinkin' creative!! The accesssory paks (below) are: the butterfly pin set, the musicbox works, and the beaded chain to finish both the scissor pocket & the fob.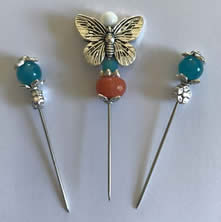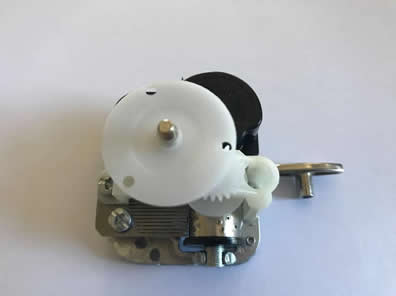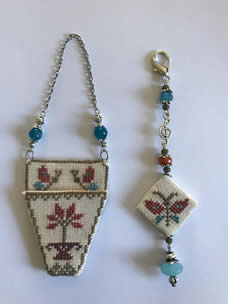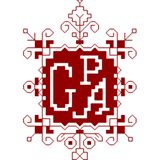 Giulia, from Giulia Punti Antichi, is a wonderfully creative designer. Her dimensional pieces are stunning works of art.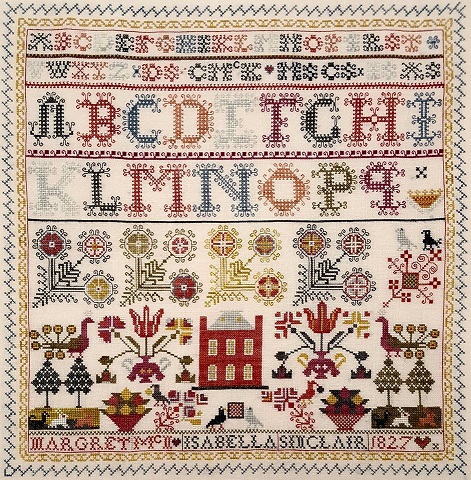 Isabella Sinclair Sampler - love this reproduction sampler with that filigree alphabet!
Coral Elegance Dressform pincushion - A lovely little standup pincushion! You can get a limited edition kit that contains all the stitching supplies & finishing materials, excluding the pinset (which is also available!).
Lucky Owl Ornament - Owls are such popular creatures right now & this hand-painted button is lovely.
Diana's Stitcher Purse - How pretty is this? Just a little bit of stitching for the flap, and yes you can get that gorgeous brooch with all the different stitching doodads on it.
Williamsburg Colonial Sewing Etui - This is a dear little etui to carry your stitching supplies. The colors are scrumptious! You can also get the needleminder, threadkeep and/or the pinset.
Williamsburg Colonial Pinkeep & Strawberry Ornaments - Again, the colors just draw me right in with these. You can also get the crystal drop & the silver crown on the strawberry.
Scottish Sewing Set - this is just amazing! There are so many fun little goodies, it's hard to know what to stitch first ~ from the needlebook to the scissor pocket & fot to the roll ~ they are all just beautiful. As always, you can get as many or as little of the accessories as you like ~ from the pinset to the wooden set (this includes the 2 rings you see below on the house design & the 3 discs ~ 1 on each end of the roll & 1 used as the back of the scissor fob), the threadkeep, the ruler and or the needleminder. And yes! Even the tray is available!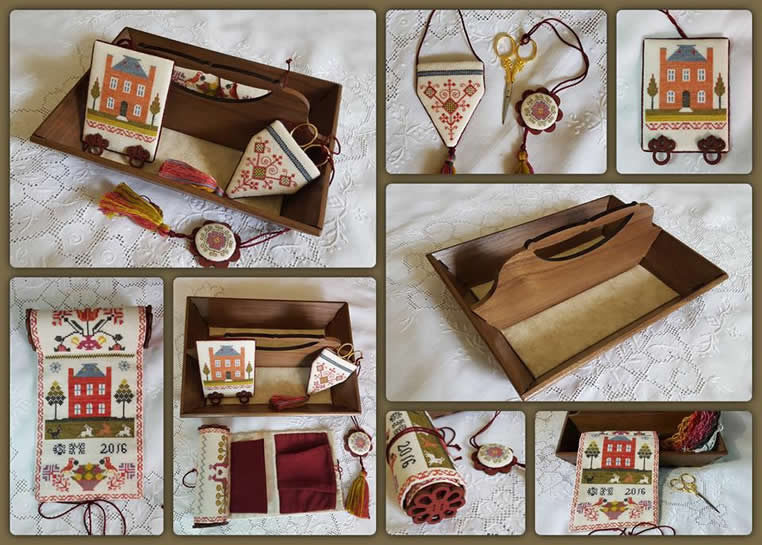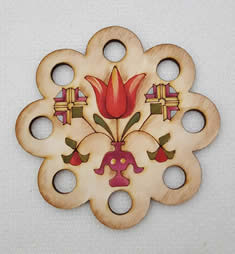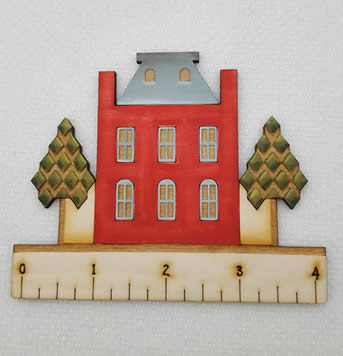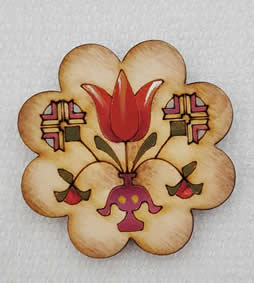 Tuscan Shades of Marble sewing set -OH. MY. GOSH! I love the pattern designs on these pieces & the box that she made is incredible (directions included!). This is an heirloom in the making. Here's the breakdown of accesories: white bead pak ~ containing 2 large & 1 small bead; 2 different pinsets ~ 1 with a large & a small pin & 1 with a medium & a small pin; a set with a lady needleminder & a shades of marble threadkeep or a a set with a crown needleminder & a lady threadkeep.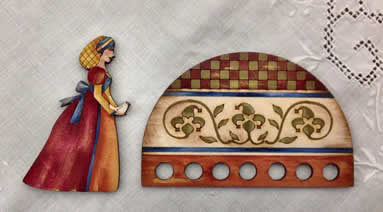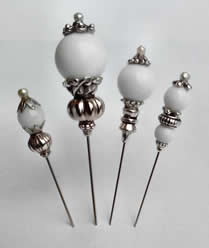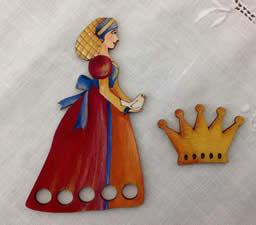 Diane is one of our favoritest folks in this crazy stitching world! Her charming folksical designs are inspiring, funny, pretty...you name it. This year is her 10th anniversary & she has found a couple designs that she did WAY BACK WHEN when she was working on finding her style! She also has a wonderful memorial piece dedicated to her mom.
Autumn Harvest - This sweet little bucket design is perfect for autumn. She will be adding the other 3 seasons as we go thru the year.
It Is Well - A lovely sentiment & a beautiful design!

Fireside Sampler - Oh my goodness, this is a wonderful twist on a "welcome to my home". The perfect shape for hanging over your mantel. LOVE LOVE LOVE!
The Lord My Shepherd - This is one of Diane's very first creations. And it really burns my behind! Why?? Because when someone does something for the first time, I want it to be tiny, and imperfect, & OBVIOUSLY "I've never done this before". BUT NO! Diane starts off with a wonderful verse adapted from a treasured Psalm & creates a wonderful heirloom.
When Life is Done - Okay, full disclosure: I've never been a fan of mourning samplers, or "when I'm dead" samplers or the like. I've always found them creepy or sad. Until now. I think this is LOVELY & hope-filled. Diane notes that the 2 flowers represent she & her sister, but you could adapt the plant behind the lady or scatter hearts throughout the verse to signify children, grandchildren or whomever you like.

Romy has beautiful threads & this year she has used them in several fun designs!
Sunflowers - A twist on a Maori saying, I love that she used sunflowers ~ they really do turn their faces to the sun!
ABC Family - reminds me of "The Sound of Music"...lets start at the very beginning ~ family does begin with 2!
A Bee C Sewing Set - what a darling sewing set! This chartpak includes the fabric.
Welcome Spring - This is the sweetest little sampler ~ it would be lovely in a little girl's room with her name!
Wisdom Words - 2 great designs with perfectly heartfelt sentiments!
God in Heaven - This primitive little design is adorable! What a great gift for a friend!
Elves House Scissor Case - How cute is this? Looks like this little guy lives in a toadstool!
Wooden Candleholder - This is so fun ~ one side is stitched, the other 2 are etched with needle & thread designs. All the wooden parts are included & there are 4 different charts plus an alphabet too. You can also get extra blank sides for stitching. Inside you wanna use one of those battery-operated tea lights.

Yarn Tree is one of our wonderful suppliers & they really stepped up when TNNA dumped the cross stitch shows. They have taken over this show & it has absolutely blossomed! There are several designs that are exclusive to Yarn Tree from some of our favorite designers, so check them out.
Flower Pot Sampler - from Niky's Creations. I love the colors in this sweet little motif sampler.
Less is More - from Jardin Prive. A wonderful reminder ~ slow down, shed the unnecessary "things", & enjoy life.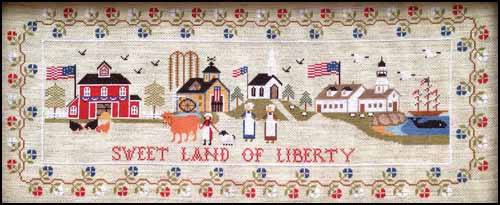 Sweet Land of Liberty - from Twin Peak Primitives. What a beautiful scene depicting early American life.
Dutch Flower Sampler - from Stickideen von der Wiehenburg. So happy to see these new designs from this company. This sampler is filled with lots of gorgeous floral motifs.
Black Raven Quaker Sampler - from Stickideen von der Wiehenburg. Love love love this! I have a real affinity for Quaker samplers ~ I love the symmetry if the motifs & the soft colors.
Rain Rain Go Away - from Fairy Wool in the Wood. This just makes me chuckle! These 2 little gnomes look to be a bit frustrated that they're stuck waiting out this weather! And I love the 'staches on the toadstools.
Piccola Margherita - from Lilli Violette. She is darling! I'm not getting the numbers, but they go with the design so I'm good!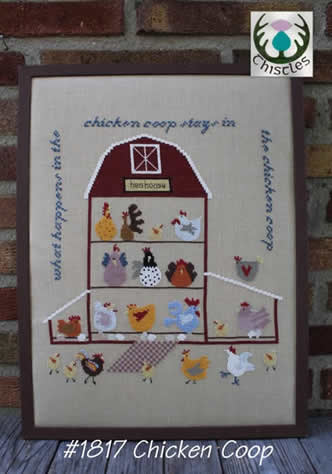 Chicken Coop - from Thistles. LOVE this! "What happens in the chicken coop stays in the chicken coop".
Welcome Halloween - from Camille Colje-Camps. This is a cute little halloween town! I'm loving all the red-roofed toadstool houses!
The Old Curiosity Shop - from Witchy Stitchy Rabbit. This place is stocked for the entire Wizarding world!
My Oasis of Peace - from Cuore e Batticuore. Aaahhh, the country life...
Mermaid Family - from Fairy Wool in the Wood. Always wondered where mermaids came from...now we know!
Good Night Sleep Tight - from Fairy Wool in the Wood. I think this owl is keeping watch while his deer friend sleeps.
There is no Fear in Love - from Fireside & Fairytale. This is quite a lovely little sampler & has a certain reproduction flair to it.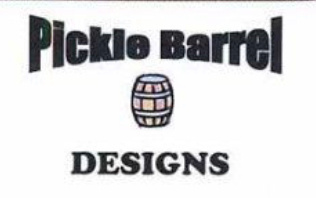 Nancy's designs have become increasingly popular & we are thrilled that she will be in Nashville for the first time!
Farm To Table, Part 1 - Farm to table is such a popular "thing" right now & these 2 designs are such fun. Great for your country kitchen.
Farm to Table, Part 2 - Looks like a Farmer's Market filled with lots of delicious, juicy fruits & veggies.
Spring Has Sprung - let's hope so! Spring Training starts Friday, so hope abounds!
Silence is Golden - TRUE TRUE TRUE! Any pet parent also knows that you could change "children" to puppies or kittens & still just as true!
Sea Hag - This cracks me up! Love her hair...
Fantasy Land - She hasn't settled on a name yet, but we like Fantasy Land! This is hilarious!!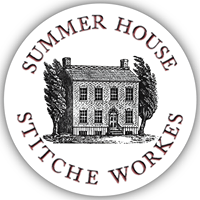 So many of our favorite designs come from Beth! We are always eager to see her latest & greatest.
Broderie Coeur - This is a lovely little needlebook! So delicate & dainty. You can also get a finishing kit that contains cotton fabric, wool, ribbon & charm. Another thing I love about this is you could easily change the color if you're not a "pink" girl!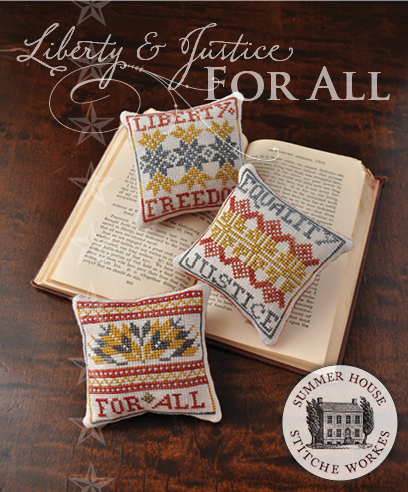 Liberty & Justice For All - These 3 little pin pillows certainly make you think of the old coverlet designs. Love the soft tapestry colors in these.
Sister Suffragette - Celebrating the upcoming 100th anniversary of women gaining the vote, it is finally looking like women are claiming their equal place in power. The "VOTE" buttons are wonderful ~ stitch yours up & get it ready for next year's big election. Beth has included adjustments for our friends in the UK, Canada, the Netherlands, France & Australia. Now, you know me, and I'm thinking, "If you did Australia, why not New Zealand?" And it's not just my particular bias in favor of NZ. Did you know that New Zealand was THE FIRST COUNTRY to grant women the right to vote? That's right, they did that in 1893! Fortunately, the biggest difference between the Aus flag & the Kiwi flag is the number & color of the Southern Cross stars, so it is easy to adapt!
Eliza Garside 1841 Sampler - What a lovely design! And let me say, this is the year of ELIZA & ELIZABETH! You're gonna need a scorecard to keep 'em all straight! And look how sweet the little needlebook is! It's stitched on perf paper & easy to put together.
Beth's latest installment in her "Modern Organics" line features 4 different sampler flower motifs, reflecting each season. These are lovely & easy to stitch. If you know someone who is just starting to stitch, these would be a good early project!
Gentle Spring ~ Radiant Summer
Respendent Autumn ~ Whispering Winter

Tracy's designs speak to me on SO MANY levels! Her creativity blended with her engineering mind gives birth to lovely designs filled with symmetry (be still my soul!).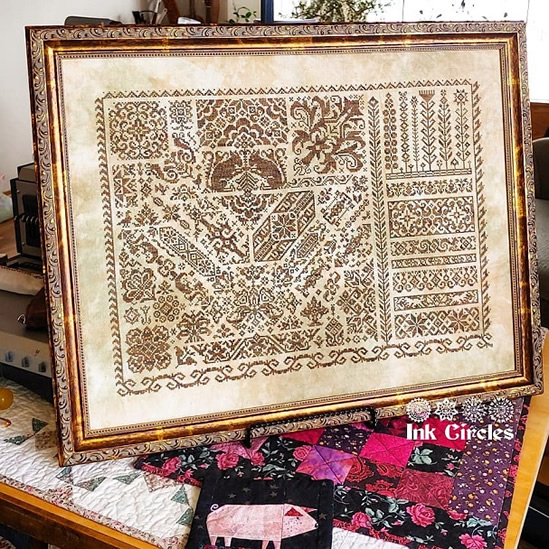 Squirrels of Sumatra - in concert with her Dragons & Forests, Tracy found even more Sumatran tapestries featuring...SQUIRRELS! And following up her recent "Dog's Declaration" it's just the perfect "comeback"!
By Any Other Name - is a rose just as lovely? Who knows...but this design is beautiful!
Reflections on a Grecian Urn - I've always loved looking at hieroglyphics & wondering what the writers & artists were thinking at that time. There are so many motifs in this design, it will keep you busy wondering the whole time you're stitching!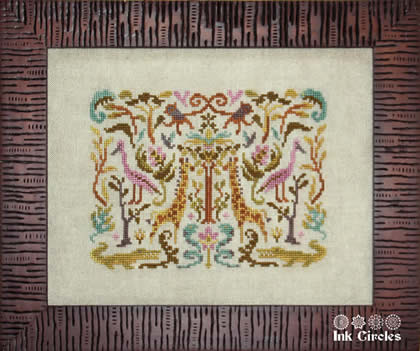 Out There (It's a Jungle) - Oh my goodness, look at all the jungle creatures!! Not only is this just a cool design, it would be a FABULOUS baby sampler (jungle themes are evidently very popular nursery themes), and an EVEN BETTER baby sampler for a family welcoming twins!

Cathy's design style never ceases to delight us. I particularly like the different & charming ways that she finishes her wonderful creations. She seems to have a bottomless well of ideas!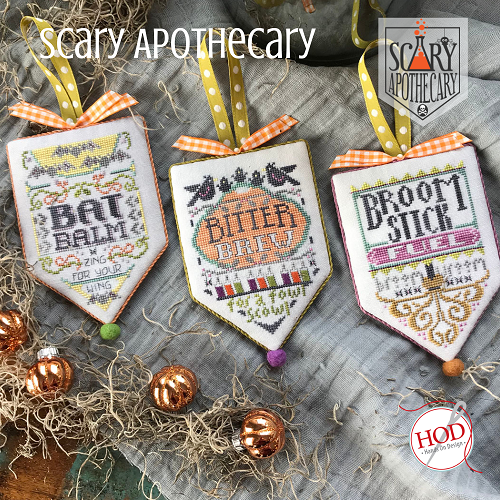 Scary Apothecary - Woohoo! Nashville kicks off a brand new series & is it ever fun!! The first 3 of the Scary Apothecary make me laugh out loud! Clever & funny! Click the pic above if you want to sign up for the entire 9-part series.
Scary Apothecary: Bat Balm - "Zing for your Wings"!
Scary Apothecary: Bitter Brew - "For a Fowl Scowl"!
Scary Apothecary: Broomstick Fuel - you can never have enough fuel!
More Chocolate Bunnies - You can NEVER have too many!
House on a Hill Series: Summer Night - Another new seasonal series, this lovely little pillow is finished with the verse: "The Summer Night has a smile of light, and she sits on a Sapphire Throne". This one checks ALL my boxes: flowers, summertime & SAPPHIRES! I absolutely love this ~ the finishing is wonderfully eye-catching. The chartpak includes a piece of wool for the "lawn".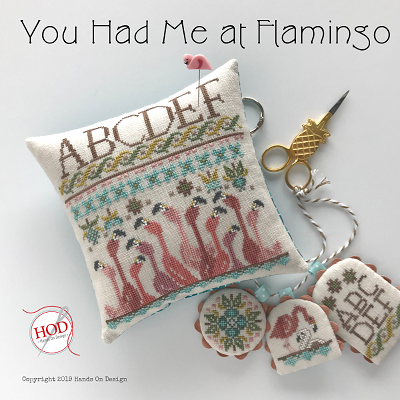 You Had Me at Flamingo - What a fantastically fun design pak! From the pinpillow (with a scissor pocket on the back), to the fob "baubles" ~ just so cute! And, inquiring minds pointed out that this features only a PARTIAL alphabet ~ might this be another series kickoff? I hope so?
Block Parties are back!!
Block Party: Meow - These kitties definitely enjoying party time!! Not only is the stitching just adorable, but did you notice the 5th pin? It's a goldfish bowl!!
Block Party: Woof - Could this be ANY cuter?? I don't think so! Woofers & baseballs & hudrants ~ hooray! From the giant bones to the tennis balls, pawprints to doghouses, this is an absolute winner!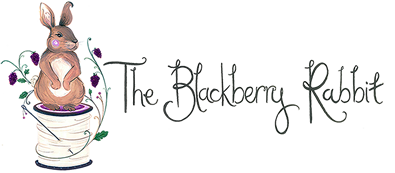 This year we're excited to welcome 2 new designers from Australia! I think I might need to go "on location" to check them out, don't you?
First up, Karen from Blackberry Rabbit. Such cute designs & I love her finishing ideas even more.
Honeymakers - What a beautiful bee wreath! I can't decide what I like more ~ the floral wreath or the bees. This would be lovely to stitch with an initial in the center in place of the central motif.
Bluebirds, Berries & Bees - what a lovely little basket of stitching needfuls. I love the lining fabric she found ~ looks like a honeycomb.
Garden Box - FAVORITE! You know how I love 3-dimensional creations ~ I can't wait to see the inside of this as well. I love how she has done the closures with the buttons, and the colors are scrumptious!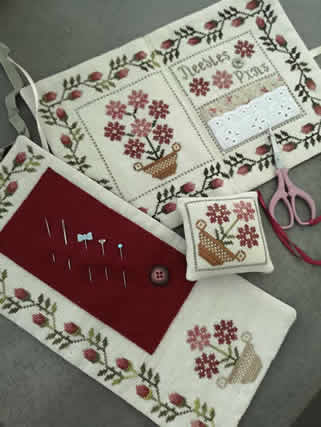 Spring Garden Needlework Trio - How pretty are these? I'm not a stitcher who keeps my needles & scissors in an organized & decorated little case like this, but I love stitching & constructing them. Gorgeous border!
My Country Home - oh how lovely! Wouldn't this be pretty on a side table with potpourri in it, or your stitching supplies, or maybe wrapped candy??
The next new Aussie designer is Fox & Rabbit Designs ~ a design company that features reproduction samplers AND new samplers inspired by the past. I love seeing old samplers from another part of the world ~ it's fun to see both the similarities and the differences.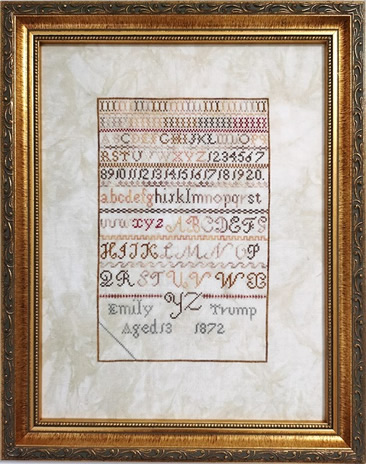 Emily Trump 1872, An Australian Sampler - I love this ~ the 2 rows ar the top are different...they make me think of all the "I"s that are left out of so many alphabets! I also like how she left herself PLENTY of room for her name! My favorite part is the color palette she chose. Yummy!
Botany Bay Sampler - Botany Bay was originally established as a penal colony when Britain stopped shipping their convicts off to America during the Revolution (probably realized the Americans would free them & the prisoners would be more than happy to fight against the Brits!). So as most of us know, Australia became their next choice for convicts! This sampler appears to have several motifs which specifically point to the inception ~ from the ship to what might be prisoners. Can't wait to get the chart in my hands & read the history behind this. Don't you wonder if the girl that stitched this was the daughter of a prisoner originally, or perhaps the daughter of one of the jailers... Inquiring minds want to know...
Sarah Newman Sampler - This beauty appears to be more in the mainstream of reproduction samplers. Stitched in 1822, I don't know yet if this is an Aussie or not, but it's lovely.
Jane Johannah Wilkins 1884 Sampler - Molly loves the deer on this one! I love the border & the dividing bands.
Susannah Love Sampler - This sampler is reminiscent of many samplers from this time frame ~ I love her border...she was obviously not new to this...look how well her corners turned.
Mahala Barber Sampler - this one is a Work in Progress! Can't wait to see the finished piece. I love the border above the alphabet ~ looks like lots of satin stitches!

Michele distributes designs for several wonderful designers & we're always excited to see what they bring!

The Beach is my Happy Place - from Samplers Revisited. Calling all beach-lovers!! You know you want this as much as I do!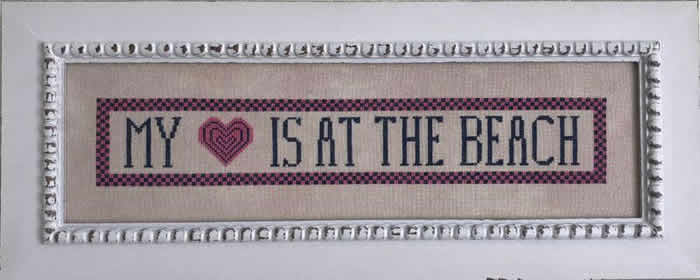 My Heart is at the Beach - from Samplers Revisited. LOVE this one too!!
House & Hound - from Samplers Revisited. YAY! More woofers! How fun is this? I love the specialty stitches in the lawn.
IIS 1820 Sampler - from Samplers Revisited. Love this Scottish reproduction sampler! My favorite part ~ apart from the house...which looks like it's flying Danish flags (it's not ~ they're the chimmeys) ~ is the farmyard full of critters! She really managed to get a lot of animals in there!
Margaret McLean 1796 Sampler - from Samplers Revisted. Another Scottish sampler, in looking at the house I wonder if doing that cross-hatching is particular to Scottish samplers. I've seen it several times. Lots of birds in this one ~ and of course, 2 doggers!
Steampunk Pumpkins - from Samplers Revisited. I love the steampunk aspect of these pumpkins! Fun little creations & happily different!
Quaker Gone Haunted - from Michele Ink. Sooooo cool! I love that spooky tree & the grave marker!
Only a Baby - from White Lyon. Oh my goodness, how wonderful is this baby design? I just love this. I also love that she's done it in just 2 colors so that it's easily adaptable to any nursery.
Quaker Evening Prayer - from White Lyon. Another design that is fantastic to stitch for a child's room ~ and one that's not "just" a baby sampler. Another aspect that I really like is that it doesn't scream out "BABY" ~ so it can stay with them forever. Again, just 2 colors, so you can make it as colorful or as neutral as you like!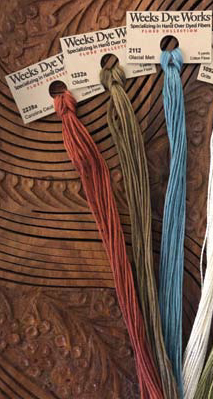 Weeks Dye Works, 3 new colors - we've already seen these listed in several of the new designs, so add these to your stash. From left to right: Carolina Cecil, Oilcloth, Glacial Melt.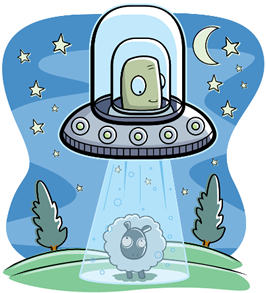 Good grief! If I'm HALF as tired next week, this won't be good. BUT. I think if I get more done beforehand, maybe, just MAYBE, I'll be able to go to bed before 2AM! Ha!
Now, as I've said, PLEASE go ahead & get your orders in (I know several of y'all have begun). I can't tell you how much easier this makes it for us AND for the designers. Also don't forget to tell us if you wanna CASH your NashCash or Stash it. If you've already forgotten what this is, click on the city skyline at the top of this page.
Hope you enjoyed the 2nd Floor! We'll be back for a visit later because we KNOW there will be more goodies we haven't seen yet. For now...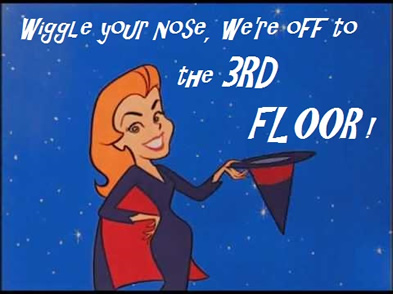 Well, we don't have Samantha with us, but at least we got to the 3rd floor! This is another good one, so I hope you're all rested.
We're always so happy to see these gals & see not only the new fabrics (which are YUMMY this year!), but also to troll thru their other fabrics to see them "in real life". This is always a great way for us to see if there's something we can use or something we've overlooked before!
The 4 new colors are gonna be fantastic. I know I've showed them to y'all before, but you're gonna wanna take another look. These colors are available in 14ct, 16ct, & 18ct aida, 28ct Lungana, 28ct, 32ct, 36ct & 40ct linen, 10ct Tula and all those again in Crystal (opalescent).
Demoiselle - "a light playful wash of yellow & pink over a light blue background". This is going to be wonderful for baby designs & also for the light-hearted angels & fairies. Get this in sparky crystal & let your design shine.
Memory - "a purple that has a touch of gray to it giving it an 'aged' hue". This is going to be fabulous for some of the gorgeous 1-color designs...the Quaker designs...the French Country designs...so many great things!
Heartland - "a medium light brownish gold". We have already seen this being used in several of the new designs coming out at the Market. This is going to be an incredibly useful color, I can already tell!
Nessie - "a medium light 'watery' greyish blue". This is another one that I can see being trememdously popular! Good for a winter sky scene or a mermaid design. If you get a piece in Crystal it will give you the shimmer of snow.
Shakespeare's Peddler
So happy to have Theresa designing again, and I know that several of you watch her FlossTube channel. So far I've only seen 2 new samplers ~ "only" being a ridiculous word, as they are stunningly large & beautiful ~ but I have a feeling there will be more when we get there.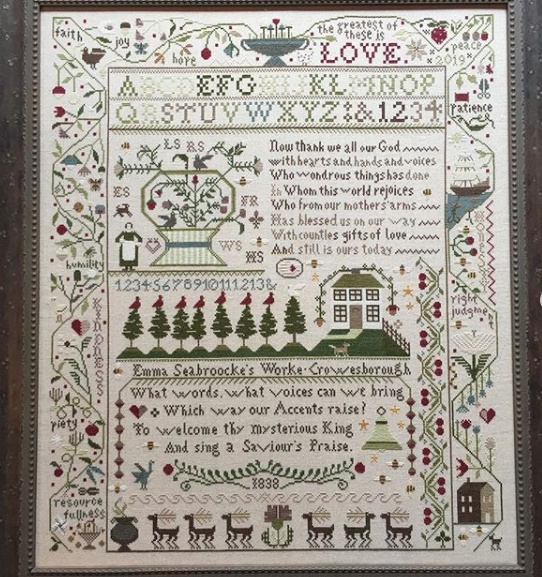 A Saviour's Praise - WOW!! This sampler is simply stunning! I love every little thing about it ~ from the hymn that forms the basis, to the different motifs..the basket of flowers, the bees & the bell, the house & trees...but the biggest & the best part of this sampler is the amazing gorgeous border!!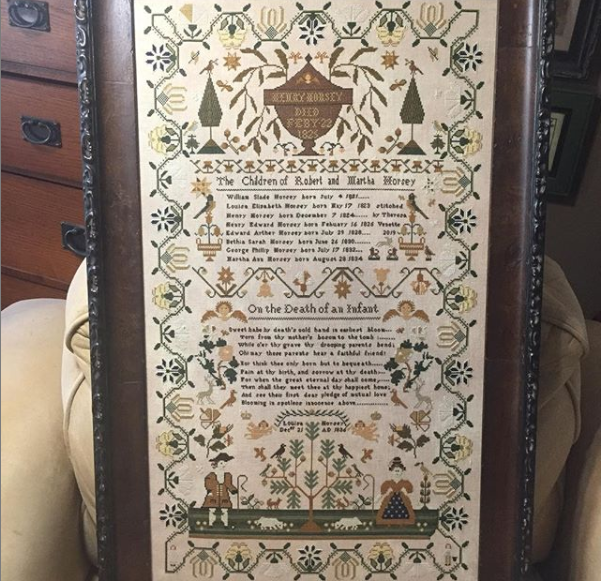 Louisa Horsey 1836 Sampler - This is a stunning sampler. Not necessarily my gig ~ I've never been fond of mourning samplers ~ but I can appreciate the amount of work in this & I love the borders!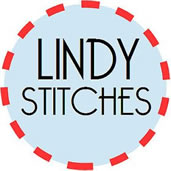 Another of the several new designers here this year, Stephanie's style is whimsical & fun & her finishing is perfectly suited to her designs.
Except Grandma's - Totally true ~ always has been, always will be!
A Mother's Heart - Oh my goodness, certainly mothers are exceptionally capable of loving!
Peacock Keeper - Love all the patterns in the border & the peacock feathers! And the colors ...
Penelope's Posies - this is a limited edition kit that includes the pattern, evenweave fabric, ribbon from Lady Dot, flower pins, backing fabric & crown charm.
Bunny Lace Trio - Aren't these adorable? Love the way the different borders really do look like lace.
Sticker Plates - these are fun stickers to put on the back of your pieces ~ especially if it is a gift.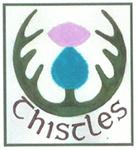 Lizbeth's designs get better & better! This group is another wonderful example ~ there are lots of things here I really like & can't wait to work on!
Snowstop - I REALLY like the name of this! But I also think this is a super cute design. Stitched on a large count fabric & finished as a weighted standup, it's perfect for a winter doorstop.
Blue Winter - If there are snowmen this tall, then the only place I wanna see 'em is ... in a picture!
Winter Sheep - HOW ADORABLE are these guys?? Love love love this!!
Fairy Woolly Winter - This banner is DARLING! You could easily stitch 4 different pieces if you wanted, but I really love it stitched like this.
Little Cabin in the Woods - Another wonderful design! I love that it's circular ~ and let me say, those trees that are on the angle are a BUGGER to design (or maybe it's just me...).
Birthday Girl - Doesn't this look like a sweet old-fashioned birthday party? LOVE that cake...
My Soul is Fed by Needle & Thread - What a perfect pincushion! And the colors & design make it such that you could easily mistake it for your grandma's antique!
Stitch a Flower Bag - Another great finish on top of another lovely design. Such soft pretty colors & the little sayings are really just right!
Summer is Fun - EXACTLY!! Although that little lamby is probably wishing for a haircut...just sayin'
To the Easter Party - Thank goodness this bunny has made friends with this chickie ~ that's either 1 great big egg, or a whole bunch of little ones. Good think she got a ride.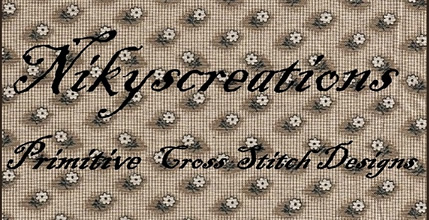 Niky always has wonderfully delicate primitive designs. And her finishing ideas perfectly fit her designs.
Easter Girl - This pretty little girl has the cutest dress! Love the bunnies on her dress & the chicks are sweet!
Bee Busy - This is beautiful! I absolutely love that soft rose color in the center & corners. And of course she creates wonderful bees.
Spring Scissors Sampler - I love this whimisical idea...I've seen it before & I love it each time. The scissors look pretty & I really like the little "spring" picture hanging from the middle.
Baskets - "May all your seeds be flowers". I like the different motifs she's used. Each one of these would be sweet stitched on its own & made into a fob or a little pillow.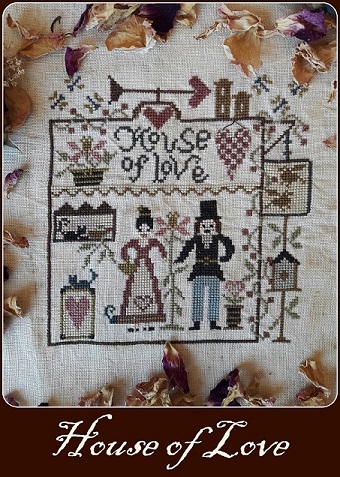 House of Love - I really love that checkerboard heart in the top corner& the heart weathervane ~ no doubt always pointing in the direction of Love. I see a kitty & 2 little birds...but where's the puppy love??
Monthly Season 1 - These are so sweet ~ I like them stitched on a banner like this, but I think I'd like them done individually & hung on a little grapevine wreath.
Monthly Season 2 - I think my fave here is "June" ~ love the chickens & the beeskep.
Nicola is one of the most knowledgeable sampler people I've met. Her reproduction designs are spectacular, but even more than that, I love her blog & FaceBook posts ~ she posts some wonderful articles from the Royal Needlework Academy, some articles about the handwork done on royal gowns long ago & currently (the work done on Megan Markle's veil & train is phenomenal) & she gets you to think about all the places we're STILL seeing needlework today.
In case I haven't mentioned it enough ~ it is the year of Elizbeth, Eliza, Elisabeth...you get the idea!
Eliza Knight - Nicola describes this design as being "the first efforts of a youthful hand", showing a decided aptitude for needlework & precise stitches. Um...yeah, my "first efforts" were about 10 stitches total in the shape of an ugly turtle!! Can you imagine stitching something this large & precise...200+ years ago??
Elizabeth Weston - this is my FAVORITE!!! There are so many things to see in this, but first & foremost I love the colors! But I also love the 2 fruit trees at the bottom, flanking the Temple of Fame. And look at the DOGGIES!! Something interesting to note: the medallion in the center, where Elizabeth has stitched her name, you'll notice the last 2 digits of the year have been removed. This is referred to as a "vanity sampler" ~ where the young lady has removed the exact year in order to obscure her age. Huh. Clever. Like I said, you always learn something interesting & neat from these samplers. This is why I tell you to jot down notes of what is happening in your life while you are stitching something...especially if it's something you know will become an heirloom. A few hundred years from now, some little girl or boy will find this & wonder about the person who stitched this ~ what did they like? Why was it important to them? How fun.
Martha James 1844 - There are so many interesting aspects of this sampler & of course when there's no real information behind the sampler, I project my own take on the images! First of all ~ fabulous border...this is known as a honeysuckle border for obvious reasons. Then Martha has stitched a row of gorgeous flowers. The requisite verse, and then the centerpiece. In reality this is a little boy holding the hand of the lady with flowers in a basket on her head. But really, doesn't this look like she has snagged this little ruffian by the ear (or the arm ~ I've been both the grabbee & the grabber) & is hauling his little self home??? Really?? You know it does, admit it.
Ann Ogden Sampler - This is more of a landscape sampler & it's almost like seeing a scene & building a story around it ~ this young lady is spending a lovely afternoon in her mother's flower garden, with her fluffy white cat in her lap & her pup chasing 2 little lambs thru the lawn. You have to believe the garden is full of roses, based on those 2 monster beauties at the top. What story do you see? I love doing this. In fact, I'm teaching Chris to do this ~ but not with samplers. I've had several times in the car with him where I have classical ballet music on (which he whinges about), so I tell him to listen to the music & tell me what is happening in the story based on the music. He balked the first time or two, but now he actually listens and comes up with...some interesting ideas...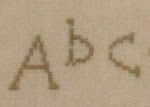 Just Stitching Along
Krista made her first trip to Nashville last year & is coming back this year with another great sampler.
Miss Lucy Calcutt 1826 - If this name sounds familiar that is because last year's release was Lucy's sampler from 1825 (when she was 8!). This year she's ever so much more mature! Last year's sampler is the 2nd sampler ~ I've posted it here, even though it's not new, because it's really interesting to see 2 samplers by the same person ~ you can definitely see a difference, but you can also see lots of similarities! This year's house is much larger, but it appears to be the same house, based on the front lawn & the similar appearance of the house. I like the grape plants in the new sampler & I love the vase holding that great big rose in the center. You can see that she's also branched out & varied her border this year. One last consistency to point out ~ look at the little bows on the 2 bouquets at the top of each sampler...the ribbons & bow are definitely done by the same hand! Very fun!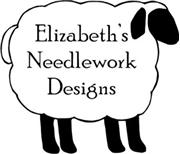 Elizabeth's designs are always a welcome treat! We've really become enamored by her "Antique" samplers. Her sheep are always a special treat too.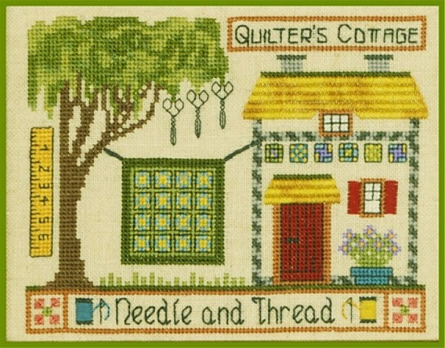 Quilter's Cottage - I wanna know where I can get a tree that grows scissors! Love this cottage ~ and this is where I can actually finish a quilt!
Antique Blue Sampler - This is MY kind of sampler ~ all about the blue!
Love You - Aaawww...this is so sweet. Who are you gonna stitch this for?
Black Sheep - this sweet little lamby chart comes with the heart charm & the overdyed fibers.
Night Owl - yesssss...another "Beth" design. I could soooo be a night owl...if only I didn't have to get up with the chickens. This chart also includes the charm & the overdyed fibers.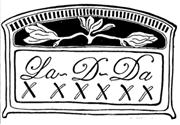 Lori's designs are some of our favorites to see. Also, she always brings KRINGLE, so we like to get there early...and come back a few times...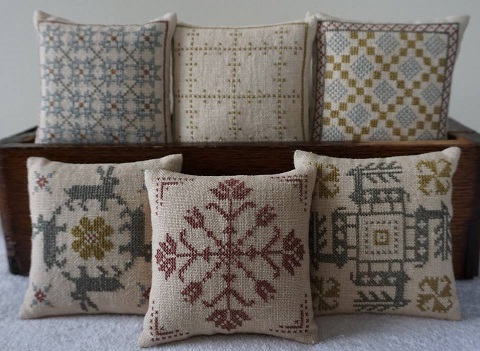 Quilts & Quakers - Love love love these little pinpillows. I can't decide if I like the geometic patterns (which would be pieced) or the critters (which would be appliqued). If I were quilting, it'd be easy (I do not do applique). But in cross stitch, I can do them all!
Three Lilies Sampler - The flower patterns here have a definite Art Deco/Art Nouveau look to them. What I really love though, is that first alphabet with all the little curlicues!
Sophia Graham - This is fun ~ I love the way she's reproduced it with the missing stitches still missing! It really looks like a geniunely old sampler.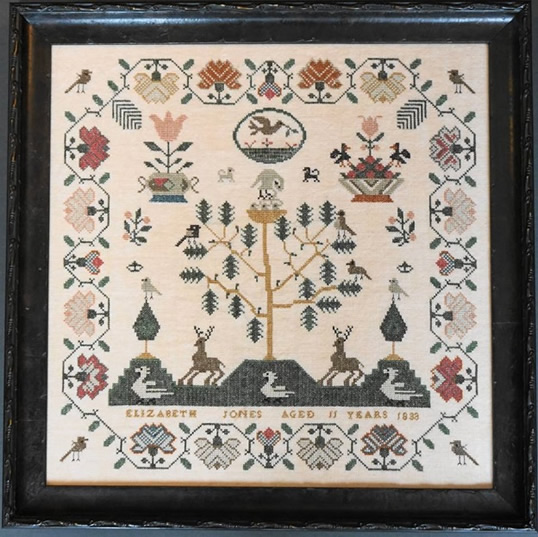 Elizabeth Jones Sampler - Yet another talented Elizabeth! Love the bird in the top motif where he's flying off with a leaf. I also like that mother bird feeding her babies in the nest at the top of the tree. And then of course, there's the border....
Home Needlebook - AcK! You know how I like my houses...this looks like a house from an old Shaker village. And then the inside is pretty & useful as well!
Folk Art Scissor Block - Make this striking little scissor block! You get the block & the artwork along with the directions to make the block!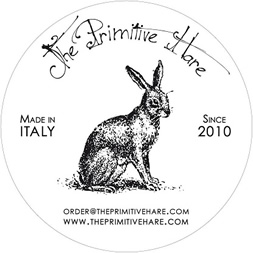 Isi's designs are always fun & clever! These are no exception & we can't wait to get our hands on these new goodies.
Hare's Seasons: Spring - This is the first of ...say it with me...4 different books each with LOTS of seasonal designs. The ones pictured here are about half of what's in the book. I don't know if the other designs are the same, but all of these designs are stitched on Isi's Wild Rose or Victorian Rose linen, or the bee linen that was released last year. This is fun!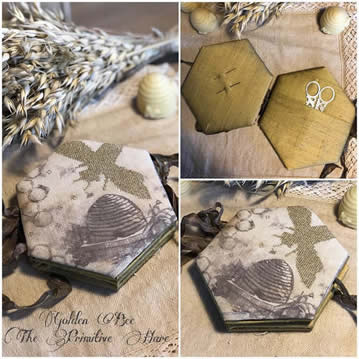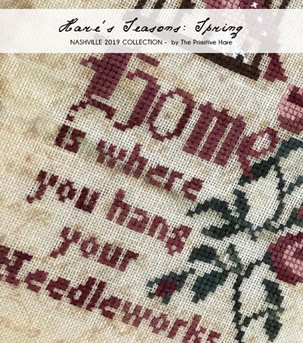 30PH Vintage Rose Linen - This piece is done in 1 color sepia-look.
30PH Wild Rose Linen - This piece has the rose in pink & more background color.
I can't decide which I like better!
Stitcher's Home kit - This is Isi's kit for the show & the kit includes the pattern, finishing instructons, button, fabric & wooden frame. It doesn't include threads.
Sampler Maker Queen of the Needles - YAY! A new queen of the needles book. Love this design.
Melissa - She's a lovely queen bee!
Tudor Maiden - And more wonderful English queens. The gorgeous flower jeweled fob & the painted wooden "shield" are also available.
Three new "Spirit of the Woods" have all of us happy!
The Fawn - Looks like the babies I see in my field!
The Owl - This guy looks fierce!
The Squirrel - Huh. It's Charlee's buddy!
Spirit of the Woods: Owl Scissor Fob - what a beauty!
Spirit of the Woods Pinset - These are just gorgeous.
Spirit of the Woods: Squirrel Scissor Fob - He's got his acorn....
Threadkeep: Owl Postcard - Owls are just so majestic, aren't they?
Threadkeep: Hare Postcard - This is darling!!
Threadkeep: Curious Cat - Aaawww...what a cutie!
Threadkeep: Ballerina - This image is very similar to an old picture of Anna Pavlova ~ the first ballerina to wear pointe shoes (how's THAT for some Trivial Pursuit knowledge??).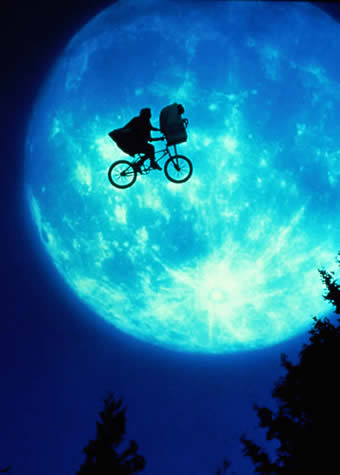 That's all for tonight ~ time to "Phone Home"! It has been a crazy day here...trying to get all my home ducks in a row before heading to Nashville! Got lots done today & still made it home in time to watch the Flyers play hockey outside...in the rain...AND WIN! Sorry not sorry Carolynn! Time to wind this up & send this off.
Hugs & stitches ~
Beth & all the night riders at TSS