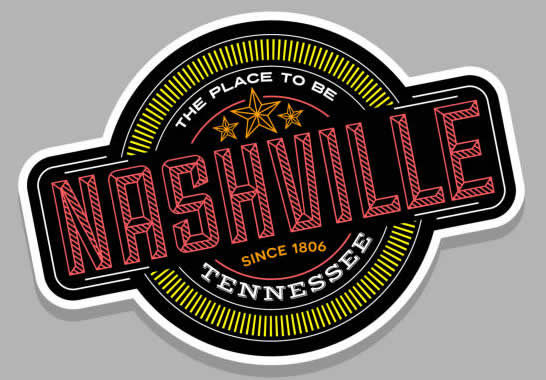 It is THAT TIME of year!
So much amazing new stuff is headed to Market & we are already drooling over all the possibilities!
But first! A little Nashville info.
You can order any time from now thru Wednesday March 8th & earn Nash Cash. PLEASE don't wait until March 8th to order ALL your goodies. We will combine all your orders into one for shipping purposes (for those of y'all who are not local). The sooner you get your order to us, the better our orders will be!
We are continuing to add items every day (as always happens this time of year). I know of at least 2 designers who are just photographing their models this week, so don't panic if someone you're looking for isn't up yet.
How does Nash Cash work?
Lots of y'all are already familiar with this, but read thru it just to refresh your memory (I had to read thru last year's because I couldn't get it right in my head...SHOCKING!).
With every purchase of any/all Nashville items, you will earn Nash Cash. How you choose to earn it is up to you.
You may CASH it, in which case you will earn an immediate 20% discount on your entire Nashville order. We will apply the 20% to your Nashville order. This includes any "ingredients" you order for new items. If you choose this, you will not earn any Frequent Stitcher's Points.
OR
You may STASH it, in which case you will earn 25% of the purchase amount that you can then use just like cash during May & June. One caveat: you cannot use your Nash Cash in conjunction with other discounts (so you can't use Frequent Stitcher's Points AND Nash Cash). You will, however, earn more Frequent Stitcher's Points.
Confused yet?
Here's a little table for comparison purposes.
ASSUMPTION: Your Nashville order totals to $100.00 (excluding tax & shipping).
| | |
| --- | --- |
| CASH IT | STASH IT |
| $20 discount applied to Nashville order | $25.00 stashed for you to use in May or June |
| No Frequent Stitchers Points earned | 100 Frequent Stitchers Points earned |
| | |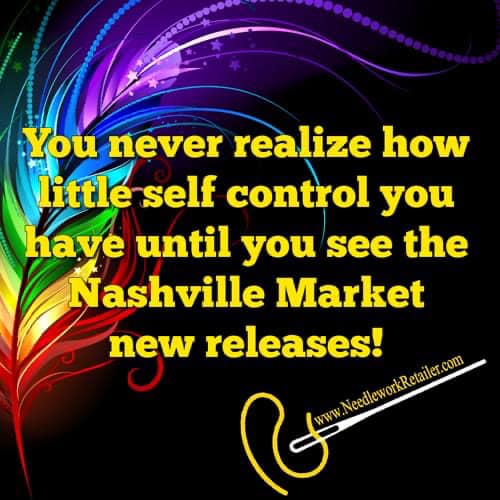 More Nashville info!
Lots of y'all have been asking if Molly & I are going to Nashville this year. We had absolutely planned to go (we have MISSED it so very much!). However, as we began making reservations, we started adding up the costs: airline tickets, car rental, hotel, food...all the things that are not directly related to buying goodies for you. And just like with everything else these days, those costs have skyrocketed. In fact, there are several of our favorite designers who have made this same difficult choice this year ~ and their costs are way more than ours (they have shipping costs for all their display stuff & inventory & models...or else rental fees for a truck to get it there). We gamed out driving instead of flying, but have you seen the price of gas?? Not to mention, that adds another 2 days to our trip because, while we could make the drive in 1 day, we would be exhausted (or should I say, MORE exhausted).
After calculating everything, we decided that we would be better served THIS YEAR to save those several thousand dollars (yep, it was well into the THOUSANDS!) & use that money to buy more stuff for you!
So, while we will desperately miss seeing so many of our friends, and we are also totally bummed to lose out on visiting our favorite Nashville haunts, we know we're making the responsible decision (oh how I hate being "responsible" ~ Nashville is literally my only "vacation" of the year...).
What does this mean for you? Well, a few things.
* We won't be hauling back 200 pounds of "stuff" ~ the exhibitors will ship our orders when they get back home. So we won't have it here that first week of March. HOWEVER, judging by last year's results, it sure didn't take them long to get those goodies to us!
* Anything that is a "Nashville Exclusive" won't be available to us for somewhere between 4-8 weeks after Nashville, depending on each designer. But they WILL be available!
* No Limited Edition items ~ this won't matter because we stopped playing that game several years ago & MOST of the designers have stopped as well.
We are planning to place as many orders as possible in the week BEFORE Nashville ~ thus the reason we want you to go ahead & place YOUR orders as you see things you want (remember, you can always add on more items as you see them ~ we'll combine the whole thing before totalling your shipping).
Another VERY IMPORTANT NOTE:
We will be charging your orders (exlcuding shipping ~ we'll do that last) as you place them!!! We hate this, but it is necessary for several reasons:
* This is a cash & carry show, and even though we are not "cash & carry-ing", we still have to pay when we order.
* Over the past few years, really since right around Covid, we have had increasing issues with people placing orders, & then when we go to charge their card (when it's ready to ship) the card is declined. We contact them & IF we hear back from them, we find that they ordered the same things from several other shops. Then as soon as 1 shop charges them, they block all the other shops' orders from their card.
This is not just happening to us ~ I have several shopowner friends who have gotten caught in the same mess. Most of us have now been forced to switch to charging mailorders in advance. Most of the time, this is done by a new to us customer ~ and that makes us suspicious of every new shopper...which really stinks, because we love new stitchers!!! So please don't assume that since we're charging you in late February that your goodies are ready to ship!
Thank you to all of you who are AMAZED that this would happen ~ we hate being jaded, but it has happened so many times now, that we're not even surprised anymore.
So feel free to start drooling along with us! And get those orders in early.
Hugs & stitches ~
Beth & all the Nashville Dreamers at TSS