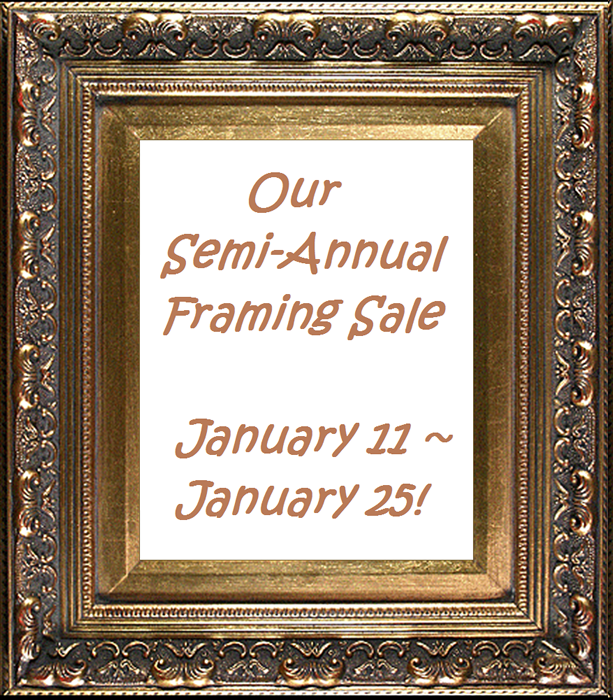 It's just about time for our January framing sale! Time to gather up all your finished stitching & bring them in to frame them, AND get 20% off! Lots of y'all have been asking for the dates ~ and I know that I didn't have the specific dates, so I'm sending this out all on its own! It'll also be in the newsletter (yes, I'm working on that too!).
On to the details ~
*
You have 2 weeks (and 3 Saturdays) to come in & bring in your goodies for framing.
*
Your pieces MUST be cross stitch ~ we don't have the capacity to block other types of needlework, and we don't have the resources or time to do other types of work.
*
Also, you need to pay for the work in total (obviously, less the 20% discount!) when you place your order.
I believe those are the only "rules", per se. But there is more info to share!
First of all, we have new choice for glass: Museum glass.
Now, lots of you ask, "Do I need to use glass? Should I use glass? Why isn't there any glass on your pictures here?"
So, the answers are: You can definitely use glass; you should use glass if it's going to hang in a kitchen, bathroom, house with wood-burning stover, or a house where someone smokes; if we used glass on our models, a) the walls would come crashing in from the weight, & b) we move things often & we've been known to drop things ON OCCASION, so that would be disastrous! Having said that, about half of us use glass on all our stitching & the other half pick & choose. I don't use glass on mine because I feel like you can see the stitches better without glass. HOWEVER! I am in love with the Museum glass. So on the off-chance I ever finish anything, that will be my choice.
As a review, we have:
* Regular picture glass...acid free & safe for your stitching.
*Conservation Clear...cuts the UV rays by ~95%, but is clear.
*Conservation Reflection Control...cuts the UV, and is basically non-glare; use this if your piece is going to hang in direct sunlight, otherwise it's going to look a little hazy.
*Museum glass...this is AMAZING. It almost disappears.
This list is in order of price as well, but I have to say, the museum glass is not TREMENDOUSLY more than the CRC.
One last item, we generally run about 3-5 weeks for completing the work. Now, as you may imagine, it gets CRAZY busy during the sale & the time stretches out. So the earlier you come the sooner it will be finished. We used to be able to tell ya which days are better, or worse, but these days we never know! So just know whenever you come by, we'll be happy to see you ~ we LOVE seeing everything y'all finish.
So gather up your work, and make your plans! We'll see you sometime between the 11th & the 25th!
Hugs & stitches ~
Beth & all the finished pieces at TSS