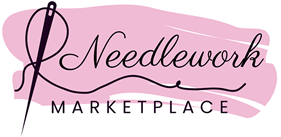 Starting this particular newsletter Sunday morning & planning to send it out Sunday evening! I've got a Phillies game & the Little League World Series Championship game to keep me company inside, even though it's a gorgeous day outside.
One thing to note: you can order these Marketplace goodies thru Tuesday & still apply your "Spend" or "Save". OBVIOUSLY, you can order these treats any time you like, but the Spend or Save option will end on Tuesday night!
Another note: I have not posted every single thing that every single designer has released. Having said that, if you see something somewhere else that you would like, let me know. IF I can get it easily (ie, there isn't an extreme minimum amount or something else that makes it difficult) I'll be happy to get it for you!
On to the good stuff!!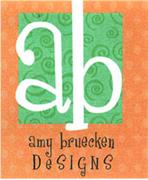 Amy's style is absolutely so fun! I relate to her tongue in cheek sarcasm deeply!! Not only that, her artistic ability is fun as well!
Be the Good - Oh how we need this. Not only that, but it's a really pretty design too!
Good Morning - Every. Single. Day. My days start at 5:00AM, as we have a 15-year-old doggy that I have to get outside to potty before any accidents occur, so when that alarm goes off at 5, this is just about how I feel! Having said that, I love my Maddee girl so much, that I am most certainly willing to do whatever she needs.
Stitchcraft - Bwahaha! Sometimes I wish I could create a spell to magically get my unfinished pieces done!
Trick & Treat - A cute pair of friends, ready for Halloween!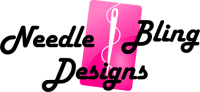 Theresa & Brian continue to bring us fun designs! Not only that, as you may already know, they are dyeing fabrics as well. Their fabrics are wonderful & one thing I truly appreciate is that they have grown their selection SLOWLY! Why does that matter? Well, they can concentrate on fulfilling those 15 or so colors, as opposed to having 50 colors where everyone wants a little bit of each. A convoluted explanation, but it's how I feel about it. Also, their colors are great!
Cookie Dough - Now, I LOVE that name!!! The color is the DMC equivalent of 840.
Broomgrass - I think this is gonna be a good new neutral color. Its DMC equivalent is 640.
I know that I've only posted prices for linens, but these fabrics are available in 14ct, 16ct, 18ct, 28ct lugana, 32ct lugana, 28ct, 32ct, 36cct & 40ct linen. Put a note in the comment section of your order if you want a different count!
Spooky Eye Chart - I love this! It makes me laugh! While it's shown on orange fabric, it would be cool on bright purple or bright green as well! If I stitched it on purple, I think I'd do the letters in orange!
Tonight is Halloween - What a fun design! This is perfect for Halloween.
Joys of the Seasons: Summer - What a happy chartpak this is! The only question is whether you'll stitch the pillow with them all together or will you stitch them individually...
Joy of the Seasons: Halloween - 4 fun designs in 1.
Joy of the Seasons: Autumn - Fun fun fun for Fall!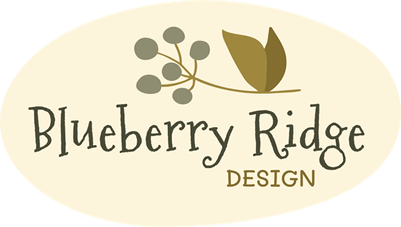 Emily is a new designer, but her work may feel a little familiar! Her mom Lori is the driving force behind Pansy Patch Quilts & Stitchery! Emily definitely has inherited her mom's ability to design whimsical charming designs!
House on Strawberry Hill - You know we love this one! The soft colors are lovely.
House on Blueberry Hill - Love those 3 trees on the side ~ they look like lollipops!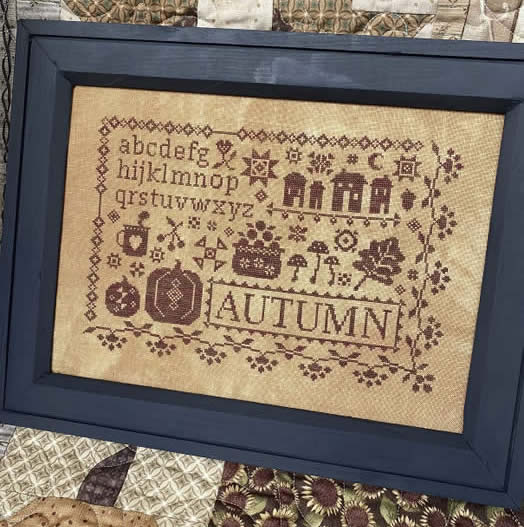 Seasonal Sampler: Autumn - There are so many things to love about Autumn & she's featured lots of them here.

The gals at Twin Peak Primitives continue to delight us with creations large & small. Their primitive flair is very appealing!
Twin Peak Primitives Santa 2023 - This annual Santa has become something we eagerly anticipate & this year's is no exception. Love his friends ~ especially that beautiful owl!
Twin Peak Primitives Snowman 2023 - Another annual release, this guy is adorable! I'm sure he's supposed to be heading out to clear the pathways, but my very first thought was he's going to play broom hockey! I don't know why ~ I never played that ~ maybe his boots look like skates?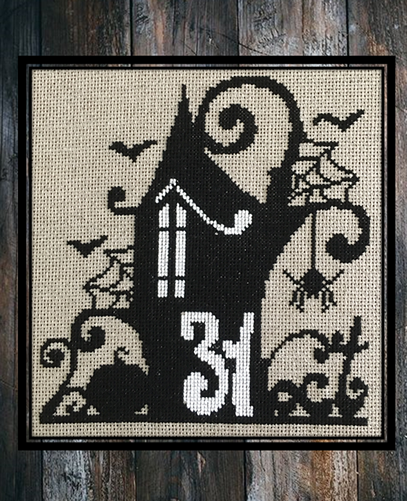 31st of October - What a fun design!! Love that haunted house.
Cardinal Sampler - Ohmygoodness, I think this is gonna be super popular! So many folks love cardinals & we think this sampler is just lovely!
Little Women - How many of y'all grew up with these 4 girls? ME!! I did!!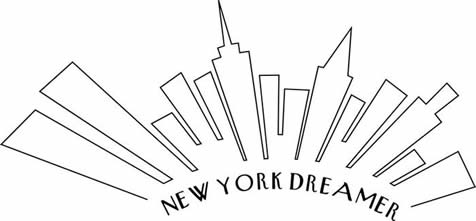 These new designs are such fun! I hope you like them as much as I do.
Autumn in a Box - Therese is excited to get her hands on this one. Not only is the Autumn design lovely, but what a cool way to finish it!
Home is Where the Fabric & Floss Are - How great is this for a little stitching tray? If you've been in the shop, then y0u know we have a couple of these trays made from some designs by La-D-Da. As soon as Therese saw this, she said, "Hey, that's like our other trays! What a fun way to finish this!" Couldn't agree more.
Laundry...Again? - Isn't this the truth? This is just right for decorating your laundry room.
Home Sweet Saltbox Home - This is just a pretty design. I love the patterning in the house, love the border, love that tented finish...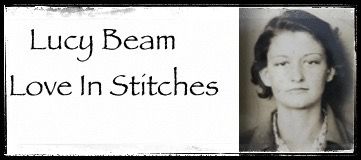 Becky has such a unique flair & ability to dabble in many different areas! And yes, we love them all.
Merry Santa - What a jolly old guy!
Merry Snowfall - Frosty & bright!
Merry Snowman - I love the rakish angle of that old silk hat!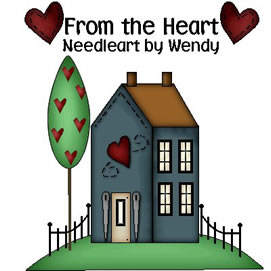 Wendy's samplers ~ large or small, original or reproduction ~ are always eye-catching & pretty!
Eliza Brown - I just love this sampler! That top border is really interesting & it's obvious that Eliza loved trees & flowers.
Quaker Friends - A pretty little sampler, sweet verse & a scattering of Quaker motifs.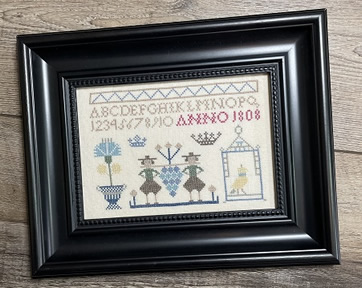 Little Dutch Sampler - A charming small sampler ~ quick to stitch & lovely to look at.
Susan Crowther - An absolute stunner! While the verse is somewhat morbid (as many are from that era), the design work in those floral sprays is amazing! All surrounded by a fantastic border.
Elizabeth's Winter Basket - What a pretty little design! I also really like how she's included the small pinpillow, adapted from a motif in the original sampler. Wendy does this frequently & it's a nice reminder that the sampler is there to inspire!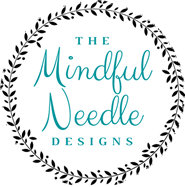 Dawn's new designs may be exactly what you need for your next project!
A Year of Gnomes - What a jam-packed treasure for all the gnome lovers among us! These are sweet, fun, and not so huge that you can't actually stitch them all.
Ghosts Will Rise - I love the verse on this, but even more, I love that CAT!! What great eyes!
Quaker Birds - I love this. Now I love Quaker samplers anyway, but I really like that this one's on point. So fun!

Debbie is my go-to designer for inspirational designs ~ and sometimes inspiration comes from unexpected places...like chocolate or stitching! These new goodies are what we generally think of when we're looking for religious things.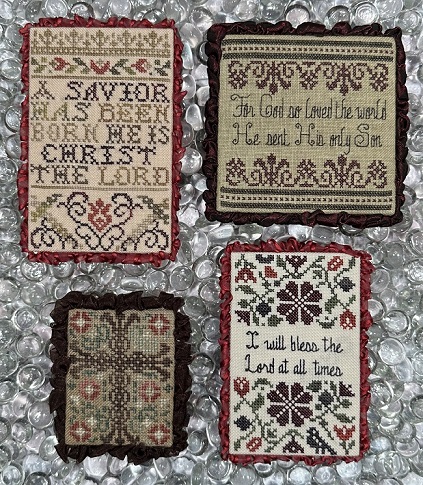 Christmas Pinkies VIII - This year's ornaments celebrate "the reason for the season".
He is Faithful - I love this reminder. We are always striving to be faithful in our faith, but it's good to be reminded that God is faithful first.
He First Loved Us - Another lovely reminder ~ we would not know love without His love first.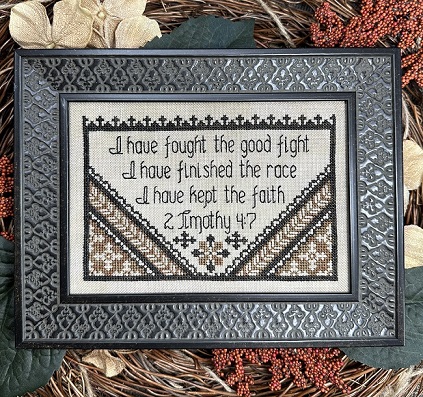 Good Fight - I like her suggestion that this would be a good gift for someone who is retiring!
Isi continues to delight us with her incredible imagination & creativity! She never disappoints!
Bees' Sanctuary Stitching Box - Therese is so excited to get her hands on this one! Not only for the lovely stitching, but she is enchanted by the finishing! You know she'll be all over that.
Mrs Martha - This is what she calls a "semi-kit" ~ it includes a small piece of "We the People" fabric that's just right for this sampler. And while she's named it after our first First Lady, I think she more accurately represents our hometown girl, Betsy!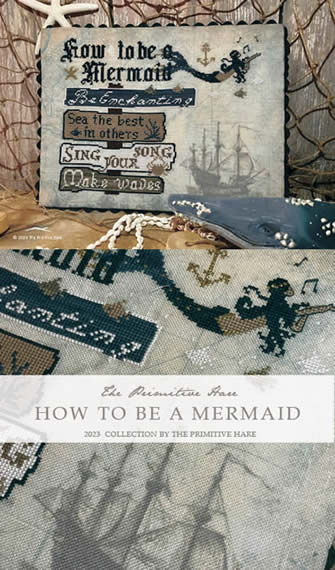 How to be a Mermaid - Now we all know that Isi has given us a great selection of mermaid designs, but this is for all of us mere mortals who can only dream of being a mermaid. A few words of guidance!
Pumpkins are Important - I love the verse on here: "A pumpkin a day keeps the goblins away". And the pumpkins are hilarious ~ the one on the right reminds me of the Grinch!
Winter Coziness - That picture is the image of a lovely winter day: a kitty, a warm drink & almost enough books for the day. I also like that plaid pinpillow.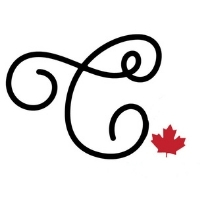 We are SO EXCITED for this new batch of stitchable wooden Christmas ornaments & bookmarks. One thing to know about these kits: they include EVERYTHING you need to stitch & finish it. You get the chart, the wooden ornament, the floss & felt finishing for the back! Just stitch, cover & you're done.
Ugly Sweater: Fair Isle - I think this is a fun new addition to this series.
Ugly Sweater: Scandi - I think this one's actually kinda pretty! Is that possible?
Ugly Sweater: Halloween - This is fun! Ugly sweaters aren't just for Christmas.
Baby Penguin Ornament - This guy is too cute!
Gingerbread House Ornament - A perfectly sweet ornament.
Woodpecker Ornament - a great one to gift to the bird-lover you know.
Cardinal Ornament - A pretty pretty cardinal that you can bring inside.
Snowman Ornament - Isn't he cute?
Monarch Butterfly Ornament - This one's for all y'all out there who nurture these beautiful creatures.
Northern Lights Bear Ornament - Love the colors in this one. And who doesn't love polar bears?
Landscape Bookmark - A slice of beauty that will make you smile when you open your book.
Floral Bookmark - A pretty floral pattern ~ gift it with a book on gardening for a special treat.
Geometric Bookmark - I do so love geometric patterns! This one's fun!
Simona is one of the burgeoning group of Italian designers we love! One thing I find so intriguing is what a great job she does with designs that are most definitely American in focus.
Festival of Harvest - What a lovely autumn design.
Festival of Ingathering - Another great autumn design. These 2 designs feel like a great pair.
All Good Things - So many things to see (& stitch!) in this design.
Happy Halloween - Seems like a cozy little place....
Ghostly Music Sewing Set - What a fun creation! And yes, you can make that drum into the music box (you'll want to be sure to get the music box finishing kit!).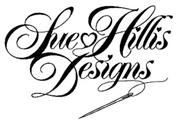 Sue's fun designs never disappoint, from vintage bikes (& now a tricycle!) to charming hoop finishes. She also has lots of great finishing ideas.
Life is a Stitch - Wouldn't this be fun for decorating your stitching nook?
Save the Bees - Sweet!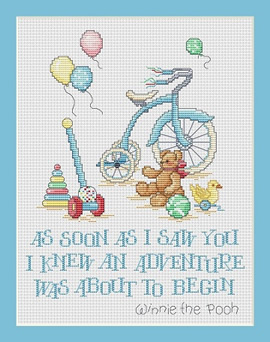 First Adventure - Talk about vintage, this design is loaded with all the toys of my childhood, as well as that sweet verse from Winnie the Pooh.
Journey Home - A lovely design & a sweet verse.
Life & Liberty - A patriotic birdhouse for 2 bluebirds of happiness!
Sports - Perfect for everyone who needs a little something to stitch for the sports lover in their life!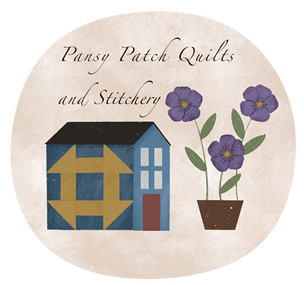 Lori's designs are definitely influenced by her love of quilting. Needless to say, that makes them more attractive to me too! As you check them out, scroll back up & note the similar feel to her daughter Emily's designs from Blueberry Ridge.
Autumn Garden at Cranberry Manor - The next installment in the Cranberry Manor garden series, how fun is this? There are so many things to see in this ~ a great border, a cute kitty, a fantastic house, pumpkins galore...
Betsy's Halloween Basket - I am in love with this basket series & I'll be adding this one to my stash (not that I've stitched the other ones yet...).
Peacock Manor - Another house I love, and that peacock is fun too!
Red Bunny Sampler - Just a fun sampler all the way around!
Wisteria House - The first house on Wisteria Lane (wasn't that the setting for some TV show??), I'm all in with this one. Hydrangeas may be my favorite garden gem, but wisteria is a close second! And this house is sooooo pretty!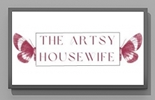 Gigi describes her style as Bohemian-inspired & I love it!
Pretty Bird - Why yes, it is a pretty bird! It also has a bit of a Fraktur feel to it & around here, we love that!
Frolicsome & Mirthful - Fantastic bowl fillers! I really like these.
Midnight Garden - This feels kinda Art Nouveau to me. I love the flowers growing out of the coffee cup! That just feels fun!
Oona Owl - I feel the Bohemian flair here, and a little elegance too!
Golden Delicious - Do the apples grow better in the light of this orange moon? Who cares ~ it's pretty! Love that top & righthand border!
Pear Hill - Love the pears, but I really love that purple house!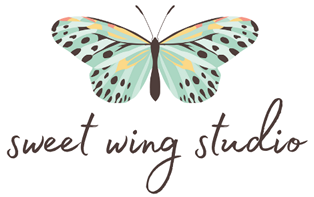 3 lovely new designs from this newer designer. I especially like the stitching friends one.
A Little Autumn - So many wonderful images of autumn! I especially like the little squirrels.
Harvest Butterflies - rich autumn colors make these butterflies even more lovely.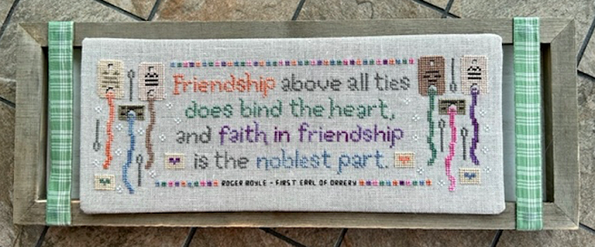 Noblest Part - I just love all the stitchy motifs here! It's not easy to recreate those floss tags in cross stitch, but she did it!

Lindsay is another new designer & her designs are fantastic! I like the many places she's added some long stitches to add dimension to the design without adding difficulty. Mostly I like how fun they are!
Spook-tacular Party - I love so many things about this: the fun patterning on the pumpkins & leaves, the cute faces on the ghosts and check out those stitches trailing off the ghosts! Those are just long stitches, but how much fun does it create?
Santa's Moonlit Ride - This just looks magical, which is exactly what Christmas Eve should be. Also, check out the detail of those long stitches creating the stars in the sky.
Rabbit's Bright Winter Night - What a sweet little bunny, all dressed up for the holidays.
Squirrel's Bright Winter Night - Another adorable guy, definitely ready to decorate for Christmas.
Love Blooms - This is such a fun design & truly it's those little surface stitches that make all the difference!
Sweet Summertime - My goodness! So many great reminders of summer! I'd definitely keep this up year-round to remind me of happy times when it's cold & dreary & grey outside.
Watermelon Crawl - LOVE this! Again, her use of patterning in the watermelon slices is so eye-catching, but I also love the "anties" carrying off the strawberries.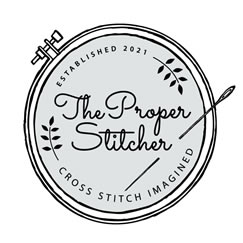 Annie is a new designer, but she may be familiar to many of y'all from her Flosstube channel! She definitely has a fun falir to her work!
Steampunk Penelope - Steampunk Percival
Therese loves this new couple! I will admit to not being so aware of "steampunk" stuff, but the more I see of the quirkiness the more I like it!
Ezmerelda's Blackbirds - Aaaww, they're so cute!
Autumn Sampler - A fun little sampler to stitch while the leaves are falling.
Sweet Blessings - I think this is so pretty. It looks like a pen and ink drawing that has been translated into cross stitch.
Zeresh Andrus - A simple schoolgirl reproduction sampler ~ just right.
Caroline Carter - Do you think Caroline was practicing her flower & tree motifs for decorating linens later in her life?
Clarissa's Garden Sampler - I like the soft colors in this delicate little sampler.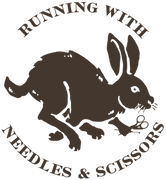 Sylvia has created more lovely samplers for all of the rest of us to enjoy!
Love You More - What a lovely anniversary sampler to make for your sweetie!
Tombstone Angel #1: Evelyn I*Let - The beginning of a fun series! I think there are lots of stitchers who would like this on their tombstone! I also like her name!
Innocence of Childhood - This is a lovely little streamlined sampler. The verse is in French but Sylvia has also provided an English translation. It loosely translates to: "Yes the candor attrributed to childhood. Go speak what the heart feels: respect, love gratitude. Here are my wishes, here is my happiness". Actually a very nice verse.
My Father's House - A lovely Dutch sampler, with a fantastic border. You know I love that house too!!

Joanna's designs are definitely influenced by her Australian home & I love that.
Rosella Rests - Adapted from an antique sampler, this beauty is sure to be the prettiest of the flock.
On Kindness - Adapted from an antique sampler, this would be a lovely gift for a friend.
Notre Dame Alphabet & Joyeux Noel - A gorgeous French sampler with several awesome alphabets!!

Annie's brash bold style always makes me smile & often makes me laugh!! I'm sure you'll love these.
Room with View - I'm not sure what the view might be, but I might be pulling the blinds!
Sheet Faced - I freakin' love this one!! Sheet faced!! Bwahaha!!!
Boo Cat - Too cute! This will be adorable in your Halloween treat bowl (just don't give it to any trick-or-treaters!).
Mr & Mrs Dracula - They are hilarious!
Autumn Scarecrows - Soemthing about their smiles makes me think of the Wizard of Oz.
Mr & Mrs Autumn - Those apples look tasty!!
German Santa - Oh Lise, you would have LOVED this one. As soon as this popped up I thought of our girl & all the German Shepherds she loved.

Jan's designs have become some of my favorites ~ I love her color, her flair, her imagination...I may not stitch them all, but I seem to have collected the vast majority of them!
Huntindon Hall Sampler - I can't even pinpoint exactly what I love about this, but I LOVE this sampler. The alphabet font on the left is different, I love the blues, I like crowns too....you name it, I like it!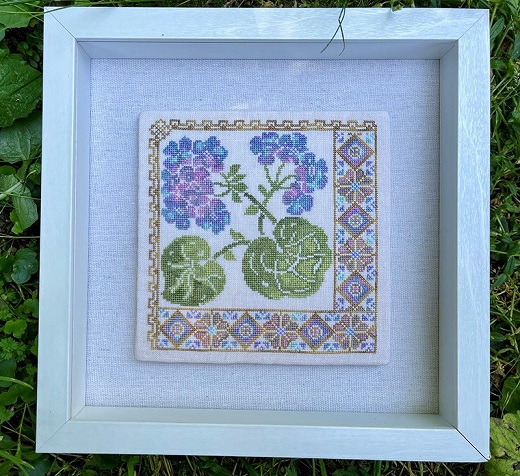 Florigraphica: Hydrangea - Hydrangeas are my favorite bush! I love them in all their different kinds & colors, but that periwinkle blue color shown here is my all time FAVORITE! So, yep, this one goes right to the top of my stash! PS. I also like that border on the right & bottom!

We've all come to love their overdyed fabrics, but their samplers are also just as amazing!! They've not released new colors of fabrics, because, as they've noted, while the fabric pipeline is moving again, they are still looking at a 3-4 month timeframe from order to shipping. And let me say that as a shopowner I appreciate that. It is always so hard to post something "New", but with the caveat that we won't have it until next year! So for now, we'll content ourselves with enjoying their new samplers!
Brenda's Sampler - Love that border & the house with the pup in the yard! This would be a lovely gift to give a new family or a family's new home.
Acorn Manor - Oooohh...another fantastic border ~ love those acorns! And the rich colors of autumn really pop.
Elizabeth Campbell - That's 3 awesome borders in a row! Yep, I know I've got an issue, but stil... I like this smaller sampler & the well-balanced linear feel to it really appeals to me.
Two Red Houses - I'm not an A&E fan, but I do like this sampler!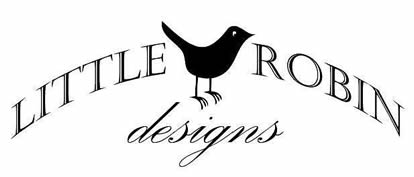 Robin continues to delight us with her design style! These new creations are no exception.
Eliza Easom Sampler - A simple schoolgirl sampler, all stitched in 1 color.
Charlotte Bridger Sampler - Love the verse on this sampler ~ it is good to remind ourselves that we need to be more childlike.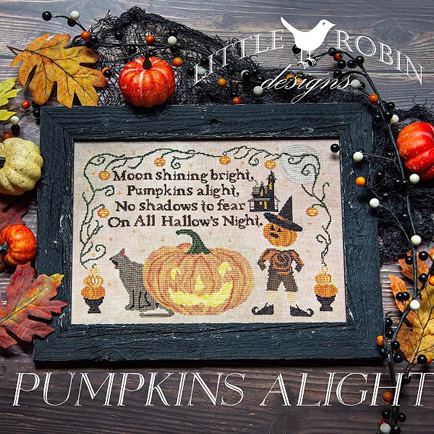 Pumpkins Alight - Now why does that cat look bored? Halloween night is no time for sleeping!!

Rossana's style has captured my heart since her earliest designs. And then our friend Kathy used several of them as darling birth announcements (with just a few alterations) & made me love them even more! The whimsical feel of these designs never disappoints.
Halloween in a Jar - I think this is a cool premise (it took me a minute to see the jar...), and this design is chock full of spooky things, from the jack-o-lantern flag in amongst the black roses to the haunted house to the skull & cross bones flag in that basket of pumpkins...loads of haunting treats!
Halloween Party - This looks like a totally fun party crew. Beware of partying with redheads though...I know of which I speak (between a sister & a college roommate...).
Cup of Halloween - Okay, confession: I thought that cup was a ghost...
Santa & the Gingerbreads - Sounds like a boy band! And just as tasty!

Holly's designs are so intriguing & we're looking forward to getting our hands on them!
Stitchy Witchy Bell Pull - What a cool design! I love that verse & all the different motifs! On the right, see the acrylic hardware she is offering as well.
Frankenstein Sampler - Spooky!!
Hocus Pocus - Not gonna name names (DEB!), but I know QUITE A FEW of y'all to whom this applies!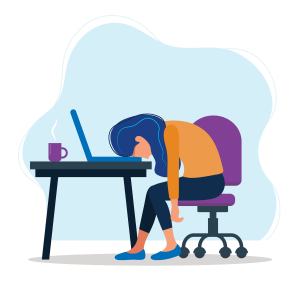 Well, this is just about exactly what I feel like! I'm on hour number 10 today & it's been all newlsetter, all day. And that is the good news, because that tells ya how much stuff there is that I want all y'all to see! Thank goodness for baseball today ~ I went from the Phillies game (which was AWESOME!) to the Little League World Series Championship game (which was won on a walkoff home run by California, after the team from Curacao had tied it up with a grand slam home run!) to Sunday Night Baseball featuring Atlanta (gag!) vs San Fran (also, gag). Obviously I don't care who wins the final game ~ I'm actually trying (not very hard) to cheer for Atlanta because of a complicated playoff standing where San Francisco is chasing the Phillies (therefore the more SF loses, the better). However, I really just can't bring myself to cheer for Atlanta. Not gonna happen. So at this point I'm just hoping for an extra long game and that they bang the crap out of each other (currently the Atlanta pitcher just walked in the tying run....suckah!!).
Anyway! Be sure to check out all the great new stuff headed our way ~ whether it's coming from this Market or just new stuff for the sake of new stuff! In the meantime, I'm gonna wrap this alll up & get it on its way!
Hugs & stitches ~
Beth & all the marathoners at TSS
PS. San Fran won. Meh...