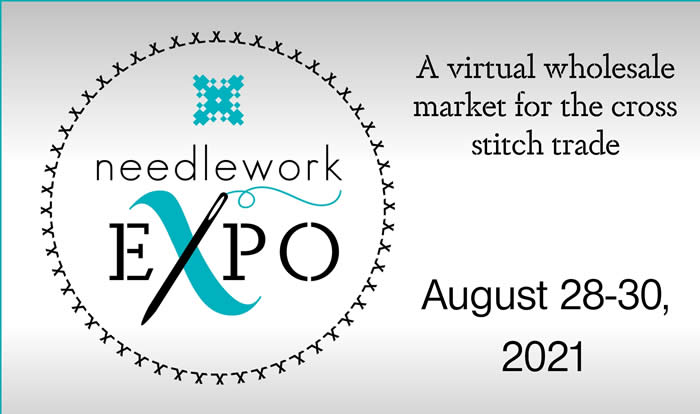 Well, it's hard to believe that we're at the end of August! Where on earth does the time go? This is crazy! We are excited to say that there is another Needlework Expo coming up from the 28 thru the 30th. Lots of y'all had fun during the Spring Expo & this one is even bigger! So get ready. It will work just like spring so read on for all the details!
First of all, I am posting the new goodies as fast as I can. They are all in a category called (very originally) "2021 Fall Expo". Since we don't have floors to "visit", I haven't separated them out in any way. Here is the link to go to the full listing: 2021 Fall Expo. I will continue to add goodies to this category, so check in often. There also will be a direct link from the homepage on our website. I'm working on this as often as possible, while also getting things done at the shop! So if you see something coming from the Expo that I haven't posted yet, please feel free to email us about it ~ it may be that I just haven't had time to post it yet. Keep in mind that, just like a regular Market, we can't possibly get EVERYTHING, but we will definitely be getting lots of things we've seen so far! And if there is something you want that I haven't posted, we'll be happy to get it for you if we can ~ ie, if we can get it for you without having to get a minimum amount of things we can't use.
One note to keep in mind as you browse thru the offerings: I have TRIED to include "ingredients" for as many items as possible ~ fabrics, fibers, embellishments & more. As you know, thanks to this ongoing pandemic & its effect on the worldwide economy, our fabric & fiber suppliers are still struggling to get their inventories back to a comfortable level. It is not as easy as just "getting stuff in". The most popular counts & colors are still scarce ~ BUT, we are seeing progess.
What is the point of all that yipyap? I'm getting there! As I am posting things, if I know that the originally used fabric is not gonna be in hand for some time, I am posting a close equivalent. It may be a solid fabric instead of an overdyed, or a fiber from a different company. You will know if I do this!! On the additions (where you can add fabric, fibers, etc) I will post it this way: TSS Fabric orTSS Fibers. That means this is our recommended alternative. So if you are a purist & you want it EXACTLY LIKE THE DESIGNER, chances are you're in for a wait (and is that really a problem? I mean, I have so many projects in the works right now that theoretically I won't be working on a new design for YEARS!). Now, if we can't find something that we feel like would look equally nice, we won't post an alternative. Keep in mind, there may be an unusually long wait.
Now, on to the more fun stuff!! EXPOsavings returns!
Here's how it's gonna work:
With each order you will earn EXPOsavings. Depending on when you want to use it, you'll get to determine how much you accrue.
*If you choose to EXPEND your savings on your EXPO order, it will equal 20% of your order. (So, if you order $100.00 worth of goodies, your total will be $80.00 after you expend your savings).
*However, if you choose to EXPAND your savings, we will bank them for you at 25% of your purchase. You can then use that expanded savings on a future purchase any time between Oct 1st and Nov 30th. So, if you order $100.00 worth of goodies, your total will be $100.00. You will also add 100 points to your Frequent Stitcher points. And you will have $25.00 to spend on any non-discounted purchase (also you can't use it on framing or finishing).
Make sense? 20% if you use it immediately, 25% if you save it for later!
One last thing. This Expo is being set up in a similar manner to a Market in many ways. One of the ways is that we have to pay for our orders when we place them (this is the way it works when we go to Nashville, except that when we're in Nashville, we get to bring it home immediately. Because of this, we will be processing your orders the same way we normally do for the Market. We'll begin invoicing & charging your orders next Monday. Needless to say, we won't have anything to ship ~ from the EXPO ~ for at least a week, probably more like 3 or 4. Some things may come in RIGHT AWAY & we'll definitely be getting them out if that is the case, but again, factor in the COVID delay to your thinking. Also, as many of you have discovered this year, just because it goes out, especially via Priority Mail where you should receive it within 3-4 days, that has NOT been happening. We have watched packages meander their way across the country...when they're only supposed to be going 5 miles down the road. And joy of joys, postage continues to go up & up & up. We face a conundrum these days. We want to send your package off for the lowest expense possible. However, especially in light of the challenges of USPS, we vastly prefer to use Priority Mail, or even UPS, so we can at least track it & if it doesn't arrive, they are responsible for the cost of the loss. So PLEASE KNOW that we do weigh those choices seriously. If your choice is for us to send it plain old first class mail (which can only be done if it weighs less than 13 ounces I believe), you can tell us that in the comment section. Just know that IF IT DOESN'T ARRIVE, we can't assume the cost of replacing it ~ meaning, you'll have to pay for it all over again. That is the reason we don't like to take that chance, especially in the current environment. Now obviously, if you're just ordering a skein of floss, we're not gonna charge you $4.00 (even though that's what's gonna come up on your order). Please know that we will adjust that accordingly when we process your order!
So! I think that is all the yipyap I needed to get in your hands, as far as the Needlework Expo is concerned. You can feel free to start ordering any time! You can place as many orders as you like, thru Tuesday August 31st. Some designers have yet to post things so we won't know what's coming until next weekend. We will combine all your orders together into one in order to consolidate your shipping fees & your EXPOsavings.
You need to tell us whether you want to:
EXPEND your savings immediately
or
EXPAND your savings to use later.
It's only a 1 letter difference, so type carefully! If you forget, you can always shoot us an email.
Oooohh..one more thing! PLEASE PLEASE PLEASE use our online ordering system. Please don't email us your order ~ we get easily 200-300 emails a day...and most of it is junk! In the sorting process some GOOD emails go astray. And then it's gone forever. Whereas, if you use the online ordering system, there is always a trail we can track back! Naturally, you can email us any clarifications or changes you want to make! And as I said earlier, you can email us if you see something you like somewhere else that you'd like us to get for you.
I plan to work on some FUN newsletters with all the goodies, but I wanted to give y'all the heads up that we're getting geared up!!
AND I'm already doing an Expo newsletter with lots of pictures & yipyap! So keep your eyes peeled.
Hugs & stitches ~
Beth & all the EXPO~experts at TSS