Time is almost up!!
The deadline for FINISHING & FRAMING for the end of the year is
SATURDAY SEPTEMBER 17TH!
I've had this in earlier newsletters, and I apologize for not getting this ~ by itself ~ off to your sooner.
Therese is already overwhelmed with loads of finishing, in addition to trying to spend as much time with her father, as he is dealing with serious medical issues.
And I am still handling framing duties. Enough said. I cannot begin to thank each & every one of you who have shown tremendous patience this whole year as I struggle to juggle all the various jobs here, in addition to my upheaval in my personal world!
So, get your projects together & plan to get to the shop by Saturday September 17th. After that, we ask that you hold off until the first of the new year.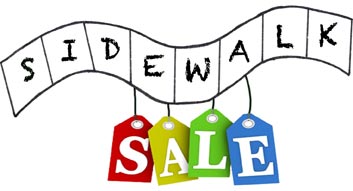 NEXT!
We have a date for the Sidewalk Sale!
We are having it on SUNDAY, OCTOBER 9TH!
Time: 12 noon ~ 3PM.
We had originally planned to hold this in September, but we are STILL getting in lots of goodies that we want to include & organize, and so we decided to push it a couple weeks so we could give ourselves ~ and you ~ time to get ready!
If you have things in your stash that you would like to find a good home for, please feel free to bring them to the shop & we will consolidate them with things from other stitchers. We are organizing designs by category, much like we do at the shop. On Sunday October 9th, you can stop by, purchase a bag from us, and then fill it with anything from the sale! A few of us here have already spotted a couple of out-of-print, high demand charts that we're itching for (but we're restraining ourselves until y'all get first shot!).

There's lots more stuff going on, Expo goodies arriving daily (SO FUN!), new things on the way....
But I wanted to get this off to you with just this info so that it didn't get lost in a yipyap newsletter!
More fun news to come soon.
Hugs & stitches ~
Beth & all the Headliners at TSS