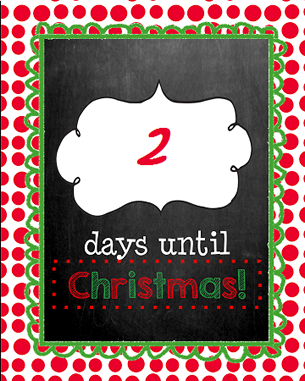 Woohoo ~ it's gettin' real now. How do I know? I mean aside from the calendar? I only have ONE pending newsletter remaining! Whatever will I do with my time? Uh, well, my laundry might have some ideas...and Charlee is DEFINITELY ready for me to walk away from my laptop in the evenings. I hope you are settled in to your Christmas locale & looking forward to the magic of the season.
I know several of you have new additions to your family & that's always fun. If they are not infants, but rather tweens, teens or adults, be sure to include them in any planning ~ asking them what they've enjoyed in their past Christmases & finding a way to incorporate something in with yours is just another way of welcoming someone. Everyone has a treasured memory ~ whether it's cookies (COOKIES! YES PLEASE!), or some idea for unwrapping gifts ~ and if that person is new to your gang, no matter how self-confident they are, will always have a bit of "where do I fit in here?". Show them they belong. And that is part of the overarching reason for the Christmas holiday.
December 23rd is Metric Conversion Day!
YIKES! Talk about a new addition! I know we all learned all that in school, and then we promptly erased those lessons from our brains, never to be used again. I have no clue how we managed to stay with this "imperial"/farhenheit system after all these years. Did you know that there are only TWO other countries in the world (!) that don't use the metric/celsius system.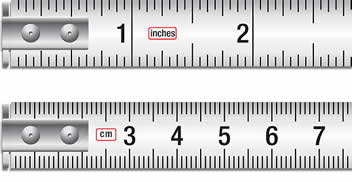 We only really see differences in measurements when we have designs from Europe. They sometimes give design areas in centimeters, which throws us all off. However, as long as we have the stitch count we can figure out the size ourselves (and of course, Tracy has an app for that!). More recently, I've been running across thread counts given in threads per cm. Ugh! Now that, I can't figure out. But I did find a listing somewhere on line & I now have it taped on my wall!
So today, we're featuring something that gets measured more commonly in cms ~ FABRIC!
That's right, all fabric is 20% off today. So check out your stash & see what new projects you might like to get fabric for! I will tell ya right now that our fabric baskets look like they've been attacked by wolves! But we do have an endless stream of orders always on the way.
We try our best to keep our fabric lists as current as possible, but if there is a color or a count you're looking for, just email us & we'll fix ya up as long as it's available to us. Just click on either of the baskets above & go directly to our fabric category.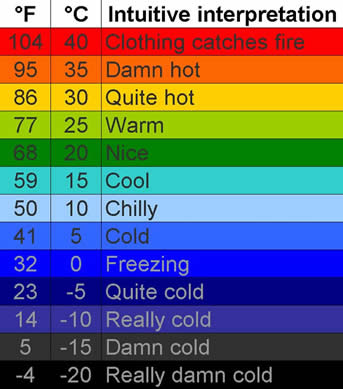 Check out the chart above! Currently, we are teetering between "chilly" & "cool", and I'm not gonna complain about that! And while I myself prefer somewhere between "quite hot" & "damn hot", I was just reading that in parts of Australia they are set to reach 50 degrees...celsius. Yeah, that's somewhere around 130+ degrees. That is not good. On top of that, they are having horrendous fires, similar to the ones that California has been thru lately. It is heartbreaking to hear about all the losses, at any time, but particularly during the holidays.
In the past, when I was in NZ, I got in the habit of trying to figure out the conversion from celsius to fahrenheit. Yeah, there's some complicated formula, but I've got no time for that. So my rough & dirty estimate became, the celsius temp, double it & add around 30 degrees. Gets me close enough.
So, while you know I like warm weather, I'm gonna be grateful right now & send up lots of prayers for the folks who are battling the elements, no matter what they may be.
Hugs & stitches ~
Beth & all the inchworms at TSS