Countdown to Christmas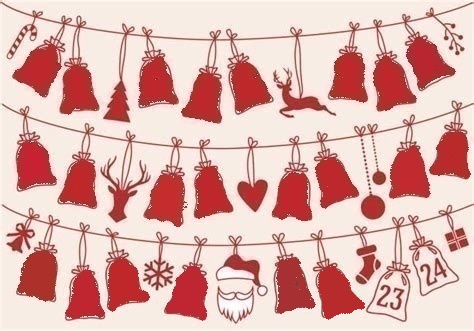 December 23rd!! We can now count down by hours! I love the tracking thing that NORAD does each year now. I just heard it last night again. I'm sure y'all have heard about it, but I didn't realize it was "headquartered" in an "undisclosed building in the Philadelphia suburbs"! So darling how little kids (who are the only ones who can truly manuever the internet at will), can now get online & see exactly where Santa is! And it's nice that NORAD (the North American Aerospace Defense Command) ~ actually part of the military ~ does this each year. They do so much more than what we envision our military to be responsible for.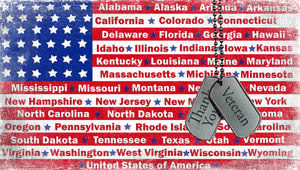 December 23rd falls during the "Thank a Soldier Week" ~ although I personally think EVERY SINGLE DAY should be Thank a Soldier Day.
So today, in the middle of the winter holiday craziness, we are celebrating all things patriotic.
All patriotic items are 20% off.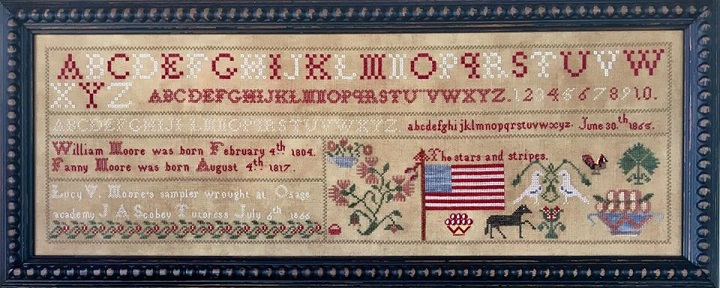 Lucy V. Moore Sampler - from NeedleWork Press. This sampler is absolutely stining in person. Another that's in my stash...
American Stag kit - from Chessie & Me. This little pillow is just wonderful. I love Linda's designs.
Summer Liberty kit - from Chessie & Me. Look at the ccol satin stitch work in the lawn ~ love this.
Heritage Sampler - from Plum Street. There are so many wonderful pieces of this design, each time you look at it, you see more.
Pursuit of Happiness - from My Big Toe Designs. One of our most popular designs ~ we particularly love the sunflowers!
Simply Patriotic - from Homespun Elegance. I like the pattern of this design. Love the heart floating over the stripes.
Sampler Flag - from Homespun Elegance. Another lovely little design from Sandra.
Lady Liberty - from Blackbird Designs. I love these drums! There's so much to see ~ from the top to the band around the side, this one is especially lovely.
Stars & Stripes - from Brenda Gervais, With Thy Needle & Thread. Another one of my faves ~ I love the star shower.
Festive Little Fobs: Americana Edition - from Heartstring Samplery. The Liberty Bell is my favorite one in this set, but I love the rest of them as well.
Sweet Freedom Berry - from Erica Michaels. These lovely little berries are available stitched on 40ct Silk Gauze (on the left) or the berry on the right can be stitched on linen! Both are wonderful.
Glory, Glory - from Tree of Life Samplings. Another wonderful sampler ~ I like this more each time I see it.
Life, Liberty & Happiness - from Mani di Donna. I find it so fascinating that there are quite a few wonderful patriotic designs brought to us by European designers. If you look closely, you can see where the translation was a little bit of a stumble. But it is certainly better than anything I could do for another country.
America the Beautiful - from My Big Toe Designs. Love this song & I love this stitched version of it.
American Eagle - from Sweetheart Tree. I am continually amazed by the talent of our designers ~ look at this eagle...it's not huge, but she's still made it look regal & fierce.
Thanks to the Brave - from Erica Michaels. I happen to love this design from this chartpak (there is another one as well). I so love that Linda has included the dog as part of our brave warriors. Also, Linda donates a portion of the proceeds of ALL of her patriotic designs to the charity TADSAW (Train a Dog, Save A Warrior) that supports matching dogs with returning soldiers as support animals.
1776 - from Erica Michaels. Another beautiful patriotic design from Linda. This chart comes with 40ct silk gauze, but you can stitch it on any fabric you like.
Long May She Wave, part 1 - from Abby Rose. This is the first of the 4 different designs shown here, each with their own lovely theme.
Long May She Wave, part 2: Life, Liberty & Happiness - from Abby Rose. 2 more fantastic Americana designs. We love this.
Long May She Wave, part 3: In God We Trust - from Abby Rose. I love the Pledge of Allegiance pillow.
Long May She Wave, part 4: America the Beautiful - from Abby Rose. I like the overall look of this design ~ the checkerboard fits perfectly...and I don't know why!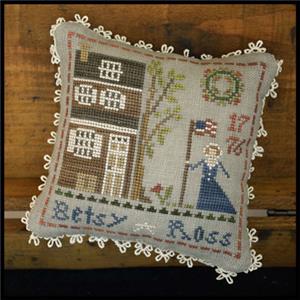 Early Americans: Betsy Ross - from Little House. One of 9 wonderful designs, this lady is close to our hearts ~ geographically and thru our needlework.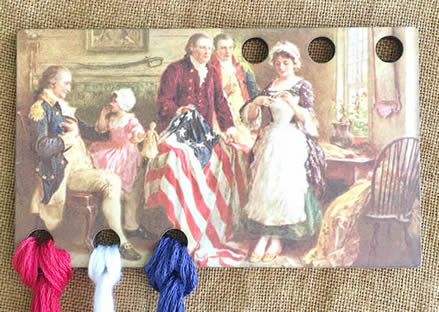 Threadkeep: Betsy Ross - from Kelmscott. A wonderful little keepsake to add to your stitching basket.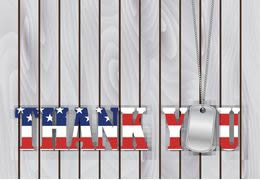 I can't imagine the longing of knowing a loved one is serving far away at Christmas. It is always heartwarming to see the "surprise" reunions this time of year (let's face it, they're ALWAYS heartwarming, no matter what time of year). I say I can't imagine, as I haven't had anyone in my close family in the military. Having said that, I do know what it's like to miss someone during the holidays. And I pray that those of you who may be missing a soldier or sailor this Christmas know how very much we appreciate their ~ AND your ~ sacrifice.
Tonight, I am winding this up & sending it early. It was a long day at the shop ~ saw lots of friends, both old & new ~ and then came home to the 3 white dogs from next door. Charlee has decided she would like Santa to bring her a puppy for Christmas! I am just hoping that my 3 ~ Charlee, Brady & Larrybird ~ actually sleep. I am already half asleep!
Hugs & stitches ~
Beth & all the early retirees at TSS