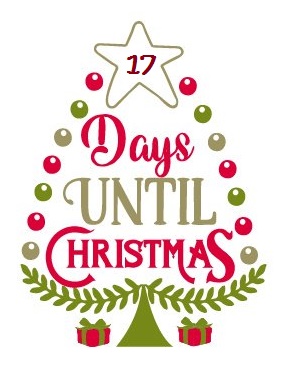 December 8th is bringing us 1 day closer to the end of the countdown! As promised, I'm repeating our Holiday hours here for all to see.
OUR LAST DAY OPEN BEFORE CHRISTMAS
is
SATURDAY, DECEMBER 21.
We are always closed on Sundays & Mondays,
& we will be
CLOSED ON CHRISTMAS EVE & CHRISTMAS DAY.
We will reopen on Thursday, December 26th, regular hours (10AM ~ 3PM), thru Saturday, December 28th. Closed Sunday & Monday.
OPEN TUESDAY DECEMBER 31, 10AM ~ 1PM,
AND CLOSED NEW YEARS DAY.
Then, beginning Thursday, January 2nd, we're back to normal!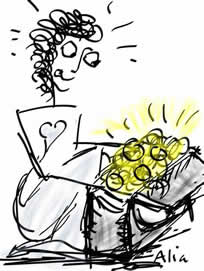 December 8th is National Lost & Found Day. Now, for anyone who's seen my desk, you might think that EVERY day in Lost & Found Day! And you'd be right. In fact, when I worked at KPMG, at least once a day EVERYONE had to stop what they were doing to help me find my pencils. At one point, they threatened to tie them on a string thru my sleeves, like little kids' mittens!
But that's not stitching (thank goodness), so I tried to turn it around & think about what's "lost & found". Pretty easy, actually.
A couple weeks ago, Molly brought a sampler in. A friend of hers had just found an old sampler. It is in amazing condition, but it's definitely old. I am not an expert, so I can't look at it & tell you what timeframe it came from, whether it was stitched here or overseas, or any of those things. I can tell you that whoever had it took great care of it. It's fun to see how it has aged. Check out the photos below.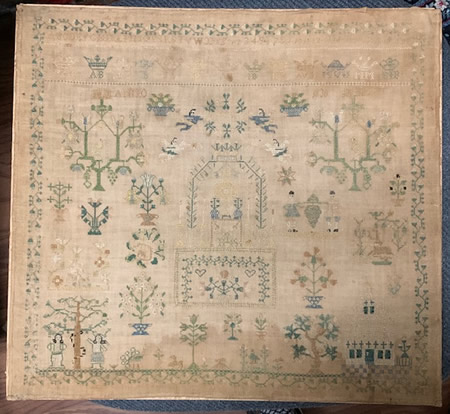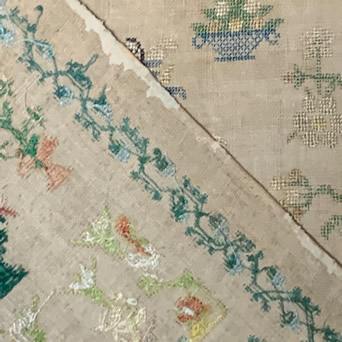 On the left is the complete front of the piece. On the right is a close up of the front (upper right corner) & the back flipped up. You can see the edge whereit was hemmed & attached to the board. FORTUNATELY, it was attached only at the edge, so the stitches weren't damaged. You can get a little bit of the feel for how the threads have faded over the years ~ the colors on the back are still vibrant, while the front has faded into the soft tapestry colors we expect to see in old samplers. Below are 2 closeups!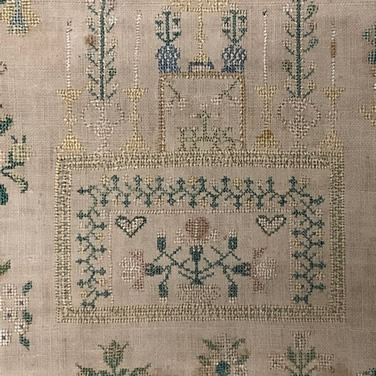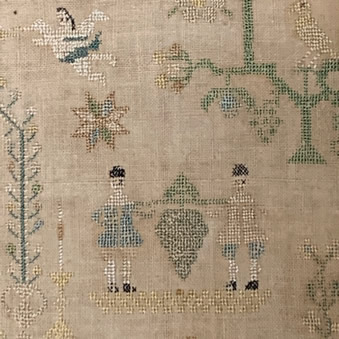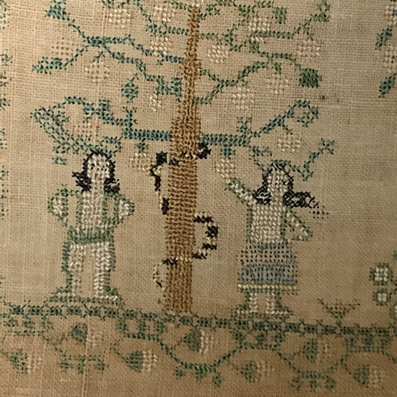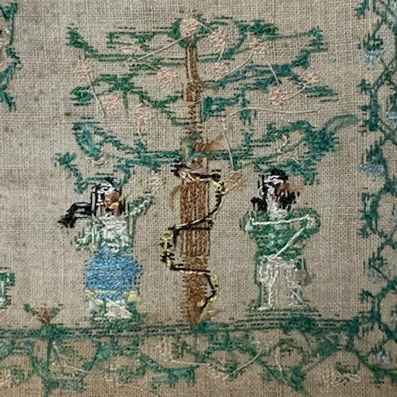 Up clos pic of Adam & Eve on the front (soft & faded) & Eve & Adam on the back ~ look how much brighter the colors are! I love seeing this difference (especially since I'm such a "bright color" person!).
So, Lost & Found! We're featuring
REPRODUCTION SAMPLERS
All reproduction samplers are 20% off on the 8th. As usual, I'll highlight a few, but you know there are quite a few more than I could fit in newsletter! So be sure to wander around & see what you find!
Sarah Moon Sampler - from Stitchy Box. This is a re-release of one of our most popular Ackworth School samplers! It would have been nice if they had pressed it just a bit before they photographed it.
Anne Marston Sampler - from Pineberry Lane. I love the balance & symmetry in this one.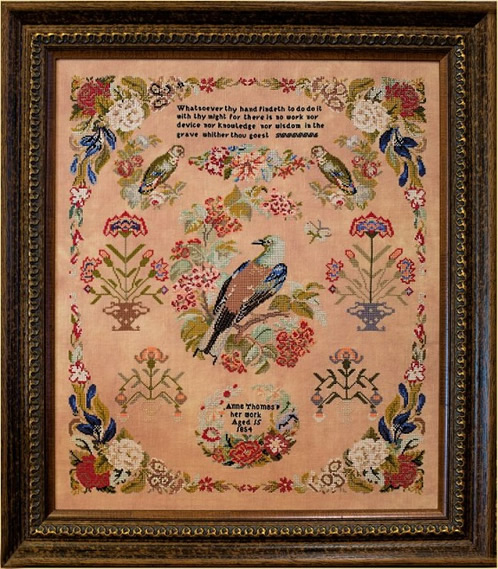 Anne Thomas Sampler - from Hands Across the Sea. This sampler is so not my style, and yet, I am so drawn to it! I know part of it is border that is so rich & detailed. I really do love this!
Mary Hawley ~ An American Quaker - from Scarlett House. Such a pretty little sampler. Wouldn't it be interesting to know who belonged to all those initials?
Margret McNown Sampler - from Fox & Rabbit. Okay, this is one of my favorites ~ I love those darning stitch blocks. I also love the crowns!
Smith Sampler - from Scarlett House. Another of my favorites! Love love love the border!!
Louisa Horsey Sampler - from Shakespeare's Peddler. This is an amazingly detailed sampler from Theresa. Look at that border! Wowser.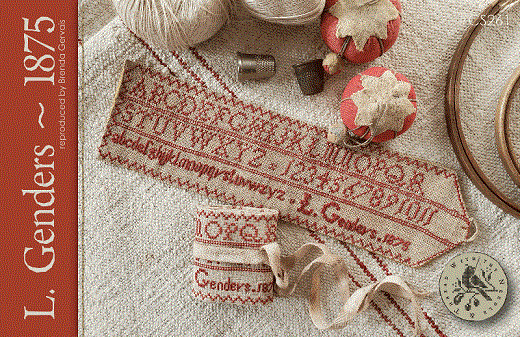 L. Genders - from With thy Needle & Thread. I love how this rolls up ~ most old samplers were never framed. They weren't intended as decoration, but instead as a way for young girls to learn their letters & also to learn how to sew.
Charlotte Murdoch Sampler - from Scarlett House. Can you guess why I love this one?? Can ya?
Abra Lowney Sampler - from Erica Michaels. Another of my faves ~ I love the sharp points of the borders, that great zigzag band at the bottom, and the fabulous bakets! I also like the juxtapostition of the trailing stems of the flowers.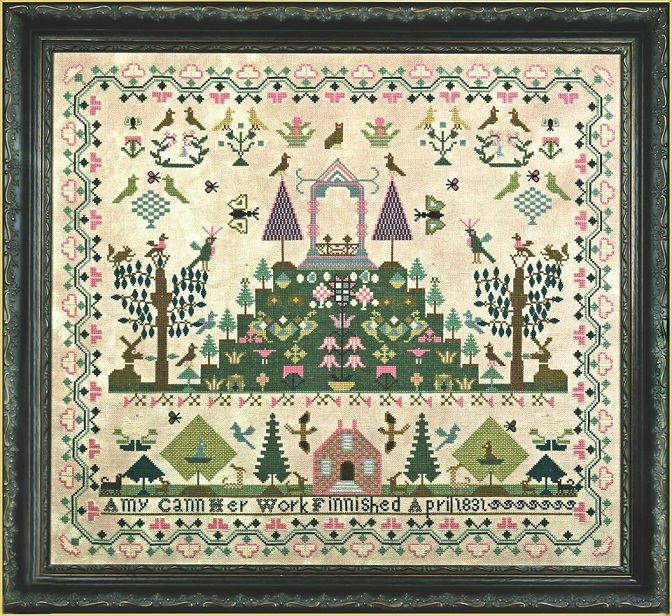 Amy Cann Sampler
- from Hands Across the Sea. Bright colors, fabulous border, great symmetry! I LOVE this!
Jane Johannah Wilkins Sampler - from Fox & Rabbit. From one of our newer Australian designers, I love this border. Can you believe Jane was 10 years old when she stitched this?
Maria Casson Sampler - from Lucy Beam. I don't always love the verses on old samplers, but this one is great. Also, awesome border!!
Jenefer Gilbert Sampler - from Hands Across the Sea. I love the pattern in that top basket! And how cool are the swirly vines to each side of the verse? Don't you figure she didn't center it properly & had to compensate? Everything else is perfectly balanced.
Maria Davis Sampler - from NeedleWork Press. I love it when you know where the girl stitched her sampler.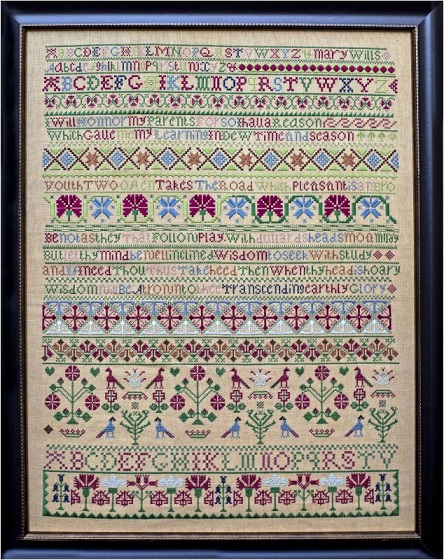 Mary Wills Sampler - from Hands Across the Sea. COLOR! So much color! I love it! Also so many gorgeous bands! As you might guess, this one is already in my stash!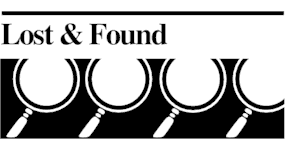 I love mysteries. I read every Nancy Drew book written ~ had them all in my little bookshelf. Had so many, I needed a bigger bookshelf for all the other books I had. Old samplers are mysteries in themselves. Sometimes the stitcher works lots of info about herself, her family & her life into her sampler. Other times it's hard to tell even the initials of the stitcher. One thing I love about designers who do reproductions is all the amazing work they put into trying to learn about the original stitcher. It's so amazing when you feel a connection to someone who lived a couple hundred years ago. Can you imagine sharing something with someone who lived long ago, and often far away?
One thing that stitchers occasionally ask is where or how to add their initials to their pieces. The best advice I have thought of is this: especially for big pieces or important pieces (like wedding samplers or even just something important to you), make some notes ~ about yourself, where you live, and especially what is going on at that time ... in your life, in your town, in the world. One time I was stitching something (no I can't remember what) during the Olympics. And I worked on it thru the entire Olympics. I don't remember if it was summer or winter (I'm thinking winter, because, hello, what else is there to do when it's bloody freezing outside), but there was something interesting & exciting about that particular Games. And I thought, I'll always associate this piece with these Olympics. Hmmmm....
So that's what made me think, we should write down some "stats" for pieces we stitch. Then when it's framed, have that piece of paper sealed inside the back, inside the frame. So that in another 200 years (assuming your kids, grandkids, etc don't hand down your work with reverence), someone will take the back off in order to either re-frame or reproduce (!), they'll discover so many fun secrets!
Hopefully they'll be Nancy Drew fans too!
Hugs & stitches ~
Beth & all the detectives at TSS