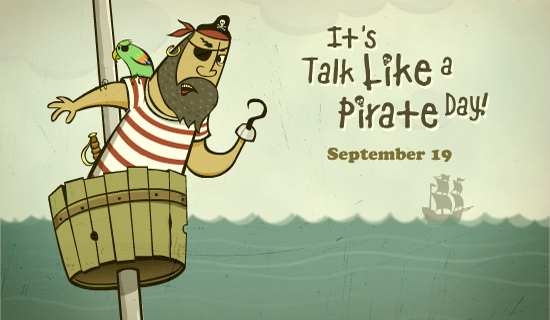 Welcome to the weekend! Sheesh, I said Friday afternoon that this week has not been kind to us. Don't get me wrong, we've been busy & we've seen lots friends this week. But each day, we've reached the end of the day feeling like we've been spit out of a tornado!! Every morning we come in full of fresh intentions & set to get a list of things DONE! At the end of the day, all we've managed to do is tack on more things that we'll DEFINITELY get done tomorrow. So for all y'all who've sent emails this week, only to hear....crickets...we have not forgotten or forsaken you! And heavens! If you called on Thursday, more likely than not you got the answering machine ~ we literally could not break away to answer the phone.
Thank goodness the 19th isn't a day that Molly & I are left to our own devices because September 19th is
Talk Like a Pirate Day!
Are you worried yet? No, no, no...we're not gonna make you dress up like Johnny Depp ~ the eyeliner just can't be duplicated! But what else do you always see when you see a pirate? That's right, a bird! A parrot usually. So we're celebrating "Talk Like a Pirate Day" by featuring birds! There a lots of wonderful designs featuring birds & they range from cute to beautiful, from simple to amazingly detailed. Molly has discovered, in rehanging her stitching, that she has quite a few bird pieces & she has chosen to group them together for a while ~ a flock of stitching, as it were! So I'll pique your interest with several selections (including Molly's flock!), but you know there are many, many more scattered throughout the website.
Nightshade Bird - from Plum Street. On the left is Molly's piece, on the right is the chartpak with Paulette's original photo & design. I am just in love with these pindrums, but I HAVE to say that seeing it framed I love this particular design much better as a picture! So remember to think "outside the box", as it were. On the flipside, if you had a long skinny piece like this, think about finishing it in a drum!
Old Crow - from La-D-Da. Again, Molly's piece is on the left, the designer's original is on the right. Keep in mind, Molly shot this pics after they were framed & most have glass on them, so disregard the glare! In this comparison, Molly changed the fabric & most likely some fibers, but the biggest difference is changing the color of the fabric. Make yours unique ~ Molly was not a fan of the original color so she moved away from the brown/gold/yellow color to a more neutral color.
Fraktur Friends - from Plum Street. First, please forgive my cropping skills (or lack thereof) of Molly's picture on the left! Another fun comparison!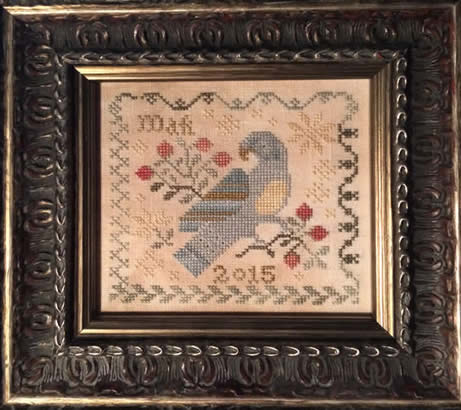 In Friendship's Way - from Blackbird Designs. This sweet little design is part of book with many more wonderful designs. Have you noticed a trend in Molly's work? She is a "fat frame" aficionado!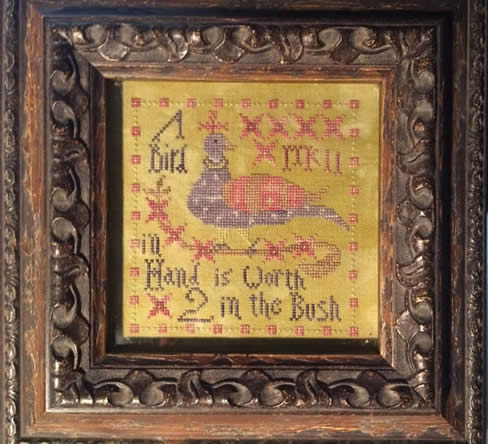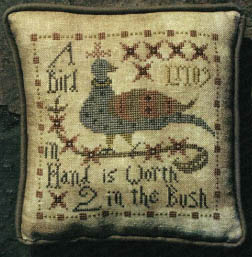 A Bird in the Hand - from La D Da. Molly's piece on the left again shows the difference a change of colors can make. This time, she went with the more gold/brown/yellow color fabric & the little brighter colors.
Peace on Earth - from La D Da. Another rare treat, with another big fat frame!
Loose Feathers ~ Autumn: Pumpkin Blossom - from Blackbird. This was not the main design in this booklet, but it's just darling!
On to more birdies!
Patchwork Crow - from Heart in Hand. I love this chubby momma bird, with 2 babies!
Berry Bird - from Scarlett House. Such a sweet little bird, and we love the berries. Finish as a pincushion top or in a tin...so many ideas.
Sewing Berry - from Erica Michaels. Sewing birds are lovely remembrance of times gone by ~ they are elegant sewing tools.
Peacock Party Berry - from Erica Michaels. The colors in these berries are stunning, just like the peacocks they portray. On the left is the linen berry version, on the right is the silk gauze version.
Carnation Sampler - from Hello from Liz Mathews. This is a beautiful sampler ~ the carnations & cardinals are stitched in rich red colors.
Early Fraktur Drawing - from Kathy Barrick. I like the cheery colors in this primitive design.
Winter Valentine - from Blue Flower. 2 darling designs.
Bird Bouquet - from Lone Elm Lane. This is a lovely design ~ I love the colors in this.
Busy Hands - from Kathy Barrick. I love the border on this one, as well as the perch she's standing on.
Kindred Spirits - from Kathy Barrick. One thing that catches my eye in this design is the yellow background in the Kindred Spirits verse. Different!
Pennsylvania Bird - from Kathy Barrick. The fraktur/folk art flair of this design is very reminiscent of artwork in this area.
Gerald - from Kathy Barick. Just a lovely design! That is all.
Hannah and her Birds - from Thistles. How sweet is this? Hannah has made lots of friends here.
Sweet Bird - from Threadwork Primitives. A charming design and a clever shape.
Black Raven Quaker - from Stickideen VonDer Wiehenburg. There's just something wonderful about Quaker samplers.
Churchfield Manor Sampler - from Rosewood Manor. I love this sampler, but again, there are so many bands you could pull out of this & stitch your own one of a kind sampler.
Little Robins Sampler - from Kathy Barrick. The image in this is lovely but the VERSE is what draws me to this.
Bird Song - from Samplers NotForgotten. This is one of our popular models at the shop & we can see why!
Those Who Sing - from Drawn Thread. Cynthia's designs, again & again, are so very charming.
Birdies Quilt Tree - from Hello from Liz Mathews. This is in my stash ~ I love the colors & the entire idea.
A Bird in the Hand - from Heart in Hand. 4 designs, one for each season, are shown stitched here together, but are equally fun on their own.
Little Blessings Pincushion - from Shepherd's Bush. Shepherd's Bush designs are such fun to stitch!
Farmhouse Bird - from Heart in Hand. I can't decide what I like best ~ the barn oor the spotted chicken or maybe the heart gate at the fence!
Pocket Round Crow - from Heart in Hand. A lovely little Autumn design.
Love Builds a Happy Home - from Tiny Modernist. The bright, more contemporary colors in this design are truly cheery & fun.
Early Bird - from Victoria Sampler. Not the usual style from Thea, but definitely fun fun fun!
Eye on the Sparrow - from Silver Creek. This design is just so sweet & comforting. I love the big "DO NOT WORRY" across the top.
New Antique Sampler - from Jardin Prive. Quite a contradiction in terms, no? This is a lovely traditionally modern sampler.
Sign from Heaven - from Stoney Creek. Not only is this design absolutely beautiful, but so many people do feel this connection to loved ones thru the appearance of cardinals nearby.
Summertide Blessings - from Plum Street. Such a whimsical happy design! I just love this one.
Twelve Days...Book 1 - from JBW Designs. You can't have the 12 Days of Christmas without birds!
Twelve Days...Book 2 - from JBW. Four calling birds...six geese ~ are geese considered birds? Fowl? We'll go with birds tonight.
Luhu Santa - from Luhu Stitches. This is just the cutest little thing!
Spirit of Christmas ~ Set 2 - from Lila's Studio. These ornaments are wonderful ~ Stella just stitched several of them for us.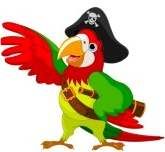 Birds are such amazing creatures ~ so many of us envy that ability to just soar in the air! One of my college friend's husband take the most amazing photographs of birds ~ they are truly amazing. Another of my friends is now living in Colorado & has also been taking amazing photos lately. It takes a ton of patience in order to capture such amazing images. That is not a gift that I have. I think that is why they were (& are) the subject of needlework ~ it is our version of patience & getting the "right shot". In fact, I have often offered up photography as the alternative to hunting. You are doing essentially the exact same thing ~ you need to be able to wait...and wait...and wait for hours...for that one chance. And then, at the perfect moment, you capture that perfect shot!
I don't generally talk about politics (for the most part, I HATE politics...I'm looking forward to getting to the point where there is nothing going on in the political world!). But I have watched coverage this evening of the death of Ruth Bader Ginsburg. I am 56 years old. I grew up knowing that I could do anything guys could do, I was allowed to do anything guys could do. More importantly, I was never taught that "girls can't do that". I have learned about Justice Ginsburg's life & work as many others have, thru the popularity she has garnered in the last several years. And I have come to realize that much of that change from earlier generations is due to her arguments IN FRONT OF the Supreme Court, not necessarily after she became a Justice. As a woman who was never told "you're a girl/mother/wife...you can't do this job". I am grateful for her work for equality for all. And I will hold her family close in my heart in these following days. I hope they are sheltered from all the political posturings that are sure to follow, and that she is given the respect the she has richly earned. May she rest forever in peace.
Hugs & stitches ~
Beth & all the high flyers at TSS