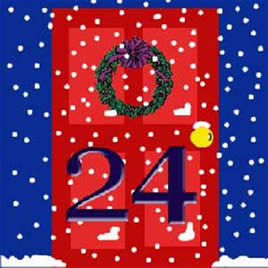 Twas the night before Christmas
And all thru the shop,
Not a creature was stirring
Tho it needs to be mopped.
The stockings were stitched
And hung up to fill,
They're lovely to treasure
And happily spill.
The stitching was finished
with minutes to spare,
To lovingly cherish
And eagerly share.
The dogs were all sleeping
After a day at the "spa",
Since 2 of them decided
"It's a mudfest for all!"
And I in my jammies
With pups all around,
Finally found time
For the end of the countdown.
When into my inbox
There came with a screech,
"I need a new gift card ~
Or I'm up the creek!"
No worries, I stated,
That's easy to cure,
Just give me your info
And we'll email it, for sure.
Now off to shut lights out
And quick go to sleep,
Before someone wakes up
And needs to go pee!
But before I stop yipyapping
I have one thing to say,
Merry Christmas to all
and may Peace come your way.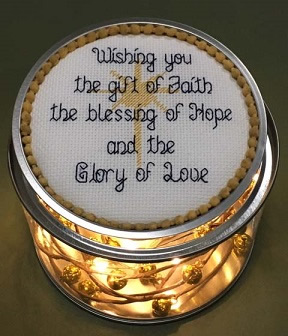 Now, before I get to the entertainment portion of the newsletter, let's get down to business first.
I'm not doing pictures tonight, because the 24th is easy for everyone to find.
All Christmas items are 20% off.
Also, and pay attention, because this is important, if you need a gift certificate & feared you were out of luck, don't panic. I can take care of that all day long from home. I simply need you to order it on the website using the Gift Certificate selection. Again, be sure to give me this info:
1) Name of recipient
2) Amount
3) email address you would like it sent to (if no email is noted, I'll send it to the email the order came from).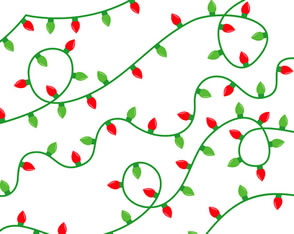 I would like to say that this is what our office looks like, all tangled and jumbled, but I hate lying this close to Christmas. It's actually both better...and worse. Molly has it extremely organized, but for anyone who dared to look in, I hope your retinas have recovered (Ellen, that would include you ~ although your additions did make it MUCH more enjoyable!). We have had a great time with the countdown this year. As usual, I had grand designs to have the first 10 days done by the end of October (HAHAHAHAHA....), and hey! I had 2 days done by the end of November! Always wanna leave something to strive for next year! We will begin shipping goodies on Thursday. Wednesday it's just Molly & me at the shop, so we'll be out on the floor!
I hope you've had fun with this ~ I've heard from lots of y'all who've had such nice compliments...I can't thank you enough. Truly.
I am planning/hoping to get back on track with regular newsletters this week, but don't hold your breath...it's another long week as Molly & I are in Wed~Saturday, and then (!) inventory on Sunday!! So I make no guarantees. Your patience is sincerely appreciated. I have been trying to keep up with adding new things to the website (check the New Goodies page & scroll to the bottom for the latest & greatest), so at least that hasn't gone by the wayside.
I'd LIKE to say I can work on some stuff tomorrow, but (aside from gift certificates) it ain't gonna happen. I will explain, including some photos, below.
For now I just hope you have a joyous Christmas ~ whether it includes 75 of your nearest & dearest at full volume, or you have a blessedly quiet day.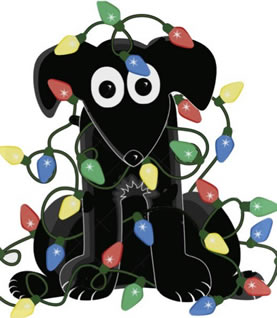 Well, as you may have surmised, Day 1 of "Dogs R Us" is winding down. It has been...nutty...to say the least! We've learned a few things along the way, such as Larrybird (the new baby) has never seen a sliding glass door & therefore he will not go thru them ~ I carry him. Larrybird likes to bark whenever Charlee does something "fun" ~ such as looking to the window when it was windy...at 3:15...AM. If you have a puppy, you know that once he's awake, he has to go out.
I decided to load them in the car & take them to McDonalds for breakfast ~ Charlee & Maddee do this a lot...they get an egg biscuit to share, so no haters. Check out the scene below to see how things went.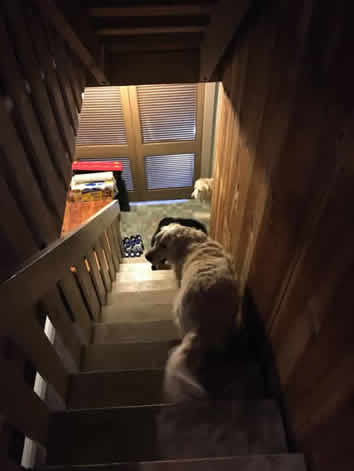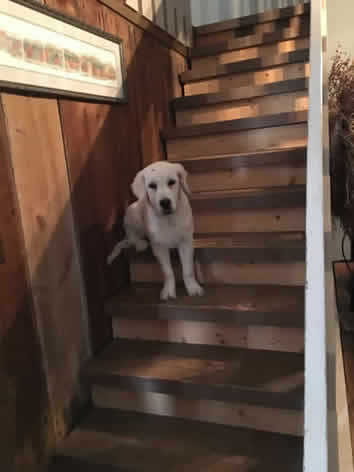 "Excellent! Everyone's headed down the...wait a minute, that's only 4. Where is Larrybird?"
Soooo, while everyone else went down (to the garage & car) Larrybird went up. He was extremely disinclined to join the rest of the gang. He was carried.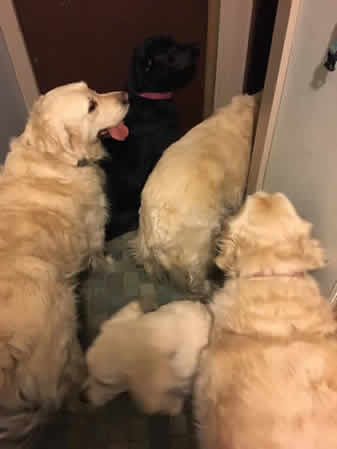 Still not sure, but at least everyone is here now. I believe that is Lillee with her head in the bathroom, Charlee is standing against the door (she's invisible except for her pink collar), Brady is on the left with his tongue out, Maddee is on the right & Larrybird is under Maddee.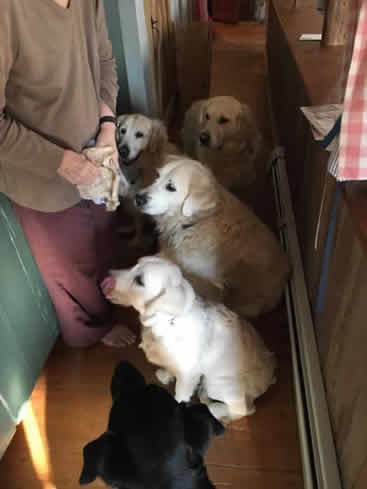 We made it there & back, everyone had their biscuit portion, but then Gran offered up some of hers. NO ONE is late for treat time.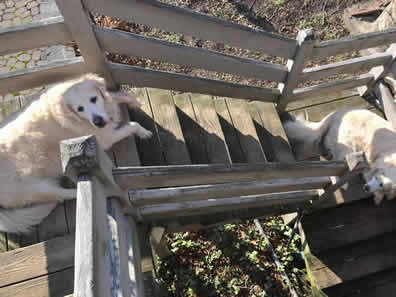 The 2 "old ladies (aka, Lillee & Maddee), out on the deck stairs, catching some rays & escaping the chaos inside.
Chaos? Did someone say chaos?? Yes, yes I did. You see, Charlee has a "racetrack" ~ that is to say, a path that she RUNS every time out. She always takes the same track. Well, because she loves Larrybird (she is asking Santa for a puppy for Christmas ~ she's in for a hard lesson from the Rolling Stones...You can't always get what you want), she has introduced the pup to her track. Sweet, right? Not really. We've had rain for days on end & the track, which is partially dirt, is under a few inches of water, aka mud. So, running ensues, the pup is much closer to the ground (aka mud) and THEN Wrestlemania began! Wrestlemania involves rolling around on the (wet & soggy) ground, with the result of the loser (usually the smaller one) ending up looking like a chocolate lab. Acutually, I had a chocolate lab & she NEVER looked that dirty. The participants then race up the stairs while the referee is yelling her head off, go inside (aha! the fear of the slider is banished) & jump up on the footstool & then onto the sofa. Can't make this stuff up, folks. So off for a bath went Mr Larrybird. Charlee knows to wait by the door to get her feet cleaned. The bath was unpopular, the drying off even more so. There may have been shouting. Then exhaustion set in & naps ensued, for the 3 young 'uns. Lillee was next to the "spa" as she got her nails done. She was perfectly calm & quite easy. She seemed cool with the experience. Sadly I believe she was just saving her anger for later, as when I woke her up to go to bed, she was not pleased & forcibly removed my hand. With her teeth.
I have informed my "clients" that their children are racking up big spa bills so they better be asking Santa for cashola.
And that, was Day 1. Pray for me.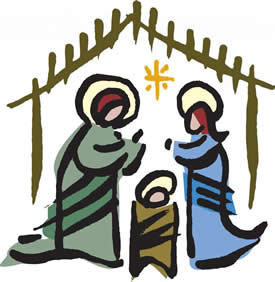 I wish for you the gift of Christmas ~ the Light of the World. A child who was forced to flee his home because of hatred, but was welcomed in a strange land. A child who bore no ill will towards those who rejected him, but instead gave his life, to forgive the sins of those who received him. A child who saw no difference in skin color, language, education or wealth ~ all were welcome to hear his good news. Some did not particularly appreciate his ideas that we are each our brother's keeper, no matter who we are or they are. Some chose their comfortable life over the sacrifices of loving their neighbor. After all, their neighbor was dirty & poor, no doubt some sort of criminal. But the child loved them all. And he only asked that we love others as he loves us. Not really that much to ask, is it?
Merry Christmas!
Hugs & stitches ~
Beth & all the lovers at TSS