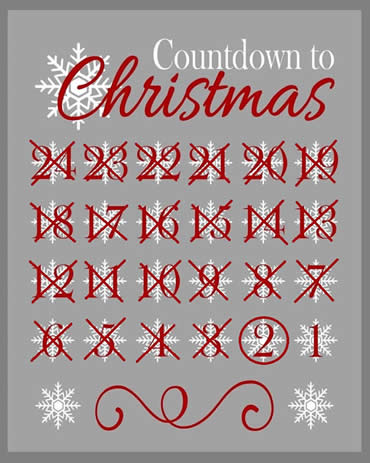 2 DAYS!! ONLY 2 DAYS LEFT!
Thursday was a nasty mess of a day here in Southeastern PA & Friday is going to be worse. Oh, the rain/snow/mess is supposed to leave in the morning, BUT the temps are gonna drop like a rock & all that standing water will freeze. What fun....NOT! So if you are heading out to do last minute errands, PLEASE BE CAREFUL ~ if what they are saying about the temps is true, the roads are gonna become icy...and NO ONE can drive on ice. Several of the school districts in our area are either remote or closed completely thanks to the forecast. We plan to be at the shop unless something changes, but please ~ if you're planning to head to the shop, try to come earlier in the day. We will be at the shop as long as the roads are decent, but if things go sideways we will head out early. If that happens, I will post a note on the website & also on FaceBook. For those of y'all who live to the west of us, you're already in the teeth of the nastiness, so y'all stay in & stay warm!
And that ends the weather forecast & warning portion of our newsletter!
Now, on to the Countdown! For Friday, we've saved a special, special one-time only treat. Any purchase over $100 will be eligible for a drawing for a 20% off discount on finishing for 1 project! We never, ever discount finishing (& if you've had things finished by Therese, you know how wonderful her work is!), so you don't wanna miss out on this opportunity!!
So stay in, stay warm, stay safe & find yourself some goodies that will make you smile & will also give you the chance for a truly awesome treat!
Hugs & stitches ~
Beth & all the weather watchers at TSS