It's beginning to feel a lot like Christmas...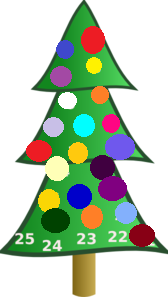 Why does it feel like Christmas?? Because it's cold? Not really. Because it's snowy? Nah. Because there's a big stack of presents? Nope! No, it's feeling like Christmas because the traffic is HORRIBLE, the poor UPS & USPS folks are out on the roads until late at night, and you can feel all the craziness & tension in the air! Merry Christmas!!!
Around here, we're down to 3 days left on our Countdown! For December 22, we're celebrating...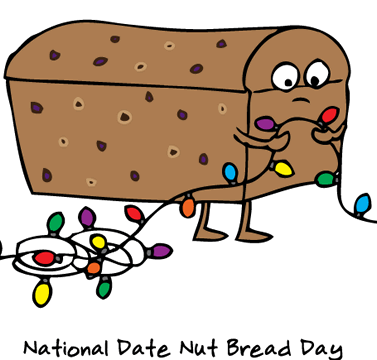 Yes! It's National Date Nut Bread Day! Whenever I think of the date fruit (which is not very often!), I think of the scene in Indiana Jones where the sidekick guy grabs the date out of the air that Jones had tossed up to catch with his mouth ~ he had just realized they were poisoned ~ and looks at Jones & just says, "Bad dates". I know, if you didn't see the movie you really don't care, and that's fine!
By now you're thinking....as usual....where is she going with this? Well, let me pose a question: are you married? If so (or even if not!), can you count the number of NUTS you DATED?? I don't know about you, but that's not a place I like to go very often! You know, that "Oh my gosh, WHAT was I THINKING?" place. But lots of people manage to wade thru the "batter" relatively unscathed and glom onto the Nut they can live with (Me? I'm like the guy in the movie: "Bad dates").
So in honor of all the Nuts you had to Date to find the right one (yep, I'm really mixing my metaphors ~ listen, it's been a long month!!), we're featuring:
WEDDING SAMPLERS!!
All wedding designs are 20% off. So if you have a wedding in your future, first...my condolences. Just kidding (not kidding). But this way you can find the perfect gift to make for the happy couple!! And it's on sale! And hopefully they're having a destination wedding & they're flying everyone there for free!!!!! No? Oh well, I'm sure it will still be FABULOUS!
All Because - from Imaginating. This is a perrenial winner here at the shop!
Happily Ever After kit - from Dimensions. Love this one ~ you can stitch it way ahead (no names or dates needed!).
Favorite Hello - from Needle Bling. I think this is absolutely perfect.
Mr & Mrs - from Heart in Hand. Another quick to stitch sweetie.
I Do - from Bent Creek. Another design that has withstood the test of time! Gorgeous ~ especially with the color changes shown here.
Wedding - from My Big Toe Designs. This design is awesome ~ not too hearts & flowers, and it's stitched in just 2 colors, so you can use colors that suit the happy couple!
Let's Marry - from Imaginating. Love these designs ~ they incorporate so many meaningful things within the shape!
Let's Marry at the Beach - from Imaginating. Ya know, this always SEEMS like a good idea...but too much is left to chance. However, this would be great for a couple who got ENGAGED at the beach!
Oggi Spossi - from Cuore e Batticuore. I think this is adorable!!
Through the Storms- from Silver Creek. I think this is a WONDERFUL reminder that marriage isn't all about the wedding.
Two shall Be - from Lizzie Kate. Another of our long-standing popular designs (this one has my cousin's specs on it!).
I Do - from Heart in Hand. Sweet, simple & lovely!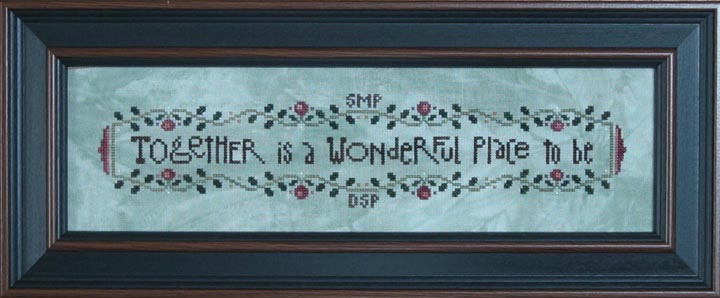 Together is a Wonderful Place to be - from Heart in Hand. It doesn't always have to be smoochy smoochy. I think this is a fabulous design.
Wedding Keepsakes - from Stoney Creek. I love the white on white work in this ~ and this is one of the leaflets with a nice ring-bearer's pillow.
Butterlies Wedding Sampler - from Stoney Creek. While this one features hearts & flowers & butterflies, the subtle colors make this very "of the moment".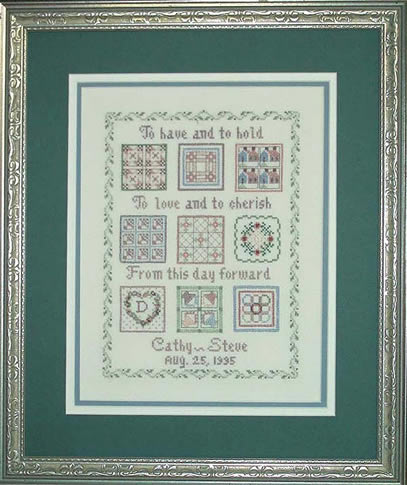 Wedding Quilt Sampler - from JBW Designs. This has to be our most popular wedding design bar none. This is another where you can tweak the colors easily.
Love By the Shore - from Stoney Creek. Aaaahhhh, this is the one for that "destination wedding"! We've framed this for someone & it is beautiful!
Seaside Wedding - from Imaginating. Again, this one is perfect for a couple who either got married at the beach or they have a special attachment to the beach!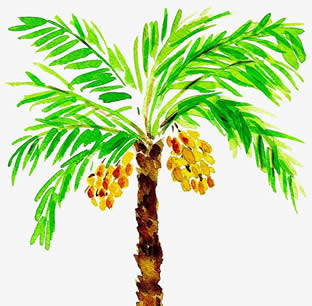 So. Another question. Did everyone know that dates grew on trees (the date nuts, not the nutty dates)? Because I didn't. I'm sure I never really thought about it. But I also didn't know that they grew on Palm Trees. I thought palm trees were strictly for coconuts! As usual, this countdown is furthering my education. Just another piece of useless information clogging up my brain cells!
Ah well, hopefully this one at least made you chuckle (or shudder over the memories ~ ooooohh, sorry, those were mine). Just 2 more days of crazy (ie, me!), so if you've made it this far, you're probably good!
Hugs & stitches ~
Beth & all the bad dates at TSS