I'm baaaaaaaaack!!
Well, hopefully, anyway! It has been a wild time around here & while I've been told by so many of you awesome folks to stop apologizing, I'll just say I'm sorry that the newsletter has been the thing I've neglected the most.
We've been working hard to shift off a chunk of my day-to-day jobs (mostly ordering) & Therese has jumped in to take over that & much more (on top of being the best finisher EVER!!). Thanks to that transition, I am carving out more dedicated time for framing ~ and Y'ALL continue to keep me busy!! We all continue to miss Lise, our friend & framer, but we know she's hanging around...mainly laughing hilariously at me when items go walkabout! Always in the past, I was notorious for "borrowing" things from the framing area: a ruler (don't get me started...yes there are "preferred" rulers & I can't get any more of them), a hammer, a tape gun... And it would drive Lise crazy! They almost always reappeared (save for an ice pick that we think got dropped in a box that was shipped to SC...I bet THAT was a surprise!)), but until they did the culprit was almost always ME. Now, I try REALLY HARD to put things back EXACTLY where they belong, but so far I have lost track of the ruler (several times), 2 staplers, the glass snips (& there's only 1 set that works & I don't know where to find more!!!) and last week I lost the hammer. The glass snips turned up EXACTLY where they were supposed to be ~ even though I looked thru that small bin at least 10 times that day ~ and I know that Lise hid them from me! The hammer has yet to reappear & I fear I am going to have to clean my desk in order to find it. If you've ever seen my desk you will understand why that is a nightmarish thought! I'm seriously considering going to buy a new one instead. And yes, we have at least 4 other hammers in the shop, but they're not the "right one" for framing. Yep, I'm becoming "that person" & I know Lise is getting a HUGE kick out of my dilemmas. I talk to her a lot ~ mainly relaying the info that "I GET IT" now! One example. I used to wonder how she could stretch a piece (which is a painstaking procedure!), but not follow all the way thru with backing it, doing the glass/mats/spacers/etc, closing it, doing the hanger & giving it to us to call. Why just stretch it, then skip to another piece? Drove me INSANE!!! Guess what I do now? I stretch a whole bunch of pieces, back to back. THEN I spend a whole day cutting glass/cleaning glass. And then another day closing/finishing all those pieces. Why? Well I have no idea why Lise did that, but I seem to have "issues" cutting glass. As in, I get all kinds of cuts & nicks all over my fingers & hands (even my foot once ~ don't ask!). So much so, that I want a sign that says, "This framing department is sponsored by Band-Aid". So, no I cannot cut glass for one piece & then be in the vicinity of someone's stitching ~ I don't care how great the band-aids are, I live in fear of bleeding on someone's piece! Again, I'm positive that Lise finds this all terribly amusing!
ANYWAY!! For those of y'all who have framing in right now &/or are bringing framing in, I can report that frames are coming in more quickly (yay!), but there are fewer choices at the moment thanks to losing so many mouldings over the last several years (thanks so much, China trade embargo AND Covid!). Fortunately, my vendors keep me up-to-date on these things & I in turn can pull mouldings off the wall until they are available again. In addition, thanks to re-shuffling the roles here, I am working hard to get the turnaround time back down to a reasonable timeframe. BC (Before Covid), our goal was always 3 weeks. Since Covid, we have consistently hovered between 8-12 weeks, due in part to the huge volume of increase from YOU!! My goal is to get back to that 3 week turnaround, but it's still gonna take time to get there...and it probably won't happen until after Christmas (because as we all know, that craziness will kick up soon!!). If you have something to frame and you NEED IT by a certain date, get it in as early as possible. However! If you bring it in & you need it by a certain date, TELL US!! We will make every single effort to get it done in time for the: wedding, state fair, trip to visit family, or whatever else is coming up. Be sure to tell us when you need it ~ even if you don't need it for 6 months ~ that way, if there is some sort of problem (like an out-of-stock frame) we can let you know & you can decide if you want to pick something new, or if you can wait. The more info the better!!
Moving on! There are TONS of new goodies in the shop (MOST of the Nashville stuff has arrived...there are just a few stragglers that we are still following up with EVERY WEEK...we're trying to be patient as we know "things happen"!). We hope y'all got a chance to check out the new fabrics from Atomic Ranch during the Trunk Show we had. If you didn't, don't worry! We're keeping most everything they sent us (because, FABRIC!!!), and we already have another reorder to place. We LOVE LOVE LOVE this fabric! The variation in the dying ranges from almost imperceptible to subtle to more obvious, but none of it is what I call HUGELY splotchy or tie-dyed looking. I know my last newsletter had images of all the fabrics we received with corresponding DMC floss so you could more accurately gauge the colors. I will continue to do this with overdyed fabrics as we get them in ~ from all companies ~ particularly if they vary widely in appearance from what is shown on the dyer's website. I know it is SO DARN HARD to buy fabric online ~ believe me, we get it...because we're doing the same thing for the shop! So if I look at fabric arriving & think, "that looks REALLY DIFFERENT from what I can see on the screen", I'll take a new photo, with DMC, & post it to keep you updated. ALSO, along that line, if you are looking for fabric & you know what you're looking for color-wise, let us know in an email or the comment section of the order form. If you can give us a DMC color in particular, we'll do our very best to find a good fabric for you. One thing to keep in mind in this world of HAND-DYED fabrics and fibers is that they are DONE BY HAND! And many many times they are very different from batch to batch. So you may have a design that uses 32ct cafe au lait latte cream espresso linen, but when you get that fabric it looks NOTHING like the picture! It is frustrating. And the best designers know this. Believe me, they do not mind if you use a different fabric than the one they used! So do not restrict yourself to MUST HAVE exactly what was used...find a fabric that YOU like. We will be more than happy to help you do that! And if you live far away & we send you something that just doesn't work for you, let us know! Send it back & we'll find you a better fit! That doesn't hurt our feelings & it's not a problem! We may have pulled a fabric that is too blah & you want more color or more variation. Just tell us! We know it's hard when you can't see it in person.
Overdyed fibers are the same way ~ I just pulled a set of fibers for someone last week. She read me the list over the phone. As I was pulling them a couple colors are wildly different than they have been in the past. I'm concerned that they don't mesh well if they are all for the same design. So if you are ordering fibers for a specific design, let us know that & tell us what design it is. Usually the difference in dyelot won't affect the overall look, but sometimes....wow.
One more announcement before we get to the good stuff!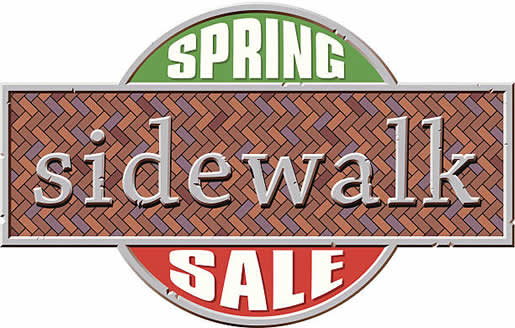 Sunday May 21st is our Spring Sidewalk Sale from 11AM to 2PM.
It is the Sunday BETWEEN Mother's Day & Memorial Day!
And let me just say, if you were here for the one we did in the Fall, this one is ALREADY gonna be bigger! Y'all have already brought us so much great stuff. I'm hear to tell you that we will have one entire section of MAGAZINES. Yep. If you're looking for an older issue of Just Cross Stitch, Cross Stitch & Country Crafts or Punch Needle & Primitive Stitching, there's an excellent chance you will be able to find it! We are probably gonna have another whole section of designs from Lavendar & Lace, Told in a Garden & Mirabilia.
Now, some of you may not know what I'm talking about, so I'll give you all a recap.
On Sunday May 21st we will be having a Sidewalk Sale here at the shop. Items for sale are (mainly) designs that are looking for a new home, donated by you & your fellow stitchers. We have been collecting boxes of your stitching that you are no longer in need of ~ designs you've already done & aren't gonna do again, things that you got but it's really not your style anymore, and things you got that you know you're just not gonna do for whatever reason. We are organizing these donations into categories (Halloween, Wedding, Christmas, Samplers, Baby, etc). On Sunday the 21st, we plan to have these all set up outside in our parking lot (barring bad weather, which will simply have us relocating inside the shop!). When you arrive, you can buy a bag from us for $10.00. Anything that fits in that bag is yours!
So, if you have items that you want to "re-home" (as opposed to throwing them in recycle or trying to sell online), bring them in to us here at the shop. And yes for you faraway folks, you are welcome to send us a box of goodies. Then make plans to join us on Sunday May 21st between 11 AM & 2PM to do some awesome treasure hunting! You have no idea what you'll find!
That's all for our announcements! From time to time, I'll use this page for other announcements that aren't just the usual "what's new"! Other than that, it's time to get back to the yipyap!!!
Hugs & stitches ~
Beth & all the announcers at TSS