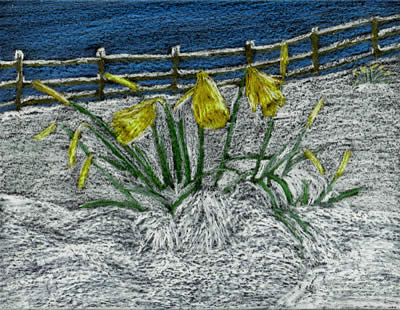 Yep, well, this is what it looks like at my house. Except my our daffodils look even less "spring-y". Supposed to be spring, but still with the snow on the ground...what the heck?
We are making our way back to "normal", although normal around here is a relative term (& not always a soothing & calm time!!). We had somewhere around 500 orders from Nashville, and we are STILL processing & shipping orders! So for all y'all who are patiently waiting, we haven't forgotten you & we haven't even come up for air. In fact, I really debated whether I could take the time to do a newsletter, but I knew if I waited much longer, all the "new" stuff wouldn't even be new anymore! So I am trying to work on a newlsetter in the evenings!
SPEAKING OF NASHVILLE!!
Great news!!! We got notice last week (& I posted it on Facebook) that we ARE getting the "Ode to the Ort Basket" kits for most of the folks who ordered them! We are so very grateful that Brenda is able to make more of them for everyone! We are actually HOPING to get a few more ~ we'll keep you posted!
So, with that little bit of housekeeping out of the way, it's on to the new stuff!!
Pet Rescue - from Stitchworks. This is just about perfect!!! And good timing...Thursday was National Puppy Day!
Morning Walk - from Lynn's Prints/Diane Graebner. Tooooooo cute!!!
Early American Series ~ Betsy Ross - from Little House. This is the first installment in a new series that will feature eight well-known historical figures. The ninth design is a "center piece" that can be stitched if stitching them all together.
Early American Series - from Little House. Click here to order the complete series ~ you can stitch them individually, as shown above, or you can stitch them all on 1 piece of fabric. Can't wait to see what the center design will be ~ don't you think a Liberty Bell would be nice???
For My Grand Daughters - by From the Heart. Aaaaawww, isn't this sweet???
Anniversary Gift - from Scissor Tail. This is beautiful in its simplicity!
Coffee Time - from Lizzie Kate. Woohoo! Coffee, coffee, & more coffee!
A Little Stitch - from Lizzie Kate. This fun little kit needs to be in every stitcher's home!
Fun new designs from Hinzeit! These are so creative & the charms are always included with the chart.
WordPlay: Cross Stitch - We ALL need this one!
WordPlay: Freedom Flag - Gorgeous! Love the eagle charm.
Love Kids (boy charm) - Isn't this a fun design ~ particularly for a teacher or preschool teacher?
Love Kids (girl charm) - Darling. Perfect for a teacher's gift.
Love Music - There are never enough music designs! Make this for the musician you love...or for a music teacher, perhaps!
Love 2 Sing - Stitch this for your songbird! Or again, a great gift for a voice teacher!
Love 2 Pray - Great for First Communions, Confirmations, or a gift for a favorite minister.
Love 1 Another - A cute little wedding shower gift...or an anniversary gift!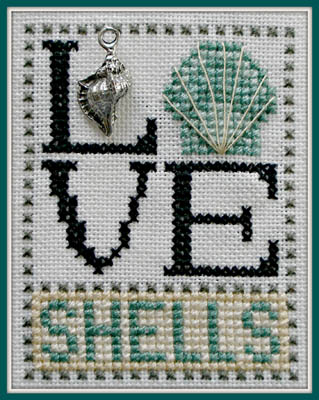 Love Shells - For all the beach lovers!!
Love 2 Garden - Yes! Yes I do! I just wish I had more time for it...probably easier to stitch this...
Love Luck - and who doesn't? Really.
Love America - Hooray for the red, white & blue! Love the Liberty Bell charm.
Love USA - Very patriotic! The stars & stripes are ours alone!
Love Ballet - Now. As a (former) ballerina, I'm here to tell ya, I love this design, but if you're stitching it for a serious dancer, leave the charm off. Any ballerina will cringe at that charm. And the design is cute enough without it.
Love 2 Dance - Yes I do! It is the best way to get moving there is!
Friends Shine - from Stitchworks. LOVE this saying. This is one of my favorite versions of friends & stars.
Stork + White - from Bent Creek. We think this is adorable ~ and with just 2 colors, you could stitch it in any pretty baby color!
Lighthouse of the Month: March, Bodie Island, NC - from Stoney Creek. Don't know that I need a "monthly" lighthouse design, but you could leave the "March" off. The lighthouse is lovely!
Summer is Coming - from Madame Chantilly. OMG! I love this pair! Mr. Polar Bear is selling gelato & his friend the penguin is taking his boat to the beach! LOVE THIS!
Stitching by the Sea - from Scissor Tail. Nothing could be more true! Perfect for your beach house (even if it's confined to your bathroom...).
Mermaid Drum - from Dames of the Needle. Awesome! I love the hot air balloon/ship sailing behind her.
Quilted with Love: Laugh - from Stoney Creek. Laugh yourself silly ~ good advice!
Quilted with Love: Love - from Stoney Creek. Love this quilt pattern.
Quilted with Love: Rejoice - from Stoney Creek. I love how they make the cross stitch look like calico fabric.
Elf Made & Tested - from Foxwood Crossing. This cracks me up!! Stitch it as a fun picture, or stitch the sled design & put it on the large sled ~ perfect for holiday decorating!
North Pole Sled Co - from Foxwood Crossing. Another totally fun design! Will you stitch the sled or the picture??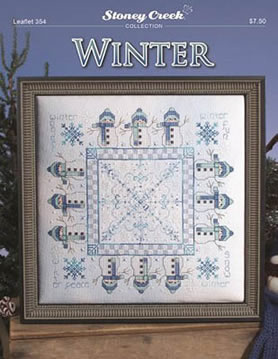 Winter
- from Stoney Creek. This is a really pretty design ~ love the quilty look to it!
Jump for Joy - from Country Cottage. Love these little sheepies!
Spring in Your Step - from Country Cottage. There are no cuter signs of spring than these guys!
Celebrate with Charm: Liberty - from Lizzie Kate. A sweet little quickie, just right for your Americana home.
Music Wings - from Imaginating. Another great music design.
New Houses for Spring - from AAN. This looks like a fun neighborhood!
Neighbors Easter Bunny Trail - from Bent Creek. How cool would it be to live down the street from the Easter Bunny??
Hen Cooking - from Madame Chantilly. OMG! This is so darling! You can't really see it from this picture, but the chicken is holding a skillet over a campfire with ears of corn in it! She's making popcorn!! Her 2 little chicks are waiting for the popcorn. I also like the small pillow she made from the bottom border ~ it could be a sampler weight OR....you could fill it with corn & make it into a do-it-yourself heating pad!
Tree of Butterflies - from AAN. So very springy!!
Baltimore Album - from CM Designs. Gorgeous! And might I say, there's a much greater chance I'll finish this than a Baltimore Album quilt.
Vivement le Printemps - from Tra La La. Oh my goodness!! This is one of the sweetest new springtime designs around!
Spring is Coming - from Madame Chantilly. Too cute!! I love this pair...a penguin & a polar bear, getting ready for spring. They're off to the garden to plant their flowers.
Main Street Series - from Country Cottage. A new series starting in April! I can already tell I'm gonna love this series ~ the bright cheery colors make me happy! And the 2nd shop is a BOOKSTORE!!! Yeah, that's right! Click on the left picture to sign up for the whole series.
Main Street: Flowers - from Country Cottage. The first shop in this series is the flower shop, above in teal.
Lighthouse by Day - from Heritage Designs. Love this whimsical design!
Flip Flop 'Til You Drop - from Imaginating. Need I say more??
Lighthouse by Night - fro Heritage Designs. Even at night, this lighthouse is awesome!
New Horse kits from Mill Hill adapted from the artwork of Laurel Burch. These kits are available in either aida or linen.
Embracing Horses - They're so sweet. Love the colors in this one!
Mediterranean Mares - These are totally my colors. They almost look like seahorses!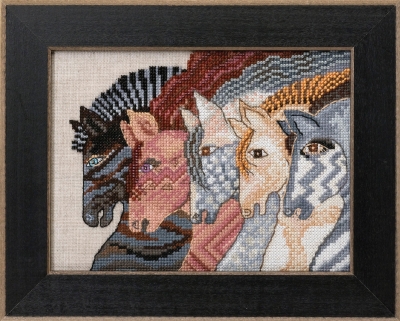 Moroccan Mares - Fierce! And you can almost feel the desert, can't you?
Riviera Horses - So sweet ~ they look like they're catching some rays with their feathered friends!
Wild Horses - This group is definitely out for some fun!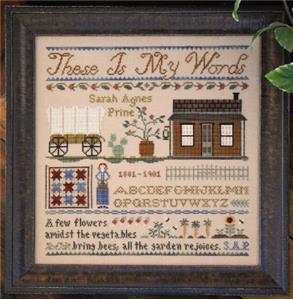 These is My Words - from Little House. Sarah Agnes Prine…….the subject of this sampler and the American West trilogy by Nancy Turner. The first book in the series was "These Is My Words," followed by "Sarah's Quilt" and then "The Star Garden."
Sophie Knighte Sampler - from Cardan. Love this sweet sampler ~ lots of alphabets & great borders. I love that it's all in one color too.
Mary Allison Sampler - from Priscilla's Pocket. A reproduction sampler with a decidedly Scottish flair to it.
My Stitching Tools - from Pheasant Street. Perfect little pinpillow for your stitching basket!
On My Way Home - from Pheasant Street. I think this is a sweet little design. Very samplery, very pretty!
Peacock Sewing Box - from Stitching Parlor. This is lovely! What a wonderful keepsake & way to keep your treasures.
Topiary Trophy - from Keslyn. I love the amazing flair of this alphabet! It has a definite Art Nouveau feel to it. I like it because it's dfferent!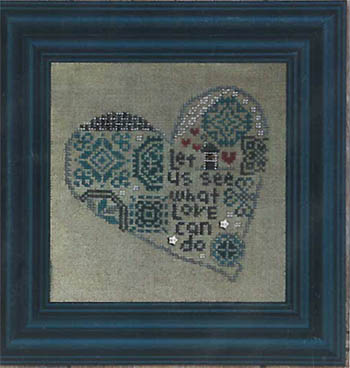 Quaker Heart - from Bent Creek. This is very cool! A great design with a definite Quaker feel ~ love the motifs.
These designs are from Tellin Ebmlem, a designer who is new to us, but not new to the industry! I love her creativity & point of view.
Blooms & Bugs ~ Vinca - Took me a minute, but I realized that this is a view looking straight down into a flower pot! I love this!
Potted Posies Sampler ~ Tulips - A very cool design with a contemporary sampler feel.
Butterfly in Bloom ~ Green-banded Blue - So pretty & contemporary...I just love the colors in this.
Butterfly in Bloom ~ Great Orange Tip - Love the stylized flair in this design.
Birdie & Glories ~ Grosbeak - Now I'm a big morning glory fan, but my favorite part of this is the the leafwork.
Birdie & Glories ~ Kingbird - Very cool designwork! Do you think that's a worm in its beak??
Leaves of Love ~ Clematis - Gorgeous! It always makes it more elegant when it's stitched on black!
Leaves of Love ~ Dogwood - Look at the detail of the flower in the center!
World of Color ~ Violet - from Bent Creek. Looks like springtime!
Summer Smalls - from Lizzie Kate. Have to say, I really like this chartpak! First of all...SUMMER! But more than that, the designs are darling!
Come Dance with Me - from Scattered Seeds. A lovely primitive pincushion!
Star Bag and Fob - from Wendy KC. This little bag & fob are so very elegant!
La Petite Mermaid Collection: Solo Tua - from Nora Corbett. Awesome! Finally a Mirabilia mermaid that I MIGHT be able to finish...
La Petite Mermaid Collection: Tesoro Mia - from Nora Corbett. Amazing what an impact the beads make on this.

NeedleMinder: Canada 150 - from Kelmscott. Paula created this special needleminder in honor of Canada's 150th Anniversary! And we should all be excited to help our neighbors celebrate! If only it weren't so cold, I might consider relocating...every Canadian I've met is wonderful, kind & caring ~ something we should all aspire to be.
Threadkeep: Happy Easter - from Kelmscott. This is one of the prettiest threadkeeps so far ~ I seem to be drawn to the ones with flowers on them!
Threadkeep: Victorian Queen - from Kelmscott. Stunning & regal ~ something my stitching rarely is....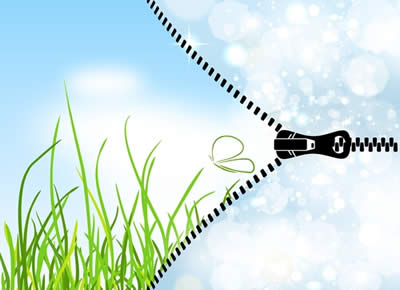 Well, we are certainly hoping that we're getting ready to unzip our winter coats for good & welcome spring around here! Molly & I are starting to see light at the end of the Nashville tunnel! We've had so many orders where we needed not only the goodies we brought back from Nashville, but also fabric, fibers & embellishments!! YIKES!! We've had tons of fabric come in & get cut & packaged, and yet we have tons more we're awaiting. Everyone is so excited! We are looking forward to getting everything into your hands & out of ours. We can't tell you how much your patience means to us & how we appreciate your kind words. It seems a cliche, but truly it makes all the difference. We love this job & our greatest "bonus" is when we see projects finished (we are loving the posts on our Facebook Stitching Group page ~ Sharon P., we're not worthy...); we love seeing your pieces when you bring them in for framing ~ and even more when you pick it up (Nancy T., you are cranking 'em out!); and we adore seeing new stitchers, returning stitchers who haven't stitched in years, and longtime stitching friends. We know so many of you love having stitching to keep you busy, and we love being a small part of what makes you happy!
Hugs & stitches ~
Beth & all the Spring chickens at TSS