Woohoo! Well, a couple weeks ago I THOUGHT it was warmed up for good...but I was wrong! Last week I was back in cords & a turtleneck. But this week, we hit the 90's!! So I'm feeling a lot more confident that I'll not be cold again for a few months!
So, we all know warm weather means...SUMMER!! And I can't wait! The debate is always...when does summer really start? Is it Memorial Day? Or is it not until June 21st? Well this year, we're gonna COUNT IT DOWN from Memorial Day to June 21st! That's right, it's another countdown!! So get ready ~ we've got days to celebrate from Memorial Day to national garden day to national lobster day, national silliness day to cotton candy day. Buckle up ~ it's gonna be fun!!
I do apologize for going MIA again ~ we are still juggling things here & there between Ruthie's chemo, the boys' pickups, baseball games...in addition to the usual grocery runs & other errands... It seems my newsletter has fallen further down the list than I would like! Last week I was SO SURE I'd get it out ~ with new stitched models, even! ~ and......nope!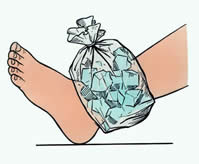 Instead, after work & dinner, Ruthie & I ended up spending the evening at Urgent Care ~ don't worry, all is well ~ as she got up too quickly & ended up going down! Hurt her ankle & was afraid it was broken. Good news is, after x-rays, etc. it was a sprain, they gave her an air cast, told her to wear it 2-3 weeks....and by Sunday she was done with it! I would like to say a big thank you to our new Bryn Mawr Urgent Care center ~ they were super nice & took great care of RE. If only I could have gotten them to do the newsletter.... And the rest of the weekend? Gone, baby, gone.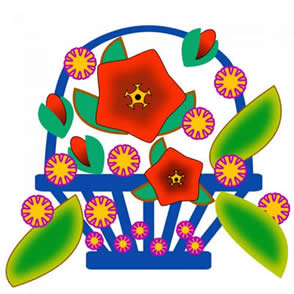 Mariner's Drum - from Plum Street Samplers. There is nothing, NOTHING I don't LOVE about this! This is Paulette's first drum pattern & I"m really not sure how she'll top this. Above on the right is the top of the drum ~ look at the chain that flows over the side & down to the anchor! On the left is the bottom of the drum with the Mariner's Compass. The verse is a favorite of mine as well ~ "Cape Code girls ain't got no Combs ~ they brush their hair with codfish bones"! Below are more pictures of this creation.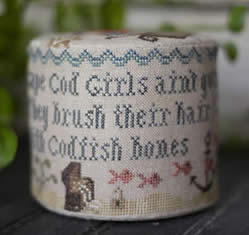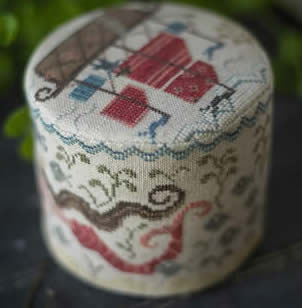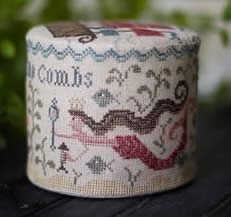 Fragments in Time 2017, EW - from Summer House Stitche Workes. Okay, I think this is my favorite so far (except for all my other favorites so far...). I like the different shape of the blossoms in this one.
Fragments in Time 2017, MD - from Summer House Stitche Workes. Love this one too! Definitely more Jacobean in feel.
Molly has 2 of this series in the works & they are really pretty.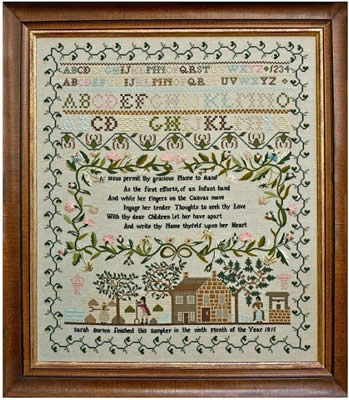 Sarah Borton 1815 Sampler - from Hands Across the Sea. What a stunning reproduction! This beautiful schoolgirl sampler is incredibly precise & detailed for a girl of 9 or 10 years old! The scene at the bottom shows life in the country. It also features 4 different alphabets & a beautiful verse, all surrounded by a delicate strawberry border. If you've never visited their website, you really, really should. Their blog is absolutely fascinating ~ each entry teaches you something new about needlework (not necessarily cross stitch or even samplers...). Below are a few detailed pictures from this sampler.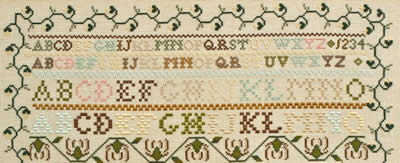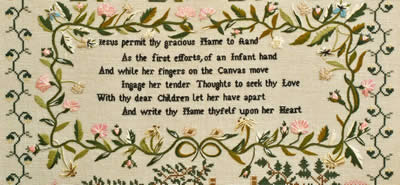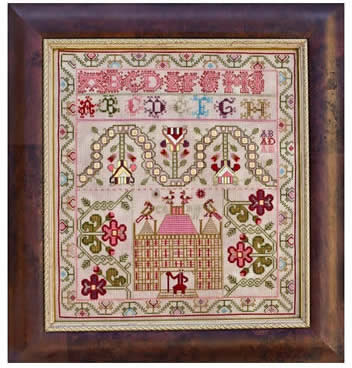 The Old Scot Sampler - from Hands Across the Sea. This is most definitely a Scottish sampler, the coloring, the letters, but most of all the thistle border point the way. I love the building (of course!), and the floral border is gorgeous! The work is simply amazing. All the samplers from Hands Across the Sea include lots of information about the specific sampler & samplers in general. The charts are a treasure themselves! Below are a few detailed photos from the sampler.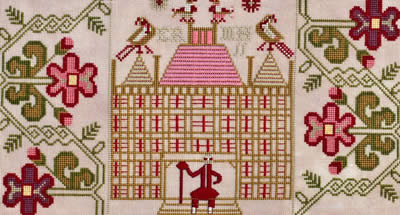 Sampler House I - from Plum Street. There are so many little "things" I love in this ~ look at the tall, skinny door, the giant flowers, and that doggy looks like Charlee herding those sheep around!
Sampler House II - from Plum Street. Love the crowns. But even more than those, I LOVE thie house ~ the brick texturing is awesome!!
Early Americans Series: Martha Washington - from Little House. The 3rd in this wonderful series features Martha standing in front of Mt Vernon.
Liberty - from Samplers Not Forgotten. Oh my goodness, I LOVE this! Love the borders, the old-fashioned bicycle, the house & most of all, the woofer!!!
Battle Hymn of the Republic - from My Big Toe Designs. I have always loved this hymn ~ there's something so triumphant about it! And this design is lovely.
Hello Summer - from Plum Street. WOOHOO!! Yes! Summer! So many great things in this one ~ I love the eagle & flag, love the flowers & watermelon....it's summer, what's not to like??
The Road - from Threadworks Primitives. Isn't this wonderful? I've always liked this verse & I think this design for it is awesome!
Redwork Sampler - from Pheasant Street Samplers. I've always been a fan of redwork samplers (although I don't usually stitch them in red...). This isn't as big as it appears ~ use the scissors & floss for scale ~ which is nice. It certainly has a lot of gorgeous stuff in it for being a relatively small piece.
House Rule - from Little House. Is this not the perfect design for a stitcher?? Just a little twist on the "measure twice, cut once" rule!
Pocket Full of Stitches - from Faithwurks. What a cute little design ~ so clever! The chartpak includes 2 pocket pieces, cream lace & a wooden tag for stitches. It also has alternate charts for "Prayers, Wishes, Dreams or Posies".
Seek the Lost - from My Big Toe Designs. LOVE this!! The sheep are darling & the verse is wonderful.
LOVE - from My Big Toe Designs. This is so pretty. And who doesn't love flowers?
Eastate in Tazzo (Summer in Teacups) - from Cuore e Batticoure. If my teacups were this pretty, I'd have them out all the time ~ with or without flowers!
Two more REPRINTS from Prairie Schooler! We are learning that, even with the reprints, you need to move quickly! So if you think you might like these, get hold of them now.
Summer Samplers ~ Seasons
Chrysanthemum Sampler - from Hot House Petunia. A lovely blue & white sampler with a gorgeous Asian flair.
Garden Seat - from Hot House Petunia. Another beautiful blue & white design ~ a lovely little "small".
Sunrise - from Rosewood Manor. I love the colors in this ~ definitely the colors of a gorgeous sunrise (not that I SEE many of them...except in pictures...the pictures are always pretty...).
Dreaming of Mums - from Rosewood Manor. How pretty is this?? Mums make me think of Autumn & certainly the colors in this are very autumn-y!
Mrs P's Conservancy Sunfish Alphabet - from Hot House Petunia. Okay, full disclosure. I first thought it was JUST the alphabet (which I like). But look closer ~ the fish on the right is stitched!
Sweet Pea Sheep Scissor Fob kit - from Faithwurks. The only challenge with this is deciding which side is cuter ~ the front or the back?? Everything you need to make this is included in the kit.
Pixie Blossom: Foxglove - from Nora Corbett, of Mirabilia. Another amazing creation ~ she really makes the flower come to life.
Pixie Blossom: Bleeding Heart - from Nora Corbett, of Mirabilia. Another beauty! I love the little blossoms she's carrying that look like tiny purses!
Come Sail Away - from Stoney Creek. This really appeals to me! Now aside fromt he obvious (the anchors, the sailboat, the ocean...), I actually really love the way they stitched this in just one color ~ the overdyed floss gives it depth, but I love the silhouette aspect of this.
Main Street: Bookstore - from Country Cottage. This is the 2nd design in this series, and without seeing the remaining 8, I'm going on record as saying this is my favorite!! There is nothing better than a bookstore!
Maisons Janvier Fevrier Mars Avril (Houses January February March April) - from TraLaLa. Another admission: at first I thought this was a 4 Seasons design (despite the fact that I do speak limited French & can read the title...). And I was kinda confused, because I saw winter, 2 springs & a summer...but no autumn! Oh for cryin' out loud, Beth, READ!!!! So yeah, there's one for each month, January ~ April! Darling!!!
Vive l'Ete - from TraLaLa. The verse in the center reads "Cherry Time". I LOVE this sampler ~ every bit of it is darling! My favorite part is the little donkey in the bottom right corner, but the house, fence, sheep, arbor, cherry tree, birdhouse...it's all so darn adorable!
Count My Blessing - from X's & Oh's. This is so sweet & you could stitch this for so many folks.
Bunny Pops - from Hot House Petunia. Hmmm...what's your favorite chocolate? Milk, dark or white??
Ready Steady Bake - from Heritage. Woohoo! A new design just for me!! Do you love baking as much as I do? Then you'll want this darling design too.
Sweet Sampler - from Country Cottage. Another design that I can tell is going directly to my stash! It has all the major food groups: cookies, cakes, cupcakes, ice cream & pies!!!
Babette's Farm - from Lilli Violette. What a darling farm she has...from the chickens to the the ducks & geese, and the quilts hanging on the line!
Edelweiss - from Lilli Violette. Okay, does anyone else totally see "Sound of Music" when you see this?? So cute!
Koi Pond Biscornu - from Hot House Petunia. Love how she finished this ~ you really look like you're looking into a koi pond!
Chinese Takeout & Fortune Cookies - from Hot House Petunia. Another totally fun finish!!
Gulf & Chatter Club - from Hot House Petunia. This is my favorite new design from them! I think this is so fun!!
Four Waterlilies & One Blue Fish - from Hot House Petunia. Hilariously, Molly & I looked at this one & I said, "well, I like the waterlilies" at the same time Molly said, "well, the fish is really cute"! This is almost always what happens!!

Classic Campers - from Vickery. This is so retro & fun! And they're so popular right now!
Penguin Year - from Vickery. LOL! A cute penguin for each season!
Halloween Hounds - from Vickery. Love those costumes!
Halloween Friends - from Stoney Creek. There's nothing scary here ~ just lots of cuties!
Nutty Guards - from Turquoise Graphics. Oh my gosh, these guys are too cute!!
Gridiron - from Vickery. Hard to tell, is this a fumble? Roughing the kicker? If you know a football lover, you'll want this one!
Derby Day - from Hot House Petunia. Love the primitive look of this one!
My Stash is Huge - from Waxing Moon. RIGHT??? That's right, be loud & proud!!
Warped - from My Big Toe Designs. Bwahahahahaha!!!! I'm getting the first one when this one arrives!!
Threadkeep: Eiffel Tower - from Kelmscott. This looks just like a vintage postcard!
Needlekeep: Fleur de Lys - from Kelmscott. How cool is this? Molly loves this!
Threadkeep: Crusade Queen - from Kelmscott. She's definitely winning the battle!!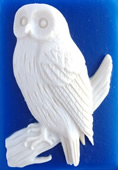 Needle Keep: Snowy Owl - from Kelmscott. This is gorgeous!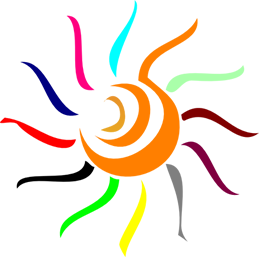 The Sun! THE SUN!!
I sound like Tattoo from Fantasy Island, right? And if you don't get that, well, you're just much too young....
I'm pretty sure I was meant to live on a tropical island somewhere, & just as soon as my lottery winnings come in, I'm goin'! It is no joke that sunshine makes everything better. And when the days are longer, there's more stitching time!
Ruthie has been doing lots & lots of stitching since she started chemo. Of course, she also happens to be a serial starter, so we're gonna be waiting for a finish.
In the meantime, she posted a picture of my first sampler on Facebook. But for those of y'all who aren't on Facebook, I've put the picture here. It's an old design from Merrily Beams & was first published in a McCalls magazine! Another stitcher, JoAnn W., then posted her picture of her sampler, and then a picture of the Apples Apples Apples design that was in the same magazine! Yeah, I skipped the Apples one. I started this in 1976, finished in '77. Not my first cross stitch, just my first sampler.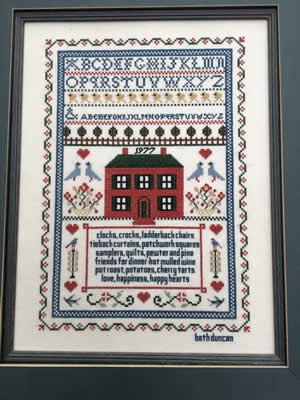 Around here, we've found time to frame several new models ~ each one prettier than the last!
Bird Song - from Samplers Not Forgotten. This sampler is gorgeous ~ photography doesn't show the depth in this piece. It's really a beautiful piece.
Elizabeth Bordman Sampler - from Victorian Rose. I love the border on this one ~ Molly is totally lovin' the huge flower in the center! Either way, it's a gorgeous design.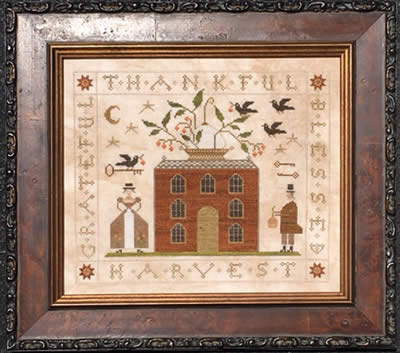 Grateful, Thankful Blessed - from Brenda Gervais, With Thy Needle & Thread. This piece is absolutely stunning! Every single bit if it is gorgeous. The white pumpkin on top of the house is very cool; love the roof on the house; but my favorite little part might just be the rounded door!
Love Birds - from Lone Elm Lane. This is a really pretty little piece! It would be nice for an anniversary gift, or even just a nice design.
Hurrah - from Pineberry Lane. This turned out to be so cute & we found the perfect frame for it, with the stars all around!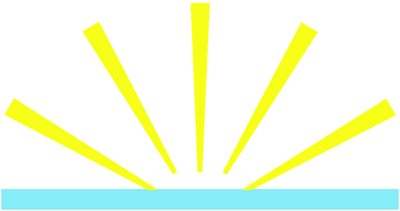 We are continuing to make steady progress on our GoFundMe campaign & we couldn't be more grateful! Click below for more information & to get in on the campaign!



I know I'm overstating the fact, but gosh am I happy to see the sunshine & feel the heat! Jimmy's baseball team is heading in toward the playoffs, while Chris has just started his American Legion season! The boys have begun the countdown to the end of school (WHAT???). I hope you get to enjoy the sunny days! I know I will be...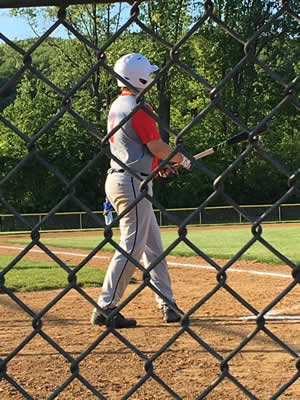 I leave you with a picture of my FAVORITE 2nd baseman.
Hugs & stitches ~
Beth & all the little rays of sunshine at TSS